Are you in the market for a golf simulator and are trying to figure out all of the little details?
Yes, we have been there with you.  In fact, several years ago I built my own golf simulator space in my garage and have been thrilled with the setup and the products that I selected.
I learned a lot during this process and am here to share some insight with you.  Every golf simulator build has its own unique challenges such as space, best products for the budget, and projector placement.
Many golfers will research and finally go with a build and many do not regret it!  The hours of fun that it provides each week and month is truly amazing. 
The game improvement is pretty impressive as well!  I have seen a 4-6 average shot reduction as well as a gain in swing speed by 4-5 miles per hour through different training complete in my golf simulator space.
One of the challenges is getting everything just right!  A major decision that must be made is where to place the golf simulator projector.  There are two quality options that will depend on your space.
Below we will discuss the pros and cons of each and talk about the distance from the screen that will maximize your space!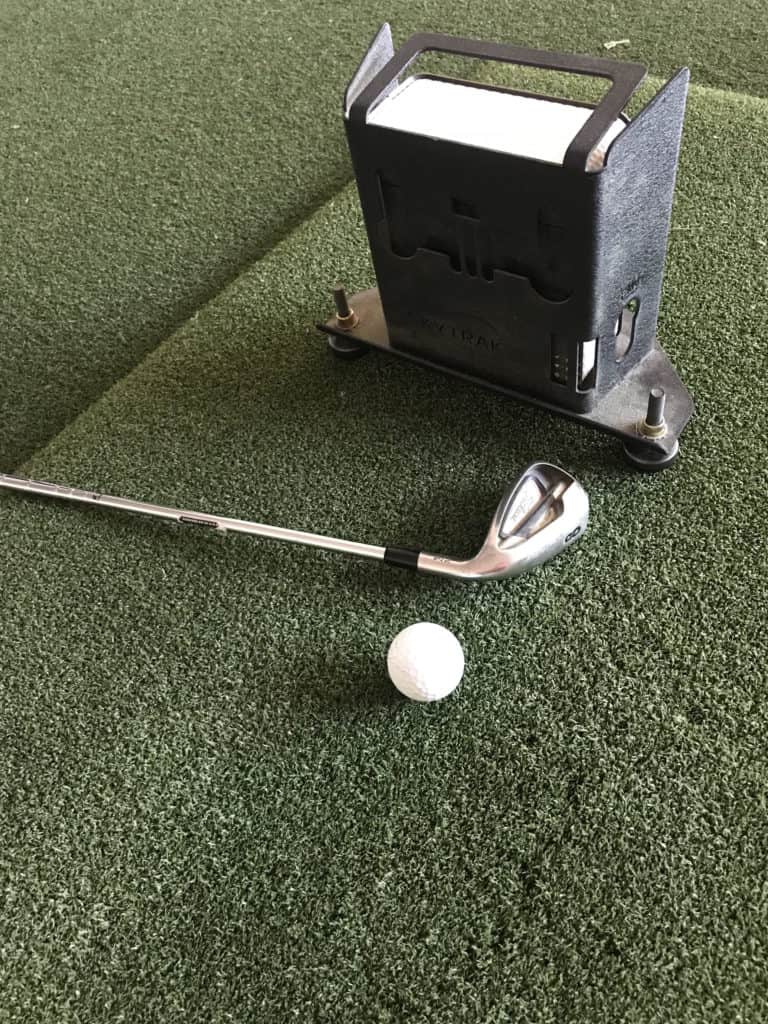 Where to mount my golf simulator projector?
The ceiling and the floor are two excellent options.  The distance away from the screen will depend on the total amount of space and the projector that you select.  In general this distance will be 6-8 feet from the screen. 
Below we will take you through the different decisions you have to make!  These include:
Should I mount my projector on the ceiling or place on the floor?
How far away from the screen should my projector be?
What kind of projector do I need?
I will also take you through a quick list of the products that I purchased as part of my golf simulator build and give a quick update on my overall satisfaction with each product.
Decision #1: Should I mount my projector on the ceiling or place it on the floor?
There is really no bad decision here.  There are benefits to both the ceiling mounted projector and the floor based projector.  I went with the ceiling mounted projector to keep the projector completely out of the way. 
However, I also had 15 feet or width and 25 feet of depth to provide plenty of space.  I ended up mounting mine around 8 feet from the screen, which helps keep any shadows from coming into place.
Benefits of a Ceiling Mounted Projector:
It keeps the projector out of the way and gives it a more permanent setting.
It does not get in the way of people putting or chipping the ball and keeps the floor space cleared.
The power cord and wiring stay completely out of the way.
I purchased a ceiling mount that provides the ability to move it back and forth or tilt at different angles.  I was nervous about not mounting it at the right distance from the screen and the ability to move it back and forth helped me get the perfect distance during the install.
Benefits of a Floor Based Projector:
The ability to use the projector in multiple settings.  If you want to use the projector for work or movies in your backyard you have quick, easy access.
If your ceiling height is lower and you lack overall space in your simulator space, the floor based projector can be the right choice.
If you worry about the overall security of your space and want to take in your computer, launch monitor and projector each time, this provides the flexibility to do so.
Make sure if you go with a floor based projector that you purchase a shield to cover it.  One that can allow the proper air ventilation for the projector and is strong enough to prevent damage.
Decision #2: How far away from the screen should my projector be?
In general, you will want a projector that is 6 to 8 feet away from the screen.  If you go any further back you will create shadows as your hit.  Every projector has slightly different numbers and distances they can be. 
If you are placing on the floor you have greater flexibility to place it where it needs to go.  If you are installing on the ceiling, make sure you test it out before finalizing the location.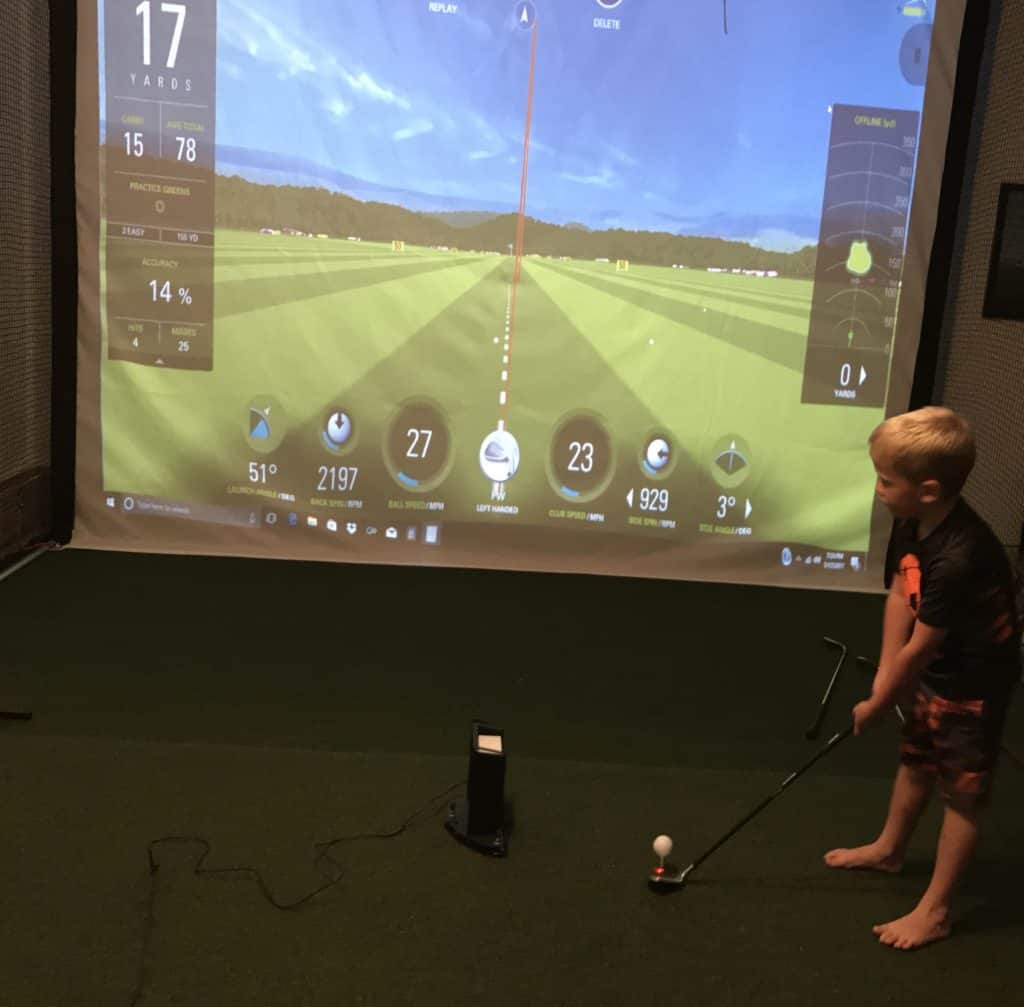 Decision #3: What kind of projector do I need?
Most golf simulator builds will require a short throw projector.  We would also recommend going with a HD projector to make sure you maximize the graphics capability of your software program. 
The benefits of the short throw projector is that it eliminates the concern over shadows that can be created if your projector needs to be 10 feet or greater away from the screen in order to fill up the total 14 or 16 feet of screen that you may be purchasing!
Here is a quality, short throw projector by Optoma.
Products I Purchased For My Build
Recommendation 1: The actual launch monitor
I went with the SkyTrak, which has worked out greatly for me.  I have paired with The Golf Club (TGC) software and it has been great!  The overall graphics on the TGC and the accuracy of the SkyTrak have provided me with many rounds of fun (over 700 rounds of golf) and plenty of game improvement opportunities.  I have been able to reduce my average score by 4-6 shots.
The SkyTrak is affordable and portable.  You can use indoors or outdoors and it is compatible with many different software options depending on your budget. 
I would highly recommend the TGC software, but understand that it is also the most expensive!  The TGC software does provide access to over 100,000 courses including many of the world's top 100 and has the best graphics in my opinion. 
I have golfed on several other softwares and never come away as impressed as the TGC software.
Recommendation 2: The best golf mat options
If you are going to be playing as much golf as I have over the years, you need to ensure you have a quality mat that will keep your hands and arms feeling good and not sore. 
Also, the longevity of the mat is important.  The last thing you want to do is buy something cheap and have to replace it in the year.  I paid for quality and received quality.
Here are my top rated recommended golf mats.
Recommendation 3: The best enclosures and screens
Depending on the size of the shed that you will pick, you will want to get an enclosure that is the right size.  If you go with the larger option, our recommendation is the Swing Bay Enclosure, which is linked below. 
This option provides protecting on the sides and on top to help keep those errant shots from causing any damage.
Recommendation 4: Computer considerations
If you go with the TGC software you will want to check the graphics card in the computer that you plan on using or buying.  You want to ensure you are maximizing your software system and this often takes a gaming computer. 
My recommendation is to buy a complete package from Rain or Shine.  They offer great products, excellent customer support and even have financing offers.
Complete Packages at Rain or Shine Golf
Recommendation 5: The projector
After reading many reviews I went with a short throw, Optoma Projector.  Over 700 rounds later, my projector is still perferoming greatly and I have had zero issues with setup or overall quality.  This HD options maximizes the graphics in my TGC software, that I think is the top software in the market!
Here is a quality, short throw projector by Optoma.
Final Thoughts
Most people looking to build a golf simulator are also on a journey to play their best golf yet.  We all want to play better, more consistent golf and have a ton of fun.  While golf is truly entertaining, the better we play, the more fun we can have.  
One of the questions I frequently get asked….
Can I get better playing Simulator Golf with my Skytrak Launch Monitor?
The short answer is yes!  There are so many opportunities to get better as a result of owning your very own golf simulator in your garage, basement or home.  Here is a list of the advantages:
Frequency of play
More solid shots
Ability to learn to work the ball
Practice on a course
Daily routines
Overall, the frequency of play changes drastically for many golfers.  Now you can play 365 days a year in the comfort of your home or garage.  You no longer have to worry about rain, snow or even darkness.  Simply take your SkyTrak out to your space and the time is yours.
From daily practice and following the right online instructors, you can quickly learn more and more about your swing.  The accuracy of the SkyTrak provides real time feedback on what shot you just hit.  
There is nothing better than setting up on one of your favorite holes and hitting approach shot after approach shot into that green.  My personal favorite is number 11 at Augusta!  I love the challenge of the water sitting there to the left of the green with the bunker on the right.  You have to hit a slight draw, but don't over draw it.
Or standing on the 12th hole at Augusta, trying to land your shot by controlling your distance on that small green from front to back.   There are so many options and versatility provided by the SkyTrak and the TGC Software that I choose to match it up with. 
What I often hear from the golf professionals is that amateurs must spend more time practicing on the course and playing rounds vs pounding golf balls at the range and I couldn't agree more.  
The ability to practice a specific part of your game or play a round of golf without driving to the course and being able to complete a round in 45 minutes, you get a great deal of practice. 
You get instant feedback, data and the key information to help you get better.  I love my SkyTrak and am thrilled with the experience and the game improvement.  The best compliment I received lately was when a person I first golfed with remarked on the control I have over the golf ball with irons. 
I am able to control my distance and the curve of my ball from the many shots hit on my SkyTrak based golf simulator.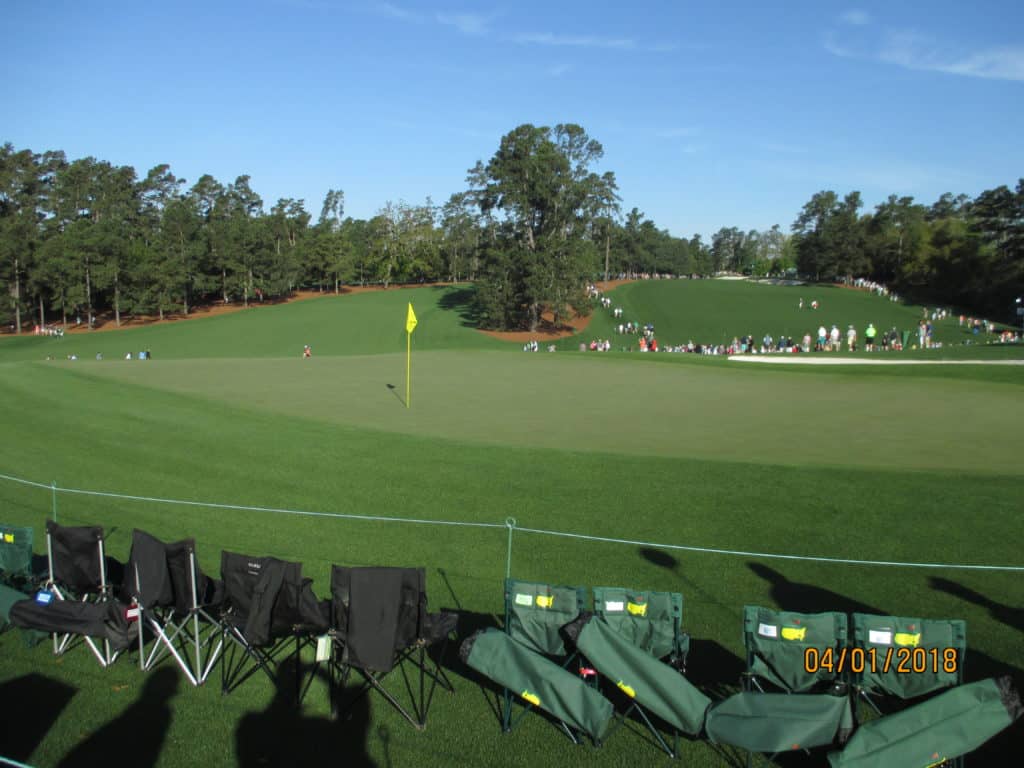 Overall
The golf simulator has been a game change.  I can now play golf when I want, where I want and get better everyday.  Let's face it, many of us are busy with family, work and all of our other commitments. 
Being able to play a round of golf in 40 minutes is refreshing and just what I needed on most days.  The amount of fun and entertainment along with game improvement is difficult to measure.  I just know it has been a game and life changer.
It is a big investment, but I would say it has been worth it!
Here at golfjourney365, we love the game of golf and try to play as often as possible with the goal of playing our best golf yet!  Here is the recipe we have found to reduce score and hit the ball further!
Keep chasing your goals and dreams!
Take Action – What You Can Do Today to Get Better
What does this mean for you?  I believe in the following recipe to get better:
1 – Improve your motion in the golf swing by identifying a golf instructor.  Here are some options:
Here is a list of golf instructors that we have reviewed:
2 – Train to swing faster and improve your swing speed.  Here are some options:
Looking to gain more Speed and Distance in your swing. Two Options:
3 – Understand course strategy and work to break through your next barrier.  Here is a series on breaking through:
We have provided guides on how to break 100, 90, 80 and 70. Check out more below, if interested.
4 – Practice Frequently
Did you know that I build a golf simulator in my garage and have played over 500 rounds of golf on my SkyTrak system?  It has been a game changer and one worth checking out. Here are some of my other posts on golf simulators frequently asked questions: