Are you in the market for a golf simulator build in your garage, house or in a shed?
Then you have arrived at the right place. 
Several years ago, I researched and built a golf simulator in my garage and I sure did learn a lot about golf simulators and many of the big decisions that needed to be made.
I will say that I have been thrilled with my golf simulator in my garage as it has provided over 700 rounds of golf on some of the best golf courses in the world. 
I used to dream about playing golf at places like Augusta, Pebble Beach, St. Andrews, Whistling Straits and amazing golf courses.
That dream became a reality and it can become yours! 
The average cost is going to fall in the 5-7 thousand dollar range, which is so much better than years ago when golf simulators would have run 30-40 thousand dollars.
The cost for a residential golf simulator has decreased as the technology has actually improved.  My golf simulator in my garage is more accurate and has better graphics than even some commercial simulators found in locations today.
Think about that for second, you can build a golf simulator that is accurate, affordable, provides tons of fun and can be yours to play on 365 days a year. 
You no longer have to worry about the rain, snow, cold weather or even the time of day.  Plus you can play an 18 hour round in about 40 minutes per person.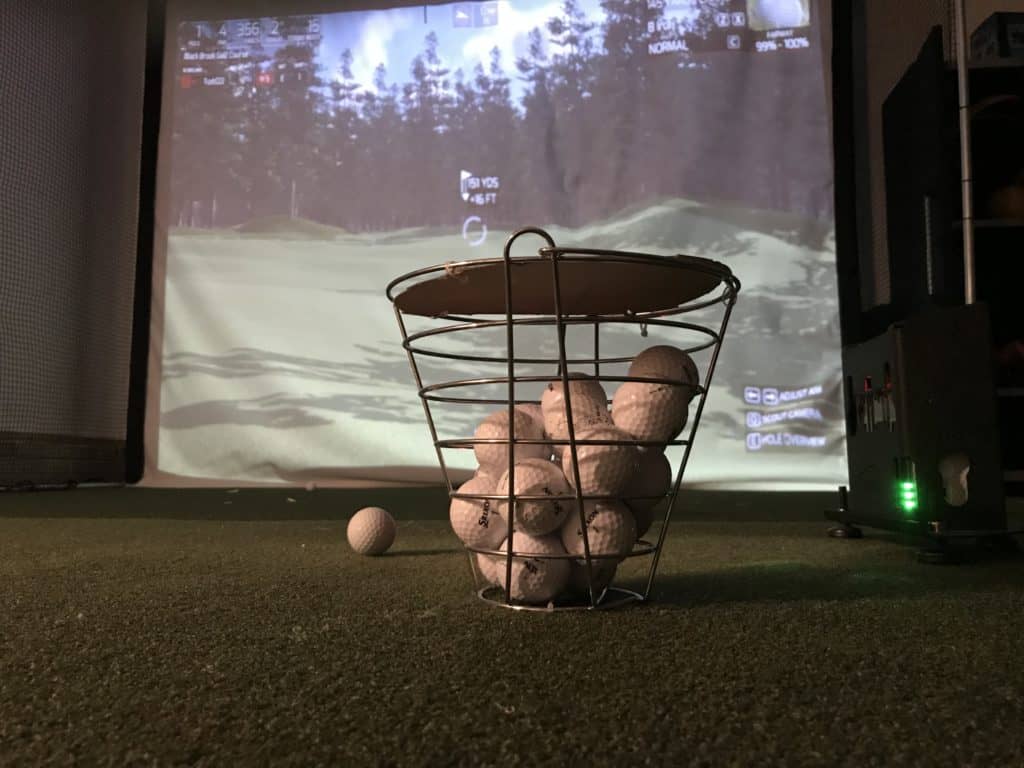 Here is a checklist of items to consider for your Golf Simulator in a garage:
How much space do you have?
What launch monitor is best?
What software is the best option for your launch monitor?
What enclosure will fit in your space?
Will your projector be mounted to the ceiling or sit on the floor?
What golf mat should you purchase?
What computer or laptop do you need?
Do you have heat and air conditioning in your garage?
Key Item 1: How much space do you have?
The minimum amount of space that you will need is around 10×10 of space.  This provides just enough width to be able to swing and just enough depth to be far enough way from the screen.  
However, the ideal space is around 16×24 feet, but can be done in anything between these two dimensions.  I have around 14 feet in width and 24 feet in depth.  This has been plenty of space and I never feel constrained and have hit thousands of driver on my golf simulator.
One other area to consider as far as space is the ceiling height.  You will need at least 8.5 feet and closer to 10 feet if you want to swing a driver.  This will depend on your height and the height of others that will play golf in your simulator space.
Tip:
Go ahead and clear out the space where you intend to build your simulator.  Mark off the area with tape or PVC pipe.  Take some slow motion, long swings with your driver and see how close to come to the walls and the ceiling in your space. 
I did this in my third bay of my garage before making all of my purchasing decisions to determine what exactly I had to work it.  This is step #1 in building your golf simulator.
I personally was thrilled to know that I had plenty of space and could have an impressive setup in the bay of my 3 car garage.
Here is a complete review and comprehensive overview of the SkyTrak
Key Item 2: What launch monitor is best?
There are several different options that you could go with.  These include:
I would highly recommend the SkyTrak based on my experience.  This well priced option provides some great data and feedback based on the ball.  You are provided with ball speed, launch angle, spin axis and other key information to provide a realistic experience in your golf simulator setup.
The SkyTrak sits to the side of the golfer and the ball is placed on the red dot.  I have found the SkyTrak to be reliable and consistent. 
If you are someone that also wants to take your SkyTrak with you to the course or driving range that is an option with this launch monitor.  You can play lefty and righty at the same time, but it does take some moving back and forth.
The other highly rated option, but was out of my price range at the time was the Foresight Sports GC2.  I have read great things about this launch monitor and it truly is a great deal for the high level launch monitor that it is.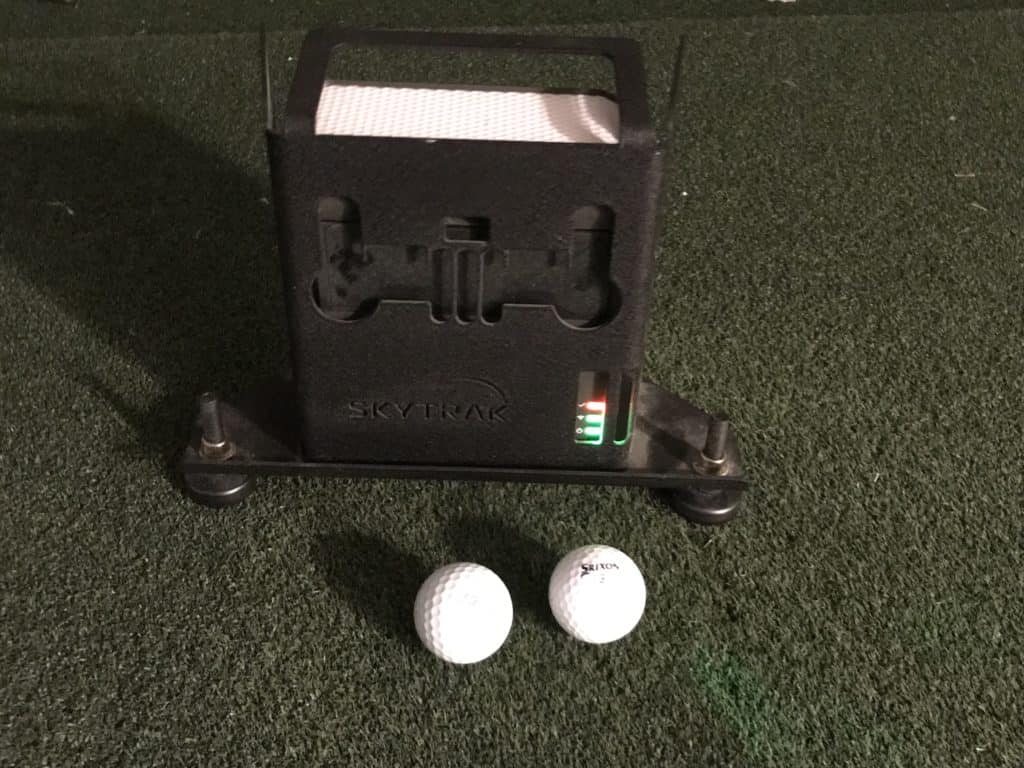 Key Item 3: What software is the best option for your launch monitor?
If you go with the SkyTrak like I did you have several different options for the software.  However, hands down, the TGC software has been a great option for me and my space.  The graphics are amazing and the course selection is well over 100,000 options. 
In addition, the number of top 100 courses in the world on the list is impressive.  You will never get bored playing the same 15-20 courses that some of the software packages offer.
Here is a complete review on the TGC software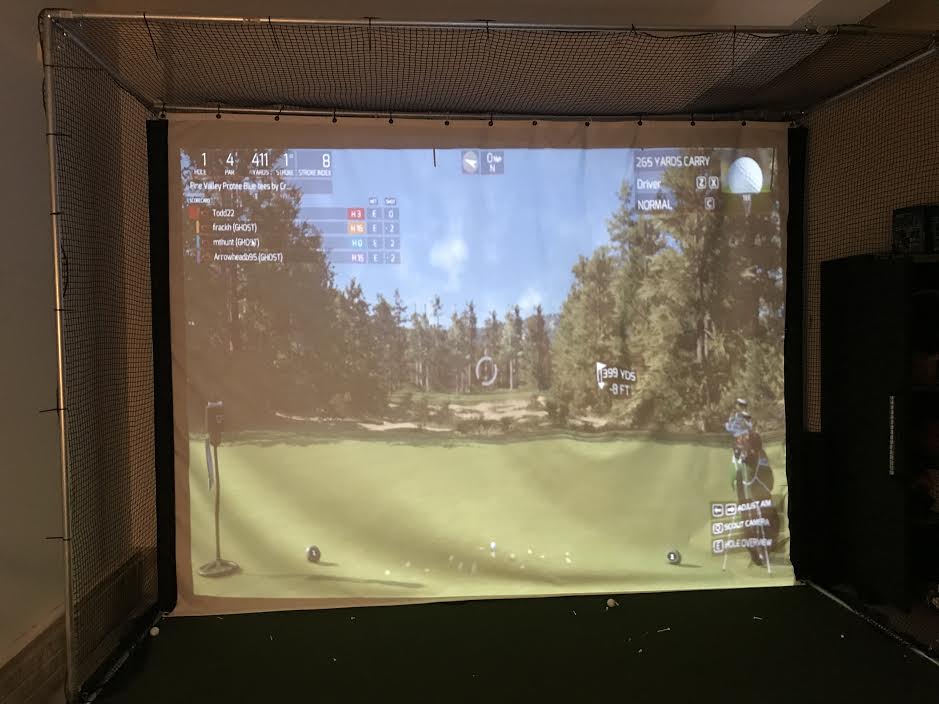 Key Item 4: What enclosure will fit in your space?
Depend on the width and your ceiling height, you will wan tot pick the enclosure that best matches your space.  For all of my purchases I worked with Rain or Shine Golf.  Their customer service, package offerings and financing deals were impressive and I felt comfortable making this large investment with them.
Here is an excellent option for your Enclosure at Rain or Shine Golf
If you are looking for a complete package they have some excellent options.  This is great for the person that wants that one stop shopping and is going to use the excellent finance offers available.
Tip:
Make sure you consider the enclosures that have at least several feet of side protection.  Even though there might not be many errant shots.  You want to be able to catch the one in a thousand situation and protect all of those in the space and your garage or home.
Some direct links to Rain or Shine Golf for pricing and financing:
Key Item 5: Will your projector be mounted to the ceiling or sit on the floor?
When you get to this spot of your build, you will want to consider whether your projector will be mounted on the ceiling or if you will palace on the ground and use a protective shield to guard your projector.
One key here is to make sure you have short throw projector.  If you do not know a ton about projectors I would recommend this Optoma Projector.
Why Mount on Ceiling?
If your ceiling is high enough and you have enough space the ceiling mount is a good option.  It keeps the projector out of the way and you really don't have to think about it much other than to turn it on or off.
Why Place on Floor?
If your ceiling height is short and you have limited space if you want your projector to serve multiple purposes such as movie nights in your backyard, you will have easy access to it from the ground.  
Recommended Floor Projector Cover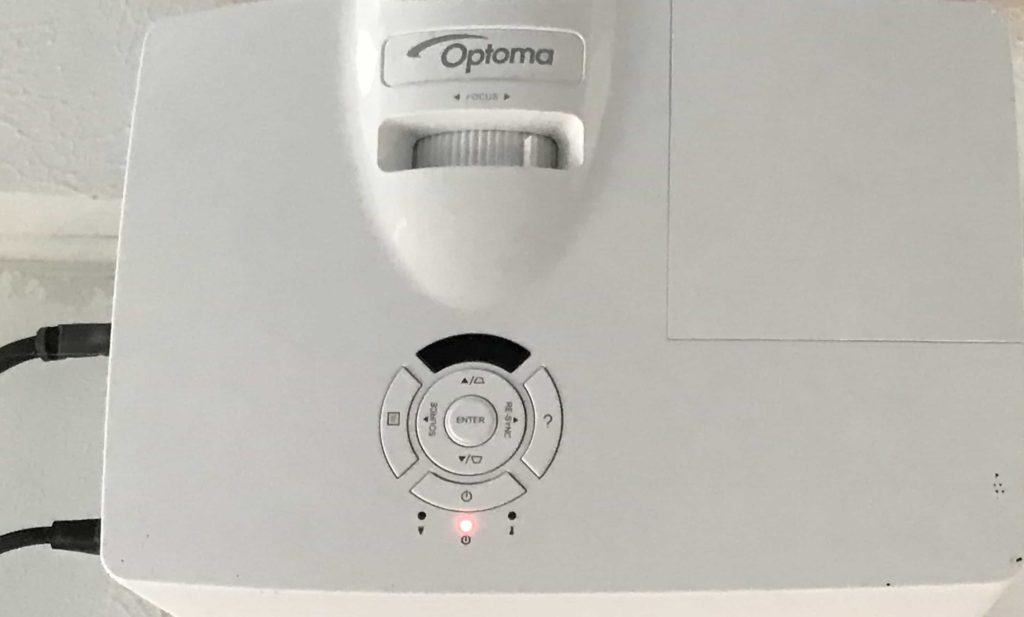 Key Item 6: What golf mat should you purchase?
The golf mat is very important.  If you are like me and you are going to use your golf simulator very often then you want the most comfortable mat on the market.  I also have two sons who are left, so I went with the double wide floor golf mat. 
I have been super impressed in the durability, feel and overall performance of the mat.
I went with the Fiberbuild linked below, but there are two other very good options as well.
Key Item 7: What computer or laptop do you need?
If you are going to go with the SkyTrak and TGC software you will need a gaming computer.  The gaming level computer provides the necessary graphics card to make sure you maximize your investment in the software.  You want to ensure your computer can keep up with the demands of the software.
The SkyTrak can also be simply paired with an Iphone or Ipad if you are using the SkyTrak range software.  
It is difficult to beat the packages offered
Key Item 8: Do you have heat and air conditioning in your garage?
In the part of the United States that I live in we get 90 degree days and days where the temperature is in the teens.  I am able to stand the two extremes, but some people will want to consider different heating and cooling options. 
I do use a heater to help on the very coldest days of the winter, but I do dress accordingly.  In my garage it is insulated well enough to keep the temperature in the 40s even on the coldest days.
The most frequently asked question I receive…
How Accurate is the SkyTrak?
This is one question I receive the most.  People want to know how accurate and realistic the experience is with a golf simulator, especially the SkyTrak. 
I would explain that the SkyTrak is rather realistic and rewards your great shots and punishes you on your bad shots.  You can cheat the system and the SkyTrak provides excellent feedback.
So, I did a little comparison of golf scores to measure up the realistic nature of the SkyTrak.  What better way than to actually compare scores shot over the past 15 rounds, both outside and with my SkyTrak Golf Simulator setup.
| | | | | |
| --- | --- | --- | --- | --- |
| Golf Simulator Score | Relative to Par | 15 Total Rounds | Real Golf Score | Relative to Par |
| 72 | 1 | Round #1 | 76 | 4 |
| 75 | 0 | Round #2 | 78 | 6 |
| 72 | 3 | Round #3 | 74 | 3 |
| 81 | 9 | Round #4 | 71 | 0 |
| 75 | 3 | Round #5 | 70 | -1 |
| 73 | 3 | Round #6 | 71 | 0 |
| 75 | 3 | Round #7 | 72 | 0 |
| 71 | -1 | Round #8 | 73 | 1 |
| 71 | -1 | Round #9 | 72 | 1 |
| 72 | 1 | Round #10 | 74 | 3 |
| 73 | 3 | Round #11 | 74 | 3 |
| 72 | 1 | Round #12 | 74 | 4 |
| 72 | 1 | Round #13 | 72 | 1 |
| 72 | 1 | Round #14 | 73 | 3 |
| 76 | 4 | Round #15 | 73 | 2 |
| | | | | |
| 1102 | 31 | | 1097 | 30 |
| 73.47 | 2.07 | | 73.13 | 2 |
Simulator Golf vs Actual Golf
Accuracy of Golf Simulator vs Reality – Data Breakdown
Total Strokes (15 Total Rounds) = 1102 in Simulator Golf and 1097 in Real Golf
Total Strokes Over Par (15 Total Rounds)  = 31 in Simulator Golf and 30 in Real Golf
Average Score = 73.47 in Simulator Golf and 73.13 in Real Golf
Average Strokes Over Par = 2.07 in Simulator Golf and 2.0
The second most frequent question…
Can I get better playing Simulator Golf with my Skytrak Launch Monitor?
The short answer is yes!  There are so many opportunities to get better as a result of owning your very own golf simulator in your garage, basement or home.  Here is a list of the advantages:
Frequency of play
More solid shots
Ability to learn to work the ball
Practice on a course
Daily routines
Overall, the frequency of play changes drastically for many golfers.  Now you can play 365 days a year in the comfort of your home or garage.  You no longer have to worry about rain, snow or even darkness.  Simply take your SkyTrak out to your space and the time is yours.
From daily practice and following the right online instructors, you can quickly learn more and more about your swing.  The accuracy of the SkyTrak provides real time feedback on what shot you just hit.  
There is nothing better than setting up on one of your favorite holes and hitting approach shot after approach shot into that green.  My personal favorite is number 11 at Augusta! 
I love the challenge of the water sitting there to the left of the green with the bunker on the right.  You have to hit a slight draw, but don't over draw it.
Or standing on the 12th hole at Augusta, trying to land your shot by controlling your distance on that small green from front to back.   There are so many options and versatility provided by the SkyTrak and the TGC Software that I choose to match it up with. 
What I often hear from the golf professionals is that amateurs must spend more time practicing on the course and playing rounds vs pounding golf balls at the range and I couldn't agree more.  
The ability to practice a specific part of your game or play a round of golf without driving to the course and being able to complete a round in 45 minutes, you get a great deal of practice.  You get instant feedback, data and the key information to help you get better. 
I love my SkyTrak and am thrilled with the experience and the game improvement.  The best compliment I received lately was when a person I first golfed with remarked on the control I have over the golf ball with irons. 
I am able to control my distance and the curve of my ball from the many shots hit on my SkyTrak based golf simulator.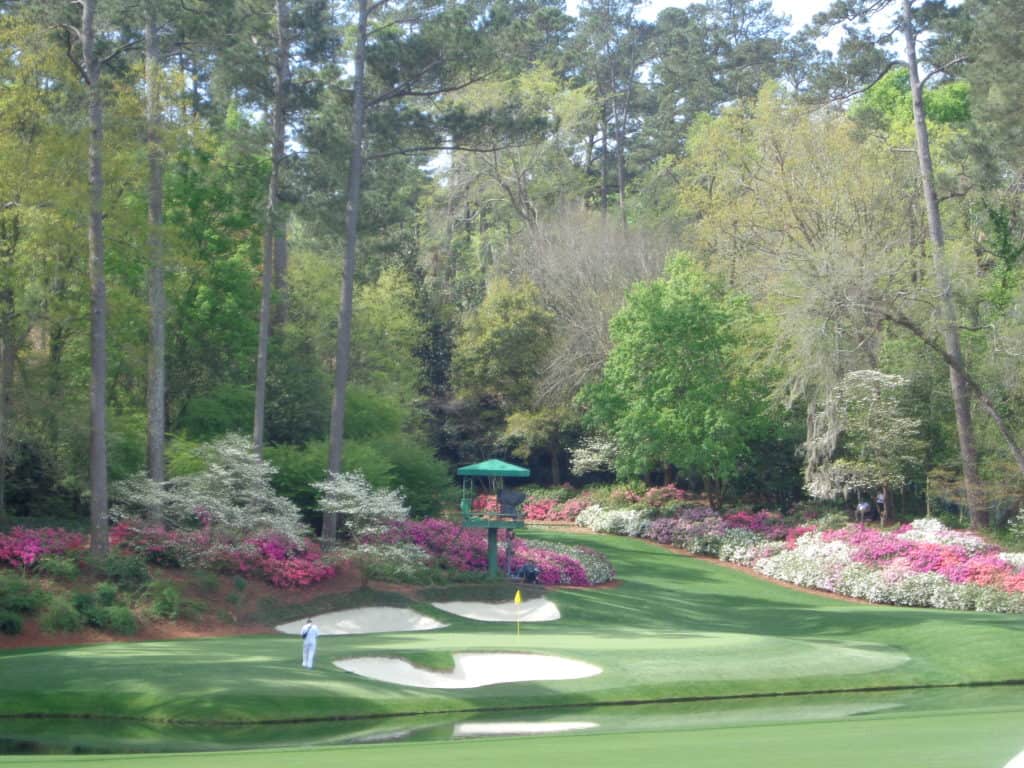 Final Thoughts
The golf simulator has been a game change.  I can now play golf when I want, where I want and get better everyday.  Let's face it, many of us are busy with family, work and all of our other commitments. 
Being able to play a round of golf in 40 minutes is refreshing and just what I needed on most days.  The amount of fun and entertainment along with game improvement is difficult to measure.  I just know it has been a game and life changer.
It is a big investment, but I would say it has been worth it!
Take Action – What You Can Do Today to Get Better
What does this mean for you?  I believe in the following recipe to get better:
1 – Improve your motion in the golf swing by identifying a golf instructor.  Here are some options:
Here is a list of golf instructors that we have reviewed:
2 – Train to swing faster and improve your swing speed.  Here are some options:
Looking to gain more Speed and Distance in your swing. Two Options:
3 – Understand course strategy and work to break through your next barrier.  Here is a series on breaking through:
We have provided guides on how to break 100, 90, 80 and 70. Check out more below, if interested.
4 – Practice Frequently
Did you know that I build a golf simulator in my garage and have played over 500 rounds of golf on my SkyTrak system?  It has been a game changer and one worth checking out. Here are some of my other posts on golf simulators frequently asked questions: