In the market for a SkyTrak, but have some concern about a potential shot delay?  
I have been in your shoes and have experienced the same concern. 
However, 700 rounds later on my SkyTrak paired with the TGC software and I can tell you that it is not a big deal at all. 
In fact, when playing, I do not even realize the delay and the delay actually gives me some time to predict my shot and build my feel for the golf shot.
If you are in the market for a golf simulator, specifically the SkyTrak, I would highly recommend the product and recommend purchasing the SkyTrak and a complete package at Rain or Shine Golf. 
The incredible prices, customer service and financing offers are difficult to beat.
Direct Links to Rain or Shine Golf:
You might be surprised by the pricing as it no longer takes 20-30 thousand dollars to get into the simulator market.  You can expect to pay between 5 and 7 thousand dollars for pretty awesome setup. 
I am thrilled with my setup and went all out with the complete package!
You too can make your dream a reality and get into the simulator market.  There are online leagues and tournaments that allow you to compete with other golf fanatics across the world. 
The competition is tough, but a ton of fun!
Let's dive further into some common questions related to the shot delay on the SkyTrak.
Can a Golf Simulator improve my game?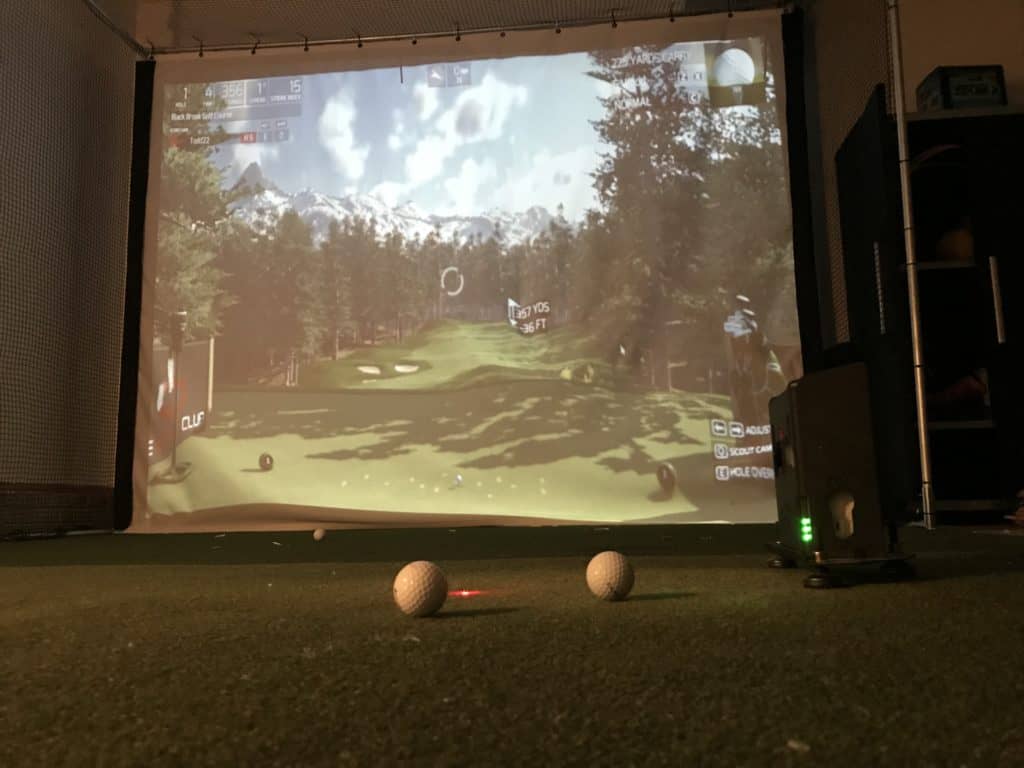 Does SkyTrak Have A Shot Delay?
Yes, there is approximately a 2 to 3 second delay on most shots.  The user will strike the shot, the SkyTrak reads the ball and then 2-3 seconds later the shot can be seen on the screen.  This is most likely caused by the delay in communication from the SkyTrak to the software program.
Is the SkyTrak Shot Delay A Deal Breaker?
No, absolutely not.  Your overall experience with the SkyTrak will still involve an accurate reading on the shot hit that provides a realistic experience. 
How Do I Avoid Shot Delays Longer Than 3 Seconds?
When purchasing your SkyTrak, make sure you understand the computing power needed and the graphics capabilities required.  If you do not have the right computer for the software you are running, the delays could be longer.
Are There Benefits of The Shot Delay?
One of things I have noticed with the shot delay on the SkyTrak is that it has actually helped me develop my feelings and why I am missing in certain directions.
Check out some impressive SkyTrak Packages here.
That extra 2 to 3 seconds in the shot delays allows me to predict the shot that I have just hit.  It is amazing the number of times I have thought, wow I hit that a big left and sure enough the shot goes left.
Or I might think, that shot feels short, certainly guess what?  The shot was short!  The overall accuracy of the SkyTrak and the shot delay has helped me to develop my feel. 
I know what a quality shot feels like and when it is going to happen with the delay.  
Overall, the accuracy of the SkyTrak at the price point it is sold at is difficult to beat!  The ability to play 365 days a year regardless of the snow, rain or cold weather has made my golf game and overall ife that much better. 
I have experienced a 4-6 shot reduction in my overall score and a swing speed increase with my driver from 98-100 on average to 104-106 on average, resulting in some nice distance gains with my drivers.
My irons are so much more crips from the thousands of shots I have been able to hit on some of the world's most challenging and top rated courses.  Where else can you play Augusta, Bay Hill, Pebble Beach and other top rated courses daily? 
While it is only simulator golf, the realistic nature of it is impressive.  Check out this data set below when I compared my simulator golf to my actual golf scores.
Comprehensive Guide on How To Build A Golf Simulator!
I did a little comparison of golf scores to measure up the realistic nature of the SkyTrak.  What better way than to actually compare scores shot over the past 15 rounds, both outside and with my SkyTrak Golf Simulator setup.
| | | | | |
| --- | --- | --- | --- | --- |
| Golf Simulator Score | Relative to Par | 15 Total Rounds | Real Golf Score | Relative to Par |
| 72 | 1 | Round #1 | 76 | 4 |
| 75 | 0 | Round #2 | 78 | 6 |
| 72 | 3 | Round #3 | 74 | 3 |
| 81 | 9 | Round #4 | 71 | 0 |
| 75 | 3 | Round #5 | 70 | -1 |
| 73 | 3 | Round #6 | 71 | 0 |
| 75 | 3 | Round #7 | 72 | 0 |
| 71 | -1 | Round #8 | 73 | 1 |
| 71 | -1 | Round #9 | 72 | 1 |
| 72 | 1 | Round #10 | 74 | 3 |
| 73 | 3 | Round #11 | 74 | 3 |
| 72 | 1 | Round #12 | 74 | 4 |
| 72 | 1 | Round #13 | 72 | 1 |
| 72 | 1 | Round #14 | 73 | 3 |
| 76 | 4 | Round #15 | 73 | 2 |
| | | | | |
| 1102 | 31 | | 1097 | 30 |
| 73.47 | 2.07 | | 73.13 | 2 |
Accuracy of Golf Simulator vs Reality – Data Breakdown
Total Strokes (15 Total Rounds) = 1102 in Simulator Golf and 1097 in Real Golf
Total Strokes Over Par (15 Total Rounds)  = 31 in Simulator Golf and 30 in Real Golf
Average Score = 73.47 in Simulator Golf and 73.13 in Real Golf
Average Strokes Over Par = 2.07 in Simulator Golf and 2.0
Overall Satisfaction with the SkyTrak?
On a scale of 1-10, with 10 being most satisfied, I would rate my SkyTrak and TGC experience as a 10.  I believe it has done the following for me:
Provided an opportunity to have fun playing golf on a daily basis.
Allowed me to practice daily and hit some of the most challenging shots on a course like the 18th tee shot at Pebble or the 12th par 3 tee shot at Augusta.  Overall my game has improved from being forced to produce in these pressure situations.
A great amount of fun has been experienced with family and friends who also enjoy golf.  On a difficult winter day, we are able to take hours and play and challenge our games and compete against each other!
Be more prepared for the start of the spring season.  In this part of the United States, we often do not get to play golf until April.  With a golf simulator, I am able to play quality golf in April and it doesn't take 5-10 rounds to figure the game out each season.  Also, as the season starts to wind down in the late fall, I am able to play some quality rounds even if I haven't played frequently outdoors!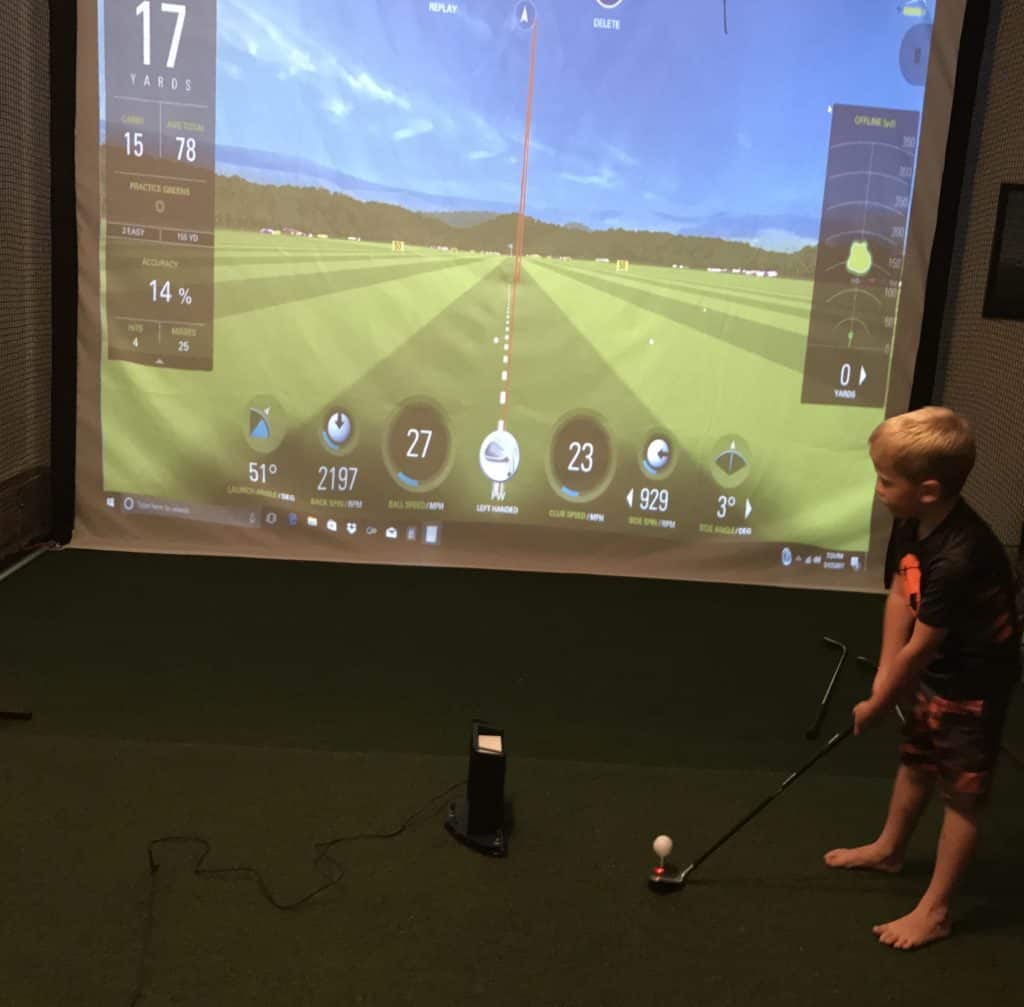 Final Words
The SkyTrak Launch monitor has provided everything I had hoped for.  I was recelived after many months of research on how wonderful of an experience it provided. 
I have been able to have fun with family and friends, work on improving my game and pretty much play golf anytime I have free time! 
The barriers of improvement and playing are gone and I am able to work on my game when I want with some impressive feedback and data to drive my game!
Take Action – What You Can Do Today to Get Better
What does this mean for you?  I believe in the following recipe to get better:
1 – Improve your motion in the golf swing by identifying a golf instructor.  Here are some options:
Here is a list of golf instructors that we have reviewed:
2 – Train to swing faster and improve your swing speed.  Here are some options:
Looking to gain more Speed and Distance in your swing. Two Options:
3 – Understand course strategy and work to break through your next barrier.  Here is a series on breaking through:
We have provided guides on how to break 100, 90, 80 and 70. Check out more below, if interested.
4 – Practice Frequently
Did you know that I build a golf simulator in my garage and have played over 500 rounds of golf on my SkyTrak system?  It has been a game changer and one worth checking out. Here are some of my other posts on golf simulators frequently asked questions: