It has often been reported that 65% of shots in golf take place inside of 100 yards.
If you are a mid handicap golfer looking to take your game to the next level, the fastest way to lower your score is to get better inside 100 yards.
This often starts with having the right wedges for your game!
Once you get the right wedge in your hand and combine that with some hard work, you can soon become a low or single digit handicap golfer.
Golf becomes that much more fun and you can expect to start to score in the 70s.  The quickest way to lowering your score is definitely around the greens.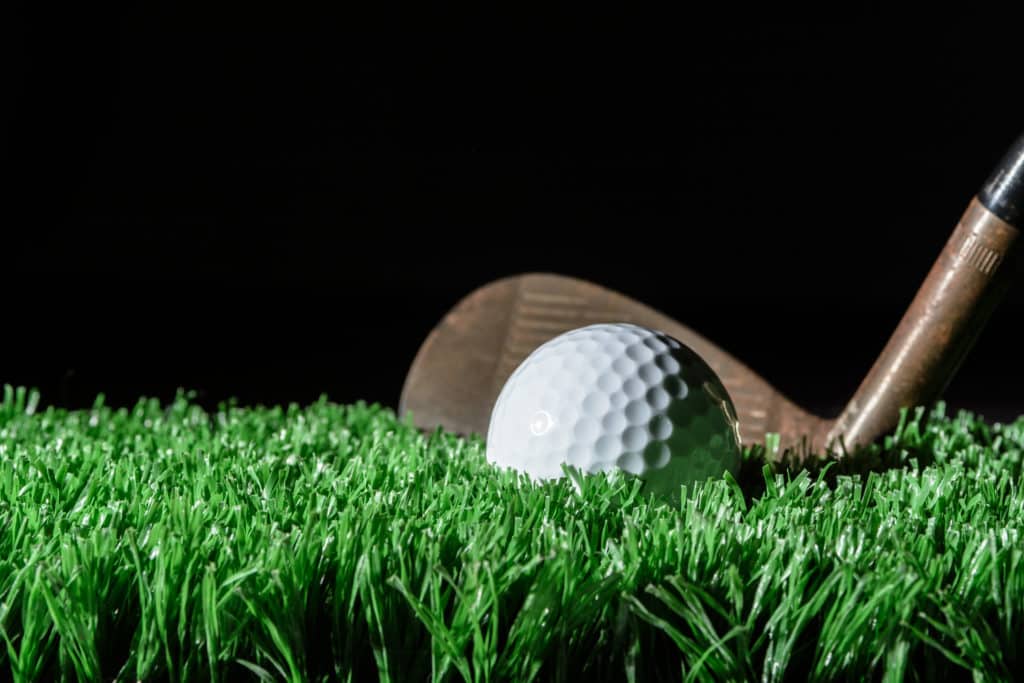 Best Wedge for Mid Handicapper
A 60 degree wedge.  This versatile wedge can be used from around 50 yards and in.  The numerous shots you can hit when chipping with a 60 degree wedge and the forgiveness provided will help you hit more chips inside of 3 feet.
Here is our top recommendation when it comes to a 60 degree wedge:
Top Reasons the 60 degree wedge is a great option for a mid handicapper:
Versatility
Loft and Spin Rate
Difficulty of today's greens
Versatility
The 60 degree wedge might be the most versatile club in the bag.  The comfort level you can build for all shots inside of 50-60 yards will make this your go to club.
Think about this for a second: 
If you have a simple 5-7 yard chip with a close pin, you will use your 60 degree wedge.
If you have a pitch shot from 20 yards or so with some green to work with, you can put the ball back in your stance and hit a pitch shots that bounces several times and stop.
If you are in a greenside bunker, you should use your 60 degree wedge.
If you have a shot from 50-60 yards and need some loft, the 60 degree wedge is your go to club.
The 60 degree wedge will become your favorite club.  The versatility and the opportunity to play it wide open for extra loft or to close it down to play a flatter shot is easy to do with some practice and the right technique.
Resource: When to use a 60 degree wedge
Loft and Spin Rate
Have you ever seen the pros hit that shot from 20 yards out that bounces a couple of times and then stops!  You too can hit that shot from a tight lie with a 60 degree wedge. 
The spin rate created and the extra loft provides the opportunity to hit this shot.  Stop trying to rely on the bounces and then having it run past the hole with a 48 degree wedge.  The greens in today's game are fast and firm and you need loft and spin to stop a ball.
Back when greens were considerably slower it made more sense to use a lower lofted club.  However, in today's game, the extra loft becomes a major asset of yours and you will use it more places than you realize!
Difficulty of Today's Greens
The newer designed courses often have very tricky greens.  Once that not only are firm and fast, but also have bunkers cut out everywhere.  If you shortside yourself and do not have a 60 degree wedge, good luck!  Even the best golfers in the world would struggle with a 48 or 52 degree loft club.
The game allows you to have up to 64, so why not use more loft and be prepared when you play those difficult courses with bunkers everywhere and greens that are like trying to land a ball on an airport runway. 
Let loft be your friend and learn to hit the higher flying, soft floating lob shot that will save your strokes!
Resource: When to use a 56 degree wedge
Best Wedge Degree For Chipping
The 60 degree wedge with about 10 degrees of bounce.  This club creates the greatest versatility for today's difficult firm and fast greens.  Becoming proficient with the lob wedge or 60 degree wedge will save you several shots a round.
The traditional teaching was that golfers didn't need more than a pitching wedge.  That is such old and outdated advice.  Buy the 60 degree wedge, practice with it a lot and watch the amount of shots you will save. 
If you struggle with the shot, go to someone that can help you or check out our top two videos below for some advice.  However, not learning more with the 60 degree wedge is like automatically accepting adding several shots per round to your score.
Best Wedge Degree Combination
At a minimum, a golfer should carry a 48 degree pitching wedge, a 54 degree sand wedge, and a 60 degree lob wedge.  One other option is to carry a 48, 52, 56 and a 60. 
This will often come down to your ability to play more half or three quarter shots.  Some golfers are comfortable playing those half shots or three quarter shots from 80 yards with a 54 degree wedge, while others may want another wedge in there to cut down on the amount you have to take off your swing.
Resource: Pitching wedge vs sand wedge
The goal is to find what is comfortable for you.  If you can play with the 48, 54 and 60, it provides another club you can add somewhere else.  Maybe an additional hybrid club or an additional fairway wood.
If you are someone that needs the 48, 52, 56, and 60 we understand.  Keeping in mind that 65% of shots in golf occur inside of 100 yards.
Resource: Complete overview on what wedges you need!
Regardless of your selection, make sure you have limited gaps in yardage and you know how far each club carries with different swings.  I would recommend adding a chart like the one below of your distance.  Here is my sample chart with my 48, 54, and 60 degree wedge.
| | | |
| --- | --- | --- |
| Wedge Degree | Size Swing | Carry Distance |
| 48 | 100% | 120 |
| 48 | 90% | 110 |
| 48 | 80% | 100 |
| 48 | 70% | 90 |
| | | |
| 54 | 100% | 105 |
| 54 | 90% | 95 |
| 54 | 80% | 85 |
| 54 | 70% | 75 |
| | | |
| 60 | 100% | 80 |
| 60 | 90% | 70 |
| 60 | 80% | 60 |
| 60 | 70% | 50 |
How To Measure the Distance of Your Wedges
We highly recommend that every golfer invest in a portable launch monitor.  These amazing devices provide accuracy with your carry distance and helps you map out your bag to know the distance that you hit different clubs and different size swings. 
I utilize my Skytrak Launch Monitor to create the charts above.
I know you might be thinking, but I can't afford a Trackman!  And most people can't that don't play golf for a living, but there are some great options on the market today.
Here are our top three recommended.  Check out the links below for current pricing:
Not only can you figure out your carry distance, but you will have the following data at your fingertips:
Ball Speed
Club Speed
Launch Angle 
Spin Rate
Spin Axis
This information is a game changer.  If you head to any PGA Tour event, you will see just about every golfer working with this type of technology throughout the week.  Now for a fairly affordable purchase price, you too can have similar data to help your game!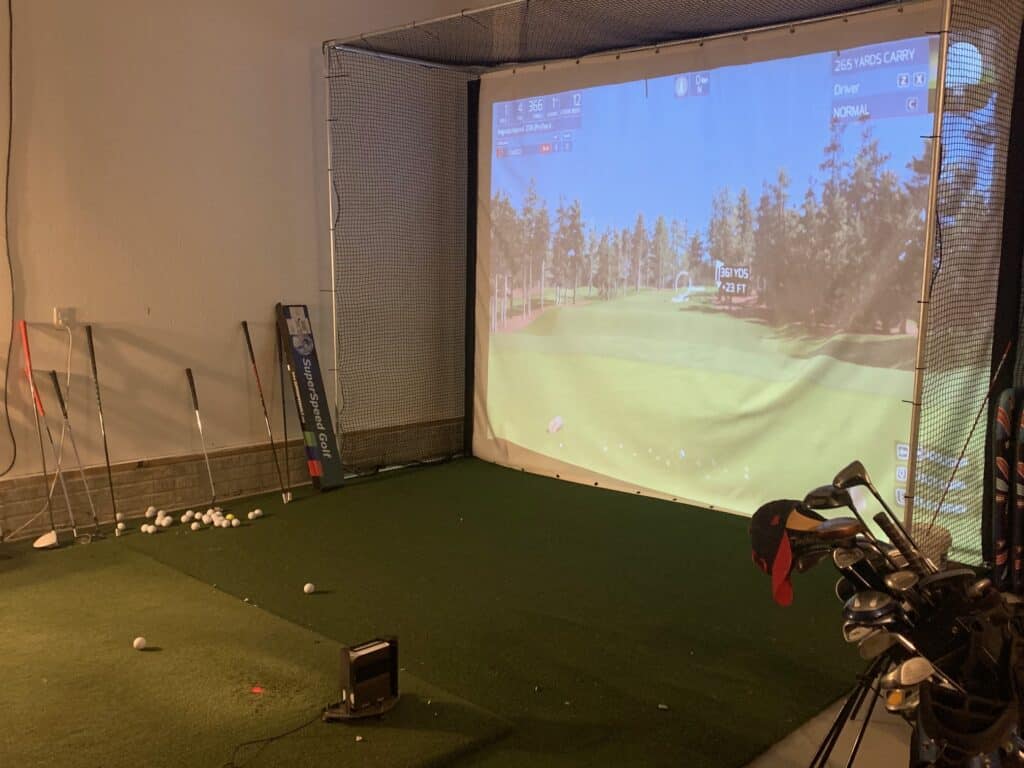 Best Degree Wedge for Sand
A 56 or a 60 is the best option. This provides the right amount of bounce and enough loft to help the ball stop on the green.  Anything less than this loft can be difficult for the greenside bunker.
For the longer bunker shots, you could play a 48, 52 or 54, but for the most part in those short greenside bunker shots that are difficult, you will want the extra loft to help stop the ball.
Final Thoughts: Wedges Are A Game Changer
Once you have the right equipment, some decent technique and the right amount of practice time you will understand the value of this quality combination. 
Make sure you have the right combination of wedges in your bag and seriously consider the great technology now available to amateurs at an affordable price with the launch monitors.  
Not only will it help your wedge game, but it can improve your driver and iron play as well.  Being able to practice 12 months a year with high quality feedback even in a simple setup with a net and hitting mat, you will make considerable gains.
Where Can I Use A Golf Launch Monitor?
Final Thoughts: My Secret To Golf Improvement
Let's face it, in order to get really good at golf, we must practice frequently.  About three years ago, I made the leap and invested in a golf simulator build for my garage.  
I went with a SkyTrak Launch Monitor and the TGC software and can now play over 100,000 courses including Augusta, Pebble Beach, Bethpage Black, Whistling Straits. St. Andrews and many other of the top 100 courses in the world.
This golf simulator setup, which is more affordable that you might imagine, has been a game changer.  I can now play golf everyday of the year regardless of rain, snow, cold weather or time of day. 
I can practice or play rounds of golf.  I can stand in the 11th fairway at Augusta and with the auto-rewind feature I am able to practice my approach shots from various differences.
It is worth checking out through Rain or Shine Golf as they offer some incredible packages along with financing offers that are difficult to beat.
Some direct links to Rain or Shine Golf for pricing and financing:
Take Action – What You Can Do Today to Get Better
What does this mean for you?  I believe in the following recipe to get better:
1 – Improve your motion in the golf swing by identifying a golf instructor.  Here are some options:
Here is a list of golf instructors that we have reviewed:
2 – Train to swing faster and improve your swing speed.  Here are some options:
Looking to gain more Speed and Distance in your swing. Two Options:
3 – Understand course strategy and work to break through your next barrier.  Here is a series on breaking through:
We have provided guides on how to break 100, 90, 80 and 70. Check out more below, if interested.
4 – Practice Frequently
Did you know that I build a golf simulator in my garage and have played over 500 rounds of golf on my SkyTrak system?  It has been a game changer and one worth checking out. Here are some of my other posts on golf simulators frequently asked questions: