Oftentimes as someone cleans out a house, garage or other facility they come across an old set of golf clubs.
Or someone is taking up the game of golf and a friend or family members offers them their old golf clubs.
The golfer takes a look at them and they look like new.  What should the golfer do?  Could he or she really use these golf clubs and have success?
Are Old Golf Clubs Still Good?
While the clubs may look new and perform at the level they were designed for, most golfers will want to use a newer set of clubs that have been built in the last 10 years or less.  If a golfer decides he or she wants to use the old set, at a minimum they should get new grips.
The bottom line is that technology with golf clubs improves every year.  Our recommendation is to buy new irons once every 10 years and replace the driver around every 5 years.  Technology, not only helps with distance, but also with shot dispersion.
If a golfer is utilizing a set that is older than 10 years old, they may be giving up performance in their clubs and could possibly player better with a newer set of clubs built for their golf swing.
The older clubs might perform well on the shot struck right in the sweet spot, but as the technology improves, one of the greatest benefits is not losing a great deal of distance or shot accuracy on off center hits.
So, how old is too old when it comes to golf clubs?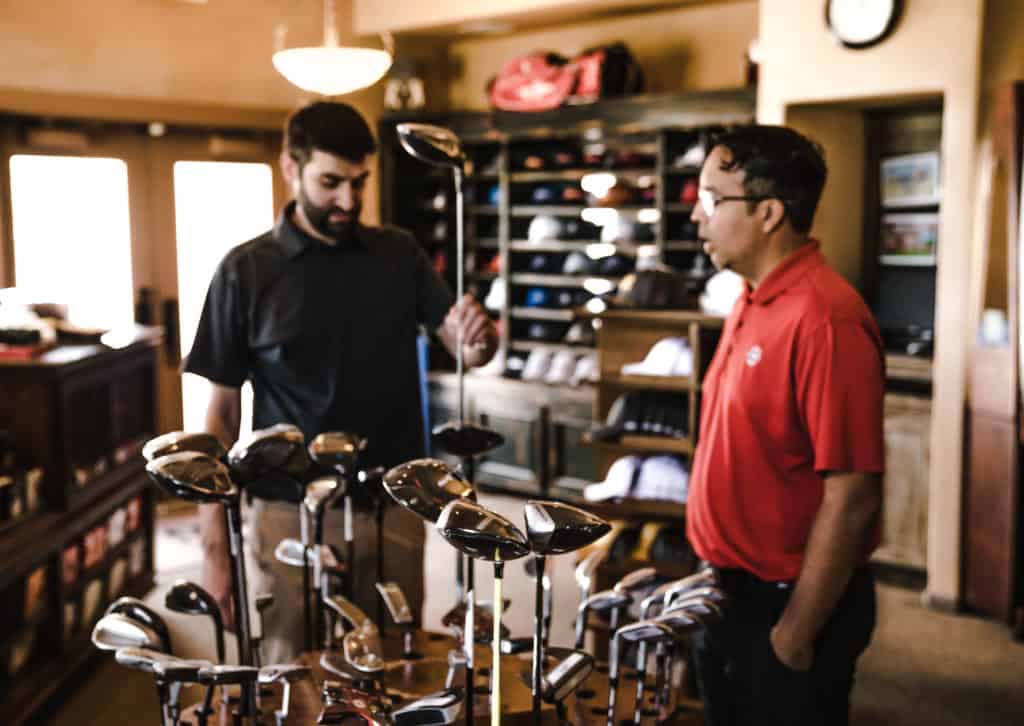 Are 30 Year Old Golf Clubs Still Good?
While they might be in quality condition and are still considered good, the golfer might be sacrificing overall performance due to the technology 30 years ago when the golf clubs were built.
As tempting as it might be to save some money as a golfer begins their golfing journey, we would recommend checking out budget based post on getting started in the game of golf.
How To Know How Old Golf Clubs Are?
Most golf clubs will have a make and model on the clubhead. Go ahead and complete a simple google search and look up what year the club manufacturer produced that set of clubs.
Once again, our recommendation is new irons every 10 years and new irons ever 5 years.  
What Clubs Should I Replace Most Often?
Golf wedges will lose their performance the fastest.  Due to the reliance on spin rate to control the ball once it lands and even the distance control in the air, it is important to have a consistent spin rate on all iron shots.  
Did you know that Tiger Woods would have new wedges every week he played on tour and some golfers replace their irons every several tournaments.  Spin rate is impacted and is reduced over time on used clubs.  This makes the ball fly a bit further and also prevents the ball from stopping on the green.
While the increased distance might be appealing to the amateur golfer, the professional or elite amateur relies more on hitting the shot the intended distance vs the extra 5-10 yards that he or she might gain.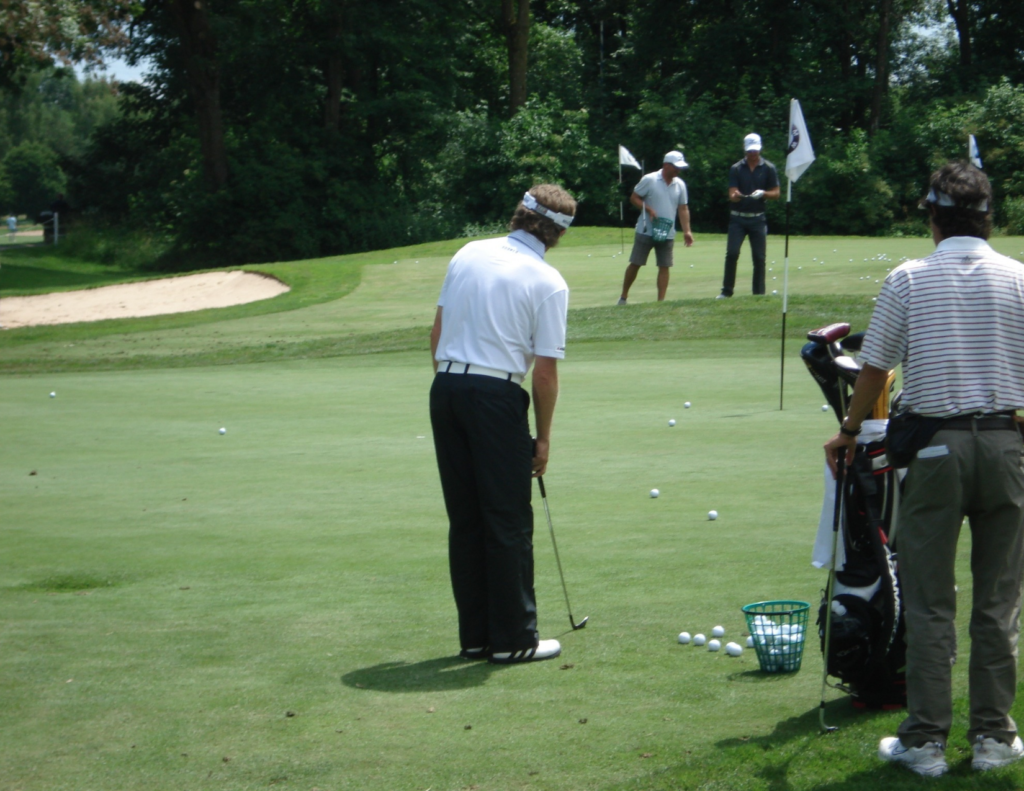 Can I Use An Old Putter?
This is one club that is more about your feel and confidence than any other clubs.  Putting comes down to two keys: hitting your intended start line and controlling the pace.  If you can meet these two with a 30 year putter, we say, go for it!
While the putter technology continues to strive to maximize the optimum launch angle, off center putts and visual aids, the bottom line is that if that old putter feels good, give it a shot!  This is one club that one could use for 10-30 years without much issue.  We do recommend having a backup putter that you alternative and use if your putter is struggling.
How many putters should I own?
What Golf Club Should Most Amateurs Replace?
If you decide to go with an older set and do not have a driver swing speed of at least 100 miles per hour, you will more than likely want to replace the 3 and 4 iron in your set with a fairway wood or hybrid.  If you are trying to hit those old long irons, good luck!  
The better option is the fairway wood or hybrid.  The ability to launch these clubs high and far with quality accuracy will make a difference in your score and your overall experience.
Technology has improved and replacing your old irons is important.
Should I Consider Used Clubs?
One way to save money when buying new clubs is to consider used clubs that are 1-3 years old.  Irons are your best option for used clubs as they technology does not change drastically and you can get a quality 7-10 years out of the irons.
While a driver is easy to break or bend, most irons are pretty solidly built, as a result I would have confidence in buying a used or pre-owned set of golf irons.
Complete Post on Used Golf Clubs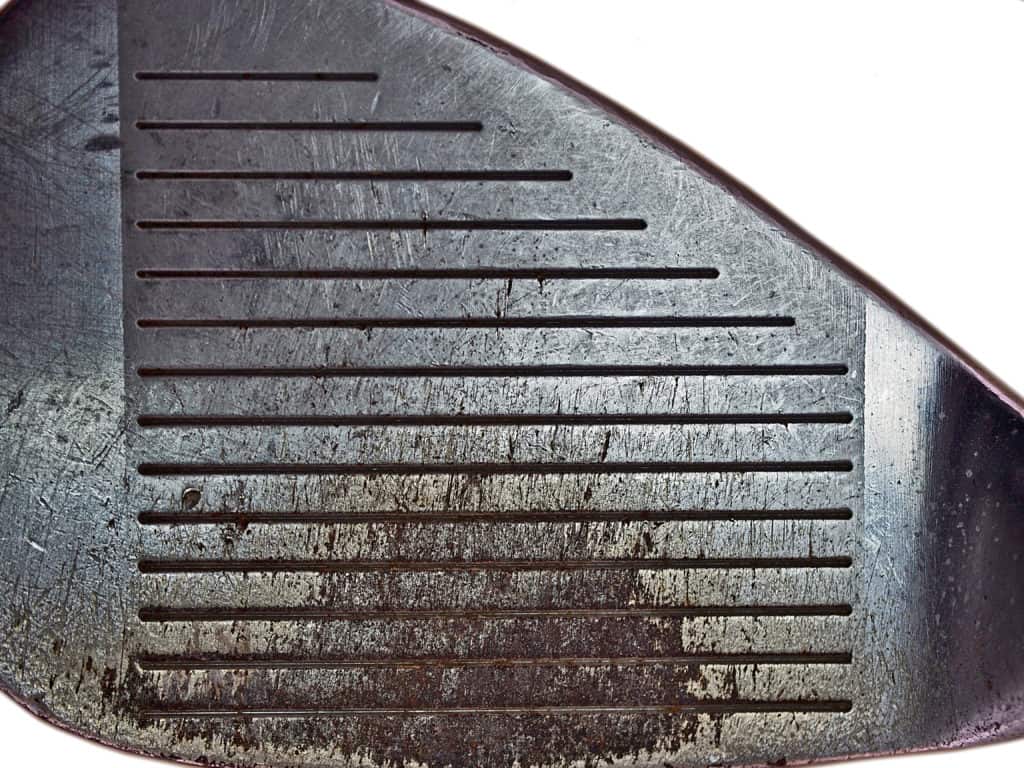 My Secret To Golf Improvement
Let's face it, in order to get really good at golf, we must practice frequently.  About four years ago, I made the leap and invested in a golf simulator build for my garage.  I went with a SkyTrak Launch Monitor and the TGC software and can now play over 100,000 courses including Augusta, Pebble Beach, Bethpage Black, Whistling Straits. St. Andrews and many other of the top 100 courses in the world.
This golf simulator setup, which is more affordable that you might imagine, has been a game changer.  I can now play golf everyday of the year regardless of rain, snow, cold weather or time of day.  I can practice or play rounds of golf.  I can stand in the 11th fairway at Augusta and with the auto-rewind feature I am able to practice my approach shots from various differences.
It is worth checking out through Rain or Shine Golf as they offer some incredible packages along with financing offers that are difficult to beat.
Some direct links to Rain or Shine Golf for pricing and financing:
Take Action – What You Can Do Today to Get Better
What does this mean for you?  I believe in the following recipe to get better:
1 – Improve your motion in the golf swing by identifying a golf instructor.  Here are some options:
Here is a list of golf instructors that we have reviewed:
2 – Train to swing faster and improve your swing speed.  Here are some options:
Looking to gain more Speed and Distance in your swing. Two Options:
3 – Understand course strategy and work to break through your next barrier.  Here is a series on breaking through:
We have provided guides on how to break 100, 90, 80 and 70. Check out more below, if interested.
4 – Practice Frequently
Did you know that I build a golf simulator in my garage and have played over 500 rounds of golf on my SkyTrak system?  It has been a game changer and one worth checking out. Here are some of my other posts on golf simulators frequently asked questions: