I have been in your shoes!  Sitting there wondering how to take your game to the next level!
Would a launch monitor help my game and in which ways?
Are launch monitors worth it?
Can I truly get better with a launch monitor?
These are all of the questions I asked myself several years ago.  As I saw more and more of the professional golfers having access to launch monitors and talking about spin rate, ball speed and many other measurements of the swing, I started to question for myself if there was an affordable option for the amateur golfer.
Of course, the majority of pros use a Trackman, but is there a device that can be used at home, the driving range or even on the course?
So, I dug it and found some very viable options and of course the benefits.
The top three Launch Monitors that I found included:
The launch monitors above are three excellent options in today's market that allow you to measure your swing at the driving range, in a net, or in a home golf simulator. 
These versatile options below give you instant feedback and the information you need to experiment and see what works best for your!
I personally use the SkyTrak Launch Monitor and am able to use it in my golf simulator setup in my garage and take to the driving range or course. 
The real time data on ball speed, spin rates and spin axis gives me the feedback I know to test out different clubs and setups on my drivers or what clubs I am hitting the best.
The affordability of these products is rather impressive and if you are serious about improving your game, you have to check these out!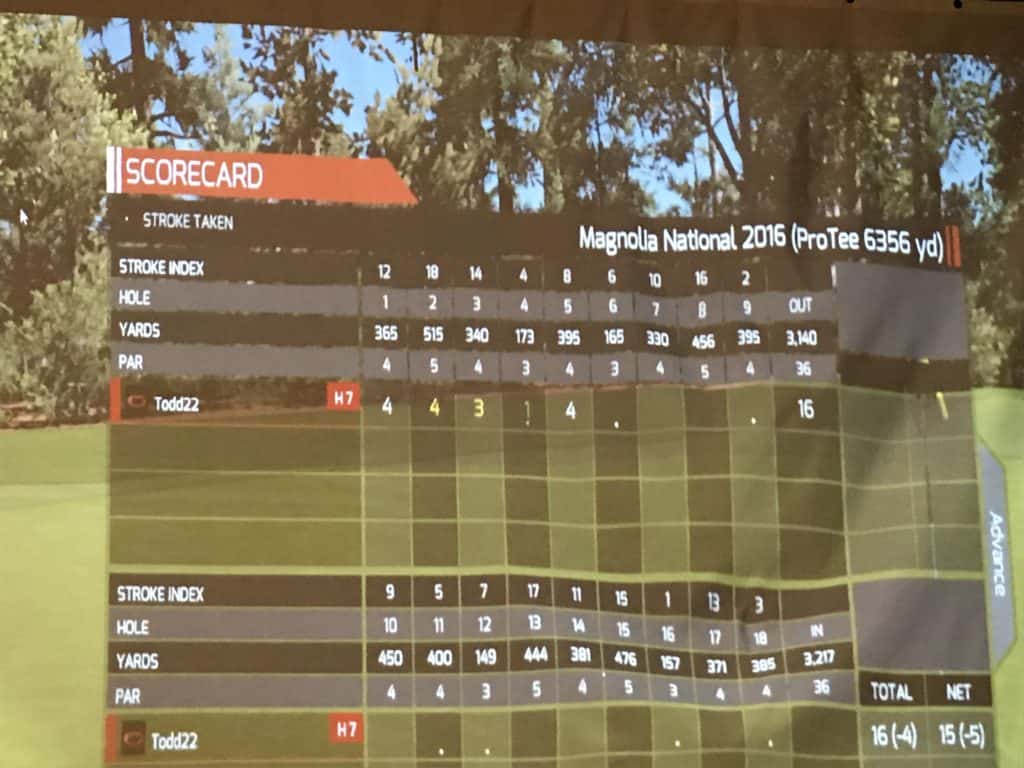 Are Launch Monitors Worth It?
Yes, the game improvement opportunities are endless with the amount of feedback that you will receive when practicing or playing.  Plus the ability to add a golf simulator setup to most launch monitors helps you expand your seasons and practice 365 days a year!
My personal story includes improving my average score form the 76-78 range down to a 70-73 range.  I have shot several rounds in the 60s and one even as low as a 65 since purchasing my golf launch monitor. 
The ability to play or practice 365 days a year with instant feedback has been a game changer.  I have matched this up with learning more about the swing, experimenting and working on gaining speed in my swing!
Top 7 Reasons to Buy A Launch Monitor
#1 – Measure Your Swing
Knowing our numbers is the first step to improving our swing.  Do you swing from the inside or do you swing from the outside?  What is your launch angle when hitting your driver or how about your 8 iron? 
Are you compressing the ball enough with your wedges?  What is your average spin rate with your 56 degree wedge?
Is your spin rate on your driver too high or too low?
All of these questions are easy to answer if you have a launch monitor to provide numbers after every shot.  Whether you are on a golf simulator setup or you have your launch monitor at the driving range, you will have instant feedback after every shot!  These key analytics can help you make the adjustments needed to start playing better.
Golf is a wonderful game!  It is even better when we are making improvements.  The number one key I have found out is the importance of having a swing path between 2-3 degrees to the right with a face just somewhat closed to that path. 
This creates my stock draw that I can rely on under pressure and is my go to shot on most drivers and approach shots.  I am able to hit the ball very crisp with solid compression on 99% of my shots! 
This has been established through the continuous repetitions and the ability to know the measurements of each swing that I take.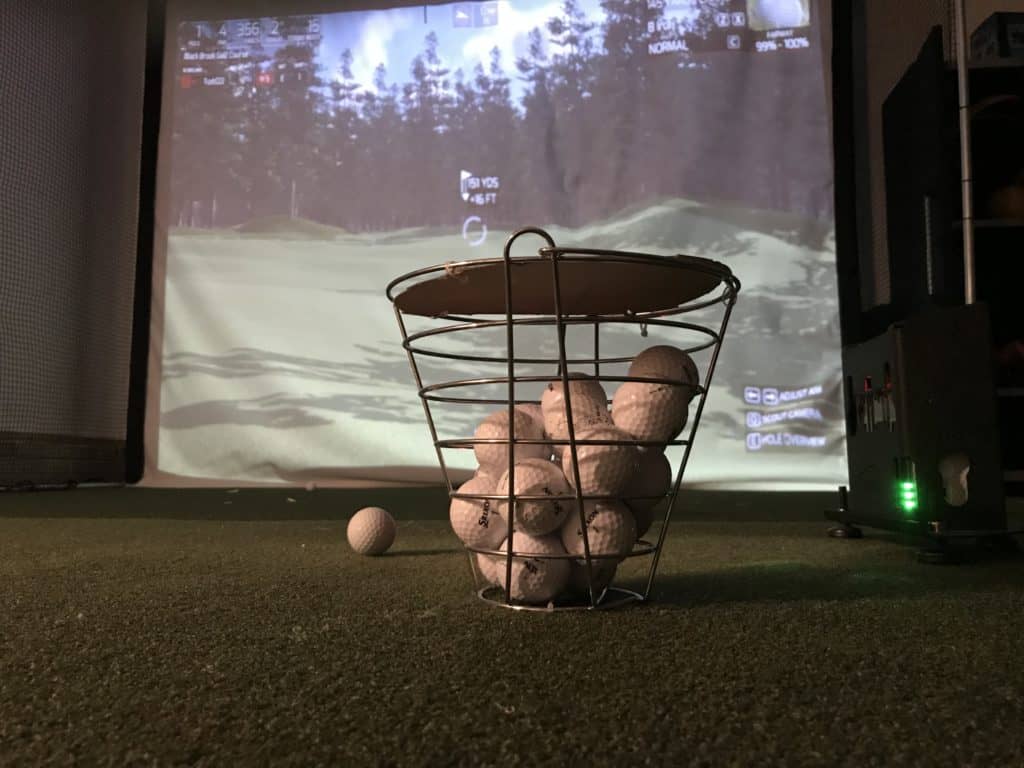 #2 – Instant Feedback
The feedback is timely.  In any and all quality learning setups the learners has quick and easy access to feedback.  Nobody wants to wait around until their next lesson to know if there numbers are right.  
You now have the feedback to know what is taking place.  Is the gap between your path and your club face direction too large and causing a high or really negative numbers in your spin axis?  This could mean you are creating too large of a gap and may need to straighten your path out of a bit to create less side spin.
I used to go to the driving range and hit golf ball after golf ball, trying to make improvements to my swing without the real feedback needed.  Check out any PGA Tour driving range and you will see plenty of launch monitors. 
I stood there several years ago watching Tiger Woods hit shots and then check the numbers on both his irons and his driver.  
This is key information that the pros have and we can now have at an affordable price.  Isn't technology great!  Let's tap into it and use it to our advantage!
#3 – Experiment with Potential Swing Changes
We have all read the articles, listen to the podcast or have seen youtube videos where we see or hear a swing thought that might work for us. 
Whether it is Jack Nicklaus talking about keeping his back to the ball (or at least the feeling) or the George Gankas approach of squatting and rotating through the shot or Mike Malaska promoting the directing of the momentum.  Or maybe it was a throwing motion video that we saw that make sense.
The key being is that we have a way to test out these simple changes to measure if they benefit us!  Too often golfers continue with the same bad swing and never really get better. 
We have to be able to strike the ball solid, control our start line and control the curve of the ball.  The launch monitors allow us to do this in several different settings.
The worst feeling is thinking that something is going to work only to have it fail us!  We leave with hope initially.  Now you can hit hundreds of balls reading the numbers and the results from what the different feels are producing in your swing! 
Does this certain feel push your path more out to the right?  Now you will know from the numbers on the launch monitor!
#4 – Practice 365 Days A Year
Maybe my number one reason!  I went all out and purchased an enclosure, computer, projector, the software and a hitting mat to make sure I had everything that I needed to build a golf simulator in my garage. 
Over 700 rounds later and many hours of studying and practicing the swing, I have reduced my average score by 4-6 shots and now swing between 106-108 miles per hour after being stuck in the 97-99 range for many years.
My own little laboratory is set up in my garage where I can practice even if there is 4 feet of snow on a January day.  I can stand on the 1st tee at Pebble, Augusta, Whistling Straight, Bethpage Black or many other of the top 100 courses in the world! 
You can set it to auto rewind and practice the 17th tee shot on the Island Green at TPC Sawgrass!  The possibilities are endless.
The great thing about the simulator is that I often hear that golfers don't play enough golf and simply just practice too much, not really working on shooting a score.  While I do love to practice 8 irons or wedges, I do play often and try to produce a score. 
#5 – Test Equipment
Many golfers love to tinker with different clubs and try out different shafts, driver lofts, etc. that can help you get better.  The launch monitors will help you understand if these equipment changes are helpful for your game. 
Does a certain shaft in your driver give you a more optimum spin rate on your driver?  Does adding loft help you launch the ball higher and further?
These are the questions you can now answer and have the instant feedback to see if this is a change that will help you over time!
Also, another great option is to test what golf ball is best for you.  Buy the top 5 golf balls in the market and test watch out with your golf launch monitor and a hitting net.  You can measure distance with your driver, distance with your irons and your spin rate on wedges.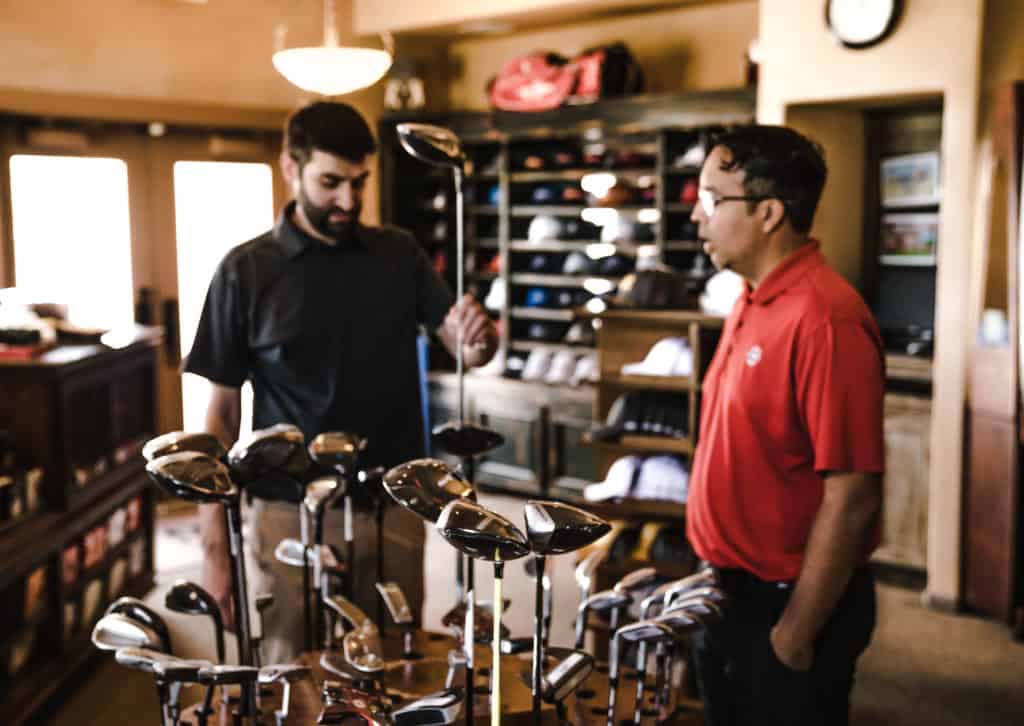 #6 – Learn to Work the Balls Both Ways
The ability to work the ball both ways is important in the game of golf.  Having the data to give you feedback on your swing path or club face will help you make the adjustments needed to hit that slight fade or draw.
Some people will say to always stick with one shaped shot while others promote working the ball. You can now experiment and figure out what you are most comfortable doing.
#7 – Measure Your Speed Gains Over Time
One of the best things for my game is the increase in my driver swing speed that I have experienced.  As stated earlier I have seen an increase of between 8-10 miles per hour over the past several years. 
While it has taken an improvement in mechanics, I have also trained with the SuperSpeed Golf Training Protocols.  They are worth checking out and promote a 4-6% increase in swing speed as earlier as the first training session.
SPEED DRILL: Increase your swing speed through overspeed training
Check out SuperSpeed Overspeed Training Protocols
Train every other day for 10-15 minutes.
See a 4-6% increase in swing speed as early as the first training protocol.
The number one thing that has helped me gain significant distance is the SuperSpeed Training System. 
This overspeed based system where you train every other day for about 10-15 minutes with different swing sticks can help you increase your swing speed by 5-8% which can be 20-30 yards.  Who wouldn't want an extra 20-30 yards.  Plus it helps improve your mechanics.
SuperSpeed Golf – Use Discount Code Golfjourney365 for some savings!
The analytics are pretty clear on the importance of speed in the game of golf.  Would you rather hit your approach shot from 130 yards of 160 yards? 
The answer is pretty simple!  We know that over the course of time, we will hit shots from 130 yards much closer than from 160 yards, whether we are an average amateur golfer, a scratch golfer, or a PGA Tour member!  
Bonus: How Accurate is a Golf Simulator?
The number one question I receive when someone finds out I have a golf simulator in my garage is how realistic are the golf simulators.  I go on to explain my SkyTrak setup and give a 10 out of 10 review for the realistic nature of it. 
The only thing that really doesn't measure up to great is the putting.  However, there are features to turn off the putting and take 2 strokes if on the green, but outside of 6 feet or a 1 putt inside of 6 feet. 
My thinking on this is if I only have 45 minutes for a round of golf that day, I want to hit full shots or chip shots that will develop my full swing, areas where I feel the SkyTrak excels in accuracy. 
Putting is so much about reading greens and the vision part of it, that while I believe it is somewhat realistic, I would rather spend my time elsewhere.
So, I did a little comparison of golf scores to measure up the realistic nature of the SkyTrak.  What better way than to actually compare scores shot over the past 15 rounds, both outside and with my SkyTrak Golf Simulator setup.
Check out some great pricing and financing on a golf simulator package!
| | | | | |
| --- | --- | --- | --- | --- |
| Golf Simulator Score | Relative to Par | 15 Total Rounds | Real Golf Score | Relative to Par |
| 72 | 1 | Round #1 | 76 | 4 |
| 75 | 0 | Round #2 | 78 | 6 |
| 72 | 3 | Round #3 | 74 | 3 |
| 81 | 9 | Round #4 | 71 | 0 |
| 75 | 3 | Round #5 | 70 | -1 |
| 73 | 3 | Round #6 | 71 | 0 |
| 75 | 3 | Round #7 | 72 | 0 |
| 71 | -1 | Round #8 | 73 | 1 |
| 71 | -1 | Round #9 | 72 | 1 |
| 72 | 1 | Round #10 | 74 | 3 |
| 73 | 3 | Round #11 | 74 | 3 |
| 72 | 1 | Round #12 | 74 | 4 |
| 72 | 1 | Round #13 | 72 | 1 |
| 72 | 1 | Round #14 | 73 | 3 |
| 76 | 4 | Round #15 | 73 | 2 |
| | | | | |
| 1102 | 31 | | 1097 | 30 |
| 73.47 | 2.07 | | 73.13 | 2 |
Accuracy of Golf Simulator vs Reality – Data Breakdown
Total Strokes (15 Total Rounds) = 1102 in Simulator Golf and 1097 in Real Golf
Total Strokes Over Par (15 Total Rounds)  = 31 in Simulator Golf and 30 in Real Golf
Average Score = 73.47 in Simulator Golf and 73.13 in Real Golf
Average Strokes Over Par = 2.07 in Simulator Golf and 2.0
How crazy that after 15 rounds there is only a 5 shot difference? Having never done a data comparison before, I must say I am even more impressed with simulator golf.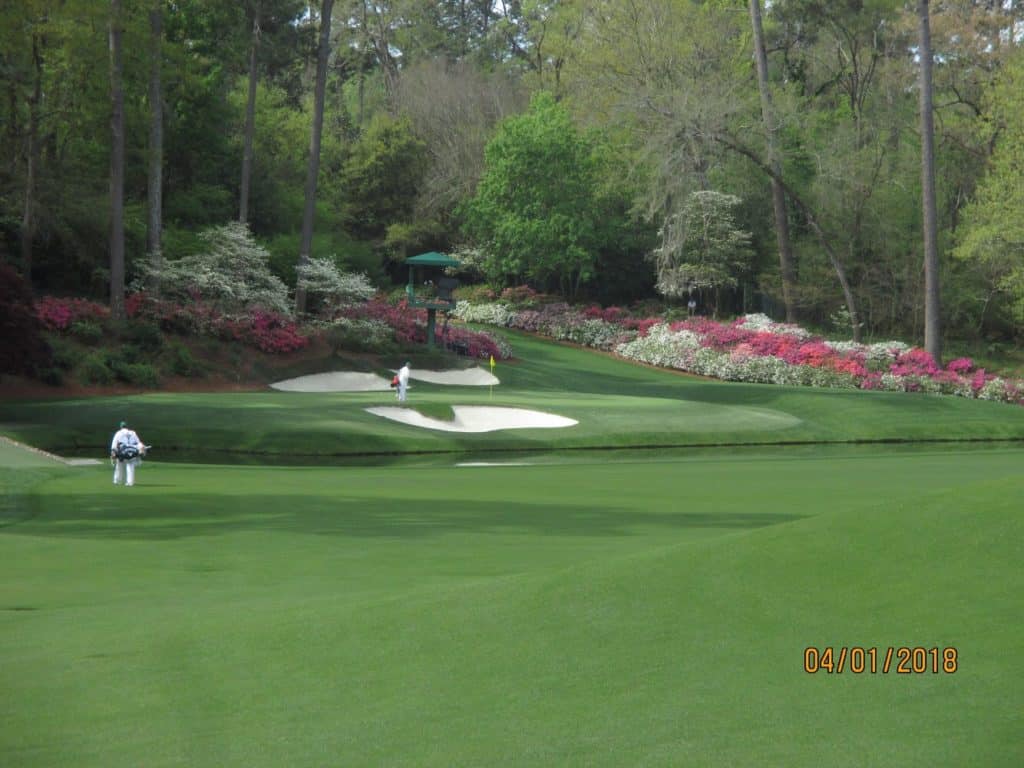 My Secret To Golf Improvement
Let's face it, in order to get really good at golf, we must practice frequently.  About three years ago, I made the leap and invested in a golf simulator build for my garage. 
I went with a SkyTrak Launch Monitor and the TGC software and can now play over 100,000 courses including Augusta, Pebble Beach, Bethpage Black, Whistling Straits. St. Andrews and many other of the top 100 courses in the world.
This golf simulator setup, which is more affordable that you might imagine, has been a game changer.  I can now play golf everyday of the year regardless of rain, snow, cold weather or time of day. 
I can practice or play rounds of golf.  I can stand in the 11th fairway at Augusta and with the auto-rewind feature I am able to practice my approach shots from various differences.
It is worth checking out through Rain or Shine Golf as they offer some incredible packages along with financing offers that are difficult to beat.
Some direct links to Rain or Shine Golf for pricing and financing:
Take Action – What You Can Do Today to Get Better
What does this mean for you?  I believe in the following recipe to get better:
1 – Improve your motion in the golf swing by identifying a golf instructor.  Here are some options:
Here is a list of golf instructors that we have reviewed:
2 – Train to swing faster and improve your swing speed.  Here are some options:
Looking to gain more Speed and Distance in your swing. Two Options:
3 – Understand course strategy and work to break through your next barrier.  Here is a series on breaking through:
We have provided guides on how to break 100, 90, 80 and 70. Check out more below, if interested.
4 – Practice Frequently
Did you know that I build a golf simulator in my garage and have played over 500 rounds of golf on my SkyTrak system?  It has been a game changer and one worth checking out. Here are some of my other posts on golf simulators frequently asked questions: