Most golfers are on a journey to get better. 
They desire to play solid, consistent golf where ball striking is a strength.
Many will go great lengths with practice time, new clubs, swing trainers, instruction and other variables that can help make a golfer better.
The greatest impact I have experienced when it comes to swing improvement is with a golf swing analyzer or a launch monitor.
These affordable devices provide some amazing feedback and data to build a swing that is reliable and consistent.  
Are Golf Swing Analyzers Worth It?
Yes, the feedback and data provided after every swing and shot is helpful in making adjustments and building a swing that will hold up under pressure.  They can also be used as part of a golf simulator, allowing the golfer to practice and play 365 days a year!
What information do the golf swing analyzers provide?
Typically, the launch monitors will provide the following data:
Carry and Total Distance
Ball Speed
Spin Rate
Launch Angle
Spin Axis
With this information above, the golfer is able to see if the swing path and face were inside out or outside in and what spin was created.  They are also able to create a distance chart with each bag to know the distance they hit each club in the bag.
Often an underlooked stat is spin rate.  Did you know that a driver swing speed of 100 miles per hour with a spin rate of 2300 will carry a ball about 20 yards further than a swing at 100 miles per hour with a spin rate in the 4000s?
Golfers need feedback in order to improve.  While most of us are not fortunate enough to have a swing coach over our shoulders, having the key information above can help the golfer make slight adjustments with feel and mechanics through video usage in combination with the launch monitor or swing analyzer.
Here are my top 3 recommend affordable golf launch monitors:
What Makes It Worth It? 
Here are the areas where the golfer will benefit the most:
Swing Improvement
Distance Control
Playing/Practicing Frequently
Extra Distance
Other Resources Related to Golf Launch Monitors and Swing Analyzers
#1 Swing Improvement
If the golfer simply was able to develop a stock shot as a result of reading the numbers after every shot, the golfer will be able to manage their way around a course.  One of my favorite drills to practice is the stock shot drill.  This drill has helped me develop a go to stock shot that is a slight push draw.  It will start right of the target and curve back towards the target.
Prior to the launch monitor practice time, I would often hit pull draws and push draws.  However, with the stock shot drill and the feedback from the launch monitor I have been able to hit my stock shot close to 70-80% of the time.
Stock Shot Drill
At the driving range, set up an alignment stick about 6-8 yards in front of you, straight down your target line.
If you have a second alignment stick, set the stick 3-4 feet right of the first stick (for a draw) or left of the first stick (for a fade).
Complete your initial assessment and see how many times out of 10 you can start the ball to the right or left of your target.  Pick one side and measure your game at this point.
The goal is to eventually get 7 out of 10 shots to start to the correct side and draw back towards the target.
The feedback provided and image created through the ball tracer can help the golfer develop the swing path and the club face relation that produces a slight push draw or a slight pull fade depending on the preference of the golfer.
Golfers are able to feel consistent in their approach and have a general idea of where the ball will fly.  I often encourage golfers to assess and build their game around three basics:
The ability to control the low point of the swing
The ability to control the start line of each shot as well as the curve of the ball
The ability to swing the club with enough speed to play the course.
The feedback from the launch monitor will help develop the mechanics, feel and visualization that it takes to develop this shot.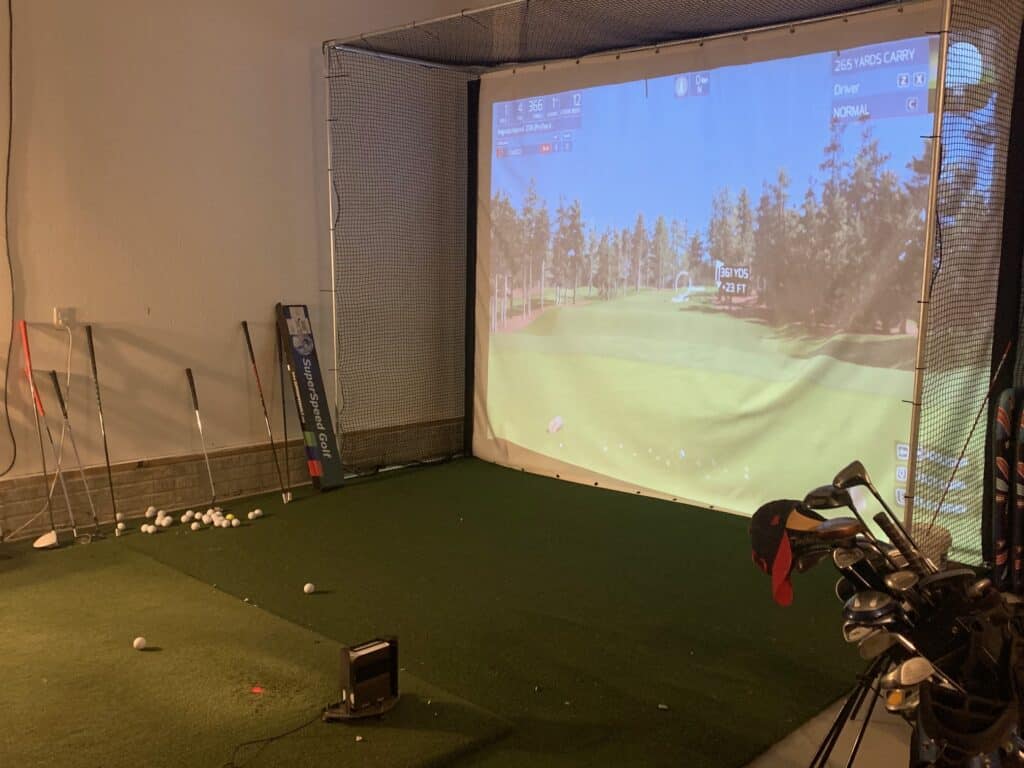 #2 Distance Control
When you are hitting a driver and it flies an extra 15 yards, you often celebrate and feel good about it.  When you are trying to hit a 7 iron 155 yards and it flies 170 yards, you are usually left in a bad situation and are guaranteed at least a bogey or worse depending on your short game.
Having the specific yardage you fly each iron in your bag is essential to reaching your full potential in the game of golf.  This can be hard to measure on a driving range with range balls, but if you have a net, mat and launch monitor it is much easier and the system will often calculate the average for you.
Here is an example distance chart I have created for my game:
| | | | |
| --- | --- | --- | --- |
| Club | Carry Distance (100%) | 90% | 80% |
| 2 Utility Iron | 210 | | |
| 4 iron | 190 | | |
| 5 iron | 181 | | |
| 6 iron | 171 | | |
| 7 iron | 163 | | |
| 8 iron | 153 | | |
| 9 iron | 143 | | |
| P Club | 130 | 123 | 115 |
| Pitching Wedge | 118 | 110 | 102 |
| SW Club | 105 | 97 | 91 |
| LW Club | 90 | 82 | 74 |
I have found a chart like this to be helpful especially with the wedges.  It provides options on what I can do from various yardages inside of 130 yards.  The versatility has helped me improve my misses and make my well struck shots that much better!  The precision that it takes to score low often comes down to club selection and picking the right shot to match the situation.
#3 Playing/Practicing Frequently
Let's face it, in order to get better, we must practice and play frequently.  I took my Skytrak Launch Monitor and used it to build a golf simulator.  Over the past 4 years I have played over 800 rounds and have reduced my average score by 4-6 shots into the lower 70s with the occasional round in the 60s.  Yes, I might still play a poor round or two, but overall the consistency is there.
The golfer has several options with the launch monitors:
Use it a the driving range
Use it as part of a golf simulator setup
Use it as part of a mat and net setup
Depending on the climate where you live, you might be faced with no golf activity or praactice from 2-6 months.  This can often lead to you losing any of the gains you have been able to make during the season.
With 2 of the 3 options below, you can now practice year round and continue to make gains, especially with the feedback that is available after every shot that you hit.
Playing courses like Pebble, Augusta, Whistling Straights, Bay Hill and St. Andrews has been a game changer.  I can have close to real life reps even when there is snow in the middle of the winter.
I also have experienced people who use a mat and a net and look at the feedback after every shot.
Both situations get the golfer better prepared for spring golf and ready to go.  No longer does it take 3-7 rounds just to get your game going again.  You are ready to go as soon as the weather allows you to play.
Here are my top 3 recommend affordable golf launch monitors: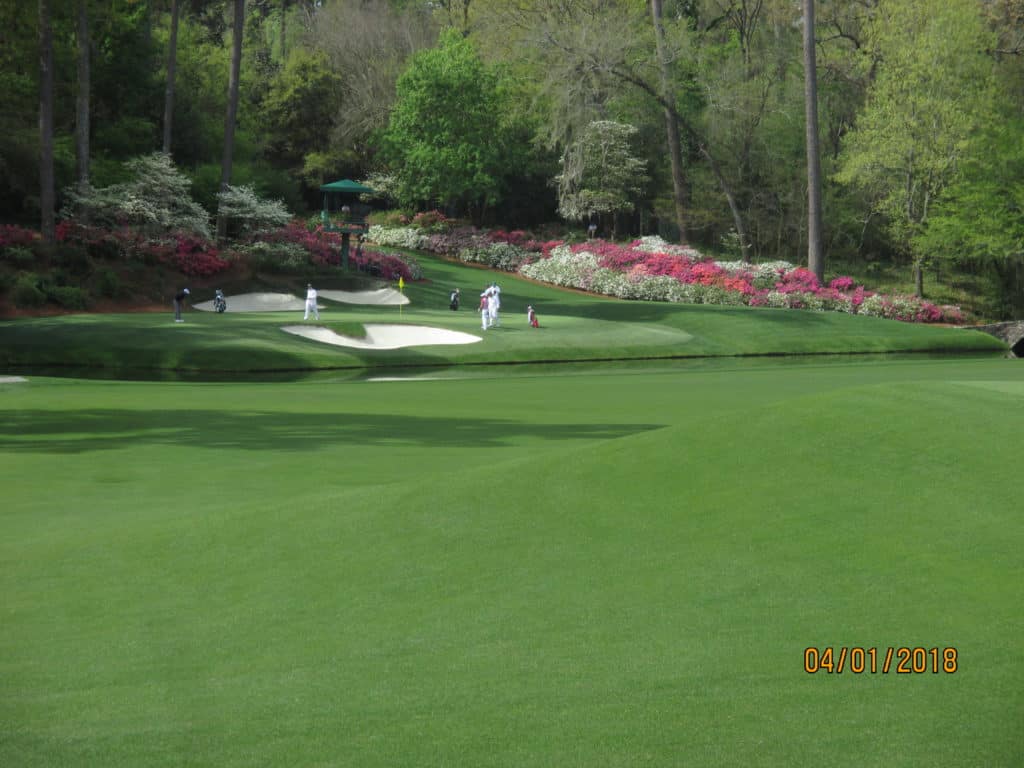 #4 Extra Distance
For years people would often say, "drive for show, putt for dough" when the reality is that distance is important not only to overall scoring, but to consistency in the scoring.  Those that have the greater distance have shorter shots into greens.  This means hitting it closer on average, which results in more putts made.
Check current price of SuperSpeed Golf here!
There is a big difference between someone that can swing a driver 85 miles per hour vs someone swinging at 105 miles per hour.  Even an increase in 5-8 miles per hour can mean 30 yards of extra distance.  The really neat part is that recently there have been research studies on the best way to increase swing speed.
What we have learned is that overspeed training with lighter clubs can help train the mind and body to be able to swing faster.  My example is that I used to swing between 98-101 miles per hour.  
After training with the SuperSpeed program I am now between 105 and 108 miles per hour.  In order to swing faster, you have to train by swing faster.  With the lightest club in the protocol by SuperSpeed, I am swinging between 122 and 129 miles per hour.  This than coverts to between 105-108 miles per hour with my actual driver when playing golfer.
The difference of 20-30 yards is important and one of the fastest ways to get better at golf.  Would you rather be hitting a 7 iron from 155 or a PW from 125 after your drive?  If you give yourself the shorter shot over the course of 18 holes, you are going to hit more greens in regulation, hit the ball closer to the hole, which then gives you a better chance of making the putt.  The formula is simple.  The important part is to start training for speed using SuperSpeed Golf and improve your speed and gain 20-40 yards.  It will make a massive difference!
Take Action – What You Can Do Today to Get Better
What does this mean for you?  I believe in the following recipe to get better:
1 – Improve your motion in the golf swing by identifying a golf instructor.  Here are some options:
Here is a list of golf instructors that we have reviewed:
2 – Train to swing faster and improve your swing speed.  Here are some options:
Looking to gain more Speed and Distance in your swing. Two Options:
3 – Understand course strategy and work to break through your next barrier.  Here is a series on breaking through:
We have provided guides on how to break 100, 90, 80 and 70. Check out more below, if interested.
4 – Practice Frequently
Did you know that I build a golf simulator in my garage and have played over 500 rounds of golf on my SkyTrak system?  It has been a game changer and one worth checking out. Here are some of my other posts on golf simulators frequently asked questions: