Hole in ones are quite rare!  For those of us with none, we often like to talk about how it is all luck to get in a hole in one, while others who have made a hole in talk about how hard it is! 
No matter what camp you are currently in, it is always fun to learn more about the pro golfers and the number of hole in ones that they have.
I heard something very interesting the other day as I watched the rebroadcast of the 2019 Master.  Tiger Woods and Jim Nantz were talking about the different shots and the viewers were getting insight to what Tiger Woods was thinking and his reaction to the different events taking place on that famous Sunday when Tiger captured his 5th Masters and his 15th Major overall.  
Jim Nantz, after viewing the incredible shot Tiger hit at the par 3 #16 hole at Augusta National brought up the questions of how many hol in ones does Tiger have.
How many hole in ones does Tiger Woods Have?
Tiger Woods has 20 total hole in ones during his time playing golf.  It is very interesting to note that 19 of the hole in ones came prior to the year 2000.  Since 2000, Tiger Woods only has 1 hole in one, which came as he played with his son, Freddie Couples, and Rob McNamara.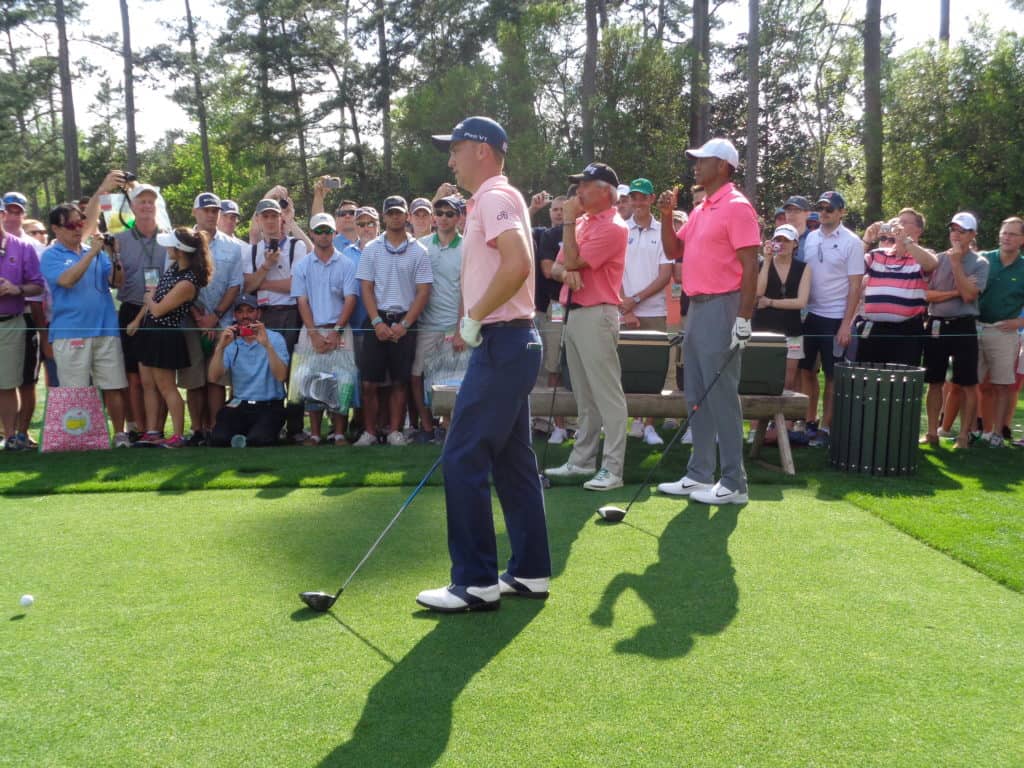 How shocking is that?  Tiger Woods has only made 1 hole in since the year 2000?  We are talking about the most dominating golf ever played professionally during the first ten years of the 2000s and he never made one in that stretch of time. 
He only recently made his 20th. This shows the difficulty of making a hole in one and that it takes the perfect bounce and a bit of luck to make it happen.
Tiger Woods won 12 of his 15 majors between 2000 and 2008, including 3 Majors in the year 2000 alone.  He has great power and pin point accuracy in his irons, but still could not make a hole in one during this stretch!  He set all kinds of records during this time.
Most Exciting Tiger Woods Hole in One
For many of us, we were witnesses to the hole in one Tiger made in 1997 at the Phoenix Open on the famous 16th hole.  Tiger buries the hole in one as the fans go crazy and throw their beverages everywhere. It is a site to see and worth checking out below.  
How Can You Make A Hole in One?
I never never made a hole in one in real life, but have made one in simulator golf in my garage.  I do not count this, but I know I have stood on par 3s on my SkyTrak Simulator and hit thousands of shots and still can't get another one in, but I did make one in a round I was playing at Augusta on the The Golf Club (TGC) software on the 4th hole as it was playing about 165. Hole in ones are something special, as I have witnessed my father make 2 hole in ones.  The strange part is that I have beaten my Dad routinely since I was about 15, but he has 4 hole in ones and I have 0 hole in ones.  
My only claim to fame is lipping out 3 hole in ones and having two other potential hole in ones stop an inch from falling in the hole.  My longest hole out ever was for an Eagle on a 430 yard par 4, when I had 178 to the hole. 
Here are some tips I have based on what I have witnessed:
Tips:
Fire at all pins for a hole in one.
Use enough club on every par 3.
Have a great deal of luck!
I really can't give any other tips as you can't force a hole in one, it just has to happen.  Ask Bryston DeChambeua about hole in ones! Can you believe that he never had a hole in one until the 2019 masters on the 16th hole.  Check it out here:
To think that Bryson DeChambeau never had a hole in one in all his years of playing and the precision in which he plays.  Crazy and it once again shows that you really can't control if you make a hole in one. All you can do is fire at pins, take enough club and hope that luck is on your side that day!
Hole In One Challenge
Something that is becoming more popular in the recent years both pros and amateurs filming themselves hitting 500 shots on a par 3 in a hole in one challenge.  From watching several of these videos now, you realize just how special a hole in one when it finally happens. You see the golfer growing in frustration as they seem so close, yet so far away.  The agonizing nature of this task makes is somewhat fun to watch! Not sure why, but it will make my first hole in one that much more special!
In Conclusion
There are other way to increase your chances and that is by becoming a better ball striker.  You have to give yourself a chance by making the best contact possible and working at the game.  Below is our formula for getting better. Check out our 4 step process to play better golf today.
Take Action – What You Can Do Today to Get Better
What does this mean for you?  I believe in the following recipe to get better:
1 – Improve your motion in the golf swing by identifying a golf instructor.  Here are some options:
Here is a list of golf instructors that we have reviewed:
2 – Train to swing faster and improve your swing speed.  Here are some options:
Looking to gain more Speed and Distance in your swing. Two Options:
3 – Understand course strategy and work to break through your next barrier.  Here is a series on breaking through:
We have provided guides on how to break 100, 90, 80 and 70. Check out more below, if interested.
4 – Practice Frequently
Did you know that I build a golf simulator in my garage and have played over 500 rounds of golf on my SkyTrak system?  It has been a game changer and one worth checking out. Here are some of my other posts on golf simulators frequently asked questions: