Do you remember the days in the past where you had to find a sprinkler head and walk off your distance?
You had no idea of front yardage or back yardage. Your only frame of reference was to the middle of the green, and you had to hope that this measurement was accurate.
Sometimes the doubt would creep into your mind…I wonder how accurate the yardage on the sprinkler head truly is.
Also, the struggle if you hit the ball off line, but still had a clear shot to the green!  Good luck measuring your distance on that shot!
The great news is that we now have two superior options to measure our distance.  
The advancement of golf technology helps make the information we need more readily available.
Golfers now have the option of a Golf Rangefinder or a Golf GPS Watch. 
Both items have pros and cons and I will dive into the pros and cons and make a recommendation on which one is best for most golfers.
The ultimate is to own both and utilzie both as they each have their benefits to help your game.  However, we realize that golf budgets are often tight and you have to choose between the two.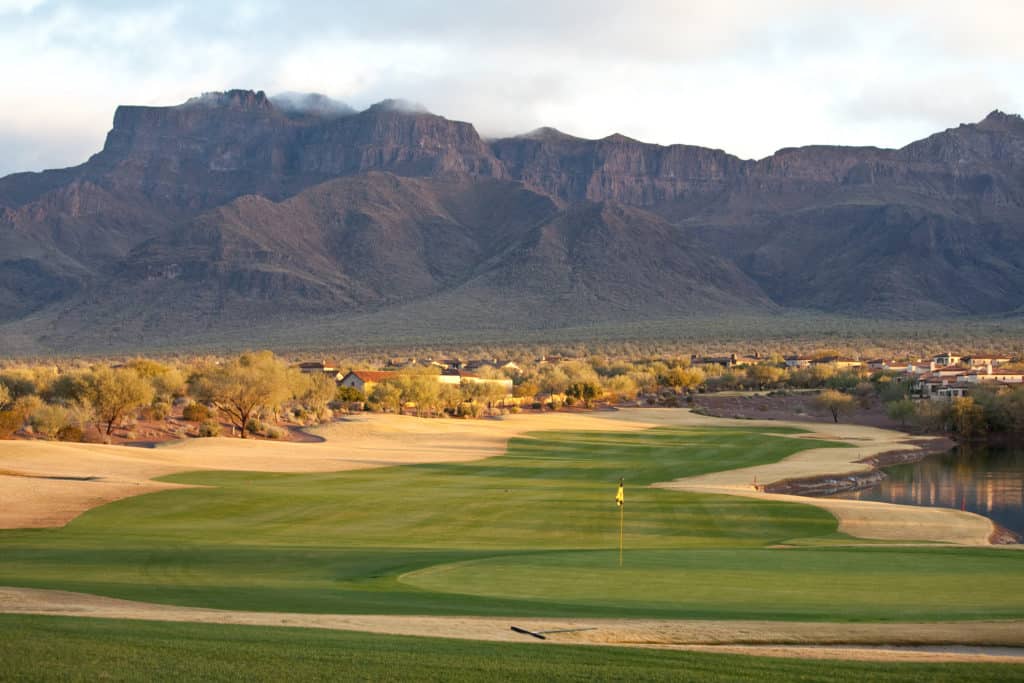 Golf Rangefinder vs Golf GPS: Which One Is Better?
If you want an exact yardage the golf rangefinder is better. If you want a three yardages (front, middle and back) go with the Golf GPS watch. If you want both, then carry both with your for a total of four distances on each approach shot!
Here are the topics I will dive into:
Why Choose A Golf Rangefinder?
Pros and Cons of the Rangefinder
Why Choose a Golf GPS Watch?
Pros and Cons of the Rangefinder
Why You Should Map Your Bag To Benefit From the Rangefinder or GPS and Launch Monitors
Why Choose A Golf Rangefinder?
The golf rangefinder will provide an exact distance to your target.  If your ball is in the fairway for an approach shot, you can have the exact distance to the hole.  This is also helpful off of the tee on doglog holes or where a hazard might be lurking.
There are those golfers that want exact yardages.  This rangefinder will provide that option with every approach shot you hit in golf.  We know having precise and accurate yardages will only make us better. 
As we improve our ball striking and map our bag (see below), having that exact yardage will benefit our game.
The second reason is the ability to use the slope impact on the rangefinder.  While this feature might not be allowed in some tournament settings, understanding the slope impact on approach shots will help you select your clubs. 
If it is not allowed in a tournament setting, playing the course ahead of time will help understand if you need to add an extra five yards on your reading during competition.
The third reason is that you can map a course out.  Understand the distances from different spots on the fairway and work backwards to the club you want to hit off of each tee.
The final reason is that you can use your rangefinder on a course that might not be listed in the database of courses.  While not a big issue with the wide range of courses offered, it can be helpful for that rarity where the course is not listed on the GPS database.
Overall, the rangefinder is easy to carry from place to place, takes a simple battery and can be used throughout the entire round.  From approach shots, to tee shots and everywhere around the course.  Having that precise yardage might be what a golfer needs!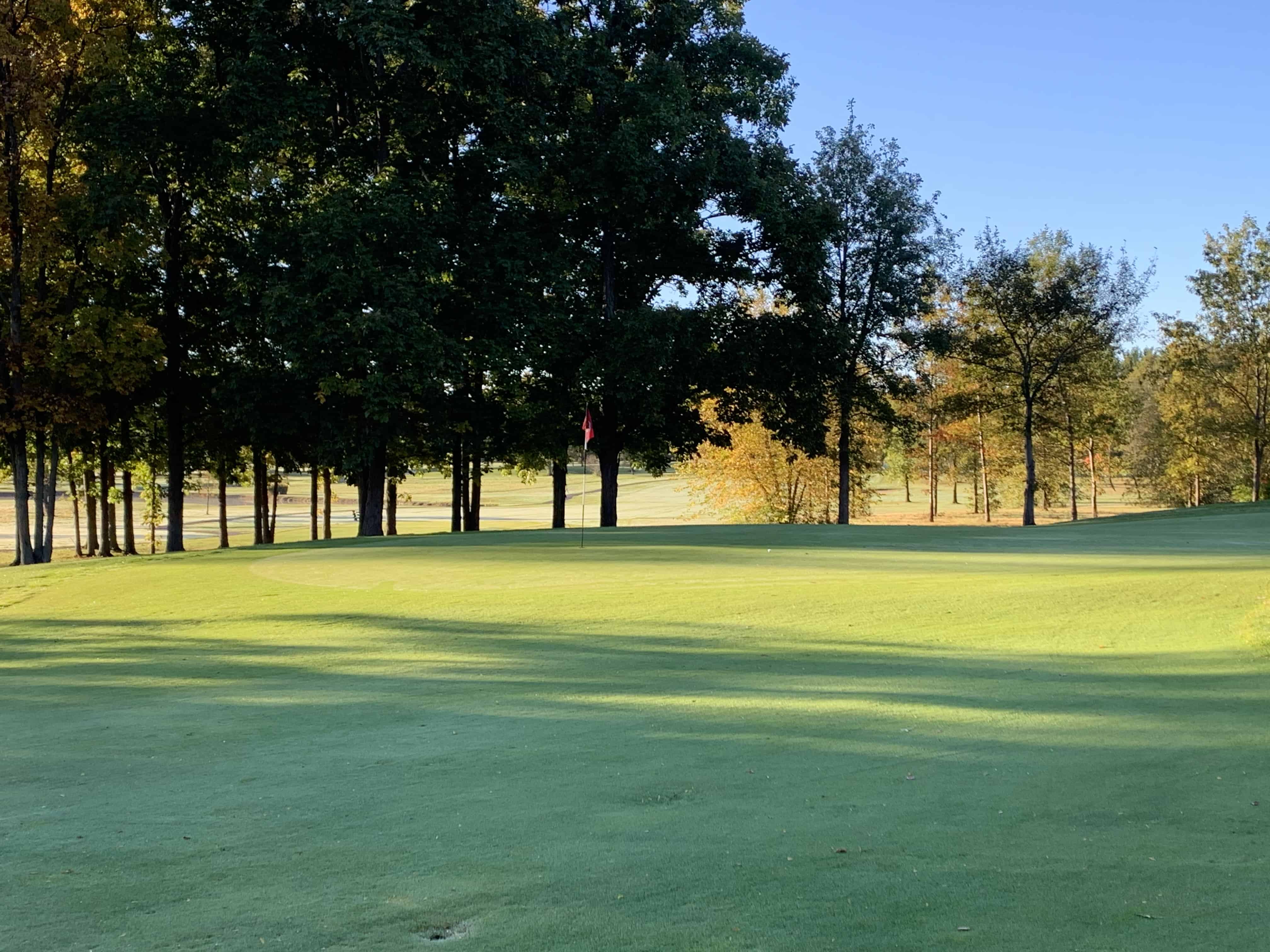 Pros and Cons Of The Rangefinder
Pros
Precise and Exact Yardages
Utilize the Slope to help select the right club
Map out your home course or one where you are playing a tournament
Easy to carry and store in the bag.
Cons
Doesn't provide a front, middle and back yardage
The quality ranges from rangefinder to rangefinder
What Rangefinder Would I Recommend?
I have recently purchased the Bushnell Rangefinder.  The Bushnell is used by 99% of pros and in my opinion, after some extensive research, has all of the features and accuracy that I need.
Premium Recommendation
Budget Recommendation
Why Choose a Golf GPS Watch?
The Golf GPS watches are rather impressive.  With most of the GPS watches, you will run an app through your smartphone to synch whatever course you are playing. 
The major benefit of the golf gps watches is that you can have a yardage from anywhere on the course to the front, middle and back.  While it doesn't provide an exact yardage to the hole, having these three distances is very helpful. 
If I had to choose between the exact yardage of all three yardages, I would in most cases select having the three distances, until I get within about 90 yards.  The exact yardage within 90 yards would be helpful.
The second reason is the simplicity of the watch.  You simply wear it on your wrist and have it with you at all times.  The rangefinder must be carried around, put on the ground, etc. 
Wherever you go, you get three yardages to the green. 
The third reason is that you can track data and scores by entering certain data points after each hole.  For example, many golf gps watches enable you to enter score, putts, fairway hits, greens in regulation, etc. that can help you track your data over time. 
The app that the GPS watch works with will often have this data on display right at your fingertips for analysis of your game.  Being able to see fairways hit, putts, or even greens in regulation can help you monitor your game and your improvement!
The four reason is that oftentimes it will give you a distance to a hazard.  Or on a par 5 if you have 330 yards left and know you want to have an 80 yard approach shot, knowing that you need a 150 yard shot can be helpful and allows a golfer to manage his or her game. 
If you are in the trees, you can calculate how much you need to advance this shot to have a reasonable approach.
The final reason isn't necessary golf related, but if you are someone that enjoys physical fitness.  Most of the watches can be used to measure your treadmill work, biking, swimming or outdoor running and total steps.  Some even measure heart rate. 
If you are someone seeking overall fitness, this is a nice feature as you get help with your golf game and your overall physical fitness levels!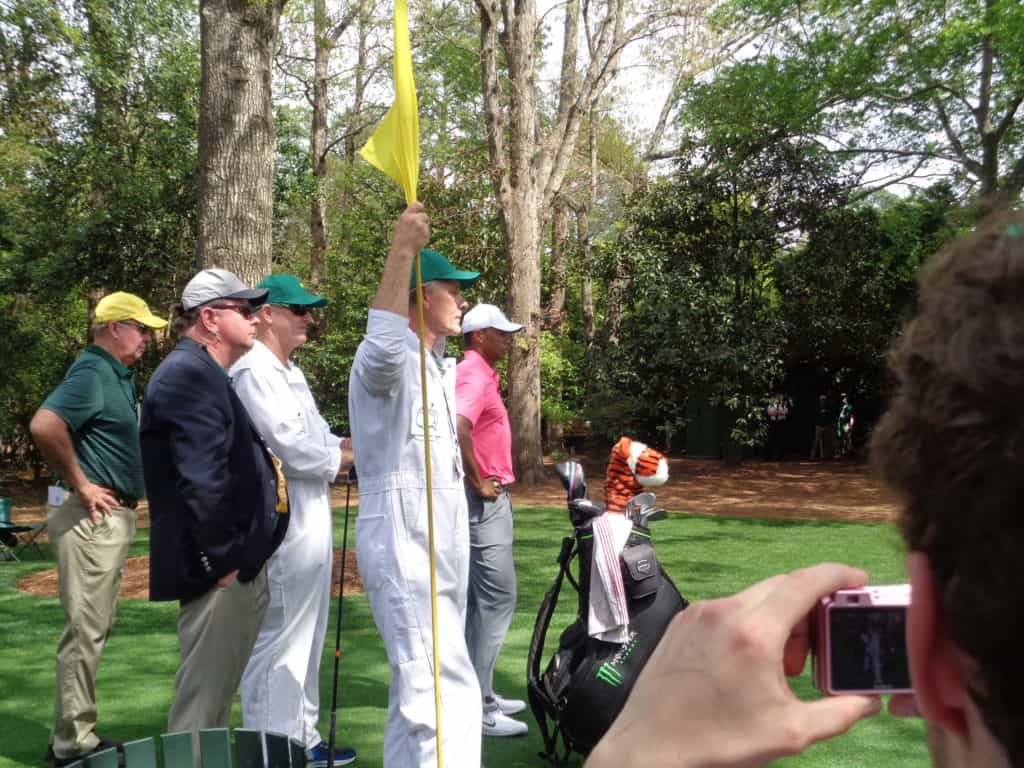 Pros and Cons Of The GPS Watch
Pros
Three yardages on every approach shot
Simplicity – The watch is always on your wrist
Ease of data tracking and analysis
Distances to hazards or layup distances
Physical fitness features
Cons
Lacks the ability to get an exact yardage
Does not take slope into consideration
What GPS Watch Would I Recommend?
I have utilized the Garmin watches in the past due to the ability for the golf features and the physical fitness side of it all.
Premium Recommendation
Budget Recommendation
Why You Should Map Your Bag To Benefit From the Rangefinder or GPS and Launch Monitors
Are you serious about playing your best golf or winning some money from your friends?  You have to know the distances that you hit each club.  These fancy watches and rangefinders only help if you know how far you hit each iron, so you can properly manage your game.
If you think you carry your 8 iron 155 yards and have you have 151 to carry a front bunker and really only hit it 149 yards, you are in trouble and it could lead to a bogey or worse!
Understanding your swing speed, launch angle, side spin other key data points can help you get better.  However, knowing your carry distance is the most important
The game of golf is changing for the better.  What was once only a dream for most amateur golfers has not become a reality and affordable.  There are several quality options for your own launch monitor to help determine what club is best for your game. 
You can now test in the comfort of your own home, at the driving range or even on the course with a launch monitor of your own. 
The professional golfers of today all have access to some great technology including launch monitors to help measure their swing and know their numbers.  Can an amateur use this same or similar technology for game improvement?  Yes, absolutely and I would highly recommend it.  
 In today's golf world, even amateurs can have access to amazing technology and data with the technology now available and know the distance they hit their irons and all of their clubs. 
This can help you map out your bag and have with pretty quality precision the distance you hit each club.
Even if you aren't going to go all out and build an indoor golf simulator like I did (see below), you can still pick up a launch monitor at a reasonable price and use it in your indoor net or taking to the course or driving range with you! 
I would recommend one of the three launch monitors listed below:
You could chart your distances similar to this example below:
| | | | | |
| --- | --- | --- | --- | --- |
| | Senior | Average | Low Handicap | Tour Pro |
| Driver Swing Speed | 91 and Below | 91-101 | 102-112 | 113-123 |
| Driver Distance | 210 and Below | 210-235 | 235-275 | 275-300 |
| 3 Wood Distance | 200 | 220 | 230 | 243 |
| Hybrid Distance | 190 | 205 | 215 | 225 |
| 4 iron Distance | 170 | 185 | 195 | 203 |
| 5 iron Distance | 160 | 175 | 185 | 194 |
| 6 iron Distance | 150 | 163 | 173 | 183 |
| 7 iron Distance | 140 | 153 | 163 | 172 |
| 8 iron Distance | 130 | 143 | 153 | 160 |
| 9 iron Distance | 120 | 131 | 141 | 148 |
| pw Distance | 110 | 121 | 131 | 136 |
| sw Distance | 90 | 100 | 110 | 120 |
| lw Distance | 70 | 80 | 90 | 105 |
Final Verdict!
It comes down to one simple question.  Do you want exact yardage or three different yardages (front, middle and back)?
If you answered extact yardage, go with the Golf Rangefinder.
If you answered three yardages, go with the Golf GPS Watch.
If you want both, buy both!
I have now reached the point in my game development that I want all three yardages and the exact distance!  I know, it sounds like I might be getting carried away, but it could be the difference in a birdie and a par. 
And the slope feature on the Rangefinder is hard to pass up!
Whatever you decide, you will be glad you have the technology to understand the distance you need to hit those difficult approach shots!
Final Thoughts: My Secret To Golf Improvement
The reality…in order to get really good at golf, we must practice frequently.  About three years ago, I made the leap and invested in a golf simulator build for my garage. 
I went with a SkyTrak Launch Monitor and the TGC software and can now play over 100,000 courses including Augusta, Pebble Beach, Bethpage Black, Whistling Straits. St. Andrews and many other of the top 100 courses in the world.
This golf simulator setup, which is more affordable that you might imagine, has been a game changer.  I can now play golf everyday of the year regardless of rain, snow, cold weather or time of day.  I can practice or play rounds of golf. 
I can stand in the 11th fairway at Augusta and with the auto-rewind feature I am able to practice my approach shots from various differences.
It is worth checking out through Rain or Shine Golf as they offer some incredible packages along with financing offers that are difficult to beat.
Some direct links to Rain or Shine Golf for pricing and financing: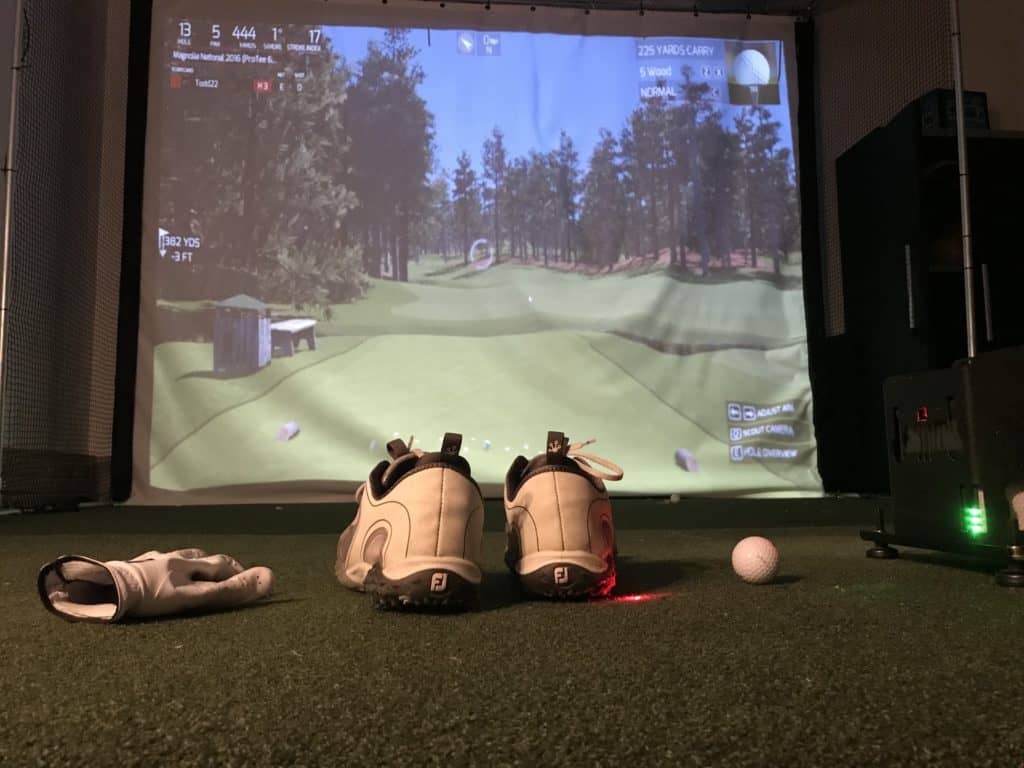 Take Action – What You Can Do Today to Get Better
What does this mean for you?  I believe in the following recipe to get better:
1 – Improve your motion in the golf swing by identifying a golf instructor.  Here are some options:
Here is a list of golf instructors that we have reviewed:
2 – Train to swing faster and improve your swing speed.  Here are some options:
Looking to gain more Speed and Distance in your swing. Two Options:
3 – Understand course strategy and work to break through your next barrier.  Here is a series on breaking through:
We have provided guides on how to break 100, 90, 80 and 70. Check out more below, if interested.
4 – Practice Frequently
Did you know that I build a golf simulator in my garage and have played over 500 rounds of golf on my SkyTrak system?  It has been a game changer and one worth checking out. Here are some of my other posts on golf simulators frequently asked questions: