To play simulator golf it will take each person around 1 hour if they are hitting every shot and putting out. If you have 4 golfers it will take around 4 hours.
The world of simulator golf is great for those in difficult climates where rain, snow and cold can keep golfers from enjoying the game they love.  Recently, the cost to build a home golf simulator has decreased significantly and home golf simulators are now much more affordable.
Gone are the days of having to pay 30 to 40 thousand dollars for a home golf simulator.
One of the most common questions we receive is how long does it take to play simulator golf.  For one person to play 18 holes of simulator golf the average is one hour. If you are playing in a foursome you could expect to take a total time of 4 hours.  If you only have 2 golfers it will only take around two hours. The expert player can play in 30-45 minutes.
Bonus Tip: If you set the putting to automatic 2 putts on the green and gimmies inside of 6 feet, you can reduce the total time by about 20-25 minutes per person. Often times you pay by the hour, so maximize your experience and do the most realistic parts most often, which is hitting the golf ball!
Having built a golf simulator in my garage, I can play a 18 hole round of simulator golf in around 30-45 minutes.  I have become used to the system, use it daily and can really zip around the course. This is one of the major benefits of simulator golf. 
As time is precious to us all and many times limited, simulator golf allows me to practice my game while enjoying and getting rid of some of the daily stress that many of us have in life.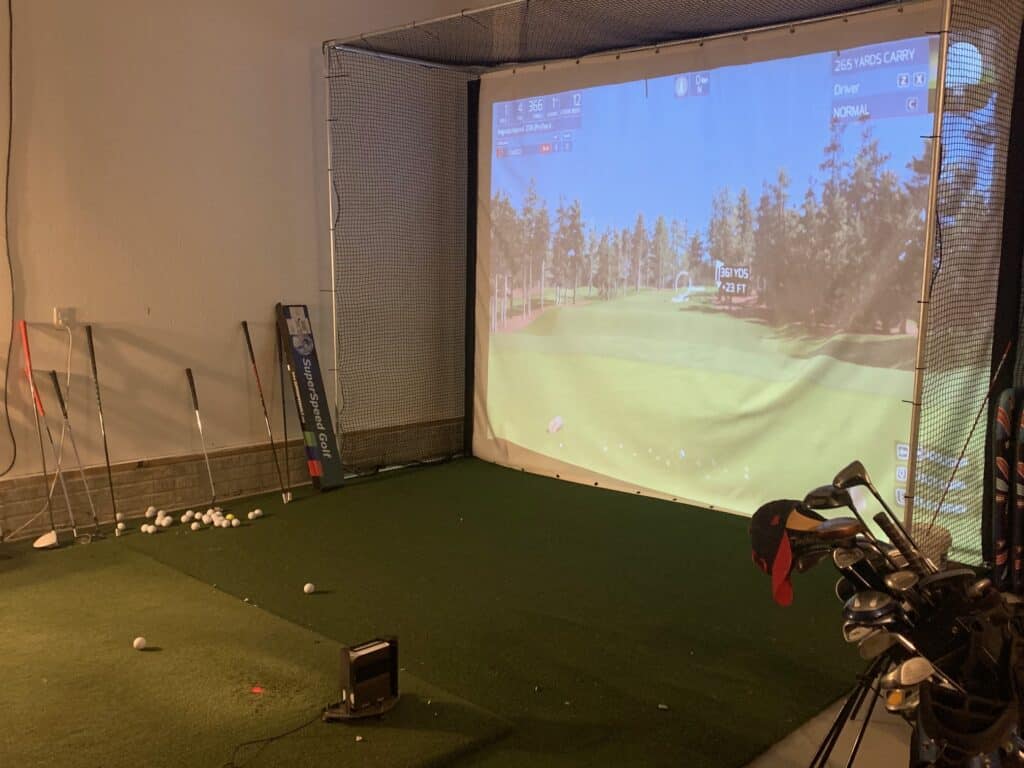 There are some factors that impact how long it takes to play 18 holes.
#1 – The difficulty of the course
The more difficult the course, the longer it is going to take to play the course.  If you are unfamiliar with the course and have to take time looking at the best aim lines and avoiding some of the hazards, chances are it is going to take your longer. 
Some of the greens can be difficult to navigate and to line up the putts. I have my 5 go to golf courses which include Whistling Straits, Pebble Beach, Magnolia National, Le Golf National, and Bay Hill.  I am now more familiar with these courses, which has allowed me to play in as little as 30 minutes.
#2 – Putting on or off
On a golf simulator you have the option of taking gimme putts within certain feet or bypassing the putting all together.  I find the simulator golf to be extremely realistic on all shot until I am putting.
As a result, I set my simulator software (TGC Software) up to give me two putts anytime I am on the green unless I am inside of 6 feet then it counts as a one putt. 
This allows me to maximize my time on the golf simulator and hit as many real golf shots as possible. In many of the recent studies on how to get better at golf, the experts point out that the best way to practice is to play the game.
I am able to maximize the situations that I face and hit the shots that the course requires.  Think about this for a second, if I were to play an average 3.5 hour to 4 hour round of real golf, the opportunities I have to hit real golf shots as compared to simulator golf is nowhere close. I can truly maximize my game development through my golf simulator.
#3 – Familiarity with System
The aiming of each system and the aim points within the simulator can take a little learning curve.  Having familiarity with the system helps reduce the overall time that it takes. After 500 rounds of simulator golf, I now fully understand my system, my aim points and what I need to do to navigate the course.  
#4 – Others in Your Group
Many leagues for golf simulators are a social gathering, which is perfectly fine.  One of the reasons many of us play is to enjoy the social side of the game. If you find the person that takes 4 minutes every time it is their turn, it could add to your overall round time. 
Many commercial style simulator spaces charge by the hour. You can expect to pay up to 30-40 dollars an hour, which goes along with the rate that a round of 18 holes typically cost.
When we used to use the commercial systems, we wanted to maximize our full swings as well and we quickly learned which golf partners were slow players and we would encourage them to be ready to hit.  It is similar to bowling, there is always that one person who is the bathroom or getting more food or drinks.
#5 – Level Of Play by Those in Your Group
Obviously, just like real golf, the more a golfer struggles, the more shots they have to take.  As a result this takes more time. For someone to play 100 shots on a simulator versus 75, naturally it is going to take more time.  If you get two solid golfers that can hit 10-14 greens in regulation you can really zip through a round and maximize your time on the golf simulator.
Benefits of the Golf Simulator
#1 – Game Improvement
The golf simulator is a great way to maximize your time and receive feedback on your swing.  The visual of the ball tracer in addition to the data on club head speed, club face direction, and overall swing path in addition to spin rate is all great information to consider and help develop your game. 
The SkyTrak system provides quality data that has helped me improve my overall score when I do play actual golf. The system provides immediate feedback and is very realistic.
#2 – Fun with Family and Friends
When you have your own golf simulator at your house, it is a great way to spend time with family and friends enjoying an activity that many people love. 
You can cut out the travel time and not worry if the weather conditions are going to cooperate on that day. You simply head to your basement or your garage and enjoy your investment. 
Overall, the time with family and friends, especially during the difficult winters in the northeastern part of the United States is difficult to beat. I truly appreciate my golf simulator on those 25 degree snowy Saturdays when I can spend 2-3 hours in my simulator and get several rounds in. 
Even if I never got better at golf, the ability to play with my sons, my father or my friends is truly worth it.
#3 – Stress Relief
What better way after a difficult day at work to unwind then by hitting golf balls for 30 minutes.  You can put the simulator in practice mode and practice shots on your favorite part three in the world or hit some challenging tee shots. 
Or even play a complete 18 holes of golf. It provides the opportunity to decompress and do something that you enjoy in the comfort of your own home.
#4 – Training Opportunities
You can take lessons online from the best instructors in the world and have your own little laboratory to practice the lessons and skills that you need to develop.  In today's golf world, the access we all have to the best instructors in the world via the internet is truly amazing.
We have our top 5 here at golfjourney365.com and have followed some of these instructors closely.  We have also spent time trying out different training tools such as the DST compressor and the SuperSpeed Golf Training System. Our own little space to practice, experiment and play has brought great joy and opportunity to get better.
Use Discount Code Golfjourney365 to save 10% at SuperSpeed Golf
Take Action…
Go out and play a round of golf at a commercial golf simulator place.  Chances are there is one in your area. You can play some of the world's best courses, while enjoying the game you love with some friends. 
Then maybe consider if you have the space needed for a golf simulator for your house. I made the investment in July of 2017 and have now played over 500 rounds.  During this time I have learned a great deal about everything golf simulator related in addition to learning a lot about my golf swing.
The opportunities to connect with family and friends in this setting is priceless and has brought about great opportunity to decompress after a difficult day in the office.  We have shared many of the golf tips we have learned from our love of the game and invite you to check our our series on getting your game to the next level.
We have provided guides on how to break 100, 90, 80 and 70. Check out more below, if interested.
You might be surprised at the cost of what a golf simulator for your house will run you.  Check out the golf simulator packages at Rain or Shine Golf, here. 
Many of the packages are complete packages that include everything that you need.  From the simulator, to the screen, projector, computer, enclosure and impact screen and even the hitting mat. 
These complete packages can help make your dream a reality. I spent many winter months as a kid dreaming about playing winter golf, my dream is now a reality. We are here to help, if you would like additional information, check out our many posts on golf simulators.
Frequently Asked Questions about Golf Simulators?
How to Build a Golf Simulator?
What is the Best Golf Simulator?
How to Build a Golf Simulator for under $7000
Top 11 Reasons to Buy a SkyTrak
How to Build a Golf Simulator for Under $1000
Can A Golf Simulator Improve My Game?