Golf is a difficult game even in perfect 70 degree weather.
We all love those types of days.  The sun is shining, the grass looks perfect and everything feels good. You have full movement in your body and your are nice and loose, ready to go!
But what about when the weather turns cold for those that will brave the conditions and head out even when the weather drops into the 40s and the 30s?
Golf becomes much more difficult, but there are some tips to help you still have fun and play some quality golf.
Having grown up in Ohio, there have been plenty of rounds played on some cold, brisk days.  Regardless, we have had fun and over the years we have learned some tips that can help you as you venture out for your next cold weather round.
Golf in Cold Weather: 5 Tips
Keep your hands warm
Wear layers
Wear a winter hat
Walk or get a golf cart cover
Adjust your expectations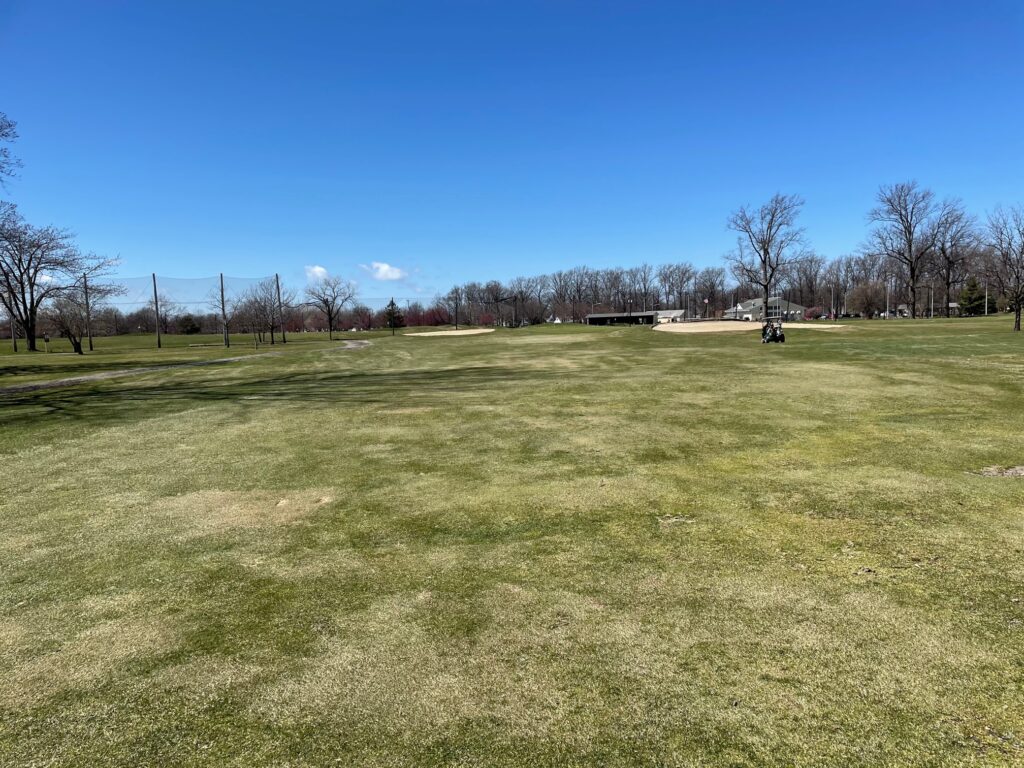 Tip #1: Keep your hands warm
I find this tip to be the single most important tip of the 5.  If you are hands get cold and starts to tighten up, you will become miserable in your round.  The good news is that there are plenty of ways to keep your hands warm.  These options include: gloves, hand warmers, pockets and constant movement.
There are actual winter golf gloves that a golfer can wear on both hands and provide a decent grip.  While I used these at one point, I prefer to use hand warmers and the front pocket on a hooded sweatshirt.  Other options include the big size mittens that you can take on and off with ease and the constant movement of rubbing your hands together.
I keep some easy to store hand warmers in bag as soon as fall hits and am prepared for the conditions whenever the weather turns cold. 
Related Post: How to play golf in the rain
Tip #2: Wear layers
One big bulky jacket is not a good idea.  Instead, wear several layers.  Not only does this help keep your body free to make the necessary movements, but if you start to get too warm, you can always remove a layer.
My recommended layering is the following: T shirt, long sleeve T Shirt, thin quarter zip, thicker quarter zip and a hooded sweatshirt.  The hooded sweatshirt is a quality place to store your hands warmers and return to hands between shots.  Getting a setup and routine to follow between shots to keep your hands warm becomes important.
I would also recommend at least two pairs of socks to keep your feet warm.  As far as pants, I would recommend a comfortable pair of pants with golf pants or your rain pants on top.  Several layers on your legs are important as well.  Golf pants are really thin and the wind can cut through the pants pretty easily.
Tired of cold weather?
Build a golf simulator in your garage!
Tip #3: Wear a winter hat
When your head and ears start to get cold, the rest of your body can get uncomfortable as well.  Keeping your head and ears warm is essential.  Make sure you grab a winter hat as your head out to play in the cold weather or simply store one in your golf bag once the colder months return.  I would also recommend a neck gaiter you can wear around your neck and move up to your face between shots or if you are getting too cold.
I know some people might be reading this and say, "I would never golf when it is that cold" and I can understand.  But for those of us that want to play as often as possible these little steps can allow us to get a round of golf in during those long winter months.
Tip #4: Walk or get a golf cart cover
I prefer to grab my push cart and head to the course with my golf clubs.  When it is cold out, I am able to stay warm by the constant movement that walking 18 holes requires.  While some people might not be able to walk 18 holes, there are some good options for those that prefer to take a cart.  
The golf cart covers work miracles for those that have to ride. You can set up camp inside your golf cart and have all of the essentials you need from golf gloves to hand warmers and even some hot chocolate.  The golf cart cover is a game changer if you are riding in a cart.
Is playing golf good exercise?
Tip #5: Adjust your expectations
If you have never played in truly cold weather you might be surprised the first time you hit a golf ball in cold weather.  The ball just doesn't fly as far.  Also, keep in mind that golf courses aren't going to be in peak shape so you wont get the same roll on a tee ball.  As a result, too many golfers grow frustrated.  Instead, be thankful that you are playing and work on hitting your ball on your start line with a predictable shot pattern.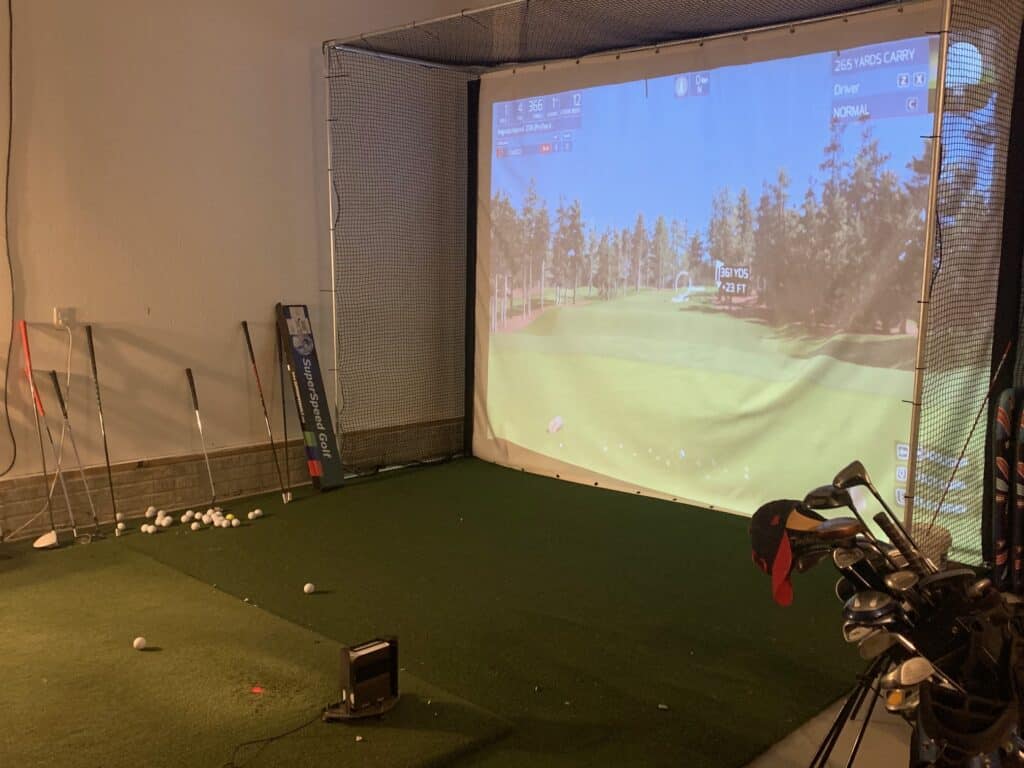 Checklist for Play Golf in Cold Weather
Hand Warmers
Gloves
Winter Wat
Several Layers
Several Pairs of Socks
Golf Cart Cover
Neck Gaiter
Adjust Expectations
Final Thoughts: Golf in Cold Weather
Remember to have fun when you are able to get a round in during the winter months.  In many locations, where snow covers the ground during these months, the one opportunity to play in December, January or February is always a blessing.  Make sure you keep your mind right and have fun and enjoy the time you get to spend with your friends.  
If you are looking for a way to play golf 365 days a year and truly improve your game, you should highly consider a golf simulator.  I built one around 4 years ago and have now played over 900 rounds on my simulator.   I have been able to take my scores to the point where I expect to shoot par for 18 holes.  Here are some great resources to dive further into: