Studies have been completed that show a golf ball can last up to 7 rounds of golf – 18 holes per round before needing to be replaced.  The golf ball will perform at a high level for the 7 rounds before the majority of golfers notice any difference.
The chances of not losing a golf ball over 126 holes for most amateurs is probably pretty low! For many years, especially during the balata ball era, golf balls would struggle to last for even 9 holes without losing performance from the golf ball. This has changed with today's golf ball!
The game of golf provides many different challenges and hurdles to playing the game at a high level and shooting quality scores.  One of those battles is to keep the golf in play. We try to avoid out of bounds areas, water hazards and other places that result in lost golf balls.
Here at golfjourney365, our goal is to help you in your journey to play golf as often as possible and at your highest level possible.  One factor that influences our score is the golf ball that we use. There are many options on the market today that provide a quality golf ball that can perform at a high level.
There is a frequently asked question that we often hear, how long does a golf ball last. 
If you are fortunate enough to survive an 18 hole round of golf without losing your golf ball, consider yourself fortunate and a quality player.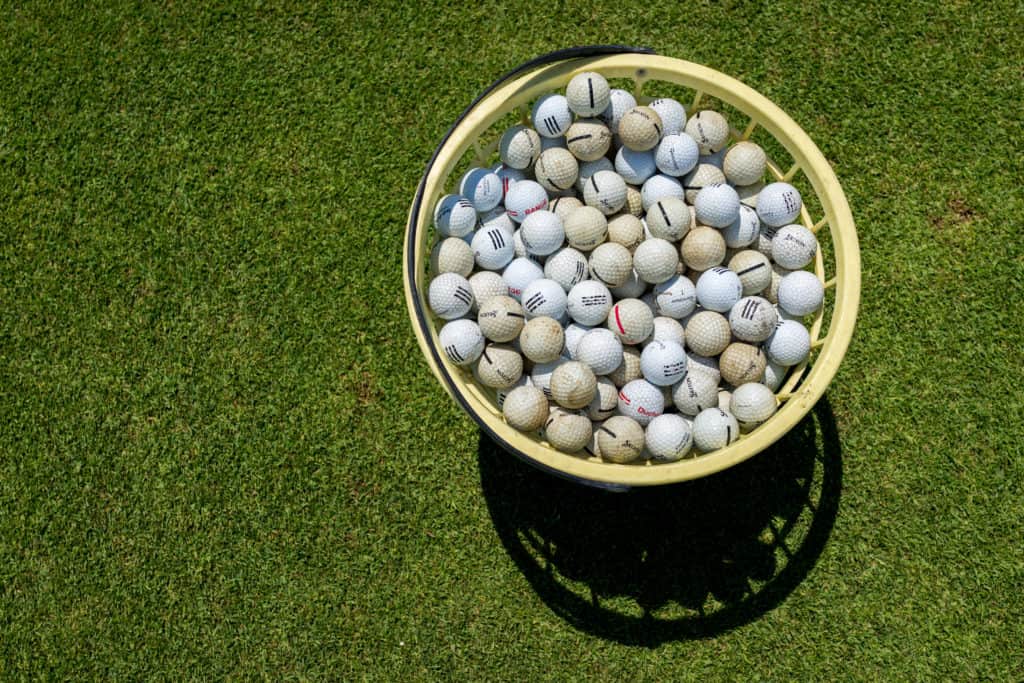 Below, we will break down the answer and provide detail on other frequently asked golf questions around golf balls.
How Long Does A Golf Ball Last?
Quick Fact:
Did you know that Mackenzie Tour Winner Alex Chiarella used the same golf ball for all 72 holes and won the tournament?  This says a lot about the performance of golf balls. If it is good enough to win a professional golf tournament, maybe it is good enough for most amateurs.
Here is a youtube video highlighting this feat:
Quick Fact:
Gary Woodland, the 2019 US Open winner at Pebble Beach, only used 4 different golf balls in his US Open victory.  He only changed when he made a bogey and he didn't make many of those. Crazy to think that someone won a US Open without changing a golf ball frequently.  The golf balls truly perform and it shows that it is the person hitting the ball and not the golf ball.
Here is a youtube video with more details on Gary Woodland and Alex Chiarella:
Conclusion, a golf ball can last a long time and still perform at a high level.  If you are striking the ball and hitting putts solid, the ball will go where you want it to do. 
If you are swinging poorly, it might be time to check into some tips for game improvement. Golfers are somewhat superstitious and that is why you might see a professional golfer today sticking with the same ball while they are on a good run.  They aren't going to get rid of a ball when they just made a birdie. Stick with it and ride it out. A US Open champion took the same approach.
When To Replace A Golf Ball?
So when should you replace a golf ball if you are fortunate enough not to lose it in the trees or in a water hazard.  There are two key times when you should replace the golf ball.
They include when you significantly scuff the ball on a cart path or on a tree.  Anything larger than a dime size mark may impact the golf ball. Personally, I would stick with the golf ball until you start playing poorly or you have some major marks on the golf ball. 
Sometimes changing the golf ball can provide a psychological advantage if you are playing poorly. Some poor golfers have recommended finding someone or something to blame other than yourself during your round of golf.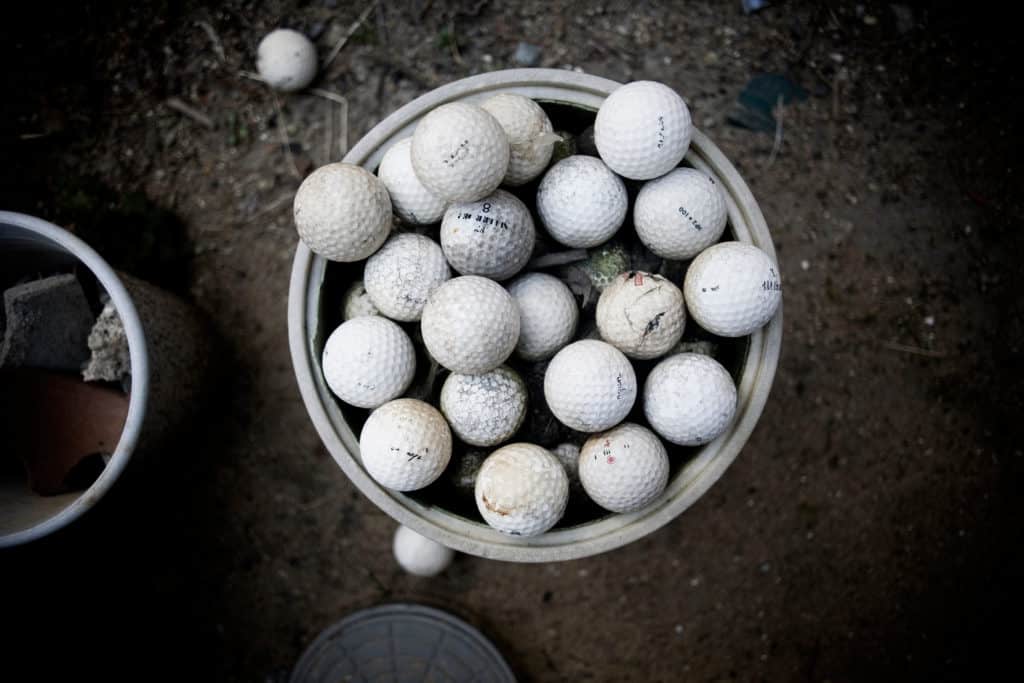 How Long Do Pros Use a Golf Ball For?
This will vary by golfer.  In the days of balata covered golf balls, professionals could change golf balls every 3-4 holes because the cover was more likely to get a mark or the covered get beat up and needed to be changed. 
You have read about examples above of even the US Open Champion only changing a golf ball 4 times over the course of 72 holes. The reality is that the golf ball can last and perform at a high level.
How Many Golf Balls Should You Carry in Your Bag?
I would recommend having at least 5-6 golf balls in your bag, but for some reason 12-18 feels more right.  The last thing you want to worry about on a golf course is if you are going to run out of golf balls in the middle or the end of a round. 
This might sound ridiculous, but do you realize that at the 2000 US Open at Pebble Beach, Tiger Woods almost ran out of golf balls. His 2nd round was interrupted by dark late one evening and he used some golf balls from his bag to practice putting that night in his hotel room.  
He finished the 2nd rond the next day. He didn't put those golf balls back into the bag.  On the 18th hole, he hooks his first shot into the water. Stevie Wiliams, his caddie, was aware that Tiger was now down to his last ball, but Tiger did not realize this. 
Stevie recommended he hit a 2 iron, but Tiger refused and was able to hit a driver in the fairway. Tiger won that US open by 15 shots.
The lessons to take away from this is to make sure you have enough gol balls, so that the thought of if you have enough golf balls never crosses your mind.  Make sure you are prepared.
Here is Tiger telling the story:
My Personal Experience 
Recently, I wanted to test how long I could use a golf ball for.  I made it 40 holes before losing the ball in the water hazard. During the first two rounds I shot a 73 and a 75 with the golf ball and was even par through the first 4 holes of the 3rd round. 
I ended up shooting a 72 on that 3rd round. I didn't see any difference in the performance of my golf balls. The golf ball had slight marks on it, but it still rolled smooth on the greens and flew well in the air.  I have a new challenge for this summer and that is to see if I can match Alex Chiarella's 72 holes and still shoot quality scores for myself.
What Golf Ball Would You Recommend?
There are really some very good options on today's golf market.  You will see golf ball priced in the upper 40 dollar range and some as cheap at 15 dollars. 
You will find the cheapest golf balls to have the firmest covers (good for lasting a long time), but will lack a great deal of response around the grounds with spin rates and when hitting wedges. 
This can impact your ability to hold a firm green or to have a solid feel with your putting. I typically use one of three different golf balls. The Callaways SuperSoft, The Callaway Chrome Soft or the Titliest ProV1.  All provide a little different feel, but I have shot quality rounds.
The Callaway SuperSoft is truly extremely soft and you might lose 2-3 yards of distance compared to the other two I use, but they are half the price and provide a great soft feel around the greens.  I find that I hit the SuperSoft higher than the others and enjoy the nice launch it provides with my mid to low irons.
If it is more windy out or the course is firm, I will shift to the Callaway Chrome Soft or Titleist ProV1, I don't have a preference for one over the other, but I look for deals to buy at a reduce price.  I believe both are high performing golf balls and find that the Callaway Chrome Soft are easier to find specials on.
I have also purchased PRACTICE balls for the Titleist Pro V1's which only have a slight cosmetic issue and are legal for play in tournaments.  It really performs just as well and I can't typically find the cosmetic issue even if I look closely.
Here are links and the option to check the current price on all three golf balls:
Final Thoughts
Golf balls have come a long way from the balata balls of the past.  They now fly higher, longer and with the right amount of spin. One top of all of that they also last a long time. 
The balata balls of the past were very easy to get a scuff and mark up which impacted performance. They were also very easy to spin off of a green with a wedge because they spun so much with the soft cover.
Take Action
After purchasing some new golf balls and getting your bag setup, it's time to consider your golf game.  
We are here to help.  Check out our three step recipe to getting better at golf below:
What You Can Do Today to Get Better
What does this mean for you?  I believe in the following recipe to get better:
1 – Improve your motion in the golf swing by identifying a golf instructor.  Here are some options:
Here is a list of golf instructors that we have reviewed:
2 – Train to swing faster and improve your swing speed.  Here are some options:
Looking to gain more Speed and Distance in your swing. Two Options:
3 – Understand course strategy and work to break through your next barrier.  Here is a series on breaking through:
We have provided guides on how to break 100, 90, 80 and 70. Check out more below, if interested.
Don't Forget to Check out our 15 best golf swings of all time.