We have all said at one time or another…I lost my golf swing – Help!  If you are currently struggling and believe you have lost your golf swing, let's stay calm and we will take you through the steps to help you find your golf swing. 
We are going to take it step by step and help you get back to level you expect and maybe even find a way to get better. I know, all you are worried about is getting back to where you once were, maybe as recent as last week.
Golf can be a frustrating game.  The first thing you have to realize is that losing your swing happens to even the best in the world.  You will often see a professional golfer shoot 65 one day and then turn around the next day and not even break par.  The key here is not having your self worth or identity based on the scores that you shoot in golf.
Instead, first remind yourself that you play the game for fun.  That we are fortunate to play the game of golf when we can get away and spend some time on the golf course.  We will take you step by step to help you!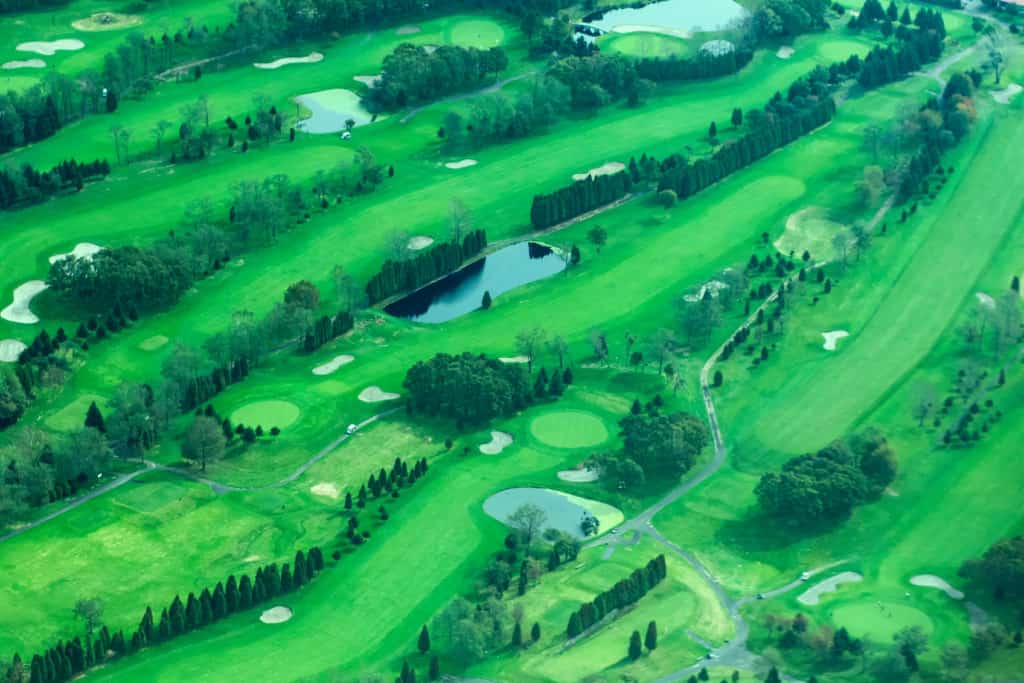 Step 1 – Assess what your ball flight is doing
First we need to figure out what is causing your bad shots.  Are you unable to get the ball in the air? Are you hitting behind the ball?  Are you shanking the ball? Are you hooking the ball? Whatever the problem is, we must go back to the basics. 
Pull out your cell phone and record your golf swing. Let's make sure your grip is where it normally is. Let's ensure you are aiming where you want to.  Here are some videos that could help the various issues you are having. These are the videos I recommend for some of the most common issues we face when we feel like we have completely lost our swing.
Step 2 – Let's hit some half shots
Let's get to the driving range and work on hitting some half shots.  A great drill for this is the L to L Drill. Simply take your swing back until your lead arm is parallel to the ground and then swing through until your lead arm is parallel to the ground once again. 
This drill will help you reset and get some feel back in your swing. Chances are your swing may have become too long and you were bringing in some major swing faults resulting in some devastating results.  

Step 3 – Play a round of golf at the driving range
Now that you have some confidence back.  I would recommend hitting 20-30 shots with the L to L Drill and ensuring that you are making crisp contact. 
Let's practice some of the shots we will face on the course. Take your favorite course that you play best at and picture the first hole.  Go ahead and set the boundaries that you would face on the first tee shot with some markers on the driving range. Hit that tee shot and then estimate what shot you would have left for your approach shot.  
Go ahead and pull the iron that you would need for the approach shot.  Follow through this process for the first 9 holes of the course. This will be around 18 shots.  Then go ahead and hit another 20 L to L Swings and then play the back 9 at the driving range using this same approach. 
We want to mix the drill with hitting some real shots and work your confidence back. A great drill to add to your normal practice routine is the L to L drill as it will help you build the foundation of your golf swing.
Step 4 – Golf is not a game of Perfect
Let's talk about the mindset.  Often times our mindset and the mental side of golf can be our biggest enemy in the game of golf.  Our body knows how to make the movement that we typically make in the golf swing. However, tension or anxiety can cause some major issues. 
We often find ourselves playing the worse when we want to play the best. It is almost an out of body experience and we just can't figure out what is going on.  I would highly recommend two books to help with the right mindset.
These two books should be read to help you better control your mindset when golfing and to help put you in the right frame of mind.
Step 5 – Let's get better
Now that we have returned to normal, hopefully.  Let's talk about what it takes to continue to improve.  First, I would recommend finding a golf instructor that can guide you through the process and to help you find a system that works for you. 
If you have nobody local in your area, a great option is some of the best online golf instructors on the internet. One of the great things about today's internet age is that we have access to the best golf instructors in the world.  Some of the best I would recommend are:
I have written reviews on all 5 of these instructors.  Check them out and find out which one best matches your game and your personality.  We all want something different out of the game, but the things we have in common is that we all want to be consistent with our game.  We do not want a really high score to pop up at the most inopportune time.
Shawn Clement – "I Lost My Swing"
Step 6 – Training
If you truly want to get better and avoid this situation where you feel completely lost, we must train to get better.  It is one thing to take a lesson, but we must commit and practice. One way to avoid really bad scores is to develop the short game. 
Typically, on any given day we do not know what our swing is going to do, but we can have some confidence that we can hit 10-40 yard chip or pitch shots with some consistency.  Also, on the greens, we want to give the ball a chance to go in on every putt inside of 30 feet. The great part about the short game is that it free to practice and in as little as 20-30 minutes several times a week you could see some drastic score improvements.
As far as training for the long term, we can all benefit from increased swing speeds, which will result in longer drives and shorter approach shots into the greens.  Ultimately, we will hit the ball closer and be able to make more putts. It is all basic analytics and the numbers show that great swing speeds cause many great things in the golf game.  So how do you train to swing faster? I would highly recommend several different approaches. Check out all three of these options and see what is best for you.
The first is the SuperSpeed System, which is what I am currently using and have seen a 5-8% jump in my driver swing speed.  Don't forget to use our discount code Golfjourney365 for a 10% Discount.  
Another great tool that I have used and thing it takes much of the thought process out of the swing is Tour Tempo.  This complete approach has what they claim is the secret to professional golfers. In measuring all of the great swings at the professional level, they found they swing in 3:1 ratio, backswing to downswing. 
There are different tempos, but the tempos all have a similar pattern in the ratio. The work of John Novosel with Tour Tempo is something that just might help your game! I know it has helped mine It has helped me shorten my swing and has really helped me get through the ball instead of to the ball.
Tour Tempo – Check price on Amazon
Step 7 – Manage Your Game – Prevent the "Lost" Feeling
I have seen too many golfers try to hit the hero shot and then get frustrated when a certain shot doesn't happen.  Did you really expect to carry the ball 220 yards over water on the par 5? Why not just play out to a comfortable distance inside of 100 and hit the green and give yourself a chance for birdie. 
Make sure you are being realistic in the shots that you select to hit. Playing "hero" golf can lead to some bad habits such as over-swinging and then it creeps into our mindset that we aren't playing well in reality we are setting ourselves up to failure. 
Instead play the high percentage shot and get your confidence back.
Any Finally…
Let's take some action.  You should highly consider the SuperSpeed Golf System as it not only helps you gain swing speed, but it helps groove your swing as you train every other day.  The protocols are all laid out for you. You must simply commit to the process and see the results – 10 minutes every other day!
Also, make sure you check out our series on breaking 100, 90, 80 or even 70.  We have provided a comprehensive overview on getting to the next level, regardless of where you are at.
We have provided guides on how to break 100, 90, 80 and 70. Check out more below, if interested.
Check out our Recommended Products page on Golf Swing/Training Aids, Golf Balls, Golf Shoes and more.