Tired of not getting better?  Looking to beat your friends in the next money game? Then our 5 recommended golf training aids will help you do just that!
All golfers are seeking more distance, accuracy and consistency.  So what are the best golf training aids on the market for the right price?  We provide our comprehensive overview of our top 5 golf training aids and how they helped our game.  
In my constant journey to improve, I've done a lot of research over the past several years and have purchased all 5 to use in my golf journey.  You will see our comprehensive list helps you with distance by gaining more speed, improving rhythm and tempo, gaining that sweet comprehension of the golf ball, recording your golf swing and measuring your golf swing.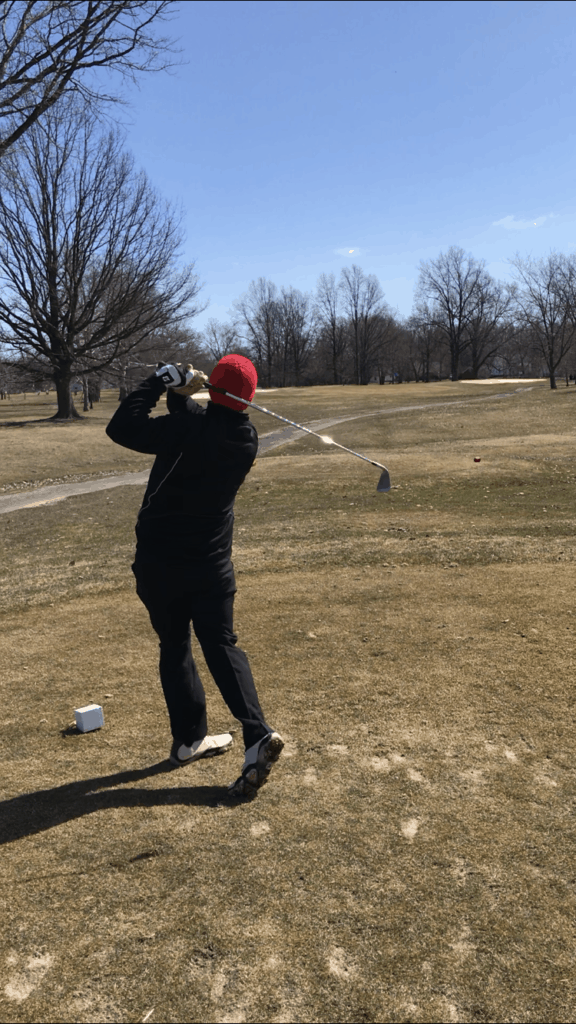 These 5 training aids provide provide help and complement each other well to help you maximize your practice sessions, resulting in better scores when you hit the course.
Practice is one way to get better, but why not use these tools in your training and practice to help you get better.  The pros use many of the training aids below or very similar products to improve their game. Investing the money goes a long way to ensure you are maximizing the time you have to practice and that your practice is guided to help ensure you are headed down the right path on your golf journey.
Here is our top 5.  Below we will provide pros and cons of each product and provide some tips on how to utilize these aids for maximum improvement in your golf game.
1 – Superspeed Golf
2 – The Orange Whip
3 – DST Compressor
4 – Selfie Golf
5 – SkyTrak Launch Monitor
Based on the scientific approach of overspeed training, the Superspeed Golf Training Aid is one of the most popular swing aids on all of the professional tours.  Have you noticed or read about the swing speed increases that Phil Mickelson has gained late in his career? Much of the credit can be given to the Superspeed golf system.  
This training aid is designed to provide you with more speed, which will result in greater distances assuming you are somewhere near the center of the club face with your contact.  They promised between 5-8% gain as early as your first training session.  
I purchased this product to kick off my training in October of 2019 in an effort to gain more speed.  So far I have gained 7 mphs on my driver swing speed.  

My Results with Superspeed Golf
I started at 101 mph and in my most recent training session I hit 108 mph with a comfortable swing.  Six more weeks of following the protocol and this speed will become my regular swing speed. I will continue to train over the next year in hopes of reaching a goal of an 8-11% gain in swing speed, hopefully getting me close to the 110 to 112 range.
They have systems for men golfers, women golfers, junior golfers, and long distance competition golfers.  Regardless of where you are with your swing speed, they have a system and a protocol to meet you where you are at.
Pros of the Superspeed Golf system
Train anywhere you can make a golf swing.  In your garage or possibly in your house if your ceilings are high enough. And of course outside either at home, the range or the course.
Only takes 8-10 minutes to complete the protocol.  You will train 3 days a week. There is a scientific why you can't train everyday.  
You can see instant results as early as your first training session and more permanent results after just 6 weeks.  Keep working and you can maximize your potential as you increase the level of difficulty and swings in your protocols.
The protocols are clearly laid out for you and there are excellent youtube videos to ensure you are correctly completing the protocols.
PGA Tour Pros are utilizing the system, so it is safe to assume these are good for your game.  The game of golf is now built on speed. Without the speed, you can't produce the distances to compete.  I wish I had this golf training aid as a junior golfer!
With a golf swing radar you get instant feedback on your progress. Each training session can be tracked and over time you can see your growth.
Cons of the Superspeed Golf System
The protocols can be tiring and it takes some discipline to ensure you are training three times a week.
The protocols have you swing your opposite handed as well during the training sessions – for some Thai can be awkward.
I would recommend not training right before you go play a round – as you train for speed you might lose some feel for the club head in the very short term.
Protocols of the Superspeed Golf System
The Superspeed Golf System provides 5 protocols that you progressively follow.  They called these the 5 different levels and about every 6-8 weeks you step up to the next level.  You get to level 5 by the 49th week and then you continue on with this protocol to continue to increase speed and ensure that you maintain.  
The longer you stay with the protocol, the more the speed will become more permanent.  Also, the longer you stay with the protocols, the smaller jumps you will see in speed. That first 5% jump can happen on the first day and then after the first 5-8% you see smaller increments of increases.
SuperSpeed Golf's training protocols are progressive and designed for each swing to be made at maximal intensity. We recommend everyone start with the level 1 protocol regardless of experience level. For optimal results, we recommend training 3 days a week with one full rest day between sessions.


From the SuperSeed Golf Website
Superspeed Training Videos
PGA Tour Players using the SuperSpeed Golf System
The list is quite lengthy of the PGA Tour Pros using the Superspeed Golf System:
Phil Mickelson
Ian Poulter
Billy Horschel
Martin Kaymer
Paul Casey
Jon Rahm
Bryson DeChambeau
Matt Kuchar
And many more for a total that exceeds 100
It is pretty impressive that amateurs are able to see what PGA Tour Pros are using this overspeed golf training system as the PGA tour players crave more speed as it is career on the line.  There are also many LPGA Tour, European Tour and Champion Tour players utilizing this impressive system. 
Rating of the Superspeed Golf System
Overall, I would give this system a 5 stars out of 5.  I have been impressed so far and look forward to further gains and surprising some of my golf partners with some extra distance in the upcoming spring and summer.
The ultimate goal with this golf swing training aid is to help you swing in rhythm and balance.  Two essential functions of any quality golf swing. The Orange Whip was designed to do just this while adding swing speed to your swing, and who doesn't want more swing speed. 
The creator, a golf teaching pro, found that when he helped people swing in rhythm and maintain their balance, he saw the greatest results, so he set out to create a golf training aid to do just that.
The end result is a product that takes away thoughts of positions and has shifted to a focus on the motion in the golf swing.  The proper mindset is essential and the Orange Whip website explains,
The real truth however, is that for the golfer to generate maximum centrifugal force in his golf swing, he must think of the club shaft as something soft and malleable, like a rope.One of the best ways to establish the feel of a good golf swing is to swing a small weight, tied to the end of a rope, in the same way that you would swing a golf club.


From the Orange Whip Website
The intriguing part of the swing trainer is in the design.  The design encourages you to maintain tempo and balance, which can help produce more speed.  They claim one could gain 20% increase in speed, but I would say you would have to have a bad swing to start with to see those type of increases.
How to Use the Orange Whip
Pros
Easy to train in multiple places.  Simply place in your bag and have with you at your house, the driving range or the course.
Flexibility, strength, coordination, and tempo trainer.  Who couldn't benefit from all four of these areas!
Plenty of products in all areas.  Some built for speed training, others for short game.  
Your everyday training can take as little as 5 minutes.  
Plenty of resources on the products website.
Plenty of drills to help you further develop your swing and shoot lower scores
Cons
The only thing I can think of is that your friends might be jealous!
Overall
The Orange Whip helps a golfer transition from a position based swing to developing in all the key areas and engraining that motion that you are seeking for your swing.  A great product as we all age to maintain flexibility and to ensure we stay healthy to maximize our number of rounds and practice sessions we can have in any given week.
3 – DST Compressor
Trying to find that ultimate impact position?  You know the one where the hands are forward and you have that amazing lag tension in you swing?  Many of us may struggle to get to this position, but the pros seem to do it with every swing. Enter the DST Compressor. 
As Bertie Cordle, Founder and CEO, studied the swing of the highest level golfers he saw the commonality of lag tension in their swing as compared to your typical amateur.  He started his study in 2013 and finish 3 years later. An impressive and professional golfer himself he studies the biomechanics to try to solve what is taking place in the golf swing.  More than 300 tour players now use one of his training clubs to improve their game.
One of my favorite videos on youtube is one produced by Be Better Golf with Bertie as a guest.  The dialogue back and forth is enriching and helps one better understand the why and how behind this golf swing training aid.

Pros
Instead of trying to get lag, use a club design with a special curve to help you get into the right position.
Immediate feedback if you don't maintain lag tension.
Alignment line on the club allows you visualize where you need to be.
With greater lag tension, you may experience a better ball dispersion, increased distance, and overall better contact.  Also, better distance control on your approach shots.
Hard to reach your highest potential if you aren't maintaining lag tension.
Cons
May cause some awkward shots at the driving range as you practice.
Overall
I am glad I have added this training swing aid club to my repertoire for training.  As we have all heard before, there is essentially only one key position in the golf swing and that is impact.  Your backswing, transition and follow through can all look like a PGA Tour Pro, but if you throw your lag too soon and don't have the right impact position, none of it really matters.  The moment of truth is impact. The golf ball doesn't know if the club belongs to Tiger Woods or one of us amateurs!
While not directly connected to the swing and a specific training aid, the self golf stick allows you to assess your golf swing with video.  This neat products allows you to easily capture your golf swing with just about any smartphone on the market.
Simply use an alignment stick, along with the selfie golf phone holder and you can easily obtain a caddie view, down the line view or any other angle you would like to see your swing from.  To think how easily we can now capture our swings and compare to other swings and see if the training aids and practice routines we are putting place are working is so beneficial.
SelfieGolf Video:
Pros
Easy to set up.
See your golf swing during a practice round on the course or at the driving range.
Easy adjust the height and position you would like to use.
Easy to use clip attaches right to the edge of your golf bag.
Cons
May cause you to sign up for lessons and spend some money on getting better once you see your swing!  It's amazing how different your swing looks from how it feels.
Overall
Simple to use, affordable and provides high speed views that golfer in the 1980s would have loved to have.  Many golf pros online now have your capture your swing and then will provide an analysis along with some swing drills you can implement.  As part of the purchase you also receive alignment sticks that can be utilized in every practice session.
Where to start with this amazing launch monitor that provides data and endless hours of fun that would have cost $30,000 back 20 years ago.  The SkyTrak Launch Monitor can be used as part of a golf simulator setup or something you can simply use as your hit into a net or at the driving range. 
It is fully compatible with an Ipad and provides information such as club speed, ball speed, launch angle, and spin rates. This data can be very beneficial as your measure and assess where your swing is at.  You can analyze your data and see where you are at.
Many tour pros are using more expensive launch monitors, but for those of us that don't have 15-20 grand to spend on a launch monitor this product provides a pretty quality replacement.
With my Skytrak, I have been able to setup an indoor golf simulator in my garage and have played over 400 rounds in my 2.5 years of ownership.  The ability to play regardless of what the weather is doing outside is truly amazing and has brought about game improvement, time with family and friends, and a major stress relief to my life.
Pros
Affordable
Can be used in a simple manner or in a golf simulator setup.
Easy to move from place to place.
Can be utilized by right and left golfers at the same time.
Compatible with The Golf CLub (TGC) software, which is amazing software in the golf simulator industry.
Cons
2-3 second delay.
Estimates club head speed based on the ball speed measured.
For a full review on the SkyTrak Golf Launch Monitor, check out: 
Top 11 Reasons to Buy A Skytrak: https://golfjourney365.com/skytrak-golf-my-top-11-reasons-to-buy/

SkyTrak Golf Review (Comprehensive Overview): https://golfjourney365.com/skytrak-golf-review-comprehensive-overview/
Are you ready to improve your game.  With so many great options on the market, get started today and shoot lower scores in your next round!