Are you someone crazy enough to play golf in the winter?  Even when the temperature is around freezing? If so, you are like many in the northern parts of the United States and elsewhere across the world that are willing to play in any condition at just about anytime. 

When most people think of playing golf, they probably imagine 70 degree weather on a sunny day. However, for many of us, that are addicted to the game of golf, we will play any chance we get. For those that don't golf or do get to live in nice weather year round, just might not understand.
Golfing in the winter brings about new challenges and more than likely requires some major obsession with the game of golf.  While here at golfjourney365, we have access to a golf simulator in the garage, the opportunity to get outside and play the occasional round even when it is around 30 degrees is hard to pass up.
For those that may be new to the game of golf or haven't experienced golf in difficult frozen conditions, we have some tips and recommendations to help you score your best and enjoy your time.  Below we provide our top 20 tips to help you enjoy your round of golf and to survive the elements.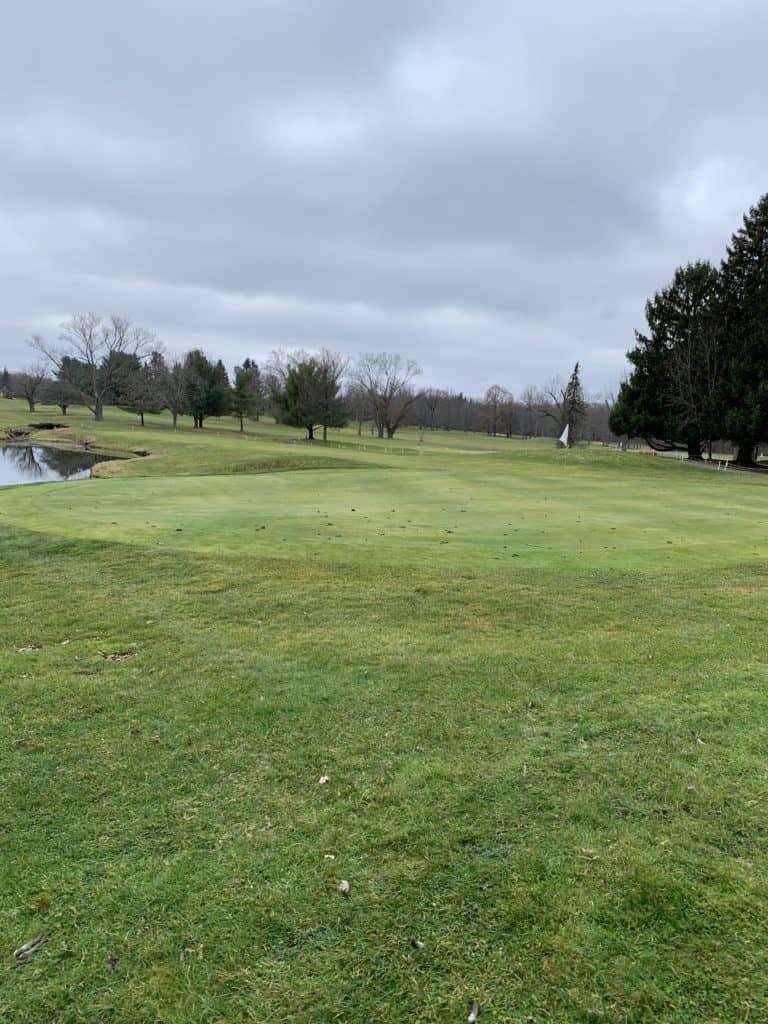 1 – Have Realistic Expectations

Chances are you aren't playing frequently over the winter.  You might get a little warm stretch in the forecast and head out.  You get on that first tee and it has been 30 plus days since you have hit a golf shot.  Keep your expectations in check and swing within yourself. It may take you the first couple of holes to even get loose and adjust to the multiple layers you more than likely have on.  Also, the course isn't going to play great, so it is highly possible that the course will play longer and some spots may be a bit soft or even soggy.

2 – Layer Up

The best way to stay warm and still be able to swing the club is to ensure you have multiple layers on from head to toe.  You will probably need 3-4 long sleeve shirts with a golf pull over. It is essential that you have some flexibility to be able to add or remove depending on if you heat up while walking your round of golf.  Here is an under armour cold gear compression shirt that we recommend. Check Amazon for current price, here.
3 – Wear a Winter Hat

Maybe the most essential cold gear weather is the winter hat.  You lose a high percentage of your body heat through your head.  It is essential to wear the winter hat and keep it for the duration of the round.  If you get slight sweat going, removing it will just cause you to quickly get cold again. The Titeliest winter hat is one of our favorites, check current price on Amazon, here.

4 – Invest in Quality Golf MIttens
Your hands must stay warm.  Between shots, it is essential to keep the cold air and cold wind off your hands.  Once you hands turn cold it is difficult to grip your club and makes the round of golf visible.   Hand warmers inside the mittens make for nice warm hands that makes your round of golf more enjoyable.  At the end of the day, winter golf is all about being prepared. We recommend this set from Titleist. Check current price on amazon, here.
5 – Walk or Get a Cart Cover

Walking is a great way to keep the body loose and warm during a winter round of golf.  I prefer layering up and walking 18 holes to stay warm. I go with the layers, winter hat, golf mittens and then head out.  Others I play with go the cart route and have selected the cart cover with a propane heater to stay warm. I know the people in Florida must think we are crazy to play golf in the weather that we do, but hey, we all love the game of golf.  There are different options on the market, but we recommend this golf cart cover on amazon.
6 – Wear Two Pairs of Socks

Make sure you put at least two pairs of socks on.  I prefer a thinner pair, more like a dress sock and then a thicker winter pair of socks that come up almost to my knees.  Your head, toes and fingers are the three most important items to keep warm. A nice pair of comfotable shoes and some quality socks will truly help make your round enjoyable.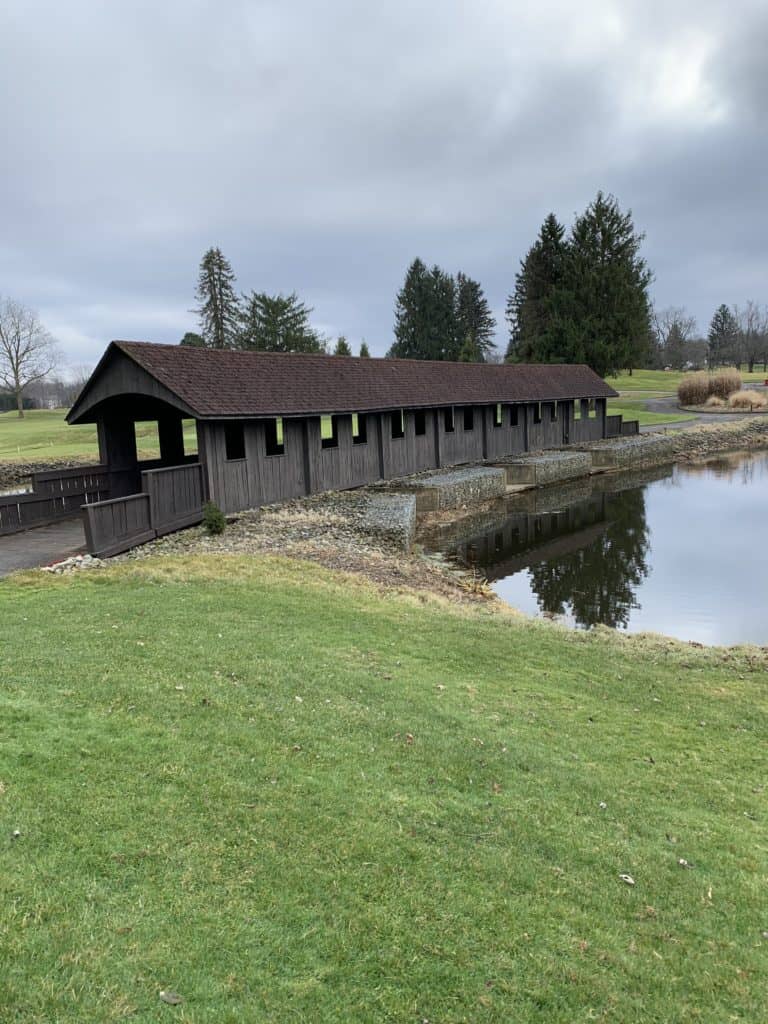 7 – Consider wearing your rain pants

Your rain paints are a great option to keep the wind off of your legs and your legs warm during winter rounds of golf  Plus it can be a little sloppy out and most rain pants wash up real nice if you do get some mud on the bottom of your pants.  You don't need an expensive pair since it won't be raining out, but something more so to keep the wind and cold off of your legs.  I will typically wear a pair of golf pants or sweatpants with my rain pants over top. Here is an inexpensive pair on Amazon. Check current price here.
8 – Practice Your Short Game

Prior to heading out, chipping some plastic balls in your basement or somewhere safe in your house, will go a long way in helping you keep your score in check.  The course will play longer than normal due to the soft nature of it and potential higher winds than you might be used to. Practice the short game and ensuring you can hit solid shots will go a long way in keep your score where it normally is.
9 – Adjust Your Driver

If you have a driver that is adjustable, you may consider adding some loft to help you get additional carry.  THe ball is not going to roll out in the fairway like it does during the summer months. The extra loft will help the ball potentially carry another 5-10 yards and help you shoot lower scores.

10 – Wear An Older Pair of Golf Shoes or Have your "Winter Pair" of golf shoes

If you have two pairs of golf shoes, I would recommend the older pair.  It can be a bit sloppy and muddy and you don't want to ruin your nice pair of shoes during the winter months.  As long as your older pair are still waterproof, it will help a lot. Or you can buy a lower end pair of shoes for the winter months.  We recommend these New Balance golf shoes for winter play.
11 – Try Different Shots

Winter golf is a great opportunity to try different shots that you may not be willing to try during the summer months, especially if you play for money or in a league frequently.  The winter is a time to experiment with swing changes or different shots. This winter I am trying to get better at working the ball both ways off of the tee. In the past, I always forced a draw, but want to be able to hit a slight fade if the hole calls for that type of shot.

12 – Use a Cheaper Golf Ball

First off, you don't need to play a Pro V1 during the winter months.  You won't get the maximum performance and might even lose some distance because of the softness of the course  I would recommend using the golf balls in the middle range of the market. Our top two suggestions are the Callways SuperSoft or the Srixon SoftFeels.  Both balls provide enough softness, yet provide quality distance to help you enjoy your round of golf.
13 – Use the SuperSpeed Golf System

During the winters months I might also suggest using the SuperSpeed Golf System to gain some additional speed and distance in your golf swing.  The nice part about working on this during the winter is that you can train hard and not worry about messing up your swing. Keeping your expectations low during winter golf is key, but it is also a great time to train, gain speed and improve your game.  Check the current price on Amazon.

Another option is the system by Swing Man Golf – Add 30-40 yards to your Driver
14 – Find a Quality Online Instructor

We now have access to the best instructors in the world through youtube and other social media outlets.  You can grow your understanding of the golf swing and take these approaches to the course in the winter to experiment or continue to develop your swing.  Winter is a great time for improvement as you can work on your game during the winter months and do more mirror work.

Here are the Top 5 Online Instructors that we recommend.

15 – Build a Golf Simulator

Winter golf is tough, but winter golf on a simulator is amazing.  Several years ago, I made the investment and built a golf simulator in my garage.  The game improvement and many hours of pure entertainment has made it all worth it.  I am able to play an 18 hole round of golf in under 45 minutes and I get to play the world's best courses through the TGC software.  The cost of a golf simulator is much less than 20 years ago and is somewhat affordable for those of us that truly love the game. I enjoy playing all week on the simulator and looking for an opportunity or two each month to get outside when the temperature gets above 35 degrees.  I am able to take to the course some of the swing changes I am working on during the winter months. We have over 15 posts on everything related to golf simulators. To learn more, check out our many posts and start to learn how you can make this a possibility for your house.

Golf Simulator FAQs – Over 15 Posts

How To Winter Proof Your Game

I would recommend practicing putting, as this can happen in just about any room in your house.  I would also say do plenty of mirror work to work on positions and then of course keep yourself in shape through cardio, strength training and stretching.  The winter is a great time to add some distance and I do highly recommend SuperSpeed Golf as a great training system to start in the winter and then continue throughout the regular season.

Here is a quality video by Be Better Golf 

And Finally…

Winter is a tough time for golfers in many parts of the world.  We have found the perfect combination of simulator golf and then playing outdoors.  There was a stretch in my early 20's where I played 50 consecutive months with at least one round outside and this is living in the northern part of Ohio where we can see a lot of snow and weather that is cold.  Every now and then we get chances to play outside and take advantage of it and have learned how to stay warm and enjoy the game we all love, even in not so ideal conditions.