Many golfers spend years truly never getting better. 
They spend countless hours at the driving range hitting driver after driver hoping to find the "secret" in their golf swing that will bring about improvement. 
They are drawn to the new driver that is going to set them apart.
Do you fall into this category?
Too many golfers are frustrated and fail to get better, but there is hope!
After years of playing golf at a certain level 74-78 average strokes per round, in the past 3 years I have been able to reduce my average score and now shot between 70-74 on average.  The ball striking has improved, short game and course management.  I also now hit the ball further than ever.  
My next goal is to get my average score between 68-72.  While I have shot several rounds in the 60s in the past seasons, I want more!  I will continue to follow my own 7 tips below, as it is a solid recipe for improvement
I have described below the 5 main tips I would give someone to help them take their game to the next level.  It obviously will take some work and dedication, but it can be accomplished.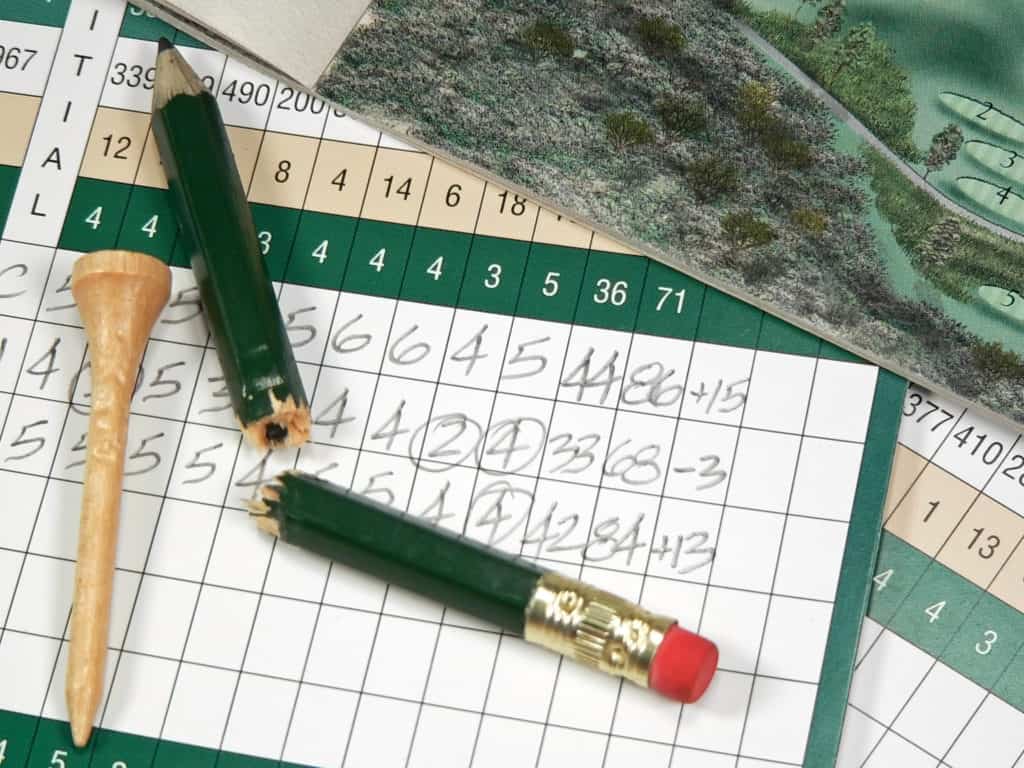 How To Take Your Golf Game To The Next Level?
Improve your short game
Train for speed
Find a swing system to follow
Invest in some golf technology
Improve your mindset
Tip 1: Improve Your Short Game
The single fastest way to improve your overall score is the short game.  A high percentage of shots are hit within 100 yards in every round of golf.  The higher your handicap the more important it is to ensure you are practicing these shots. 
Golfers seem to lose shot after shot once they get around the green.
Whether it is never getting up and down to save par or chunking chips, the short game can be devastating.  But the good news is that it can also be your best friend. 
With enough practice and time spent around a practice putting green, you can get better and you can get better pretty quick.
It always amazes me how many people will pound driver after driver at the range, but never head to the practice green to work on some basic chips shots and practice putting.
If you are someone who simply wants to shoot in the 70s on a consistent basis, consider this formula to reach this goal.
Hit 4 out of 18 green in regulation and make par.
Out of the remaining 14 holes, get up and down to save par 7 out of 14 times (50%)
Avoid the double bogey or higher.
This will give your 11 pars and leave your 7 over par for a score of 79 on a par 72.
You don't have to be a great ball striker to hit 4 greens in regulation, just simply get yourself around the green and get better at your short game.
Once you are shooting in the 70s, you wil gain confidence and with the tips below can improve your ball striking and increase the number of greens in regulation you are hitting.
Benchmark for Short Game:
The average scratch golfer will save par 54% of the time.  The short game takes very little strength, power or speed to be great at it.  It takes some simple mechanics and time.  Become the person in your group that everyone is envious of because of your short game.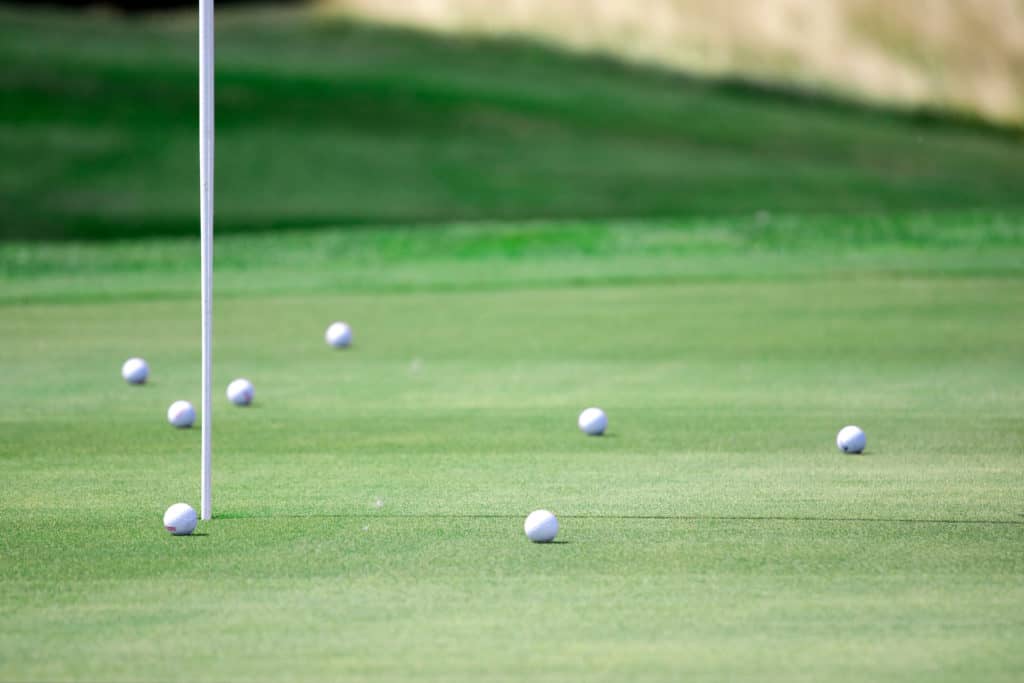 Tip 2: Train For Speed
Whether you are hitting a driver or iron, speed matters.  The analytics have become clear on the importance of overall distance.  Make sure you are training for extra speed. 
The ability to hit a driver 280 plus yards or to be able hit an 8 iron, 160 yards is a game changer.
We all want more swing speed in our golf game.  Many of us have read or heard about the analytics related to golf and the importance of additional speed and distance in our game. 
If you can't hit the ball over 225 yards with the driver, reaching certain levels like low single digits can be difficult.
The good news is that there are numerous options to help you improve your swing speed regardless of age.  The most recent science to hit golf is the overspeed training. 
The most popular and the one that I use is SuperSpeed Golf.  This overspeed training approach has multiple training protocols that only take 15 minutes every other day.
Find a place at your house where you can swing the speed sticks and gain 5-8% as early as the first training session.  Make this stick and become your normal speed by training for several months.  Over the course of time, you can expect to add an additional 1% every couple of months on top of the 4-6%.  
A year ago my average driving swing speed was between 99-101 miles per hour.  I am not playing the game between 103-107 miles per hour.  Just the other day I hit two drivers that went 285 yards in some soft, no wind conditions. 
This means to me that I really did connect and have been able to add additional speed through the overspeed training and by studying and implementing the swing practices of George Gankas!
Are you ready to get started today with SuperSpeed Golf?  Build that stock shot, train for more speed, don't forget about the short game and before you know you will be shooting your goal score!
Check out SuperSpeed Overspeed Training Protocols
Train every other day for 10-15 minutes.
See a 4-6% increase in swing speed as early as the first training protocol.
The number one thing that has helped me gain significant distance is the SuperSpeed Training System. 
Benchmark for Speed:
The average PGA Tour pro swings their driver 113 miles per hour on average.  If you want to break 80 consistently, you should strive for 97-100 miles per hour, if you want to shoot in the low 70s, the goal should be closer to 105 miles per hour.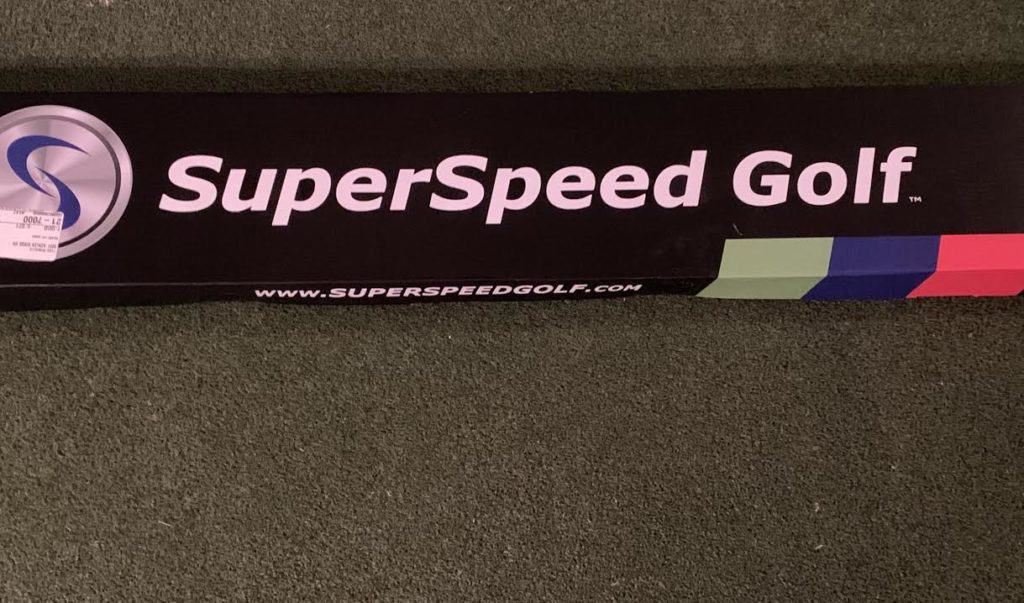 Tip 3: Find A Swing System To Follow
Golf can be confusing with all of the different information and swing tips that are out there.  While there are some amazing online golf instructors, it is important to learn about the different instructors and then pick one based on the following:
Who do you find to be the best communicator
Which swing approach do you most agree with
How much time do you have to make adjustments to your swing
Here is a list of golf instructors that I have reviewed:
I would start with these golf instructors above.  They are all quality communicators, have solid systems in place and have a great deal of free information on the internet.  The great thing about playing golf in today's era is the access to some awesome instructors. 
Back in the day, this information wasn't readily available.  The best golf instructors continue to study the great swings of all time and help us better understand the movements that will help us improve our ball striking.
Once you select your online golf instructor, commit to follow that person and work on their swing system.  The worse thing is standing on the tee box with information from too many instructors flowing through your head.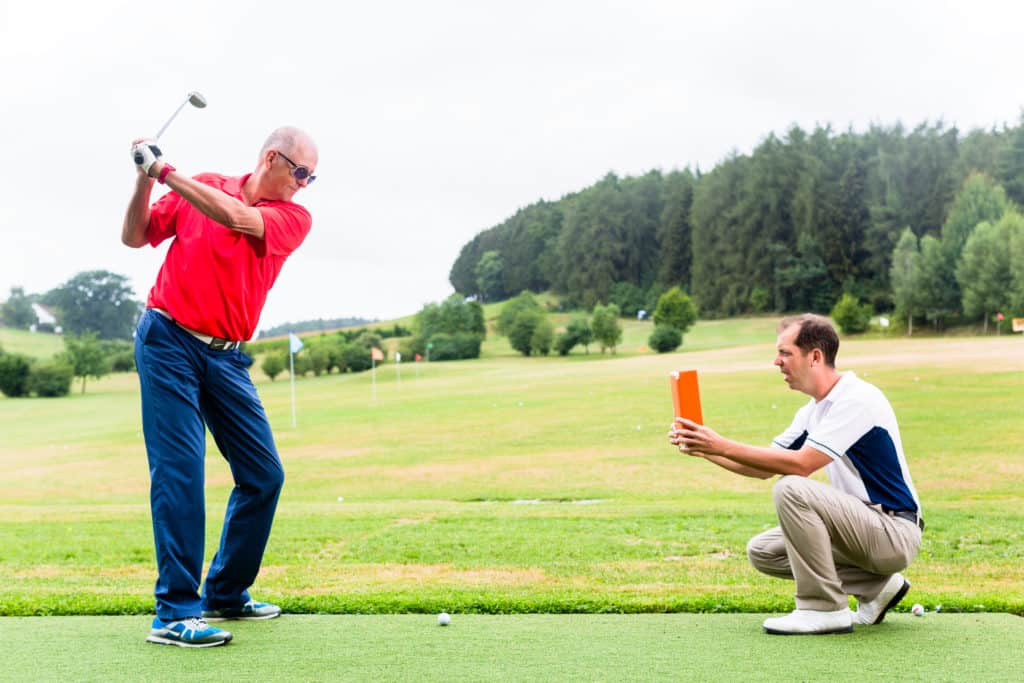 Tip 4: Invest In Some Golf Technology
I would highly recommend 3 pieces of golf technology to help take your golf game to the next level.  These include the following:
A Launch Monitor
A GPS Golf Watch
A Golf Rangefinder
Let's start with the launch monitor
The great thing about golf in today's era is that golfers have access to some wonderful technology that can allow them to experiment and figure out what is best for their game.  I highly recommend a launch monitor to provide the feedback you need to improve your swing.
In today's golf world, the access to affordable launch monitors is a complete game changer.  Not only can one help you set up your experiment with different swings and philosophies, but it can also help you map your bag by knowing the distance you carry each club. 
One could try out the different methods of instruction found above and use the launch monitor to measure for success.  Some areas you will want to monitor include:
Start line consistency
Amount of side spin
Ball speed
Carry distance
A Launch Monitor is a great addition to your practice sessions even beyond determining what hip movement is best for your game.  
Stop guessing on your ball and club data and get the immediate feedback that you need to improve your game.  Club selection and the makeup of your bag is often overlooked by many amateurs.
The professional golfers of today all have access to some great technology including launch monitors to help measure their swing and know their numbers.  Can an amateur use this same or similar technology for game improvement?  
Yes, absolutely and I would highly recommend it.  
Even if you aren't going to go all out and build an indoor golf simulator like I did (see below), you can still pick up a launch monitor at a reasonable price and use it in your indoor net or taking to the course or driving range with you!  
Knowing numbers like spin rate, ball speed, spin axis and other key information is vital to your growth.  Sharing these numbers with your instructor can be helpful and help with equipment selection as well.  This will help you select the right clubs for your bag and when to add that extra hybrid or wedge.
I would recommend one of the three launch monitors listed below:
A Golf Simulator provides the opportunity to practice daily
Let's face it, in order to get really good at golf, we must practice frequently.  About three years ago, I made the leap and invested in a golf simulator build for my garage.  
I went with a SkyTrak Launch Monitor and the TGC software and can now play over 100,000 courses including Augusta, Pebble Beach, Bethpage Black, Whistling Straits. St. Andrews and many other of the top 100 courses in the world.
This golf simulator setup, which is more affordable that you might imagine, has been a game changer.  I can now play golf everyday of the year regardless of rain, snow, cold weather or time of day.  I can practice or play rounds of golf.  I can stand in the 11th fairway at Augusta and with the auto-rewind feature I am able to practice my approach shots from various differences.
It is worth checking out through Rain or Shine Golf as they offer some incredible packages along with financing offers that are difficult to beat.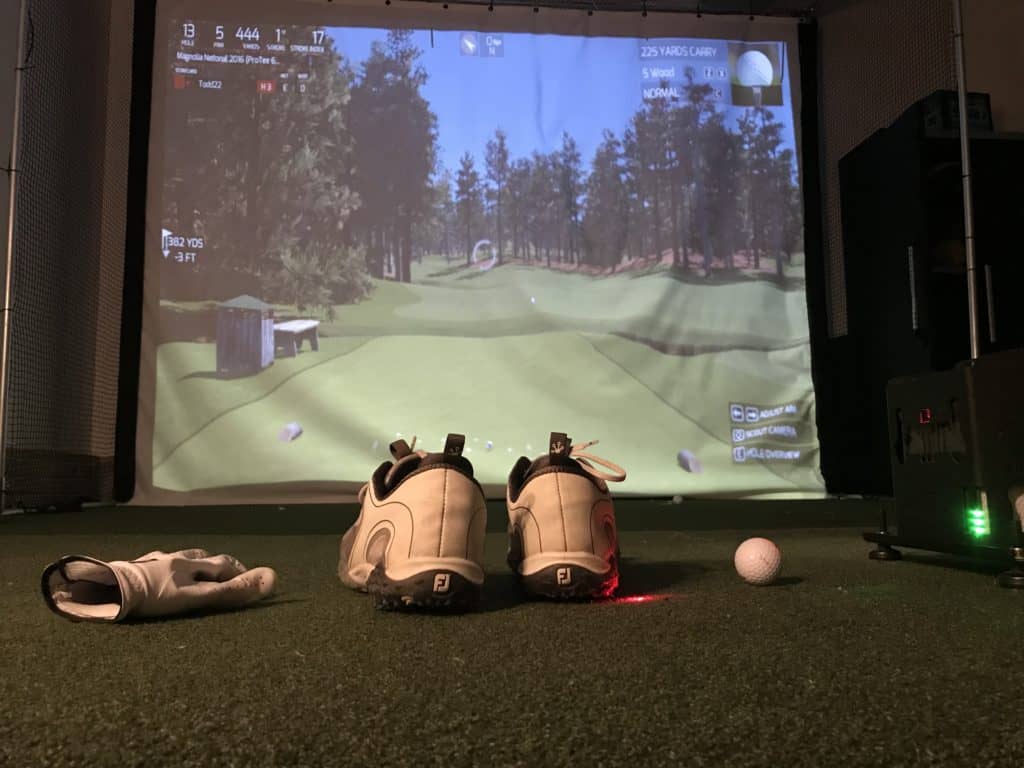 GPS Golf Watch and Rangefinder
You have to know your distances on your approach shots.  If you have the launch monitor and can map your bag for the distances you hit each club, the next necessary technology are the golf gps watch and the golf rangefinder. 
When you are standing over a shot, you need to have the confidence that you have the right number to the pin.  It is also helpful to know the front, middle and back yardages.
These two technology devices can help the golfer who doesn't have a caddie by their side.  The information of front, middle, back and exact distance to the pin is so helpful and worth the money to have this information at your fingertips.
There is nothing worse than a well struck shot that goes too short or too long because you had an inaccurate distance.
Here are two posts I have on these items: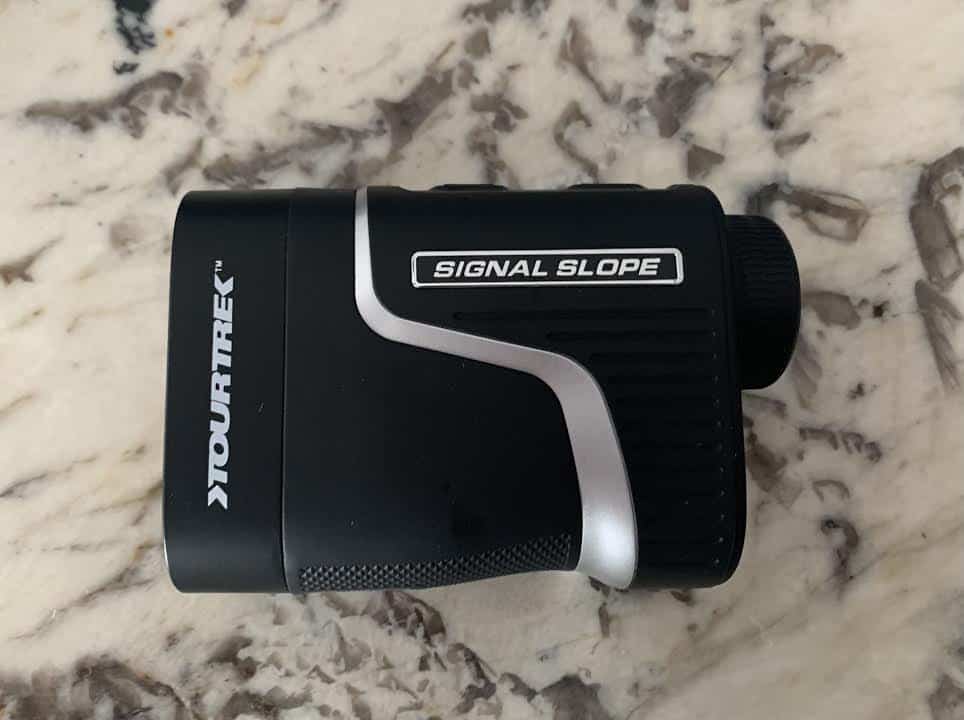 Tip 5: Improve Your Mindset
We have all heard the importance of a strong mental game in golf.  Now there are resources out there to help us improve our mindset and mental approach to golf. 
I would highly recommend checking out these two books to get your started.  Having a system for your mindset is important and often overlooked by many amateurs.  Sometimes the biggest barrier to improvement is the proper mindset. 
I have witnessed this first hand with someone I golf with frequently.
Recommend Book:
Here are some additional benchmarks to help you reach a scratch level if that is the next level for your!
| | |
| --- | --- |
| Greens in Regulation | 67% |
| Fairways Hit | 53% |
| Putts Per Hole | 1.67 |
| Scrambling | 54% |
| Sand Saves | 59% |
| Average Driving Distance | 251 |
Quick Overview of Tips
Tip 1 will help you with the putters per hole, scrambling and sand saves.
Tip 2 will help you with the average driving distance
Tips 3 and 4 will help you with Greens in Regulation, Fairways Hit.
All of the tips above are based on the getting better at the key stats above.  Enjoy the journey to get better and love the process!  Golf is truly a journey and one that I love!  I wish you the best i your journey and keep working on the 5 tips above.
Next Step: Assess your game and compare your stats to the chart above.