You probably have heard of the old saying, "Drive for show, putt for dough!"  While driving stats prove to be vital to the overall success of the golfers on the PGA Tour, we all know that a 3 putt can truly destroy a round of golf, leading to poor decisions and blow ups on other holes. 
Or the inability to sink the 6 footer for birdie, nothing is more frustrating. Or ruining a good ball striking round, by taking over 36 putts during the 18 holes. 
Close to 40% of the strokes in a round of golf are played on the green.  Too many golfers simply spend too much time at the driving range and not enough time on the practice green.  It always amazes me how crowded the driving range is and how empty the practice green is. I can understand the excitement of the 250 yard drive or sticking a 7 iron to 10 feet, but we all know so many shots can be saved on the green.
Below we provide our top tips to help you putt better for your next round and over the next golf season. We follow that up with 5 drills you can practice anywhere.
Check out our Recommended Products page on Golf Swing/Training Aids, Golf Balls, Golf Shoes and more.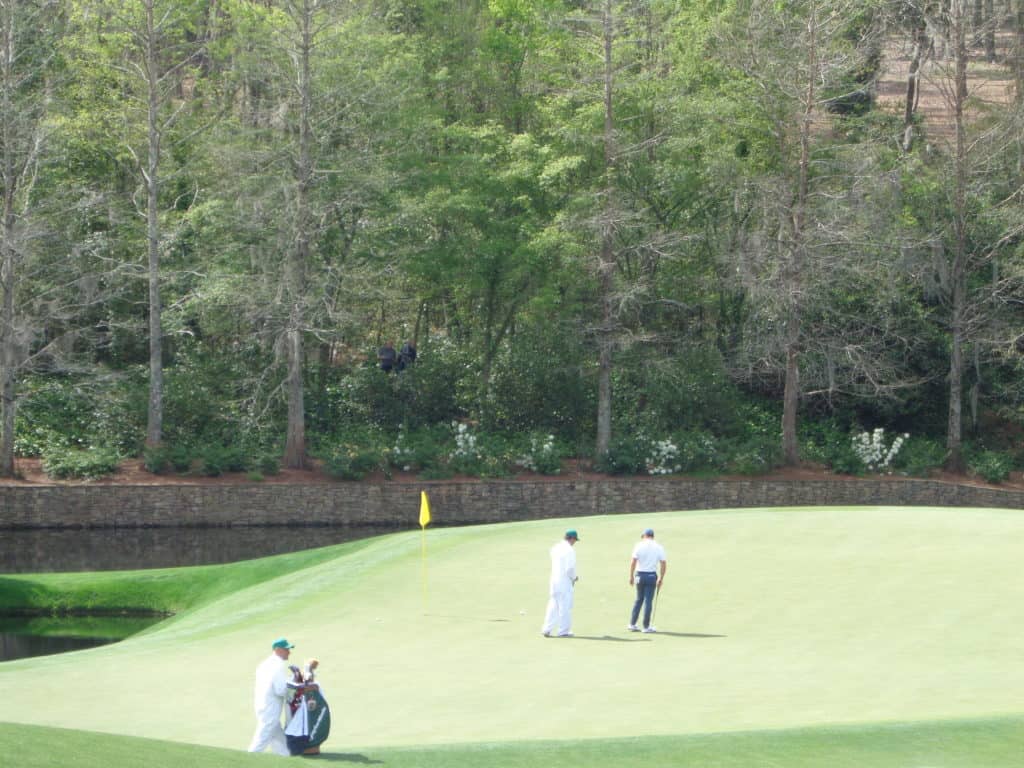 Tip 1 – Have the Proper Expectations
I have seen it so many times, the round of golf ruined because my playing partner didn't make 20 footers all day.  The reality is that you must set your expectionats at the right level in order to not ruin your entire days because you are sinking 20 to 30 footers all over the golf course.  Here are a couple of stats to consider from the PGA Tour.
The make percentage from 8 feet on the PGA Tour is right around 50%
The make percentage from 20 feet on the PGA Tour is right around 15%
The make percentage from 30 feet on the PGA Tour is right around 7%
This is almost difficult to believe, that the best golfers in the world only make 50% of their putts from just 8 feet.  Take it out to 20 feet and we are only at 15%. How many of your playing partners expect to make every putt from 20 feet?  I know I play with several people regularly that think they should make about 50% of their 20 footers. I think that by starting with the right expectations and understanding where the pros are at can give you the right mindset and more confidence when putting.  You can eliminate the mindset that you are a bad putter every time you miss miss a 20 footer. It will also help you be realistic with the line you speed you play when putting. Too often we are trying to run the ball in from 30 feet when realistically we should be playing a speed and a line that allows you to tap in next putt for a stress free two putts.  If you can control your speed, start line and mindset, more putts will start to drop, you will shoot lower scores and ultimately enjoy the game more.
More Tips on Mindset when Putting:
Looking to gain more Speed and Distance in your swing. Two Options:
SuperSpeed Golf – Read our Full Review
Gain 30-40 yards in 30 Days – Swing Man Golf

Tip 2 – Speed Control is Key
Speed control is the one the major keys.  A ball hit on the right line will not go in if the speed is not match to that line.  You can read the green perfectly, play what you feel is the right line and and then bam, you miss on the high side or on the low side.  You then think you played the wrong line when the reality is that you played the wrong pace. You must find the matchup of the line you are going to play with how hard you are willing to hit it.  I loved watching Tiger Woods in his prime hit 5-10 footers. He played an aggressive line with an aggressive speed and hit the ball firm to the back of the hole. It left the possibility of a 3-4 footer on the comebacker, but he made so many in his prime he did not have to worry about too many comebackers.  He truly picked his spots to be aggressive and when to lag it as well.
More Tips on Improving Your Speed Control
Tip 3 – Your intended Start Line must happen frequently
Tips 2 and 3 go hand in hand.  If you are start line is missed, it gives you bad feedback on your ability to read greens or to control your speed.  Putting is all about matching up your start line with the speed that you are comfortable with. One of the great ways to learn more about this is to play in a scramble and watch here each golfers golf ball rolls about 3-4 feet out on a 20 footer.  Youp will quickly learn the importance of matching speed and ball line. Too frequently in scrambles, people think they have the line and then either a) fail to actually hit their line or b) do not match up the speed appropriate for that line. The quality of your putting stroke with impact if you are able to consistently hit your start line.
More Advice on Your Start Line

Tip 4 – Utilize the markings you can put on a golf ball
You should mark every golf ball that you use with a line on your golf ball.  There are great tools for a very affordable price that allows to you draw a straight line on your ball.  This is the best money you can spend to help your game. Check out the price on amazon and learn more about this tool.  On ever putt outside of a 2 feet, you should mark your ball with a ball mark, read the green, decide on the speed that matches it up and then set your ball down with the line pointing to your starting point.  This will help you use your vision from behind, instead of on top of the ball to ensure you are aiming where you need to. Too often the vision from the actual stance on the ball, will throw you way off. Mark your ball, set it up with the line and the most important thing is to trust it when you get over the ball.  Don't allow your eyes to play a trick on you and convince your brain that you don't have the right line. Trust it and then hit it. Focus on the start line and the overall speed.
Don't Believe Your Eyes When Standing Over Ball
Tip 5 – Practice
Too many golfers wonder why they don't make more putts, but very few actually practice. Gain an advantage on your competition by spending as little as 30-60 minutes per week on your putting to see results. You should spend the most amount of time practicing your 3-8 footers.  This will help you save your pars and make the birdies on the shots you hit close.  Anything over 20 feet becomes a 15% chance of making it. Stay in this range and practice your 3-8 footers and then your lag putts to help you build some touch.
Tiger's Warm Up Routine for Putting
Check out our Recommended Products page on Golf Swing/Training Aids, Golf Balls, Golf Shoes and more.
Here are 5 Drills to Help you putt better
Drill 1
Putt 6 balls around the perimeter of the hole at the 3 foot range.  This will create a circle of golf balls with 6 golf balls around the hole.  See if you can make all 6 putts. Don't stop this drill until you can.
Drill 2
The 1 2 3 putting drill.  Set up golf balls in a straight line at the 3, 6 and 9 feet markers prior to a round of golf.  Make these consecutively from different spots the practice green. THis will help you build some confidence and get a feel for each of these distance putts.
Drill 3 
The gate putting drill.  Set up two tees just a bit wider than the width of your putter.  Set up 3-4 feet from the hole and work on moving your putter through this mini gate and knocking the ball in the hole.  This will help you visualize the right stroke and give you feedback if you nip one of the tees.
Drill 4
The 100 consecutive putt drill.  Can you make 100 straight putts from 3 feet?  It might sound easier than it is, but this is a great way to build confidence and ingrain that 2-3 foot putting stroke that is essential during a round of golf.  This drill will also help you make those 3-8 footers as well as your groove your putting stroke.
Drill 5
Hit 10 putts from 30 or more feet and see if you can hit all balls within 3 feet of the hole.  Find a way to mark what the 3 foot diameter hole looks like with tees. The next time you are on the course and are putting from 30 or more feet, visualize the 3 foot hole that you are trying to putt into.  This will take some of the pressure off and leave you with an easy tap in once you get good at this drill.
What Putters are My Favorite?
I love the Odyssey 2 Ball Putter (Check Current Price on Amazon) – I love how easy it is to follow your line and make sure you hit your start line. Also the weighting is fantastic and easy to let it flow through the ball.
I also used a Scotty Cameron in the past. Hard to beat a Scotty Camerson. I have played with this one several times and love it as well. (Check Current Price on Amazon) – The weighting on this putter is fantastic.
And Finally…
Putting, while not fun to practice or fun to brag about, it will win you those fun bets with your friends and help you play better golf, shooting lower scores and enjoying the game more.  Spend more time practicing with the drills above and keep in mind the 5 key tips to putting better. Mindset/expectations, speed control, start line control, utilizing your markings and practicing.
Looking to gain more Speed and Distance in your swing. Two Options:
SuperSpeed Golf – Read our Full Review
Gain 30-40 yards in 30 Days – Swing Man Golf

We have provided guides on how to break 100, 90, 80 and 70. Check out more below, if interested.
Check out our Recommended Products page on Golf Swing/Training Aids, Golf Balls, Golf Shoes and more.