Are you looking to take up the game of golf?
Golf can be one of the most amazing activities you can start playing.  There are so many benefits to playing golf that include:
Golf is a lifelong sport
Golf is great for social activities
Golf gets people outside and exercising
Golf is a journey to get better and have more fun
Golf brings people together for fun competition
Overall, golf is a wonderful sport, but it might seem difficult to get started in.  Below, I will take you through everything you need to stay playing golf.  I will provide you with the essential and then some add ons to make the experience better.
You can take two different routes:
Option 1: Go all in and buy everything at once.
Option 2: Or start by buying the essentials and then adding the other things as you progress in the game.
This will work out differently based on the personality, but know that option 2 works out and helps spread out the cost of the game over several months or years as you play the game more and more. 
Here at golfjourney365, we love the game and everything it brings to life!  I hope that you join us in our journey to get better and enjoy this game as often as possible.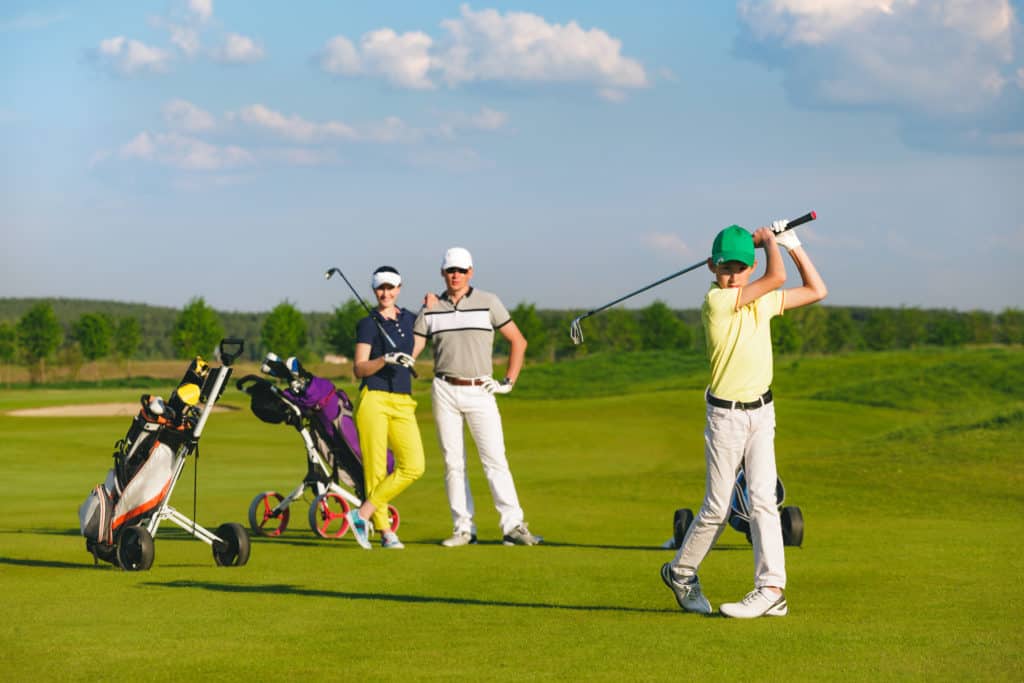 What You Need To Start Playing Golf?
The most essentials pieces start playing golf are the following:
Golf clubs
Golf bag
Golf balls
Golf tees
These are the basics to get you going!
The other items that you can add on in the future include:
Golf shoes
Golf gloves
Golf GPS watch
Golf range finder
Rain gear
Let's dive further into these two topics and provide some clarity and recommendations.
Worried about golf etiquette? Make sure you check out this post!
What clubs do you need to start playing golf?
I would recommend 10 clubs.  The would include the driver, a fairway wood, 5 irons, 2 wedges and a putter.
More specifically:
A Driver at around 10 degrees loft
A Fairway Wood between 15 and 21 degrees loft
A 5 through 9 iron
A pitching wedge (48 degrees) and a sand wedge (56 degrees)
A putter
You can start simple and then add as you go on.  For the person looking to add everything at once, you can carry up to 14 golf clubs in your bag.  If this is the case, I would recommend the following clubs:
A Driver at around 10 degrees loft
2-3 Fairway Woods/hybrids between 15 and 21 degrees
4 Through 9 Iron
3-4 wedges including a 48, 54 and 60 or a 48, 52, and a 60
A putter
A golfer that goes with all 14 has some options to choose between an extra wedge or an extra fairway wood or hybrid.  Oftentimes a hybrid is easier to hit than a long iron for the beginner golfer, that is why we start the recommendation at the 4 iron.  Those with slower swing speeds (below 90 with the driver) might even replace the 4 and 5 iron with an additional hybrid or two.
What wedges should a beginner carry?
As far as the type of clubs I would recommend a quality driver and game improvement irons. You want to be able to launch the ball high and far and a quality driver and game improvement irons will help you accomplish those goals!
Complete post on what golf clubs are needed for a beginner!
Recommended Golf Clubs
Callaway Combo Set
Callaway Driver
What kind of golf bag do you need to start playing golf?
I would recommend one of two different types of golf bags:
Option 1: A carry bag that has a double strap and a stand
Option 2: A cart bag that wouldn't have a stand and may only have 1 shoulder strap
This will be based on if you plan on walking or riding.  Some people may start playing golf for the excise and go with option 1 if they plan on carrying their bag.  Others, who know they always are riding in a cart, can go with option 2.  Or if you have a push cart, option 1 or 2 would work.
I wouldn't spend a ton of money on a bag at first and look for something used, especially if you are riding in a cart or you have a push cart.
Another factor to consider is the overall storage available within the golf bag.  If you plan on playing in variable weather, the extra storage is nice for an extra layer in a pull over or a raincoat.
Recommended Golf Bag
Carry Bag
Cart Bag
What kind of golf ball do you need to start playing golf?
I would recommend the lower level golf balls.  You may lose a lot of golf balls at first, which is fine, but you don't want to lose 4 dollars every time you can't find a golf ball.  
Looking for recycled golf balls online and getting them at a major discount can get you going in the game.  Once you have played the game for some time, you can then determine what is your go to ball and determine if it is worth the investment.  I believe the Titleist Pro V1 is the best ball around, but early on it may not be worth the money.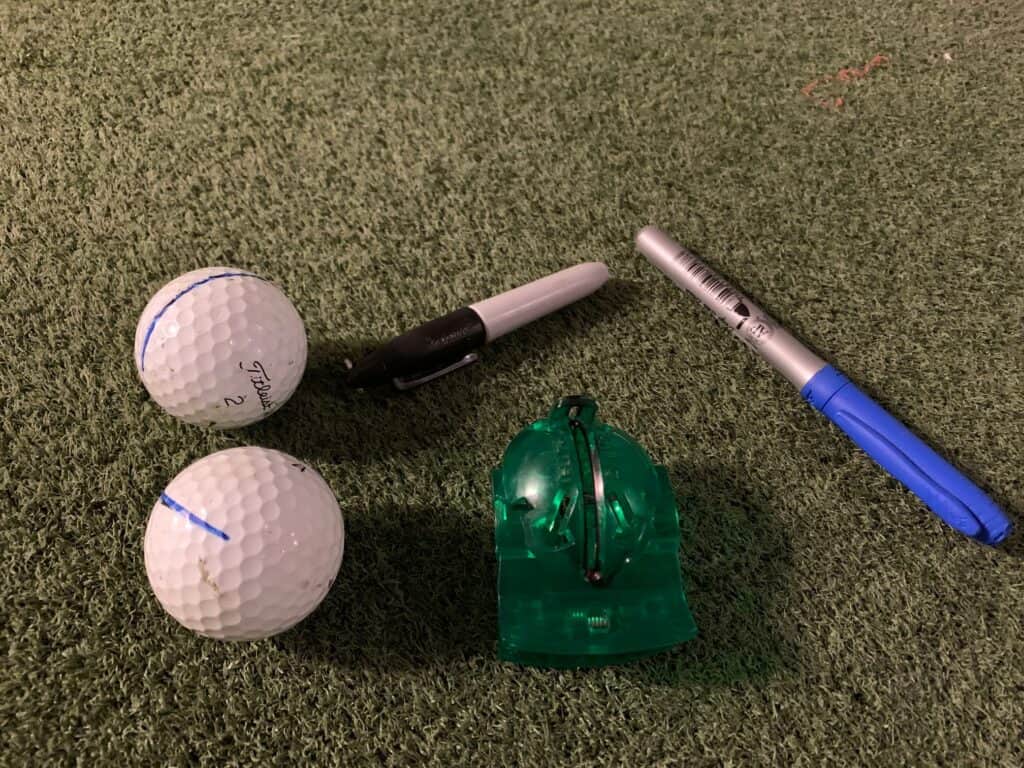 What kind of golf tees do you need to start playing golf?
Really, you can pick up any sort of tee as long as they are the right length.  If you are buying them I would recommend 2 and ¾ inch tees.  Tee the ball up and let it fly with the driver.  If you are really trying to save every last dollar you will find plenty of tees laying around on the tee boxes that you can collect and use in the future.
What do I need to start playing golf (Optional Items)
Golf Shoes
The benefit of golf shoes is that they are designed to keep your feet dry and comfortable, especially if you are someone that is going to be walking most of your rounds.  You want a solid pair of golf shoes that are dedicated to golf.  They come with soft spikes to help your performance as well.  If you don't want to buy golf shoes at first, that is fine you can use a comfortable pair or athletic shoes.
Golf Gloves
A golf glove is helpful, but not required.  If your sweat a lot and are playing in some heat the extra help to improve the quality of your grip will be important.  I could never play golf without a golf, so it might be worth adding early on once you can gauge your level of comfort without a glove. How long should a golf glove last and when to replace!
Golf GPS Watch
Knowing what distance you have left to a hole is important, especially as your advance in the game.  The difference between a 130 yard shot and 150 is pretty significant once you start striking the ball solid and wanting to produce your best score possible. Highly recomended:
Golf Range Finder
Another similar technology to the GPS watch, the range finder will give you the exact distance to a certain target by utilizing the range finder.  There are big advantages to having this range finder and being able to laser your distance to a pin.
Rain Gear
There are those of us that will play in just about any weather condition.  The rain gear might be something you only use once or twice a year, but it is worth the investment to get something quality.  You want something that will keep your dry.  I would recommend a rain suit and a quality umbrella.  Staying dry and being able to keep your clubs, towels and glove dry are important!
Golf Push Cart
Maybe my favorite investment in the past year has been a push cart.  I walk for about 80% of my rounds and the push cart is great for the back and helps make walking more enjoyable.  It is worth the money and I would highly recommend looking into your options! Are golf push carts worth it?
What should I wear to play golf in?
I would recommend a collared shirt and then a casual pair of pants or a skirt.  Try to avoid wearing jeans to the golf course and look like you are dress casual professional to play golf.  
Many golf courses have dress codes, so looking like you fit in is an important part.
How long does it take to get good at golf?
Final Thoughts: Everything You Need To Start Playing Golf
Golf is a wonderful game, a game for a lifetime that provides amazing opportunities and experiences.  You will find golfers everywhere that truly love the game would be willing to help out a beginner level golfer.  I have introduced many people to the game over the years and they all play at various levels.  It is great in the business world to be able to golf.
Get out and enjoy the game. Try not to fear what others will think of you. Understand some of the etiquette to ensure you enjoy the round of golf and the others on the course do as well!