Golf truly is a journey.  Here at golfjourney365, we love the game of golf and hope that our learning can help you improve your scores in your journey. That's why I take the time to share my adventures and journey with you.
I hope to share my journey over the course of the next year and the years to come.  Golf has meant a lot to me in my life and has helped shape me into the person that I am today.   My goal is to average 7 rounds each week and play a total of 365 rounds in 2020, which will include both simulator golf rounds and real rounds.  Golf is a wonderful game for so many reasons. The opportunity to challenge yourself mentally, physically, emotionally while all in the outdoors with friends makes it special. I will share the following on various weeks:
Scores/Rounds
Stats
Swing thoughts 
Tips from online golf instruction
Training
Books I have read that pertain to golf
Other posts from my website 
Products I am currently using and Recommend
More about me
I am a 38 year old father of 3 with a full time job.  My goal is to become a scratch golfer and reach my full potential.  I love studying the golf swing and then experimenting in my golf simulator. I then test those swing changes in rounds of golf on the simulator.  I like to talk and learn about the golf swing and am currently studying to be a professional certified golf instructor. I played a lot of competitive golf during high school and my early 20s, I look to return to competitive golf at some point. 
Round 1
Torrey Pines – 7051 – Par 72 – Score 75 (+3)
Summary – I decided to challenge myself with a longer course. I had been watching the PGA Tour and following Tiger Woods and decided to challenge myself on a long, difficult course. I must have hit my 4 iron around 5 times on either a par 3 or an approach shot on a par 4. I need to improve in this area. I ended up hitting the 4 iron really solid and having a great scoring round considering the course I was playing. In real golf, I don't end up playing over 7,000 very often if at all.
Overall – 3 Bogeys
Par 5's = 1 over
Par 4's = 1 over
Par 3's = 1 over
Highlights – Hit 2 of the par 3's with my 4 iron. I hit nice little draws that worked in from right to left. This helped keep me in the mid 70s.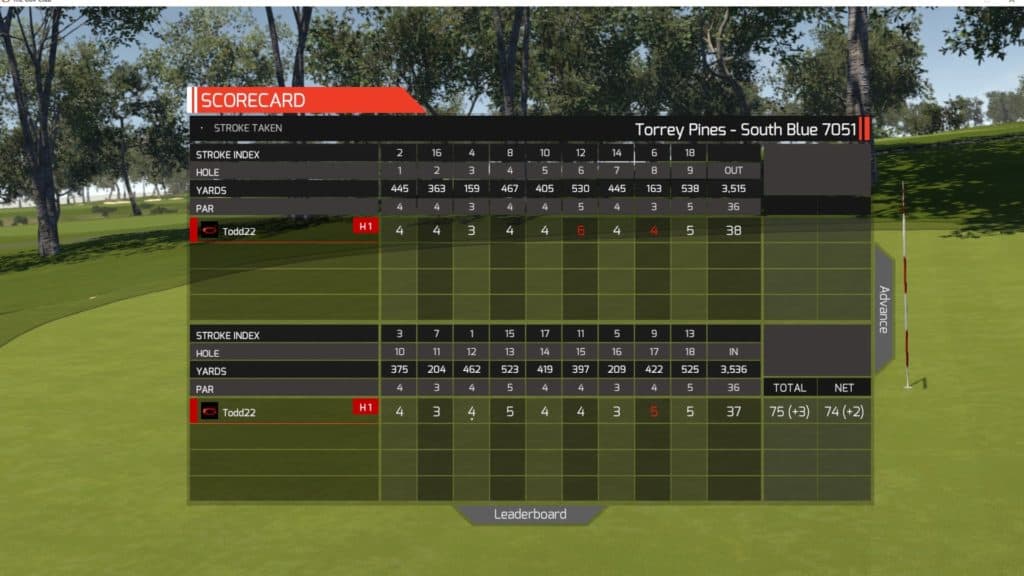 Round 2
Magnolia National (Augusta) – 7351 – Par 72 – Score 77 (+5)
Summary – I decided to stay with the longer courses. As we dream about spring time there is no better sign of spring then the Masters tournament. Playing from the championship tees was a true challenge. Amen corner truly is no joke as I made at even par and then managed to bogey 10, 11 and 12
Overall – 5 Bogeys
Par 5's = Even
Par 4's = 4 over
Par 3's = 1 over
Highlights -I didn't quite strike the ball as well as I did at Torrey Pines, but I still managed the game quite well. I hit some excellent mid irons, which helped keep me in the 70's.
Failed to copy the scorecard – bummer!
Round 3
TPC Scottsdale – 7200 yards – par 71 – 73 (+2)
Maybe my best round of the year. I was hitting the driver right down the middle and was spot on with the 4 iron and the hybrid. When I play these longer courses, I must be able to hit my 4 iron and hybrid as I am left with these clubs into the longer par 4s and the long par 3s. My round goes as my long irons go and my short game. Without hitting as many greens in regulation if I can chip, then I can save par. The advantage on this course was that the greens were larger, which made hitting the long irons into them longer.
Overall – 2 Bogeys, 16 Pars
Par 5's = Even
Par 4's = 2 over
Par 3's = Even
Highlights – Played the par 3's at even par which is impressive considering that there is a 195 yard and a 215 yard par 3. My 4 iron was subperb. My hope is that as I transitions to actual golf in the spring, I can play the longer par 4's more effectively. I have found my driver speed increasing with my SuperSpeed Golf Training. There were several drivers that reached the 103-105 miles per hour range.
Check out SuperSpeed Golf and Use Discount Code Golfjourney365 for a 10% discount.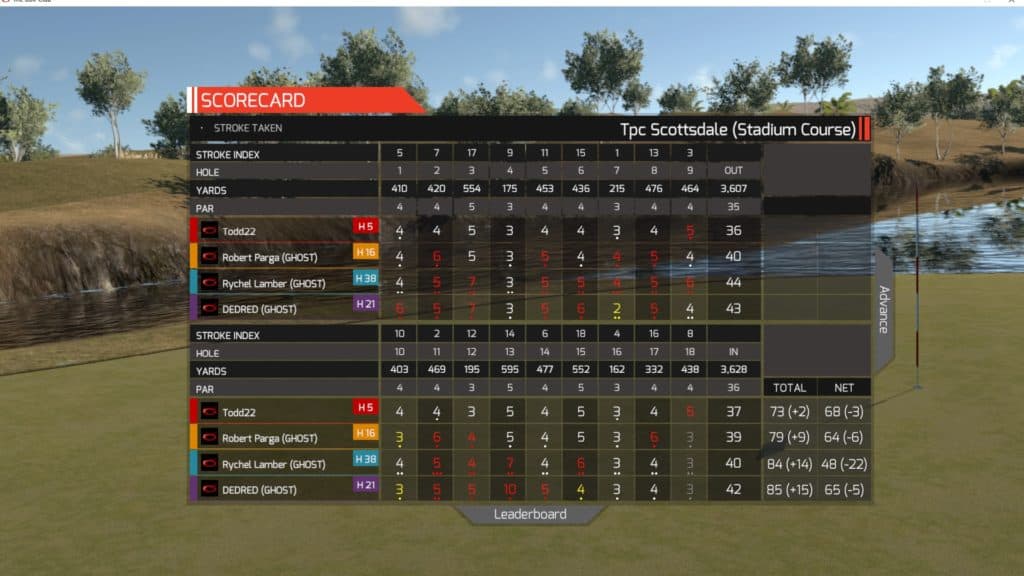 Round 5
Whistling Straights – 7500 yards – Par 72 – Score 78 (+6)
Summary – WOW – what a challenging course from 7500 yards. I acutally played pretty well. If you look at my bogeys they all came on 457 or more yards on par 4s or really long par 3s (234 and 221 yards). Once again, hit my driver well. The driver has always been my weak spot, but I believe with the Shawn Clement, target based approach, I am starting to let it go and not try to manipulate it.
Overall – 1 Eagle, 4 Biridies, 2 Bogeys
Par 5's = Even
Par 4's = 4 over
Par 3's = 2 over
Highlights – Long irons were solid once again. Being able to save par with my 60 degree helped save some holes.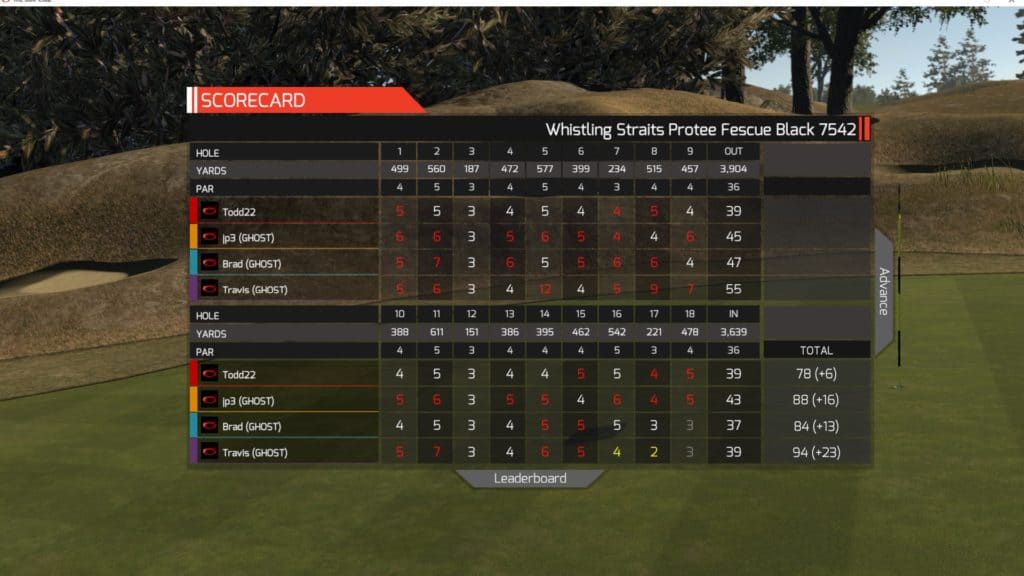 Round 6
Magnolia National – 7355 yards – Par 72 – Score 75 (+3)
Summary – I MADE A HOLE IN ONE! Yes, I have never had one in real life, but I have one in simulator golf. It came at the famous 16 hole par 3. The distance was 158 with the pin towards the front of the green on the left side. I was able to hit about a 2 yard draw with an iron that hopped twice and went into the hole. This hole in one save my round and helped me shoot a 75. Not that I played bad, but I did play from 7355 yards. I have been trying to stretch out my game and see how I can handle the longer courses. I want to hit my driver better and my long irons better by the time spring rolls around.
Overall – 1 Eagle, 4 Birdies, 2 Bogeys
Par 5's = Even
Par 4's = 3 over
Par 3's = Even
Highlights – Obviously the par 3s, but also my 60 degree lob wedge save a number of pars. Amen corner truly is tough. I did hit a 230 yard hybrid into the 11th green that was the prettiest shot of the day outside of the ace on number 16.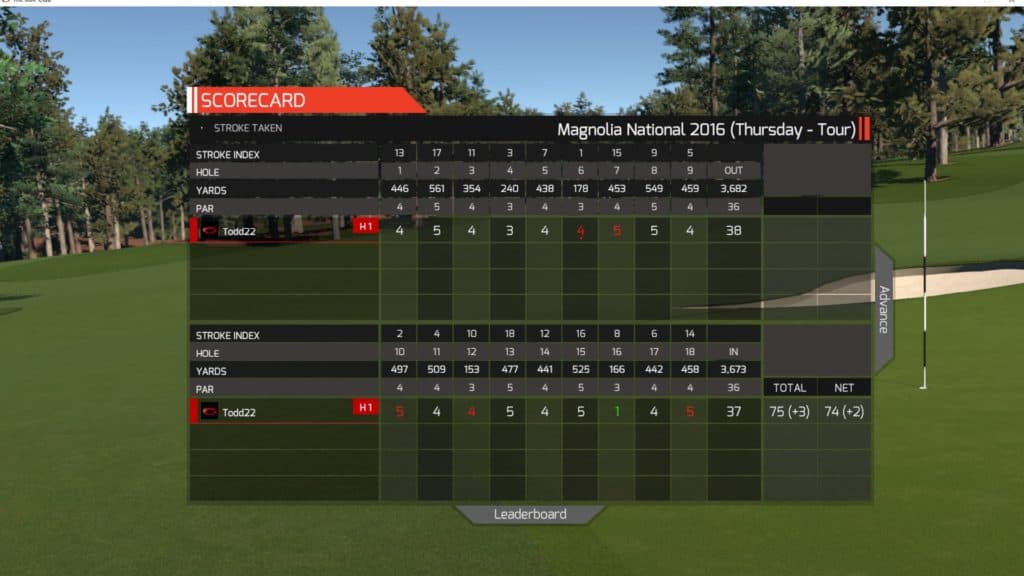 Round 7
Whistling Straights – 6600 yards – Par 72 – Score 71 (-1)
Now that I had played the tips at TPC Scottsdale, Whistling Straits and Magnolia National, I felt it was time to see how my game would hold at up 6600 yards and to see if I could make some birdies again. I did hit my driver really well (I will share my swing thoughts below that I used for the driver) and hit some solid wedges. I was able to make 3 birdies.
Overall – 3 Birdies, 2 Bogeys
Par 5's = 3 under
Par 4's = 2 over
Par 3's = Even
Highlights – Several weeks I set out to play the par 3s better and I have. One of my highlights was hitting a 6 iron fade on the 193 yard par 3 hole. The hole calls for a fade, but I usually try to hit my draw, but it is too big of a force. I also start hitting some nice fades with the driver. I want to be able to hit the shot that the hole calls for, especially with the driver.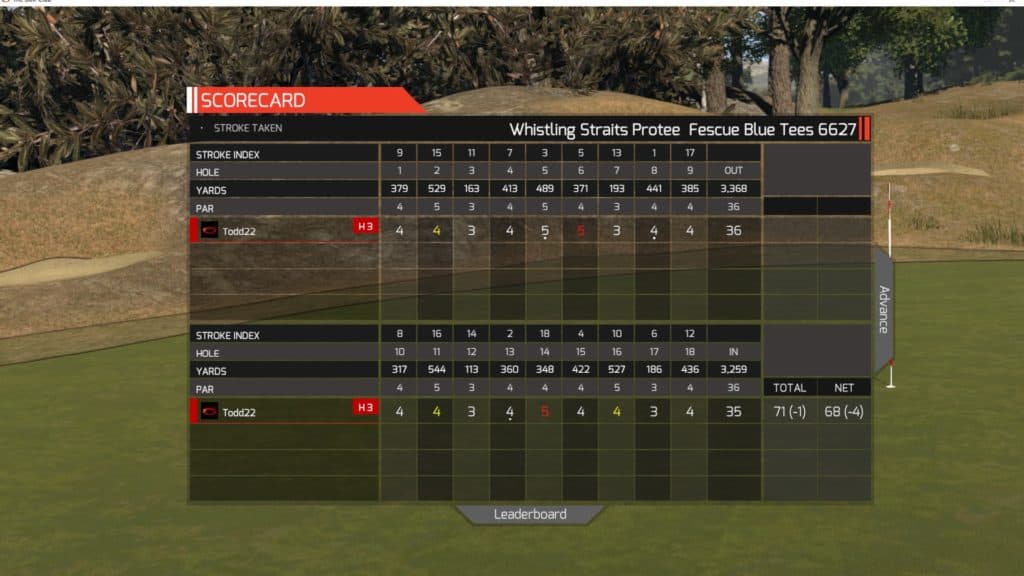 Totals
For the week: 7 Rounds
Par 5's = 2 under
Par 4's = 16 over
Par 3's = 4 over
Highlights – Playing the challenging courses it was essential to keep my driver in play. I was averaging 260-270 off of the tee was able to strike my irons really well. Something interesting that I notice, with a lot of the swings with the longer clubs in the bag, when I did get a chance from around 100-125 I didn't seem as crisp.
I was thrilled with my scores over the past two weeks, especially with play the tips on the majority of my rounds.
Swing Thoughts: Really focus on my target and throw the hands towards the target. Stay calm in transition and then let the hands and club go towards the target – Shawn Clement. Check out our Shawn Clement review, here.
Keep my head behind the ball and direct the momentum.
Instructional Videos that Help Me!
Shawn Clement – Throw the Club
I have now progressed on to the level 2 protocols for SuperSpeed Golf