We have all been there!  Struggling with the driver, trying to find a way to get better.  In our journey in golf, most of us want to play consistent golf and enjoy the game with our friends or as we compete.  
Golf is enjoyed by many sometimes as a way to enjoy the outdoors, get some extra exercise in, a way to socialize with friends, a way to physically and mentally challenge ourselves, or through competition in big tournaments or simple skins games with our golfing buddies.
When we come across a problem, we turn to seek solutions and are oftentimes willing to do whatever it takes to fix the problem.
One of the issues that some golfers face is that they hit their driver too high which makes it difficult to maximize distance and to play in head wind.  Do not worry, we are here to help!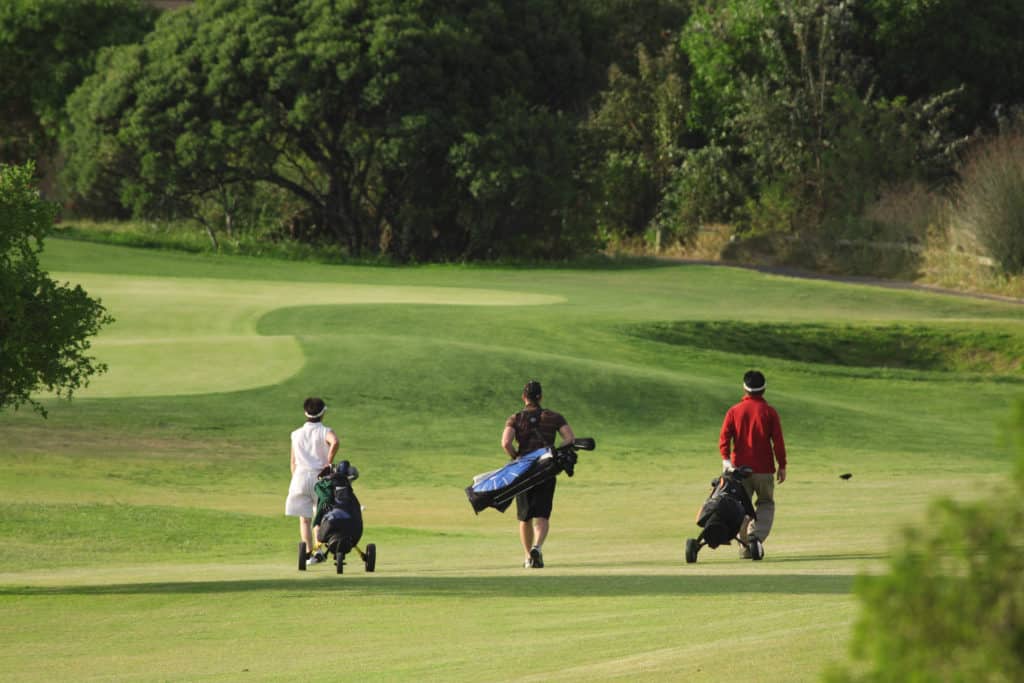 Why Do I Hit My Driver So High?
The reason someone hits their driver so high can be different from golfer to golfer.  However, there are 5 main causes of a driver being hit so high.  These include:
You have the wrong equipment for your swing.
You are doing something mechanically wrong.
You are setup improperly.
You are using the wrong golf ball.
You have the wrong mindset.
Below we will provide details on each of these problems and provide a solution for each potential causes. 
I would recommend working through each of these 5 causes and the solutions and changing one variable at a time, so at the end you know exactly why you were hitting your driver so high. 
Log this in a journal, so the next time you are having this same issue, you have your go to fix to help keep your game where you need it to.
Cause 1: You have the wrong equipment for your swing
Equipment plays a big role in the game of golf.  It is essential that you have a properly fitted driver to ensure you can maximize your club speed, ball speed, center contact and accuracy. 
When selecting a driver, one can sacrifice in some areas for others, but it helps to at a minimum try out the different equipment at your local golf store that has some sort of launch monitor.  I am able to test equipment on my SkyTrak system in my garage. 
It provides ball speed, launch angle, and spin rate.  You might be surprised the impact that spin rate has on the total distance.  If your spin rate is too high you can lose anywhere from 20-40 yards with the same swing speed as a previous shot.  So what are the areas that cause you to hit your driver so high. 
Here is the checklist:
The wrong shaft on your driver
The wrong loft on your driver
Too long of a driver
The wrong shaft, especially if too light or too whippy for your swing speed can cause higher spin rates, which causes the ball to "balloon."  We have all hit that shot that appears to be solid on the face, but spins excessively losing total yardage.  This shot especially hurts when playing into a head wind as the spin is magnified.  Ultimately, these result in high weak shots.
The wrong loft on your driver.  The impressive part about today's technology is the ability to adjust the loft on many drivers.  My Callaway has the ability to play anywhere from an 8 degree loft up to an 11 degree loft. 
If you have a driver like this, play around with the adjustments either at a driving range or if you get an opportunity to hit on a launch monitor.
Too long of a driver.  This can cause mechanical issues.  The average length of the driver sold at stores now is 1-3 inches longer than in the past with many being as long as 46 inches. 
While this can provide extra distance, it could cause you to early extend or cast the club, resulting in shots that spin and launch too high.
Solution: 
Get properly fitted for a driver and potentially even your irons.  At a minimum seek a local golf store and test out different drivers on their launch monitor.  Or buy your own SkyTrak and take it with your to the driver for great analytics to help you improve your game.
Cause 2: You are doing something mechanically wrong
Once you know that you have the proper equipment, it is time to turn to the your mechanics.  If you continue to hit the driver too high and struggle with overall distance, it is time to seek some advice or help.  We have our top online instructors that we turn to during this time. 
Some common faults in the swing that cause too high of a ball flight include:
Casting the club
Improper release
Here is a post of maximizing online golf instruction – comprehensive overview
Best Online Golf Instructors – Top 5
Let's talk a bit about casting the club.  This is a result of wasting a great deal of energy early in the downswing, causing the club to release too early.  Oftentimes the golfer can save the shot by early extending or making other manipulations. 
Either way, it often results in a driver shot that is too high with potentially too much spin.
The casting of the club is a common swing fault in many amateurs and it destroys distance, accuracy and ball flight.  Being able to compress the ball with shots and get a quality launch angle is vital to improving at the game of golf.
Solution:
Check out the video below on how to fix the casting of the club and put these drills into place.
Cause 3: You are setup improperly
Oftentimes, the swing is potentially going to be bad before it even begins due to a bad setup.  With the fault of hitting the driver too high there are often two main causes of this:
Shoulder are tilted too far back
The weight is stuck on the back foot
We want to have an athletic looking setup.  Do not overbend your knees or tilt too far away from the ball. While there should be some slight bend in the knees and a little bit of tilt, do not overdue.  This leads to manipulations needed in the golf swing to produce quality shots.
Solution: 
Check out this excellent video on the proper setup.

Cause 4: You are using the wrong golf ball
I bet most people do not realize that the wrong golf ball can cause issues with a shots flying too high.  Once again, it comes back to the spin rate on the shots. 
Having played over 700 rounds of simulator golf, I have watched closely the spin rate of different golf balls in combination with my different setup options with my driver.  The high end golf balls have a a more boring trajectory, often times from reduced spin on shots with the driver. 
The softer, higher flying golf balls can produce some overspin.  The cheapest, hardest golf balls might fly the furthest because of relatively low springs, but are difficult to play around the greens as they can be difficult to stop on fast, firm greens.
Solution:
Try out different golf ball.  Of course, it often seems, the more you pay for a golf ball the better, but there are some high quality middle of the road balls that might e just right for your game.  Take note of ball flight and total distance.  If you have a launch monitor, test them out and see what fits your game the best.
Cause 5: You have the wrong mindset
What major area of learning over hte past several years is the impact that vision and mindset have on the game of golf.  Let's start with mindset.  If your mindset is something wrong either mechanically or self doubt, you are in trouble before you even hit the shot. 
Mechanically speaking, if you think you have to hit down with the driver instead of up, you might produce too high of a spinning shot.  Or if you are trying to do something wrong in your golf swing that just might magnify your issue. 
Start with the instructors recommended above in our top 5 and pick a system that is compatible with you.  
Also with mindset, if you have a loser's mentality when you walk up to a tee shot, chances are, you are going to struggle regardless.  Your mind will take over your body and oftentimes cause a poorly hit shot.  Instead, try to gain confidence, have a clear target and let it go.
As far as vision, I have learned a lot of the past several years from Shawn Clement and his target focused approach and relying on our "gravity genius" system that we all have to complete the task at hand. 
It is amazing what can happen with the proper mindset and vision when you practice this routine and approach that Shawn Clement advises and teaches.  He is worth check out. For our full review on Shawn Clement, visit here.
Solution: 
Utilize visualization and a task based approach,  If you are tired of trying to hit different positions in your golf swing, Shawn Clement can help you if you are struggling with our #5 reasons you hit your driver so high.  Check him out below.
Golf can be a complicated game, but it doesn't have to be.  If you are tried of playing in those positional based systems, then Shawn Clement just might be what you are looking for.  
Our recommendation if you are hitting your driver too high is to go through the checklist above.  Start with the right equipment and work your way through the list. 
What you might find out is that #5, the incorrect mindset or vision, might be holding your back.  Head to the course with confidence that you are a "gravity genius" and you are going to give yourself a simple task all day and follow that task.  
Bring the joy of golf back to your game and have fun with it.  Stop trying to hit all of those positions in the swing and instead see the target, give yourself a task and trust in the swing.  Work through simple drills.
Below we have our recipe to help you play better golf.  Here at golfjourney365, our goal is to bring the fun back to the game on our journey to love the game and shoot our best scores possible, making the game that much more enjoyable!
Final Tip:
If you are looking to increase your ball speed, you have to check out SuperSpeed Golf.  It is an amazing system that will help you hit the ball further and more consistently.  
Check out our full review here:
Take Action – What You Can Do Today to Get Better
What does this mean for you?  I believe in the following recipe to get better:
1 – Improve your motion in the golf swing by identifying a golf instructor.  Here are some options:
Here is a list of golf instructors that we have reviewed:
2 – Train to swing faster and improve your swing speed.  Here are some options:
Looking to gain more Speed and Distance in your swing. Two Options:
3 – Understand course strategy and work to break through your next barrier.  Here is a series on breaking through:
We have provided guides on how to break 100, 90, 80 and 70. Check out more below, if interested.
4 – Practice Frequently
Did you know that I build a golf simulator in my garage and have played over 500 rounds of golf on my SkyTrak system?  It has been a game changer and one worth checking out. Here are some of my other posts on golf simulators frequently asked questions: