Golfers will seek any advantage they can gain in the game of golf within the rules.
Maybe recently you saw a playing partner with a line on the ball.  Or you were watching professional golf on television and you noticed this same line.  You may also notice that some ball manufacturers are putting a line on the ball or even multiple lines.
You started to question why some golfers draw a line on the ball.
The reality is that most of us just want to play more consistent golf.  Some of us will do anything to get better.  Many of us train for great swing speed or work on our ball contact all of the time.  Others spend $500 on a driver. Well, I have a simple trick that will only cost you around $10 and last a long time.
This simple trick can help every golfer, regardless of current ability level.  Everyone wants to make more putts and be more consistent with the putter.  This review of why golfers draw a line on the ball can help you play better even as early as your next round.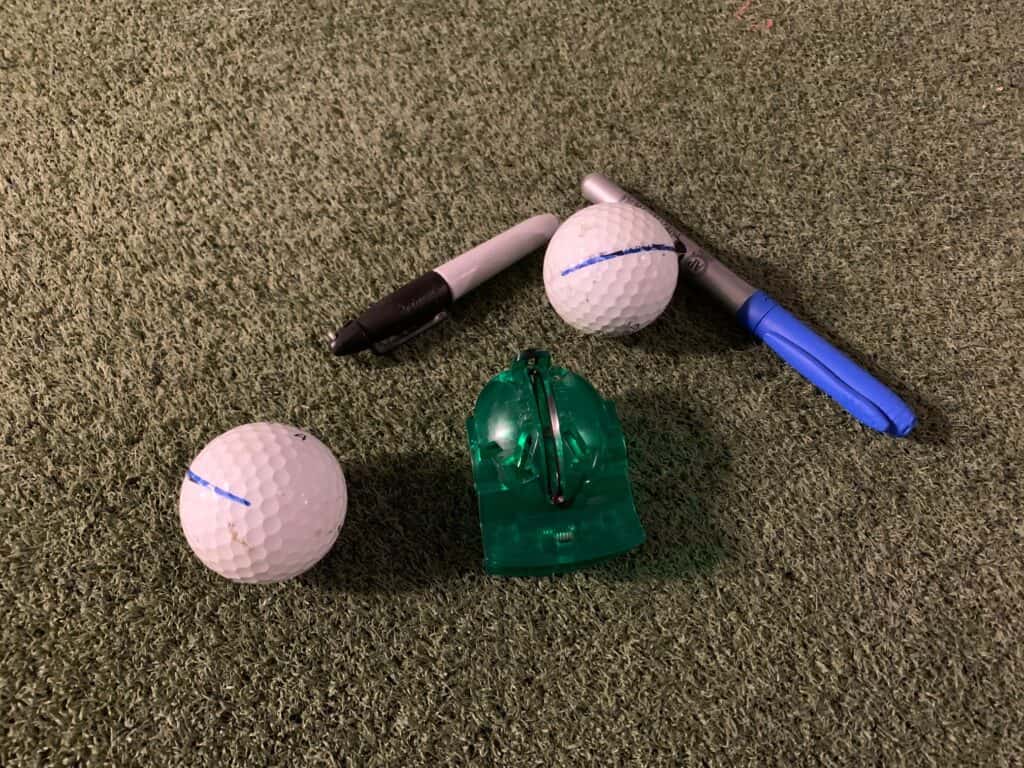 Why Do Golfers Draw A Line On The Ball?
For the most part is it about alignment over putts.  Setting the direction you want to hit the ball from behind the ball is more accurate than trying to line up your direction while standing over the ball from a putting position.
It is a rather simple justification and can provide a great advantage to the golfer.  The way eyes are designed, we are better able to align from behind something then looking to the side.  This can play over into the full shot as well.
How Exactly Does the Line Help A Golfer?
As a golfer reads the putt from behind, he or she is making a prediction on the line that the ball will travel to get to the hole.  You may see a golfer walk around and view the putt from different angles.  Sometimes you will see the golfer go all the way to the other side of the hole. 
From here the golfer is trying to figure out what way the green is sloped.  Once the golfers makes their best assessment, the key is to get the ball aiming in the right direction.  The line on the ball plays a significant role in making sure you are at least aimed in the right direction.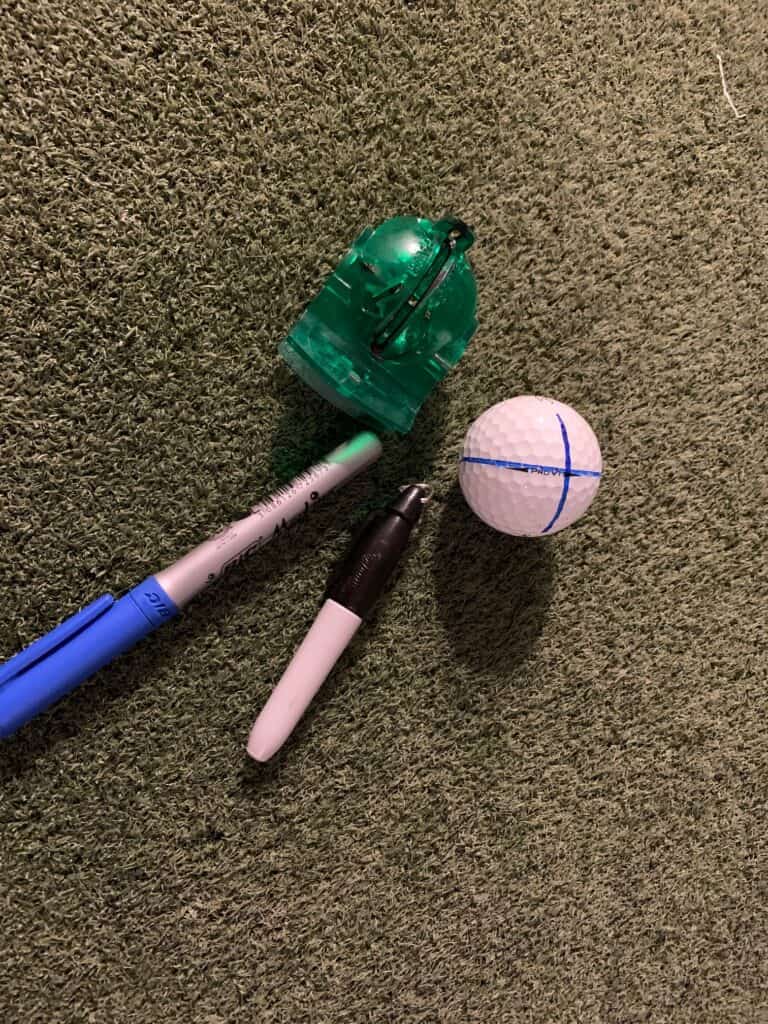 There are some essential steps to making a putt
First, the golfer must be able to read the green and determine what direction the ball is going to break. 
Second, the golfer must properly judge the speed to match up with the line that has been selected.  Some golfers prefer to play higher, softer putts that allow for more break.  While some golfers will play a more direct line with additional speed.
Third, the golfer must align properly over the shot.  This means starting and aiming down the intended target line.  This is where the line on the balls plays the biggest role.
Fourth, the golfers have to actually get over the ball, make sure the putter is aimed on the intended start line.
Finally, the golfers must make a stroke that starts the ball on the intended line with the proper speed to hopefully roll a putt in.
Quick Fact: Did you know that golfers on the PGA Tour on average only make 50% of their putts from 8 feet.  Think about that for a second and maybe the next time you are golfing you will be more patient with yourself if you aren't rolling in 20-30 footers every other hole.
The putting is a difficult part of the game, why not give yourself the advantage with a line on the golf ball to help you properly setup.
Can The Line on the Ball Be Helpful in other areas?
Yes, the line can help you determine if you rolled the ball correctly on straight putts.  If you rolled correctly on a straight putt you will see the ball roll smoothly as the line will stay fairly straight with the line that you will the ball on.
On The Tee Box
Also, I have seen people use the line on their ball to setup tee shots on all of their tee shots.  Some golfers will either keep the line vertical to help that aim at a specific target out in the distance.  Others may place the line more vertical as a way to ensure property alignment.
How To Test For Your Game?
The next step you would take is to take 3 golf without lines on them and 3 golf balls with lines on them and complete a putting assessment on the putting green.
Here are the steps you can follow:
Find a relatively straight putt of about 6-10 feet in distance.
Hit 10 putts with no line and see how many out of 10 you make.
Hit 10 putts with a line on the ball where you go through the complete process of lining up the line in the direction you want the ball to start.  Count how many out of 10 you can make.
Next, repeat from 16-20 feet and hit 10 balls of each kind.
Collect and analyze your data. 
Did the line on the ball help you make more putts from both 6-10 and 16-20 feet?
Next you will want to play several rounds of golf with a line on your ball and several without.  Keep track of the total amount of putts and also your make rate between 6-10 feet on all of your rounds.  Figure out what is best for your game and stick with that solution throughout.
If you struggle to understand how the alignment can help, you have to check out how the law of parallax impacts golf.
Here is one example:
Another option on how to use the line on the ball for putting:
How Do You Put A Line on the Ball?
Many golfers carry a sharpie or another brand marker in their bag.  It comes in handy if you want to mark your ball if someone is playing a similar ball and number to the sleeve you are using that day.  Another great little tool that every golfers should have is below:
Simply make sure you have this little tool to carry in your bag.  Get in the habit of drawing the line on the ball in your favorite color and give yourself the advantage that a line on the ball can bring to your game!
BONUS TIP: How To Measure Your Golf Swing?
If you attend any PGA Tour even you will see plenty of golfers on the range with their launch monitor.  They are gathering data on the range to help them make swing adjustments and to receive instant feedback on their swing.
what swing thoughts or any of the approaches above and what will work for you!
One of the greatest things about living in today's golf world is the access to some affordable technology that can be a game changer in your golf game and life.  For years, golfers tried to find "the secret in the dirt," but now golfers can have immediate feedback on the followings items:
Ball Speed
Club Speed
Launch Angle 
Spin Rate
Spin Axis
Being able to measure your swing at the driving range, on the golf course, or in a home golf simulator setup is a game changer.  In all learning, immediate feedback and data can be helpful to help improve your swing or to keep your swing on track!
Here are three launch monitors that I would recommend (Between 500 and 2000 dollars):
A golfer can spend up to $16,000 on a device like a Trackman or other high end launch monitors, but the more affordable options listed above work for most golfers! 
The accuracy when compared to the top models is within a quality range and a device like the SkyTrak can also allow a golfer to build a golf simulator setup and use the launch monitor in multiple settings.
Where Can I Use A Golf Launch Monitor?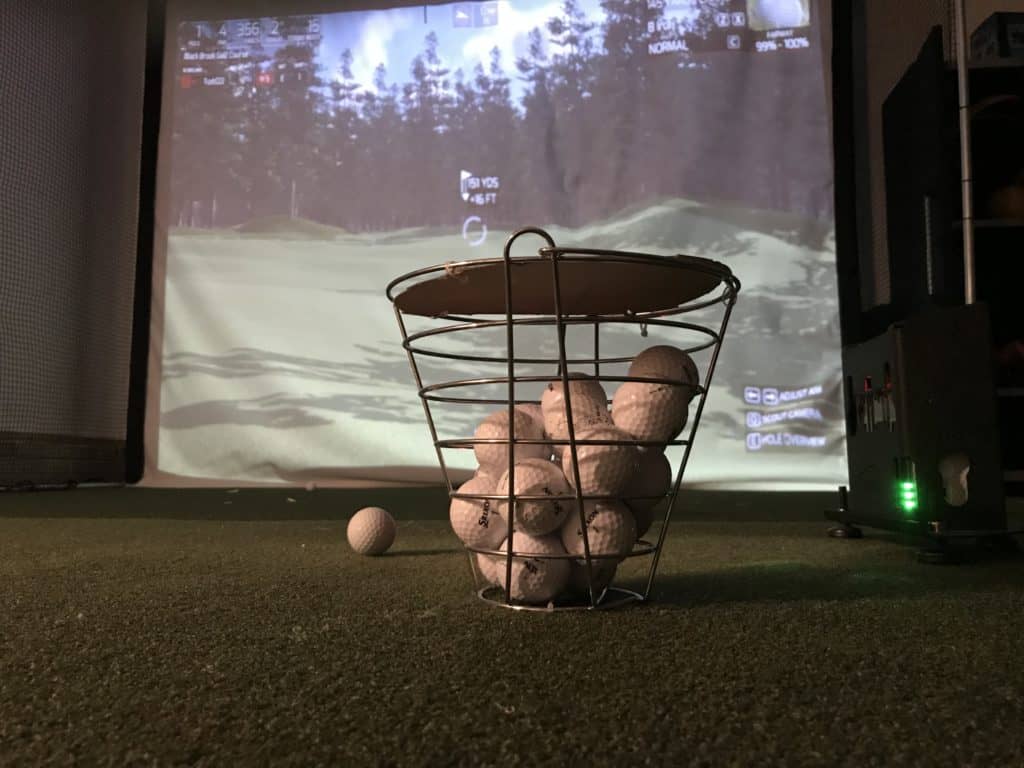 Final Thoughts: My Secret To Golf Improvement
Let's face it, in order to get really good at golf, we must practice frequently.  About three years ago, I made the leap and invested in a golf simulator build for my garage.  
I went with a SkyTrak Launch Monitor and the TGC software and can now play over 100,000 courses including Augusta, Pebble Beach, Bethpage Black, Whistling Straits. St. Andrews and many other of the top 100 courses in the world.
This golf simulator setup, which is more affordable that you might imagine, has been a game changer.  I can now play golf everyday of the year regardless of rain, snow, cold weather or time of day.  I can practice or play rounds of golf.  I can stand in the 11th fairway at Augusta and with the auto-rewind feature I am able to practice my approach shots from various differences.
It is worth checking out through Rain or Shine Golf as they offer some incredible packages along with financing offers that are difficult to beat.
Some direct links to Rain or Shine Golf for pricing and financing:
Take Action – What You Can Do Today to Get Better
What does this mean for you?  I believe in the following recipe to get better:
1 – Improve your motion in the golf swing by identifying a golf instructor.  Here are some options:
Here is a list of golf instructors that we have reviewed:
2 – Train to swing faster and improve your swing speed.  Here are some options:
Looking to gain more Speed and Distance in your swing. Two Options:
3 – Understand course strategy and work to break through your next barrier.  Here is a series on breaking through:
We have provided guides on how to break 100, 90, 80 and 70. Check out more below, if interested.
4 – Practice Frequently
Did you know that I build a golf simulator in my garage and have played over 500 rounds of golf on my SkyTrak system?  It has been a game changer and one worth checking out. Here are some of my other posts on golf simulators frequently asked questions: