Are you new to the game or golf or just wondering how you can make more pars?  We love the game of golf here at golfjourney365 and hope that we can help you on your journey.  Golf can be one of the most amazing sports, but it can also be frustrating at times.  
On our golf journey, we try to enjoy the game of golf as often as possible and keep a positive mindset.  However, we know that can be difficult especially when the round of golf starts to go south as far as your score is concerned.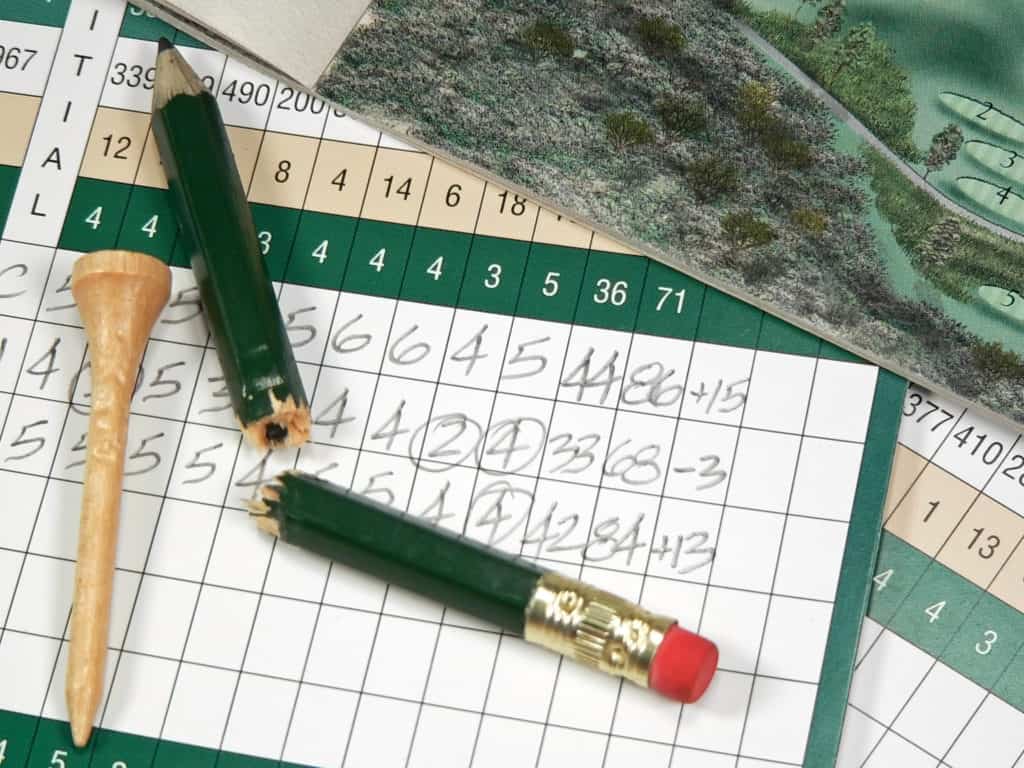 What is Par in Golf
Each hole in golf has a par determined by the course architect or the course PGA professional.  This is the number of shots you are supposed to take to play the hole. It is pretty much setup around regulation golf.  This means on a par four, you are supposed to hit a tee shot and then your approach shot should be on the green. You are then given two putts to make a par. 
Par is a great score in golf.  Most golfers are thrilled with par and understand that birdies (1 under par) are rare.  Even the best professional golfers only average around 3 to 4 birdies per round and when they are playing the US Open, par becomes even a better score. 
For most amateurs even making pars on 50% of the holes can be difficult at time, but we are here to help you make more pars. We want to help simplify the game and provide some strategy and some swing tips to help you play better this season.
Below we will provide our top 5 tips to help you make more pars:
Have A Game Plan
Keep Your Mind Right
Improve Your Ball Striking
Improve Your Swing Speed and Distance
Improve Your Short Game
Tip #1 – Have A Game Plan
Too many golfers get to a par 4 and automatically just pull the driver.  They have no idea what their strategy is for that hole and instead just try to hit the ball as far as they can. 
This can result in being in a sand trap, in the trees or worse yet, out of bounds. The goal of the tee shot is to hit the ball far enough to have a decent 2nd shot, but also to keep the ball in play. 
One thing that separates pro golfers from even the best amateurs is their ability to keep the ball in play more frequently. Combining accuracy with some distance is the ultimate score reducer. Let's give some examples of holes where you might not pull the driver automatically.
Example 1
You get to a hole that is only 350 yards long, but it is narrow and the further you hit the ball, the more the trouble comes into play.  We would recommend considering a 200 yard club, whether this is a 3 wood, hybrid or a long iron.
Something to keep you in play and leave you with a 140-150 yards left for your approach shot.  Many amateurs can have success from this distance with their approach shots. Making anything more than par from the fairway actually becomes more difficult.
It takes two bad shots once you are in the fairway to not make par.  Let me explain further…even if you miss with your approach shot, you should be able to hit a decent chip and get up and down to save par around 50% of the time on simple chips.
By playing the percentages over the course of 18 holes, you give yourself a chance to make par frequently.  Remember, a round of golf is a journey and each shot counts the same.
The ultimate goal is to make a solid decision and then trust that decision. Ultimately, as the golfer, you have to pick a shot that you are comfortable with for 4 straight hours.
This approach is also essential on par 5s.  The par 5s might actually be the best hole to not hit driver.  Unless you are a long hitter and get home in two, play the hole backwards in your mind and think about the distance you want for your third shot.  Here is another example.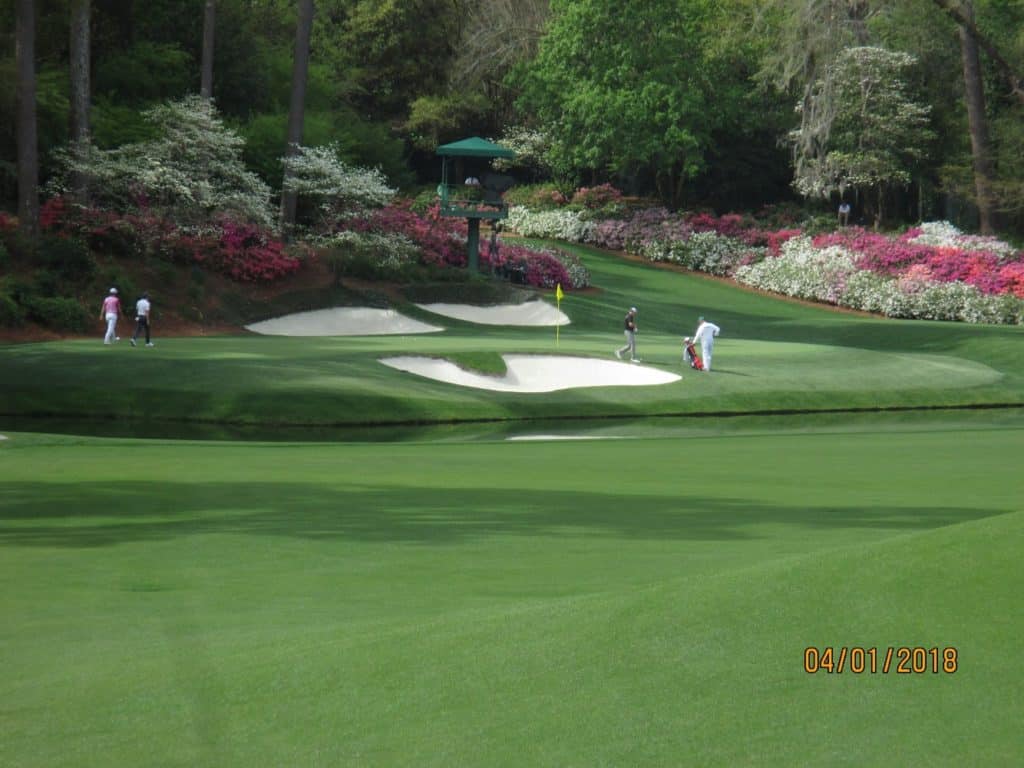 Example 2
Let's say there is a 480 yard par 5. Instead of pulling driver and bringing different trouble into play, what if you hit the ball 210 off the tee. 
Your plan before the hole started was to have an 80-100 yard approach shot for your third shot. So you are now only 190-210 yards away from that ideal distance. 
It might take two hybrids form the tee to get to that distance. My guess is that you can hit the fairway much more frequently with a hybrid or three wood then you can your driver. 
Or maybe you are someone that can swing at 75% with your driver, that is another quality option. If you can handle all the par 5s in this manner, you pretty much have created 4 really short par 3s essentially.
Using those different strategies can help you score better even if you don't improve your swing or short game.  Just playing the course in the right manner will help that score come down.
Tip #2 – Keep Your Mind Right
Golf can be amazing and at the same time so frustrating.  You just played the par 5 perfectly and made your first birdie of the round.  You are feeling good and then snap hook your next tee shot out of bounds.
How do you respond?  Are you so mad you tee up another and hit it out of bounds again or do you somehow calm yourself down and stay within your game?  Let's face it, we have all been there. The game is going great one moment and the next moment we hate the game. 
Keeping our kind right and staying focused on the task at hand might be the most difficult part about golf. We swing our eBay when we are relaxed, comfortable and trust the decision that we have made. 
When there is doubt in our minds our bodies are restricted in the ability to perform the difficult task of hitting a golf ball. 
We have to learn to live with the results and know that the score we shoot does not define us as a person.  George Gankas also talks about working with people who are ok hitting the bad shot and remaining confident in who they are.  Golf does not define us.  
All we can control in golf is our process and have awareness of what we are thinking.  Shawn Clement's approach to focusing on the target and swinging towards that target is liberating.  In my golf game, gone are the days of trying to hit different positions at P1 through P8.  
The goal is to put yourself in a number of pressure situations and try to figure out how you respond.  Always keeping in mind how lucky you are to be playing golf that day!
Choose your response…it's truly the only thing you can control.  It might take practice, but it's the one thing we can all do. The more you practice the right response the better you will be and the more you will enjoy the great game of golf.
Self talk – what story are you telling yourself? Do you get negative right away after a bad shot or do you talk yourself and keep your emotions centered.  Too often, we turn to the negative, which provides negative feelings throughout our body and reduces the ability to hit quality shots.
Visualization – Do you use visualization and see the shots when things are going bad or do you rush through your routine and strat to play too fast or maybe even too slow.  You should stay with your routine and picture the shot you want to hit.
How Do You Respond to the Following Situations – Are you an Angry Golfer? Or do you get the most out of game?
| | | |
| --- | --- | --- |
| Situation | Positive Response | Negative Response |
| You make a birdie | Let's keep playing good golf and stay in the moment. | I am lucky to make that birdie, that will never happen again. |
| You hit a ball out of bounds | All golfers make mistakes, I will rebound and hit a quality next shot. | Throw club, swear and then tee up another and swing at the ball as hard as possible. |
| You three putt | That was a tough read, I will be fine and recover.  The round of golf is a journey and I have time to still do good things. | Throw your golf ball into water nearby and curse at yourself on the way to the next green.  YOu make everyone else in your group uncomfortable. |
| You hit a ball into the trees and you catch a break. | I feel fortunate to catch that break, let's take advantage of this opportunity. | You think…I suck at this game.  My driver is miserable and this round is going to be bad. |
| You make five pars a in row | I'm feeling good, keep my emotions in check and stay in my routine.  My visualization is really working today. | Wow, I wonder when my luck will run out.  I haven't made 5 pars in a row all year. It's only a matter of time.  Where is the next water hazard? |
A great quote to keep in mind during the difficult times:
"Golf is 80% mental, 10% ability, 10% luck."

Jack Nicklaus
Tip #3 – Improve Your Ball Striking
The key to consistent and quality golf is being able to strike the ball pure.  We all know there will be some rounds better than others, but if you can cut down on your bad shots and make your bad shots, just below average shots your scores can come down.  
Golf is often not a game of how good your good shots are, but rather how good are your bad shots.  What this means is avoiding that shot that brings about 2-3 strokes because it is a disastrous shot. 
Even someone like Ben Hogan felt that he only hit several perfect shots per round. Too many amateurs think they are going to hit the perfect shot and then are surprised and respond negatively when they don't.

There are some excellent golf instructors in today's game.  One of the great things about today's golf world is the access we all have to some of the best instructors in the world. 
We used to only have our local PGA teaching pro to help us or the major golf publications. Where today, we can turn to the best.  There are now different approaches that can be refreshing to many of us that love the game of golf.
For example, Shawn Clement, here is a guy that works on visualization, setting up to work the ball both ways depending on the shot, and then making a natural motion.  
There is also Mike Malaska, who teaches directing the momentum and make a more natural movement.  Both of these instructors have a ton of free content.
Below you will find our top rates videos for each of these instructors.  If you are looking for someone that has an alternative approach to the golf swing that is completely different from the typical style of teaching, then check out Jim Venetos.  We have complete review on Jim and his stillness based swing.
Video by Shawn Clement:
Video by Mike Malaska:
Tip #4 – Improve your Swing Speed and Distance
The reality is that the further we hit the ball, the better chance we have to shoot better scores.  The analytics show that at every level of golf, the shorter your approach shot is into the grene, the better chance you have of being closer to the hole. 
Many of the tour pros are now training for speed. They know the value of those extra yards. The best example of this is Phil Mickleson, who has worked hard on his swing speed and body composition to try to get more distance and make sure his PGA Tour career can last as long as possible.  The system he uses is SuperSpeed Golf.  
They have three different clubs that you swing in their protocol.  One is 20% lighter the other is 10% lighter and one is 5% lighter. The protocols are easy to follow and are completed 3-4 days per week.  Here is our complete review on SuperSpeed Golf.
It is time for amateurs to take advantage of the science and the tools that are available to us. If we want to hit the ball further (and who doesn't) we must train to hit the ball further.  
I think you will be impressed by the 5-8% swing speed increase and the benefits of your game.  Not only will you hit your driver further by maye 20-30 yards, but you will hit your other clubs further as well.  This multiplying impact can help shorten a course and help you shoot lower scores.  
The evidence is clear on the importance of distance.  What are you doing to gain distance in your golf swing?  There are multiple options out there and we believe that SuperSpeed Golf is one of the best options.  Make sure you use discount code Golfjourney365 for a 10% discount.
Tip #5 – Improve Your Short Game
The quickest route to lower golf scores can be found in the short game.  While adding distance is a great option, spending 30 minutes several times a week chipping and practicing putts from 3-10 feet that pay almost immediate dividends for your game.  
Committing to the short game and spending the time will go a long way in shooting lower scores and beating your playing partners.  The ability to save par around 50% of the time is a game changer. Let's do some simple math here. Let's say you only hit 6 of 18 greens in regulation during a round, but you are able to get up and down to save a par 50% of the time.  
This leaves you with 12 opportunities to save par.  If you can do this successfully 6 of the 12 times, you can shoot around a 6 over or a 78 on a par 72 course.  Many amateurs would love to shoot that score.
Below we provide our best chipping tips that we have come across online.  The best thing about chipping is that there are different techniques and different approaches you can. The ability to make a repetitive motion is what counts the most. 
It doesn't take strength, speed, or anything special to be a great short game player. It typically takes some decent technique with a bunch of hard work and practice. Once you get an awesome short game, you will be the golfer that frustrates your opponents because it will look like you are out of a hole and then all of a sudden you have saved your par or rolled in a 30 footer for bride. 
The great thing is that practicing your short game is free. Head to any public course and you can spend hours at the practice green and chances are you might be the only person there.
Here is an excellent video if you have problem with blading or chunking chips.  Monte takes you through a motion he wishes he knew about when he was playing competitively.

Here is a comprehensive look at chipping by Shawn Clement.  He is our top rated instrutor here at golfjourney365.
Take Action…
The information above is provided as a comprehensive plan to help you make more pars.  Course strategy, the mental game, swing speed, better ball striking and short game are all great options to help you make more pars. 
There are some items to think about (short game) and some training (swing speed and short game) that you can commit to this season. For immediate results, head to the short game area and practice and then practice some more. 
Winter is a great time for speed training, although you can start at any time. SuperSpeed Golf can provide a 5-8% increase in swing speed as early as your first session. Golf can be an amazing game and the reality is that it is more fun the better we play. 
If you are tired of playing the same old golf, take action and put some of the areas and advice above to work.
One other area that really helped me improve my game was when I was able to play year round.  Even though I live in a colder climate in the United States during the winter months, my home golf simulator has allowed me to play over 500 rounds of golf over my first 30 months since researching, buying and installing in my garage. 
The opportunity to play just about daily or at least practice daily has reduced about 4 shots from my handicap and I now playin in the lower single digits.
That is one major benefit, but the other major benefit is the stress reduction and curing the winter blues that many golfers get during the winter.  I can play Pebble Beach, Augusta, Whistling Straight even on the coldest January days. To learn more about my golf simulator journey, check out our 20 plus posts on golf simulators, here.
Related Products…
Here are several products referenced in the post above. Check them out to give yourself a competitive edge over your competition or to simply play better golf! Enjoy the journey! We sure do!