If you are in the market for a golf simulator, there are many different questions to answer.
One great thing is that simulators no longer cost 20-30 thousand dollars for a residential setup.  In fact, a more reasonable price range is between 5-7 thousand dollars for a pretty amazing setup with some of the best graphics you can find!
The good news is that I researched and built a golf simulator for my garage and have been thrilled with the amount of entertainment, game improvement and overall fun that it has provided over the 700 rounds I have now played.
No longer is the rain, snow or colder weather able to stop me from enjoying the game many of us enjoy so much.  Even the time of day doesn't matter!
Overall, I am able to play golf when I want on some amazing courses, including Augusta, Pebble Beach, Whistling Straits, Bethpage Black and many of the world's top 100 courses.  Improvement in my game has followed as I now hit the ball more consistently, have dialed in the distances on my irons and even hit my driver further.
One of the most common questions please ask is where should I build my golf simulator.  Golfers most often build in their garage, basement, extra room in their house or sometimes even a shed.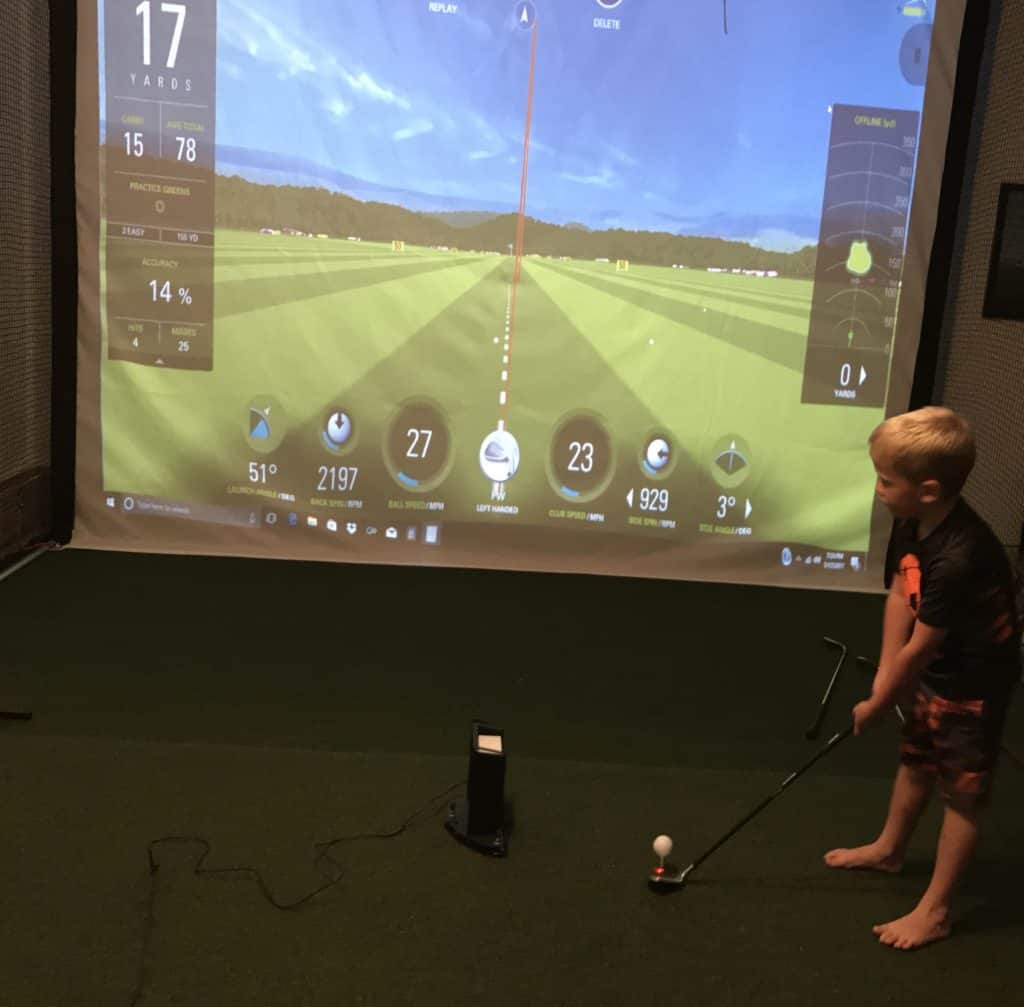 Can I build a golf simulator in a shed?
Yes, a shed is definitely an option and one that can work out great if the size is right and other factors have been taken into consideration.
Below we will go over key areas to consider if you are looking at a shed or outbuilding for your golf simulator build. 
You won't regret the investment as you will have hours upon hours of fun, be the envy of your golfing buddies and even see game improvement!
Key Items to Consider When Building a Golf Simulator Shed:
The size of the shed
The projector location
The electric source for the shed
The heating/cooling options for a shed
The lighting in the shed
Also, we will provide a recommendation for your golf simulator shed for the golf simulator related products:
The actual launch monitor
The best golf mat options
The best enclosures and screens
Computer considerations
Key Item 1: What is the right size shed for a golf simulator build?
The singlest most important item is to ensure that your shed is big enough.  The minimum square footage should be at least 120 square foot, the measurement could be a 12×10. 
This would leave you with very little extra space and would be difficult to fit more than one person safely in the shed.  If you are the only person going to use your shed then this could work.  We realize that everyone has a budget and this would get you in the game.
Ideally, the shed would be around 220 square foot.  I I would recommend something around the size of 16×14, which is 224 square feet.  This would provide plenty of width (the ideal width is between 14-16 feet) and enough depth to be far enough away from the screen (ideal is around 6-8 feet) and would provide enough space to swing a 45 inch driver.
Obviously, the bigger the shed, the more space you have to swing freely and to have more people in your space.  One option is to ensure that the doors are big enough on the entry, which could serve as the area where people can hang out if the weather is nice enough. 
The screen would be set up opposite of the doors.  Or the the doors could be one of the side walls, so that is doesn't impact the brightness of the projector.
You have a lot of options to work with and consider, but please make sure you think this step through.
Shed Options at Rain or Shine Golf
Where to Buy From?
Rain or Shine golf has great prices, excellent customer service and financing offers.  When you are read to buy or even simply price out, make sure you use the links below.  The best route is to buy a packages and then add a shed if needed.
Some direct links to Rain or Shine Golf for pricing and financing:
Tip 1:
Mark out the different size options on the ground using paint, tape or pvc pipe.  This will give you a good idea of what size you are working with.
Another area to consider is the shed height.  You will need at a minimum 8.5 feet to swing an iron and at least 10 feet to swing a driver.  Once again, another way to test this is to find a room with a similar height and at a very slow speed swing a drier and see where the driver swings in relation to the ceiling. 
In my garage setup, my ceiling is 12 feet high and I never have to worry about hitting the ceiling.  My width is 14 feet wide and my depth is around 24 feet, providing plenty of space to swing freely!
If you are going to spend the money for a simulator build, make sure you have enough space to swing comfortably!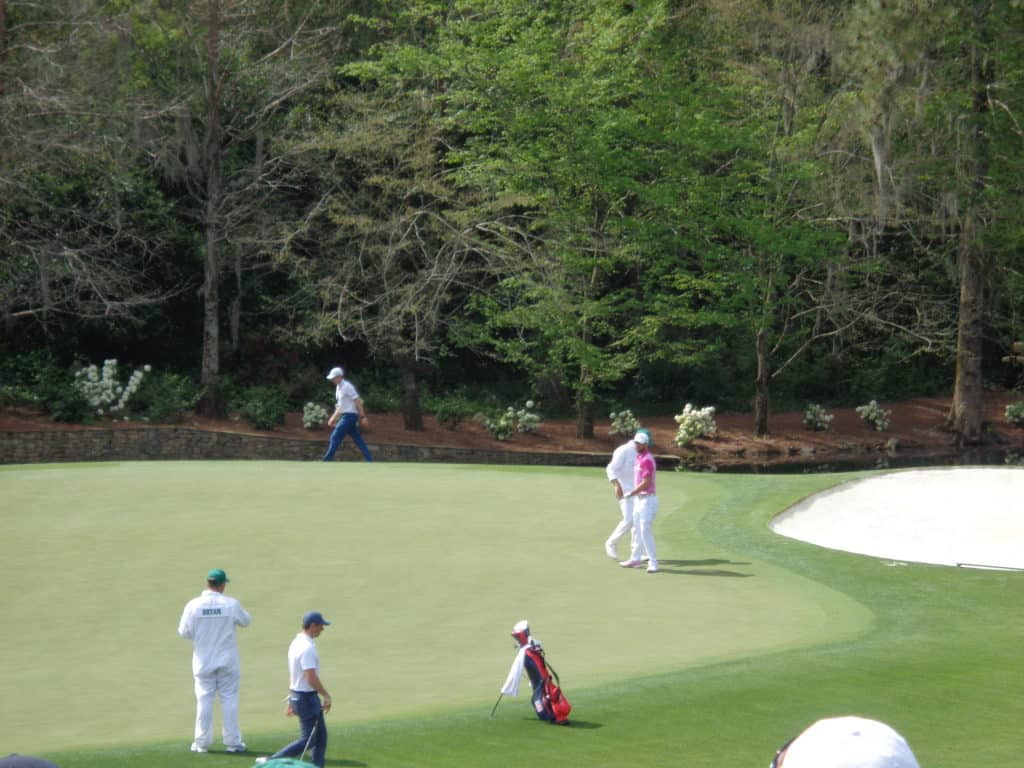 Key Item 2: Where should you place your projector in the golf simulator shed?
I would recommend a floor based projector.  These short throw projectors could be perfect for your setup.  Due to the potential access of non wanted people to your shed, I would try to keep the most important items mobile and able to store them in your house when the shed is not be used for a golf simulator setup. 
This would include the launch monitor, projector and gaming computer.  Obviously the enclosure and golf mat would most likely stay and be items that the common person wouldn't have a need for.
Rain or Shine Golf provides a projector floor mount protector that is made of nearly indestructible ABS plastic.  This allows the projector to be protected and have the proper air flow so that it doesn't overheat.
Key Item 3: The electric source
Make sure you take into consideration where you will have electricity from to run your projector and gaming computer.  If you go with the launch monitor we recommend (SkyTrak) this is a wireless free setup.
Key Item 4: The heating/cooling options for a shed
Different climates bring different challenges.  However, the chances are you will have to consider how to safely keep your shed heated or cooled during the different months throughout the year. 
If your weather never gets that cold, you may be able to play in several layers and a winter hat. Or if you don't mind the heat, you could play during the summer without air conditions.  Just simply open those big shed doors and enjoy!
This decision will come down to how comfortable you want to be.  For my garage setup I am able to play year around in the midwest part of the United States and stay warm enough through dressing in layers and wearing a winter hat. 
The fun is amazing and worth the slight discomfort.  Let's face it, when you are playing Pebble Beach in January and the temperature is 25 and snowy, you really don't mind being just slightly cold!  The fun is amazing!
Key Item 5: The lighting in the shed
If you are going to keep your doors closed and do not have windows in your shed, you will ant to consider a simple plug in based light that can provide enough light so you can see the keyboard of your computer and not lose balance when swingin. 
The projector will provide some light in the space, but I have found a little bit of additional lighting helps the overall space and atmosphere.  I have a simple plug in light that has several bulbs on it!
Recommendation 1: The actual launch monitor
I went with the SkyTrak, which has worked out greatly for me.  I have paired with The Golf Club (TGC) software and it has been great!  The overall graphics on the TGC and the accuracy of the SkyTrak have provided me with many rounds of fun (over 700 rounds of golf) and plenty of game improvement opportunities.  I have been able to reduce my average score by 4-6 shots.
The SkyTrak is affordable and portable.  You can use indoors or outdoors and it is compatible with many different software options depending on your budget.  I would highly recommend the TGC software, but understand that it is also the most expensive! 
The TGC software does provide access to over 100,000 courses including many of the world's top 100 and has the best graphics in my opinion.  I have golf on several other softwares and never come away as impressed as the TGC software.
Recommendation 2: The best golf mat options
If you are going to be playing as much golf as I have over the years, you need to ensure you have a quality mat that will keep your hands and arms feeling good and not sore. 
Also, the longevity of the mat is important.  The last thing you want to do is buy something cheap and have to replace it in the year.  I paid for quality and received quality.
Here is my number one recommended golf mat.
Recommendation 3: The best enclosures and screens
Depending on the size of the shed that you will pick, you will want to get an enclosure that is the right size.  If you go with the larger option, our recommendation is the Swing Bay Enclosure, which is linked below. 
This option provides protecting on the sides and on top to help keep those errant shots from causing any damage.
Recommendation 4: Computer considerations
If you go with the TGC software you will want to check the graphics card in the computer that you plan on using or buying. 
You want to ensure you are maximizing your software system and this often takes a gaming computer.  My recommendation is to buy a complete package from Rain or Shine.  They offer great products, excellent customer support and even have financing offers.
Some direct links to Rain or Shine Golf for pricing and financing:
My Secret To Golf Improvement
Let's face it, in order to get really good at golf, we must practice frequently.  About three years ago, I made the leap and invested in a golf simulator build for my garage. 
I went with a SkyTrak Launch Monitor and the TGC software and can now play over 100,000 courses including Augusta, Pebble Beach, Bethpage Black, Whistling Straits. St. Andrews and many other of the top 100 courses in the world.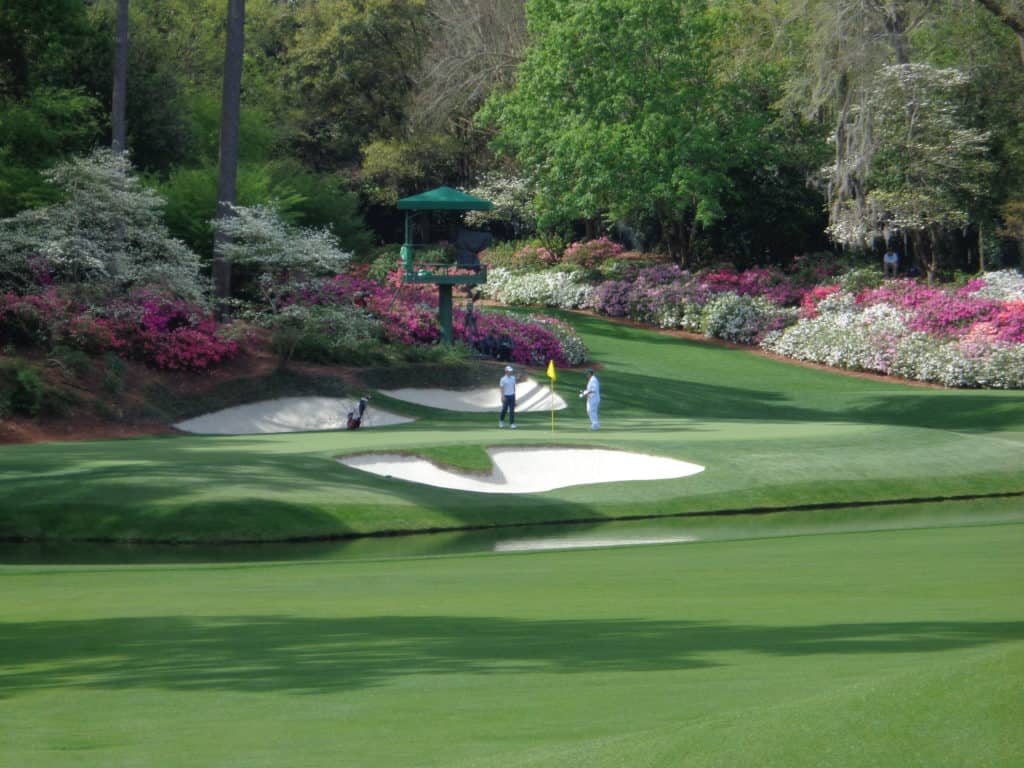 This golf simulator setup, which is more affordable that you might imagine, has been a game changer.  I can now play golf everyday of the year regardless of rain, snow, cold weather or time of day. 
I can practice or play rounds of golf.  I can stand in the 11th fairway at Augusta and with the auto-rewind feature I am able to practice my approach shots from various differences.
It is worth checking out through Rain or Shine Golf as they offer some incredible packages along with financing offers that are difficult to beat.
One last thing that has helped me gain significant distance is the SuperSpeed Training Sytem. 
This overspeed based system where you train every other day for about 10-15 minutes with different swing sticks can help you increase your swing speed by 5-8% which can be 20-30 yards.  Who wouldn't want an extra 20-30 yards.  Plus it helps improve your mechanics.
SuperSpeed Golf – Use Discount Code Golfjourney365 for some savings!
Take Action – What You Can Do Today to Get Better
What does this mean for you?  I believe in the following recipe to get better:
1 – Improve your motion in the golf swing by identifying a golf instructor.  Here are some options:
Here is a list of golf instructors that we have reviewed:
2 – Train to swing faster and improve your swing speed.  Here are some options:
Looking to gain more Speed and Distance in your swing. Two Options:
3 – Understand course strategy and work to break through your next barrier.  Here is a series on breaking through:
We have provided guides on how to break 100, 90, 80 and 70. Check out more below, if interested.
4 – Practice Frequently
Did you know that I build a golf simulator in my garage and have played over 500 rounds of golf on my SkyTrak system?  It has been a game changer and one worth checking out. Here are some of my other posts on golf simulators frequently asked questions: