One of the most difficult parts of golf is deciding what clubs are best for your game.
There are many options with wedges, hybrids, utility irons, and fairway woods for even the amateur golfer.  Many people will experiment with a variety of clubs and sometimes own more than 14 and decide each round what is best for that course and the current state of their golf swing.
Every golfer is different and has personal preferences for how they plan to build their bag.  
If you were to study the clubs in an LPGA Tour Players bag or a PGA Tour Players bag you will see many different variations with the clubs, with several different variations when it comes to the wedges.
Let's dive right into our main topic for today!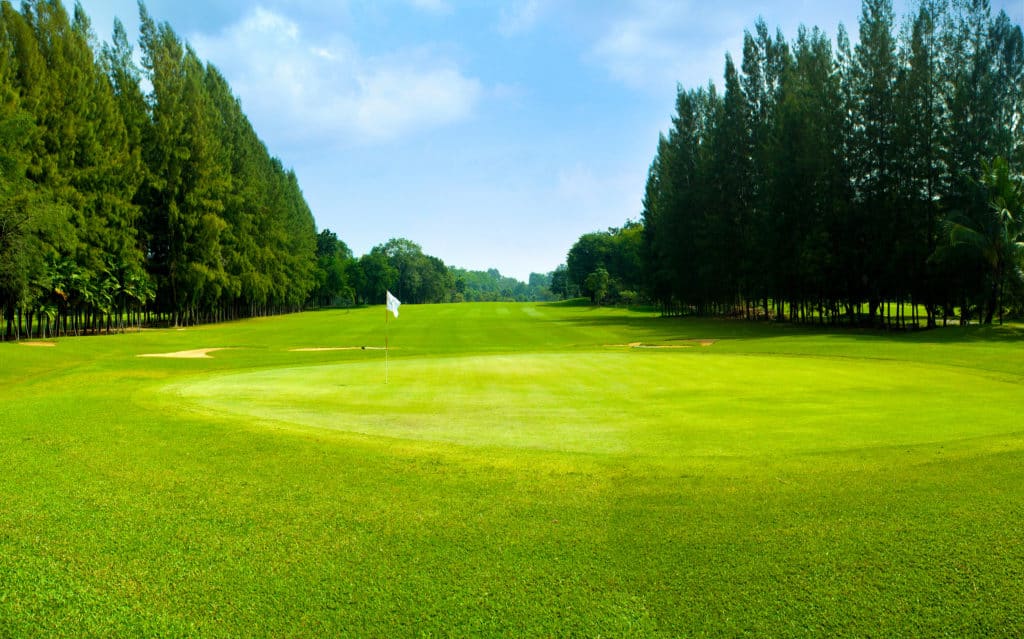 Sand Wedge vs Approach Wedge
The approach wedge has less loft and produces a longer, lower spinning shot compared to the sand wedge.  The approach wedge will typically be used from a longer distance to the green than the sand wedge.  Many golfers will choose to carry both wedges to ensure they have every yardage covered with the clubs in their bag.
Most golfers will carry either 3 or 4 wedges in their bag with some choosing to carry as many as 5 wedges in their bag.  The two most common setups for wedges will look like the following:
Setup Option 1:
Pitching Wedge = 48 degrees
Sand Wedge = 54 degrees
Lob Wedge = 60 degrees
Setup Option 2
Pitching Wedge = 48 degrees
Approach Wedge = 52 degrees
Sand Wedge = 56 degrees
Lob Wedge = 60 degrees
You will notice that the approach wedge will generally be right around 52 degrees with a sand wedge ranging between 54 and 56 degrees.
In the first option, there is a 6 degree gap between wedges.  If a golfer selects this option, he or she must be good at taking less than full golf swings with their wedges and can control the height of the shot a bit better.
In the second option, there is only a 4 degree gap between wedges, which is more standard through a golf bag with the irons.  This golfer will have an extra wedge in the bag and will have more options on the shot to hit.
Ultimately, a golfer must decide how comfortable they are hitting different shots with the wedges and if they are confident in their distance control with the 6 degree gap between wedges.  If a golfer is, this option will allow the golfer to add another club to the bag such as an additional fairway wood, hybrid club, or utility iron.  
Resource: Sand wedge vs lob wedge: Which one should I carry?
Approach Wedge Overview
The approach wedge is typically used for shots around 100-120 yards of the green. It features a thick sole that's designed to provide more bounce and loft than either an ordinary or sand wedge. The surface area on the bottom of this type of club also makes it difficult to dig into grass, so you should use caution when playing in wet conditions that often occur in the early spring. 
Or when the ground is really firm.  Ensuring you are using the bounce and not leading with the leading edge is important to hitting quality shots.
The typical loft on an approach wedge is right at 52 degrees.  The approach wedge is sometimes referred to as a gap wedge as it helps close the gap between the 48 degree pitching wedge and the 56 degree sand wedge.  Many golfers struggle with the 8 degree gap between the pitching wedge and sand wedge.  Others will go with the option above and purchase a 54 degree wedge and split the difference with one club instead of two.
Resource: Pitching wedge vs sand wedge (Common questions and tips)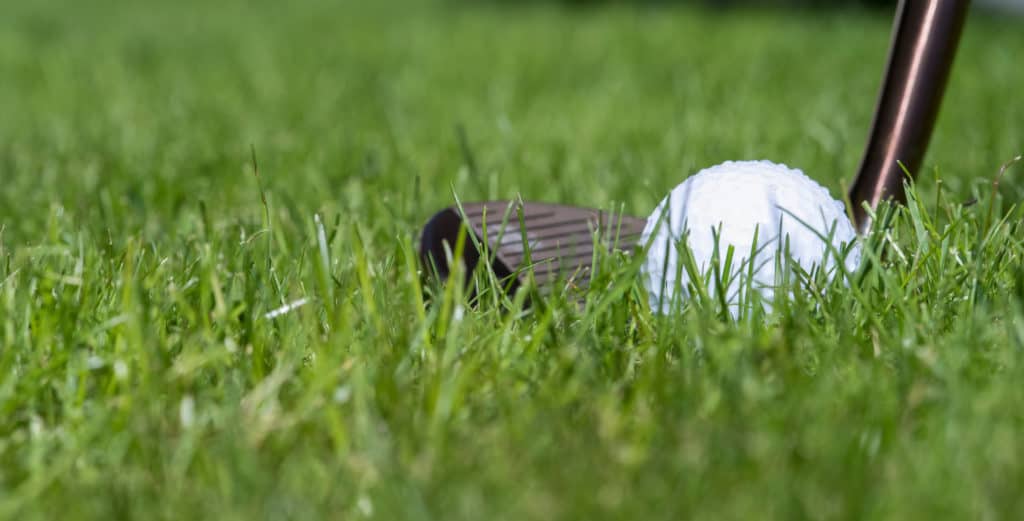 Sand Wedge Overview
The sand wedge is a unique type of golf club. It's designed to perform shots from just in front of the green, typically 60-100 yards from the green. Indeed it's called a "sand" wedge because its sole has been contoured and designed for playing off of many surfaces like bunkers that are covered in sand or out of the thick rough.
The sand wedge will range in loft from 54 to 56 degrees.  The sand wedge has a decent amount of bounce as well and all golfers should learn to utilize the bounce to provide the maximum margin for error when hitting shouts around the green.
The sand wedge is the perfect club as it has enough loft to hit those hit soft chip or flop shots, but not too much loft to be able to hit a shot 100 yards or so with the ball back in the stance and flighting it a bit lower!
Resource: Do I need a sand wedge?
Sand Wedge vs Approach Wedge: Chipping
Most golfers take one of two approaches to the short game:
Use the 60 degree lob wedge for hte majority of the shots around a green.
Use the 6 iron through lob wedge depending on the distance, amount of loft needed and how far the golfer wants to carry the ball.
Many golfers will decide to go with option number two above as it provides a more simple approach.  The golfer is able to utilize a similar chipping motion and simply change the club to match the distance, the height and the overall roll out that they need for that specific chip shot.
If you carry four wedges, utilizing the approach wedge and the stand wedge can be to your advantage.  I am not sure there is one method better than the other, but both the approach wedge and the sand wedge can be utilized to help you become a great short game player.
The ultimate separator is the amount of time spent around the practicing green developing your own system to chip the ball within 3 feet on a frequent basis!  
Resource: Lob wedge vs approach wedge: Do I need both?
Sand Wedge vs Approach Wedge: Versatility
Carrying both clubs provides the greatest amount of versatility for the golfer.  The golfer that likes to have many options for clubs, will prefer the four wedge setup listed above.  The golfer that is fine with playing different yardages and different chip shots with one club can go with the 3 club setup.
I only carry a 48, 54 and a 60, but I feel comfortable hitting lower and higher shots and swinging at 70, 80 or 90% to help me hit the distance that I need to.  I simply use my rangefinder, get my distance, check my chart (see below) and execute the shot that makes the most sense.
| | | | | |
| --- | --- | --- | --- | --- |
| Club | Carry Distance (100%) | 90% | 80% | 70% |
| PW Club | 118 | 110 | 102 | 94 |
| SW Club | 105 | 97 | 91 | 84 |
| LW Club | 90 | 82 | 74 | 66 |
Measure Your Swing: Create Your Own Chart
I would highly recommend that each golfer create a chart like the one above.  Whether you carry it with you on the course is up to you, but having a reference point of how far you hit each wedge at different amounts of a full swing can be really helpful.
To create my chart I used my SkyTrak Launch Monitor and followed the routine below:
Hit 10 shots with my 48 degree pitching wedge at 100%.
I eliminated the longest and the shortest and took the average on the other 8.
I placed this number on my chart.
I repeated this process for the 48 degree at 90%, 80%, and 70%.
I then did this with my 54 degree sand wedge and 60 degree lob wedge
It took time and access to my SkyTrak, but it is a chart that is helpful and keeps me in my routine on the golf course.
Check out current price of SkyTrak at Rain or Shine Golf!
I would highly recommend the SkyTrak not only for building a chart, but to provide you with the following data during your practice sessions:
Carry and Total Distance
Ball Speed
Spin Rate
Spin Axis
Launch Angle
There are some great options on the market today for portable launch monitors that range in the 500 to 2000 dollar range.  These are great technology tools that can help take your game to the next level.
Did you know that you can build a golf simulator with a SkyTrak!  Setup in your garage, extra room in your house or basement to create the ultimate 365 days per year tool that can bring the golf course to life even during those tough winter months or rainy summer days!
Here are the top 3 options to check out:
Even if you can't go all out with a golf simulator setup, having a net, hitting mat and a Ipad or SmartPhone can get you started with a practice routine in your garage. The ability to hit the ball frequently, receive feedback and make adjustments can truly help one improve their ball striking, resulting in more enjoyable rounds of golf and lower golf scores.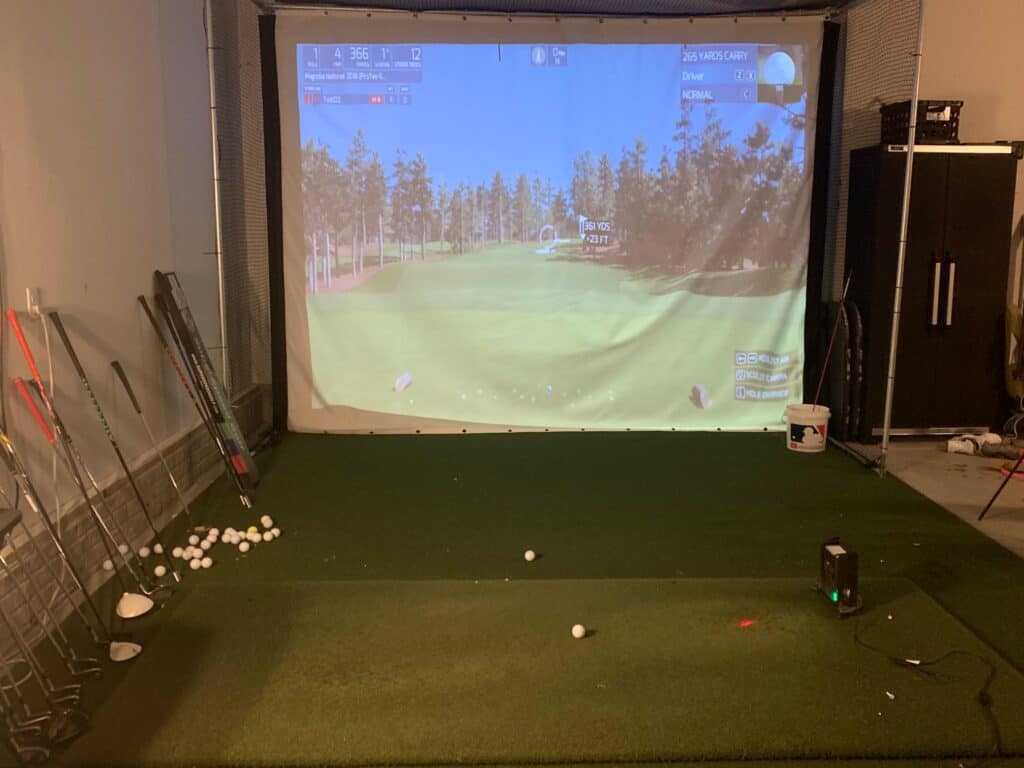 Sand Wedge vs Approach Wedge: Final Thoughts
The number piece of advice is to consider what clubs you have in your bag and try to maximize your clubs through experimentation!  If you can afford the SkyTrak, go ahead and pick one up!  You won't regret it and will have tons of fun working on your game improvement.
Golf is truly a journey, one that we should enjoy as frequently as possible on our mission to play golf better and more often!  Join the golf simulator world and get started.
I would highly recommend Rain or Shine golf for all of your simulator needs as they provide great customer service and excellent financing offers!
Take Action – What You Can Do Today to Get Better
What does this mean for you?  I believe in the following recipe to get better:
1 – Improve your motion in the golf swing by identifying a golf instructor.  Here are some options:
Here is a list of golf instructors that we have reviewed:
2 – Train to swing faster and improve your swing speed.  Here are some options:
Looking to gain more Speed and Distance in your swing. Two Options:
3 – Understand course strategy and work to break through your next barrier.  Here is a series on breaking through:
We have provided guides on how to break 100, 90, 80 and 70. Check out more below, if interested.
4 – Practice Frequently
Did you know that I build a golf simulator in my garage and have played over 500 rounds of golf on my SkyTrak system?  It has been a game changer and one worth checking out. Here are some of my other posts on golf simulators frequently asked questions: