Looking for more distance?  
Tired of being the shortest hitter in your group?
Or are you simply looking to take your game to the next level?
Whatever your situation is, we are glad you are here!
And I have some good news for you!  There are multiple ways to hit your ball further and gain more distance in the game of golf.
Regardless of current ability or speed levels there are now ways to swing faster, which results often in more yardage.
The bad news is that the chances of hitting your 7 iron 200 yards are somewhat difficult to achieve, but the tour average for carry with a 7 iron is 172 yards.  With the proper speed training, decent technique and the right athletic ability you can certainly get to the PGA Tour average with enough work.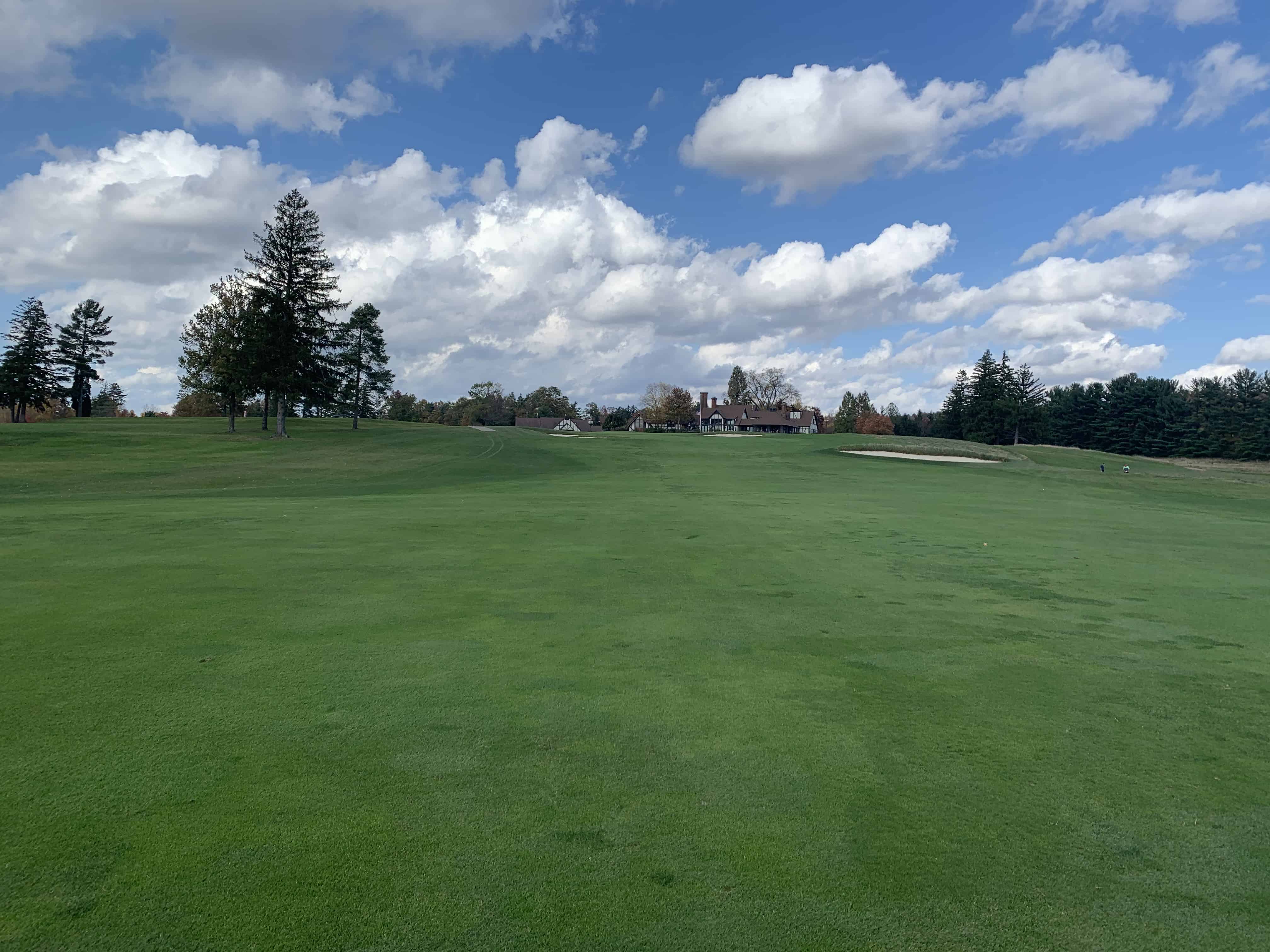 How To Hit A 7 Iron 200 Yards?
For a golfer to hit a 7 iron 200 yards, he or she would need to produce a club head speed of around 95 to 100 miles per hour with a 7 iron.  The PGA Tour average for a 7 iron is 90 miles per hour.  The golfer could get on an aggressive speed training protocol to get to this level.
So, maybe you still have dreams of hitting a 7 iron 200 yards, we would recommend following the recommendations below to get your swing speed up to those levels!
Recommendation #1: Over Speed Training
Within the past several years, there has been several products hit the market to make speed gains possible.  While many people for many years waited for the latest driver to come out to gain an additional 5-10 yards, you can now do this even with your current clubs.
Did you know that with the SuperSpeed Training System you can gain 5-8% increase in swing speed as early as the first training session?  This would allow you to gain somewhere between 10 and 30 yards depending on your current swing speed.
SuperSpeed Golf – Use Discount Code Golfjourney365 for some savings!
The SuperSpeed Training System is based on three different swing speed sticks all weighing at different weights.  There is a green club that is 10% lighter than the average driver, the blue club which is 5% lighter and the red club which is actually 5% heavier!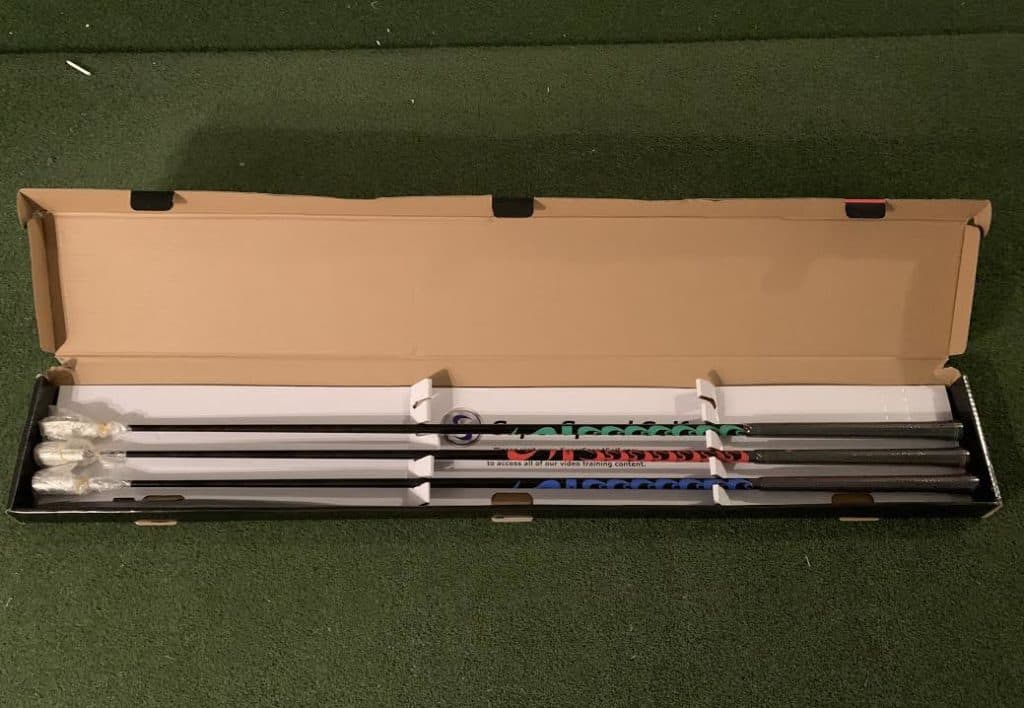 Following their prescribe protocols (see video below) the golfer completes the training every other day.  The total time to complete most of their protocols is between 10-15 minutes.  Most people can find the time to make this happen.  The golfer will also need a swing radar to measure their progress. 
The science behind the SuperSpeed Training System is based on overspeed training.  Overspeed training has been around for several decades now and has been used by olympic athletics in the sport of Track and Field.  
The science behind this overspeed training is based on the premise that your brain will only allow your body to move as fast as it feels it can stop safely!  So, you get to work and swing the clubs as fast as possible retraining your brain to allow you to swing your driver faster.
For more permanent results, the golfer should continue these training protocols for several months.  The initial 5-8% is great and can become more permanent with the right length of training.  The golfer can expect to continue to break down barriers every several months at a 1-2% increase.
If you want to hit your 7 iron 150 yards, it will take some serious work for most people.  However, the system is there and there are ways to accomplish this goal.
Here is a quick glance of some the averages discussed above:
| | | |
| --- | --- | --- |
| | Driver Swing Speed Average | 7 Iron Swing Speed Average |
| PGA Tour | 113 | 90 |
| LPGA Tour | 94 | 76 |
Recommendation #2: Quality Technique
There are so many great instructors throughout the world today and the great news about living in this century is the access to many of these instructors through the internet and the mass amounts of free quality.  I would recommend checking out of these instructors below to maximize your speed.
George Gankas
He is known for helping people reach their maximum speeds.  Check out his instagram feed or other social media outlets to see the swings of his students.  Have you heard of Matt Wolff? George Gankas is the instructor for Matt, who is one of the longest hitters on the tour.
George's approach is about getting shallow and using the ground focus and rotation to maximize your distance.  THe great thing about this approach is that the club stays stable throughout the hitting zone, so not only can you maximize your distance, you can get some impressive accuracy.
Steve Pratt Golf
One of the longest hitters of all time is Mike Austin.  Steve Pratt has taken a great amount of the Mike Austin teachings and shares his knowledge with you via youtube.  This approach is based on a complete throw of the club, relying on gravity to help you reach your peak speeds.
The teachings seem somewhat strange at first, but once you try it out, you will be impressive.  Steve does a great job providing clarity and different drills you can utilize to get your swing speed to that next level!  Ulatimely, this is what we need to get that 7 iron to 200 yards!
Recommendation #3: Buy A Launch Monitor
The prices of launch monitors today make owning one much less expensive than even 5 years ago.  For between $500 and $2000 you can own your very own launch monitor that can be used indoors or outdoors. 
Take it with you to the driving range or use it as part of your golf simulator at your house.  Even if you don't have the full fledge golf simulator setup, a mat and a net can provide some excellent feedback for you.
The purpose of this recommendation is you need quality feedback in your journey to hit your 7 iron 200 yards or even 172 yards.  The feedback you will receive includes:
Club Speed
Ball Speed
Spin Rate
Side Axis
Launch Angle

In order to hit your clubs far, you need to not only maximize your club speed and ball speed, but spin rate and launch angle become vital.
Too many people do not understand the impact that spin rates have on distance.  Did you know that if you swing 105 yards with around 2000 RPM spin rate your driver will fly around 270 yards, but if your spin rate was too high in the 4000 RPM range, the ball will only carry around 240 yards. 
Yes that is right!  You can lose 30 yards just based on spin rate!
That is why the launch monitors or so important to have!  And know you can afford one.  I would recommend one of the following three launch monitors listed below:
I personally used the SkTrak Launch Monitor and am able to use it in my golf simulator setup in my garage and take to the driving range or course.  The real time data on ball speed, spin rates and spin axis gives me the feedback I know to test out different clubs and setups on my drivers or what clubs I am hitting the best.
The affordability of these products is rather impressive and if you are serious about improving your game, you have to check these out!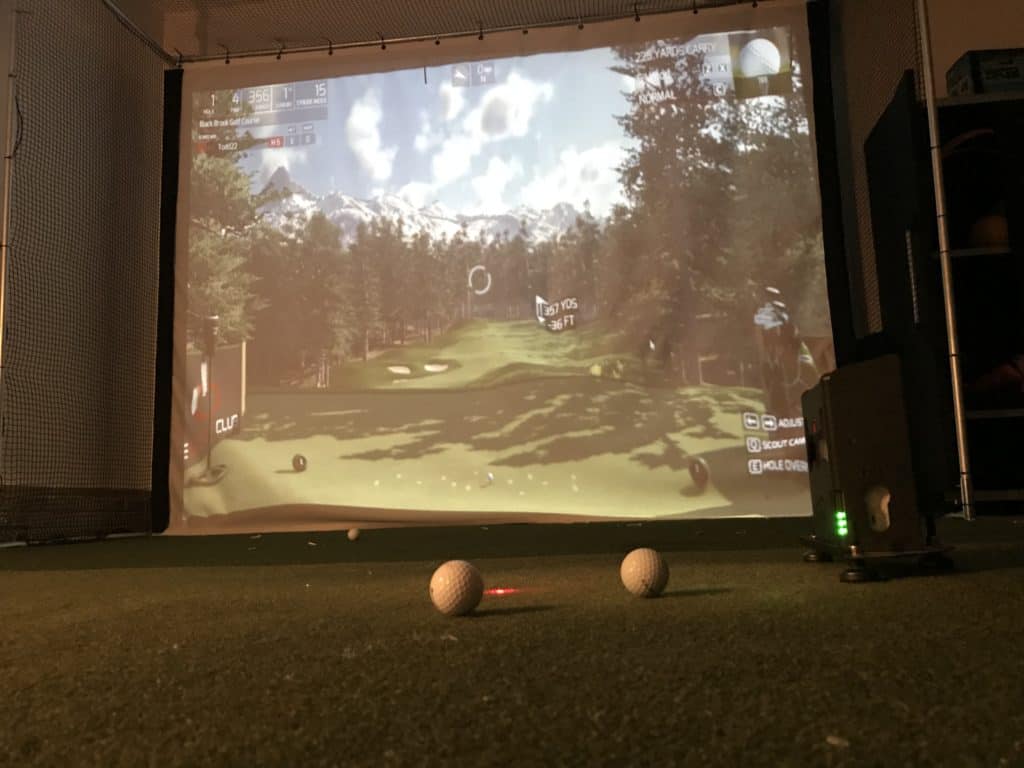 Recommendation #4: Athletic Ability
Swinging at these speeds takes some athletic ability. Make sure you have some cross training involved in your journey to reach these swing speeds.  The wear and tear on the body can be difficult, but with the right training regimine you can reach your goals.
There are many different golf options out there, but I would recommend the TPI training.  These are golf certified trainers to help you maximize your health and your overall performance!
Final Thoughts
Golf is a wonderful game, whether you play for fun or are competitive, distance can help you reach your goals.  The analytics are clear on the importance of distance in today's game of golf. 
The analytics show that the further you hit the ball, the shorter shot you have which increases your chance of being close to the pin.  The closer you are to the pin, the better chance you have of making a putt.
Also, being long hitter doesn't have to mean that you lose accuracy.  WHile the increased speeds can make it more difficult, there are plenty of shorter hitters who are also not straight drivers of the ball.
The SuperSpeed Training System has actually been proven to help golfers improve their mechanics.  This is pretty impressive when you think that you can not only increase your swing speed by 5-8% or more, but you can also improve your mechanics!  What a great combination.
Over the past year, I have seen an increase from 98-100 miles per hour with my driver up to 106-108 miles per hour with my driver.  My goal is to reach the tour average with driver swing speed, which is currently 113 miles per hour.  I will continue to train with SuperSpeed, work on my mechanics and stay physically fit!
My Secret To Golf Improvement
Let's face it, in order to get really good at golf, we must practice frequently.  About three years ago, I made the leap and invested in a golf simulator build for my garage. 
I went with a SkyTrak Launch Monitor (Check out Simulator Packages Here) and the TGC software and can now play over 100,000 courses including Augusta, Pebble Beach, Bethpage Black, Whistling Straits. St. Andrews and many other of the top 100 courses in the world.
This golf simulator setup, which is more affordable that you might imagine, has been a game changer.  I can now play golf everyday of the year regardless of rain, snow, cold weather or time of day.  I can practice or play rounds of golf. 
I can stand in the 11th fairway at Augusta and with the auto-rewind feature I am able to practice my approach shots from various differences.
It is worth checking out through Rain or Shine Golf as they offer some incredible packages along with financing offers that are difficult to beat.
Some direct links to Rain or Shine Golf for pricing and financing:
Take Action – What You Can Do Today to Get Better
What does this mean for you?  I believe in the following recipe to get better:
1 – Improve your motion in the golf swing by identifying a golf instructor.  Here are some options:
Here is a list of golf instructors that we have reviewed:
2 – Train to swing faster and improve your swing speed.  Here are some options:
Looking to gain more Speed and Distance in your swing. Two Options:
3 – Understand course strategy and work to break through your next barrier.  Here is a series on breaking through:
We have provided guides on how to break 100, 90, 80 and 70. Check out more below, if interested.
4 – Practice Frequently
Did you know that I build a golf simulator in my garage and have played over 500 rounds of golf on my SkyTrak system?  It has been a game changer and one worth checking out. Here are some of my other posts on golf simulators frequently asked questions: