In today's golf world there are many options when it comes to golf clubs.
Some golfers choose long irons, some choose fairway woods, while others might go with the hybrids.
If you are someone that hits your 4 and 5 iron solid, and think that a 3 iron might be helpful, I have 5 tips to make you hit your 3 iron solid, consistent and with plenty of distance.
The great thing about the longer irons, especially if you have the clubhead speed to launch one, is that they provide arguably the highest level of precision when it comes to the longer clubs in the bag.
As people enter the single digit handicap world, precision on approach shots into greens becomes important to provide birdie opportunities and avoid 3 putt situations.
With all clubs, I believe the three keys to solid golf includes:
Controlling the low point of your swing to ensure solid contact.
Consistency in the start line and curve of the ball.
Having enough speed in your golf swing to play the course.
Below are 5 tips to help you hit you 3 iron.
How To Hit A 3 Iron (7 Tips)
Consider your club selection with the 3 iron
Control your low point to improve ball striking
Swing faster, not harder
Develop a stock shot
Continue to train for speed
Have realistic expectations
Use a target based approach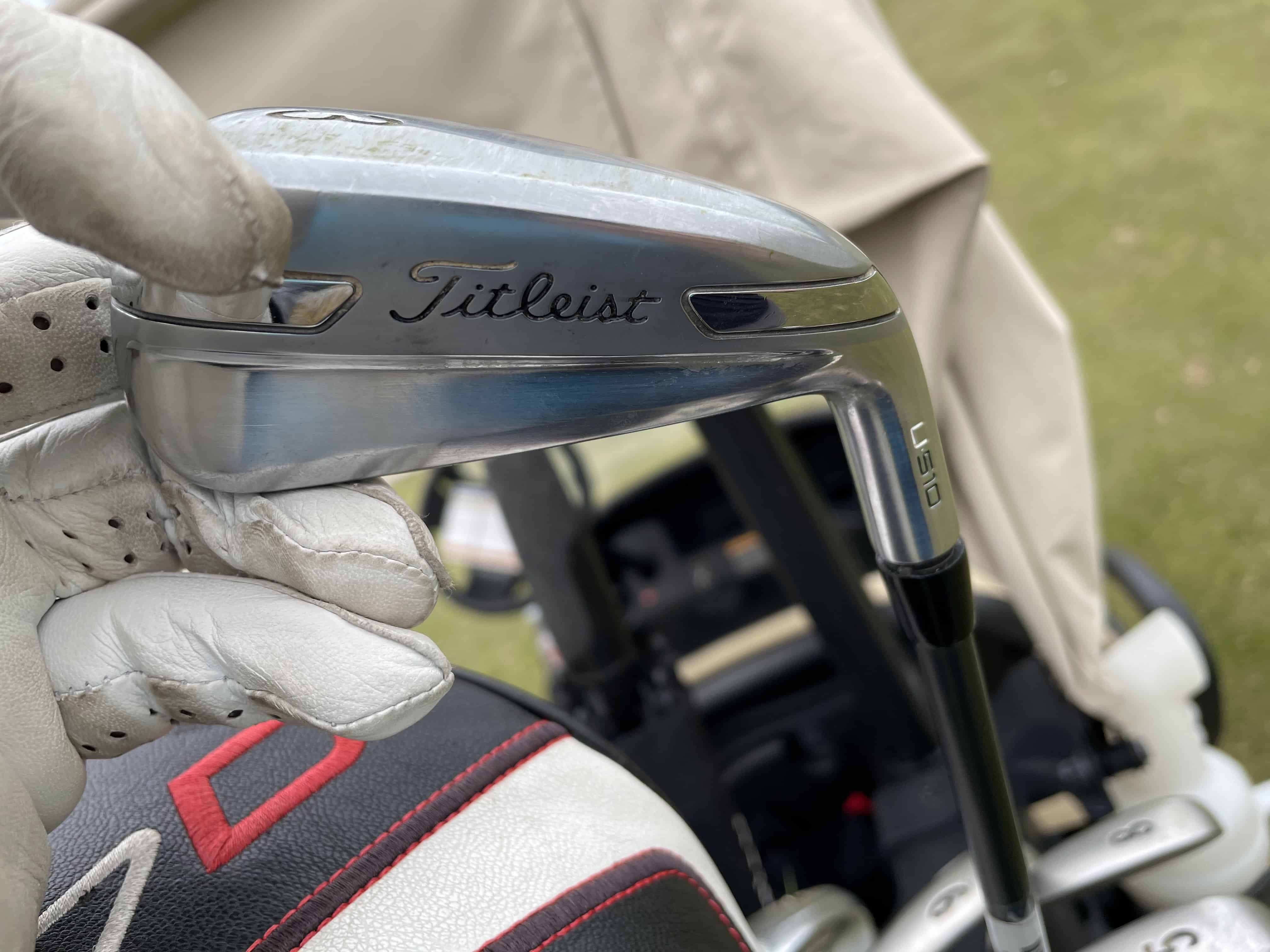 Tip #1: Consider your club selection with the 3 iron
Recently, I decided to jump all in and buy a utility 2 iron for my golf game.  Wow, what an amazing club.  For years, I did carry the 2 iron in my set that looked like a butter knife.  The forgiveness on the traditional 2 or 3 irons, often left you needing to strike the ball perfectly.
The new utility or driving irons provide a great level of forgiveness and the ability to launch the ball higher and further. The combination of the larger head and graphite shaft makes it possible for the better golfers to launch the longer irons far enough to justify carrying them in the bag.
My number one tip when looking at hitting your 3 iron better is to make sure you have the right club.  If you are still hitting a blade like iron for your 3 iron, it might be time to upgrade and use the advanced technology available in today's golf world. 
My utility iron over the handful of rounds that I have used the club, it has become an essential club.  One that I can attack par 5s in two with and can handle the extra long par 3s.  The versatility of the club and the amount of times I find myself using it is pretty eye opening.
Make sure you check out the utility or driving irons on the market.  I went with the Titleist version and have been impressed and would highly recommend it!
Resource: Utility iron vs long iron (differences explained)
Tip #2: Control your low point to improve ball striking
I have a drill that can help you with all clubs, but especially the long irons.  When hitting a long iron, if you do not strike the ball cleanly you will feel it in the hands and you will see the outcome in the result of the shot.  The number one factor in hitting your long irons solid is where the club is striking the ball and the speed that you are able to generate.
The best golfers in the world are able to hit precisely where they want on just about every shot they hit in every round they play.  While the highest handicap players might only hit several shots a round where they control their low point. 
Even as your handicap improves, continuing to work on low point control is essential to getting to the next level.  The best golfers are often the best ball strikers and this starts with controlling your low point in the golf swing.
Here the the steps to take to complete this drill:
Paint a 2-3 yard long line with some yard paint.
Place a golf ball on the line.
The goal is to have your divot start just on the target side of your line.
Go ahead and hit shot after shot, working on controlling your low point and your entry into the ground.
Assess your success rate out of 20 times and write it down.
Complete this drill daily for several weeks and see if your game improves at the course.
If you start to hit the ball poorly at any point on your golf journey, return to this drill and keep it simple.  
One quick tip: if you are struggling to control your low point, go ahead and set up with 60% of your weight on your front leg.  Keep your head centered without a big shift off the ball and turn more around your front leg.  
This will help keep your centers in place and allow you to control the low point.  Many golfers struggle with the low point because they don't get their weight back to their front side early enough and end up casting the club.
The 3 iron requires you to control the low point and this dril can help you over the years with ensuring solid ball contact and making sure you have your weight in the proper place at impact.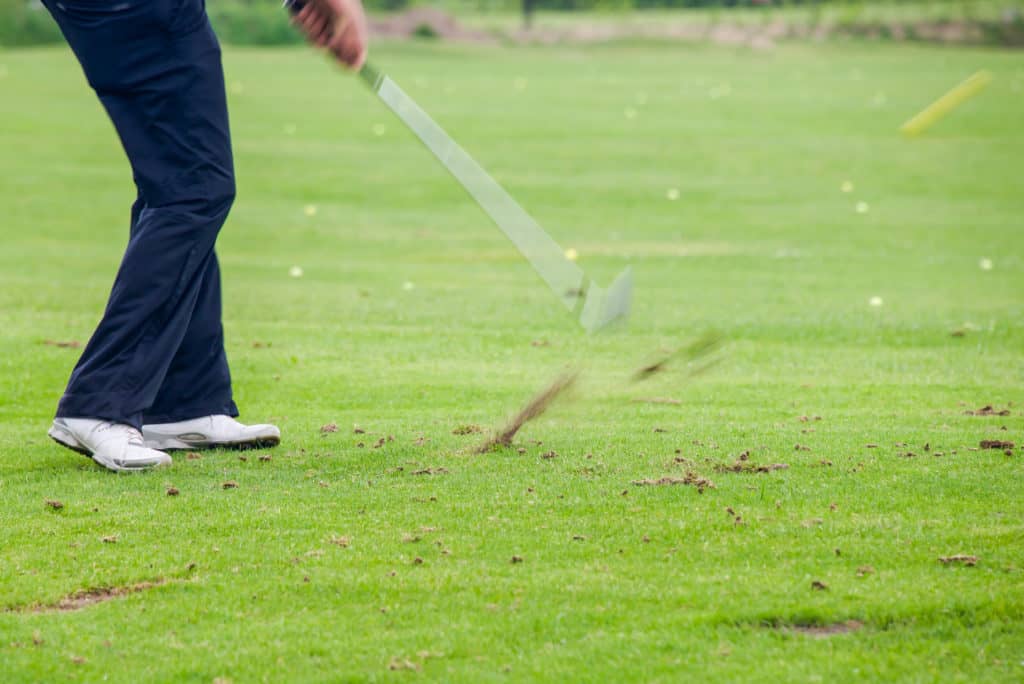 Tip #3: Swing faster, not harder
Many people will get that long iron in their hands and think they need to swing really hard to hit the ball high and far.  Instead, try to stay tension free and let the club swing fast.  It is amazing the speed you can generate in your hands and arms. When your body has too much tension you will slow down.  This can be a result of thinking that you need to swing harder to be able to launch the ball how you want to.
Instead, think of throwing the clubhead to the shot and you will be able to generate some impressive club head speed, resulting in a higher ball speed. 
The club is designed with a longer shaft to help you generate enough speed.  Do not force it and try to cause the speed.  Let the hands and arms work their magic and throw that clubhead down the fairway.
Tip #4: Develop a stock shot
The key to any golf club swing is to have an idea of where the ball is staring and the curve you can expect from the swing that you produce.  I highly recommend working on a drill to help you develop a reliable stock shot.  You can become the golfer that knows where the ball is going to start and which way it will curve.  Stop standing over the shot and wondering where the ball will end up.  
With the 3 iron, the stock shot approach becomes that much more important.  As the golf clubs get longer and reduce in the loft, the more difficult it is to control the accuracy of the clubs, but with a stock shot you can start to develop the skill needed to hit a consistent golf shot.
The stock shot drill is one drill that can be used for the remainder of your time playing the great game of golf.  Have you ever played golf and have no idea where the ball is going to start and then curve?  Yes!  We have all been there before. 
This stock shot drill is great to help you visualize and then monitor your success of starting the ball down your intended target line.
Here the the steps to take to complete this drill:
Set up an alignment stick down your target line about 12-15 feet in front of you.
Set up a second alignment stick about 2-4 feet right of the first alignment stick.
Using your wiffle ball, go ahead and attempt to hit the ball through the gate.
Assess how many times out of 20 you are successful.
Write this number down and repeat this drill for as long as your play golf.
A realistic number even for the most advanced golfers might be around 15 out of 20.  Even the best golfers struggle to hit their start line from time to time.  The major benefit of this drill is to have the visuals to allow you to narrow into a specific target.  As you get to the golf course, you will be able to visualize the alignment sticks in your mind and hit it through that gate.
Resource: What is a stock shot in golf?
Tip #5: Continue to train for speed
When a golfer enters the world of hitting a 2 iron or 3 iron, it is important to have a certain level of swing speed.  If your swing speed isn't at least 100 miles per hour with the driver, I would recommend considering the hybrid clubs.
If you are below 100 miles per hour with the driver, you can train to get to 100 miles per hour or higher with the SuperSpeed Golf System.  This training system consists of 3 training clubs.  A green, blue and red.  They weigh 20% lighter than your average driver, 10% lighter and 5 % heavier.  The science behind this training protocol is based on overspeed science.  The goal is to train every other day and it takes about 15-30 minutes per training session.
Resource: SuperSpeed Golf review and results!
A golfer can expect to see a 5-8% increase in swing speed as early as the first training session with the speed becoming more permanent after 30 days.  You will see a benefit with not only the 3 iron, but with all clubs throughout the bag.
Speed is vital in today's game and there are ways to train for it!
Check out the current price of Superspeed Golf, here!
Here are some potential numbers:
| | | | |
| --- | --- | --- | --- |
| Original Swing Speed | After 4-6 Weeks | New Carry Distance | Total Distance |
| 95 | 102 | 245 | 265 |
| 100 | 108 | 259 | 279 |
| 105 | 113 | 271 | 291 |
| 110 | 118 | 283 | 303 |
Tip #6: Have realistic expectations
With all of golf, we want to have realistic expectations for how close we might hit the ball to the hole on average.  Many amateur golfers struggle with unrealistic expectations, which leads to frustration and search for "secret" to golf, when in reality they might not be that far off. 
When you get to this point in your journey, default to the drills above between the low point control, the stock shot drill and training for speed.
Here are a couple of stats that might jump out at you.  This data is from the PGA Tour on approach shots between 175 yards and 200 yards.
Proximity to Pin by the Tour Leader = 24 feet 9 inches
Proximity to Pin by the 200th ranked person in this category = 39 feet 7 inches
The 50th Ranked Player in Greens in Regulation from this distance = 59.55%
There are a couple of things that really pop out at me from this list above.  The best golfer from this distance is more than 8 yards from the hole.  This leaves a rather lengthy birdie putt.
The 200th rank player in this category is more than 13 yards away and close to 40 feet, this is a really long birdie putt.
The 50th rank person in Greens In Regulation from this distance only hits the green less than 60% of the time from this yardage.
My main point being – have realistic expectations on those par 3's or the long approach shots on the par 4's and 5's.  Solid contact and carrying the ball somewhere around the green should be a major win for most!  The goal should be to miss the ball in the right place.
Too many amateur golfers expect to hit every wedge inside of 5 feet and every long iron inside of 20 feet, but when we look at data from the best golfers in the world, we quickly realize that maybe our expectations are way out of line with our skill set!  
This can destroy the fun that a round can bring and make you miserable.  I would recommend familiarizing yourself with some of this data, which can actually make the game more fun, because you realize that sometimes those average shots you hit are actually way above average.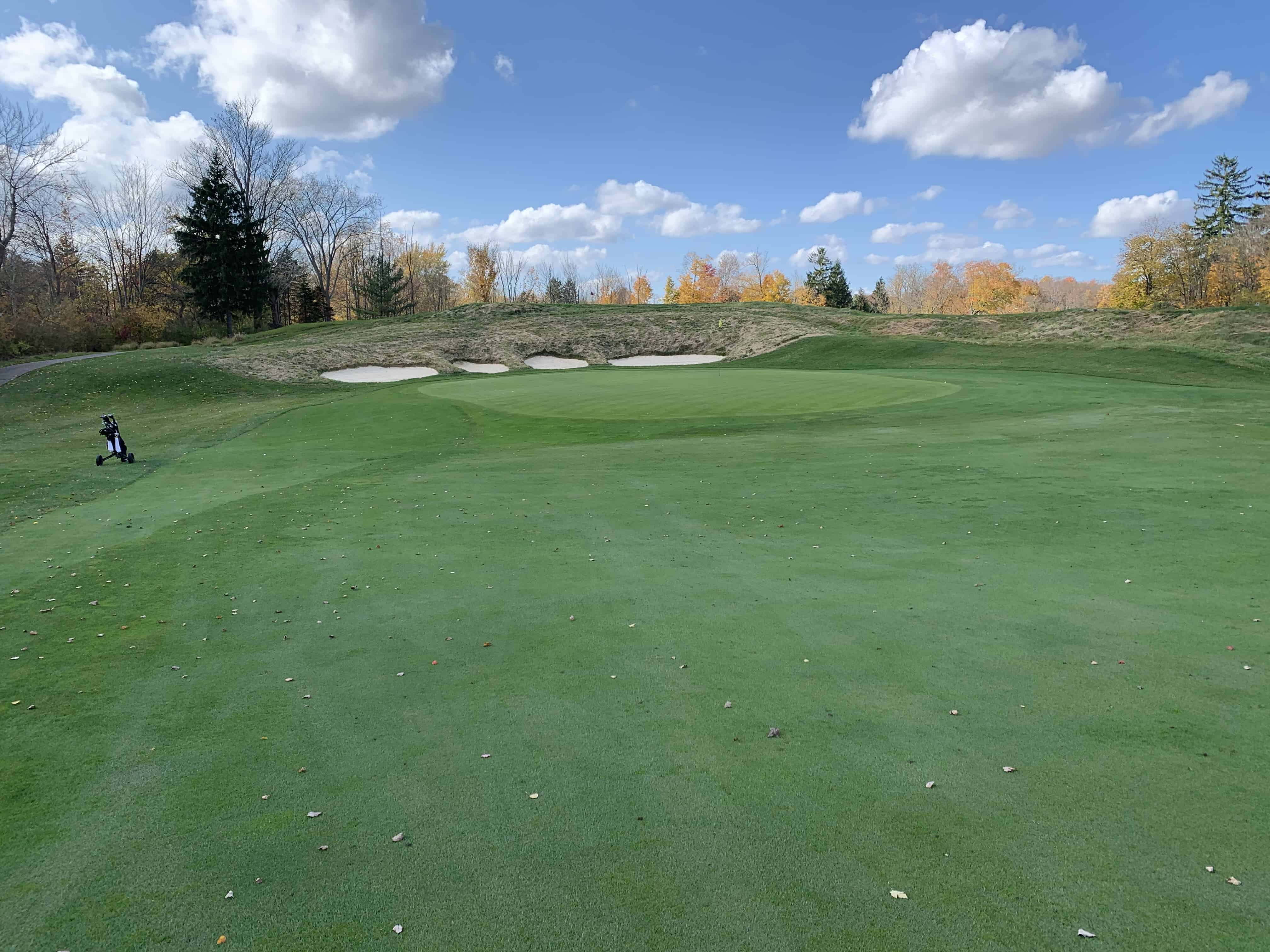 Tip #7: Use a target based approach
When a golfer gets stuck trying to hit certain positions in their golf swing, frustration and anger can set in.  When you are out on the golf course make sure you are playing golf and not golf swing.  Focus on the target and let the body respond to the target and the task you are providing it.  
With the 3 iron this becomes rather important because the speed of the swing is pretty high.  Thinking and trying to manipulate your body into certain positions can lead to disaster ont he course.  Instead, pick out a target, make a smooth, fast swing and send the ball flying.  Keep your swing speed up, but tension low!
The number one teacher I have come across that promotes this approach is Shawn Clement.  Here is an excellent video by Shawn Clement on giving up control to gain control.
BONUS TIP: Measure and Monitor Your Swing
The one number golf technology tool I would recommend to any serious golfer is the portable launch monitor.  I highly recommend the SkyTrak Launch Monitor and believe that it is a game changer.  Having the following data is amazing:
Carry and Total Distance
Ball Speed
Launch Angle
Spin Rate
Spin Axis
Over the winter months when there is plenty of snow, having a setup in your garage with something as advanced as a golf simulator or something as simple as a golf mat and golf net can help you reduce your golf score significantly.
Ready to take your game to the next level?  Check out these 3 quality options below:
Let's face it, in order to get really good at golf, we must practice frequently.  About three years ago, I made the leap and invested in a golf simulator build for my garage.  
I went with a SkyTrak Launch Monitor and the TGC software and can now play over 100,000 courses including Augusta, Pebble Beach, Bethpage Black, Whistling Straits. St. Andrews and many other of the top 100 courses in the world.
This golf simulator setup, which is more affordable that you might imagine, has been a game changer.  I can now play golf everyday of the year regardless of rain, snow, cold weather or time of day.  I can practice or play rounds of golf.  I can stand in the 11th fairway at Augusta and with the auto-rewind feature I am able to practice my approach shots from various differences.
It is worth checking out through Rain or Shine Golf as they offer some incredible packages along with financing offers that are difficult to beat.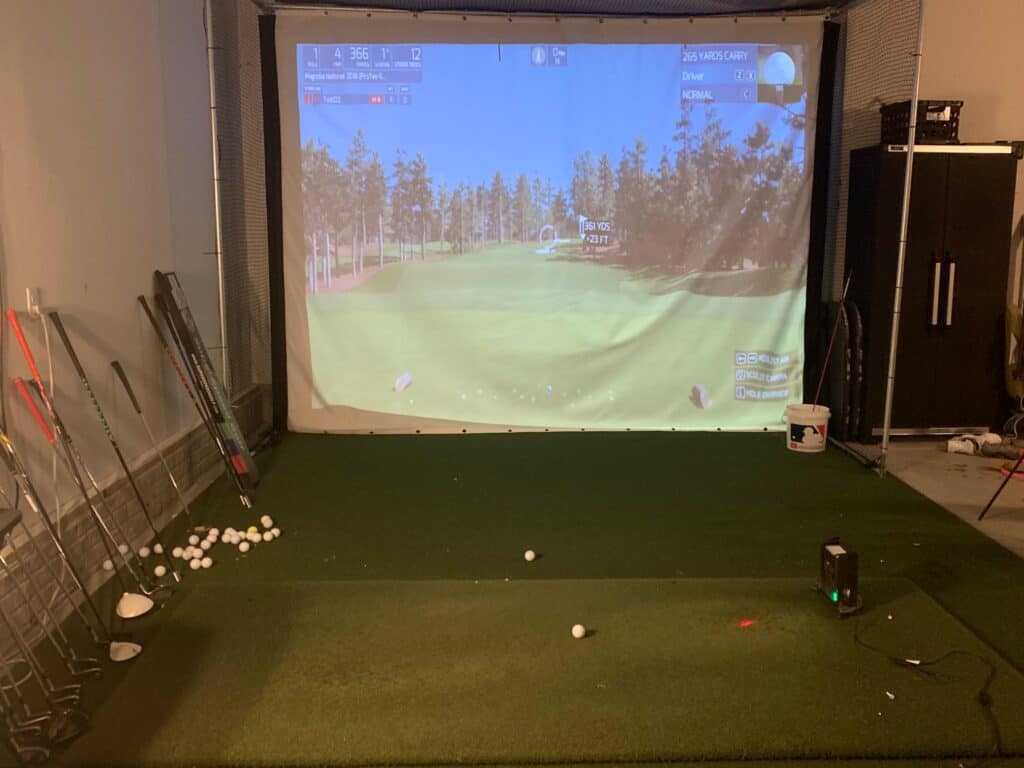 How To Hit A 3 Iron: Final Thoughts
Make sure you have the right club and then get to work on these drills. You will find that by returning the basic, you will not only hit your 3 iron better, but every club in the bag.  Have fun with the game and don't forget to check out Shawn Clement and the target based approach to the game.
Golf is supposed to be fun and hitting a solid 3 iron is a ton of fun.  Keep that swing speed high with SuperSpeed Golf and enjoy the journey!
Take Action – What You Can Do Today to Get Better
What does this mean for you?  I believe in the following recipe to get better:
1 – Improve your motion in the golf swing by identifying a golf instructor.  Here are some options:
Here is a list of golf instructors that we have reviewed:
2 – Train to swing faster and improve your swing speed.  Here are some options:
Looking to gain more Speed and Distance in your swing. Two Options:
3 – Understand course strategy and work to break through your next barrier.  Here is a series on breaking through:
We have provided guides on how to break 100, 90, 80 and 70. Check out more below, if interested.
4 – Practice Frequently
Did you know that I build a golf simulator in my garage and have played over 500 rounds of golf on my SkyTrak system?  It has been a game changer and one worth checking out. Here are some of my other posts on golf simulators frequently asked questions: