9 Tips to get ready for the golf season:
Get in shape
Daily stretching
Take some full swings
Practice the short game
Train for speed
Take a lesson
Play simulator golf
Grow your knowledge
Improve your mental game
The start of the golf season brings some excitement!
It is nice to get outside, enjoy the outdoors and spend time with family and friends.  For some, after months of being stuck inside during the difficult winter months, the start of spring is long awaited.
The key is to make sure you are ready when the weather breaks to ensure you are ready for the golf season.  For some this happens as early as March and for others they have to wait for May.
Often it comes down to what type of weather you are willing to play in.  For my golf of friends I golf with, anything above 35 and dry is enough to get us out on the course.
Update: Tip #7 below is the single best way to improve and get ready for the reason. If you can't play outside, you need the next best option, playing simulator golf! Build skill, have fun and enjoy the journey!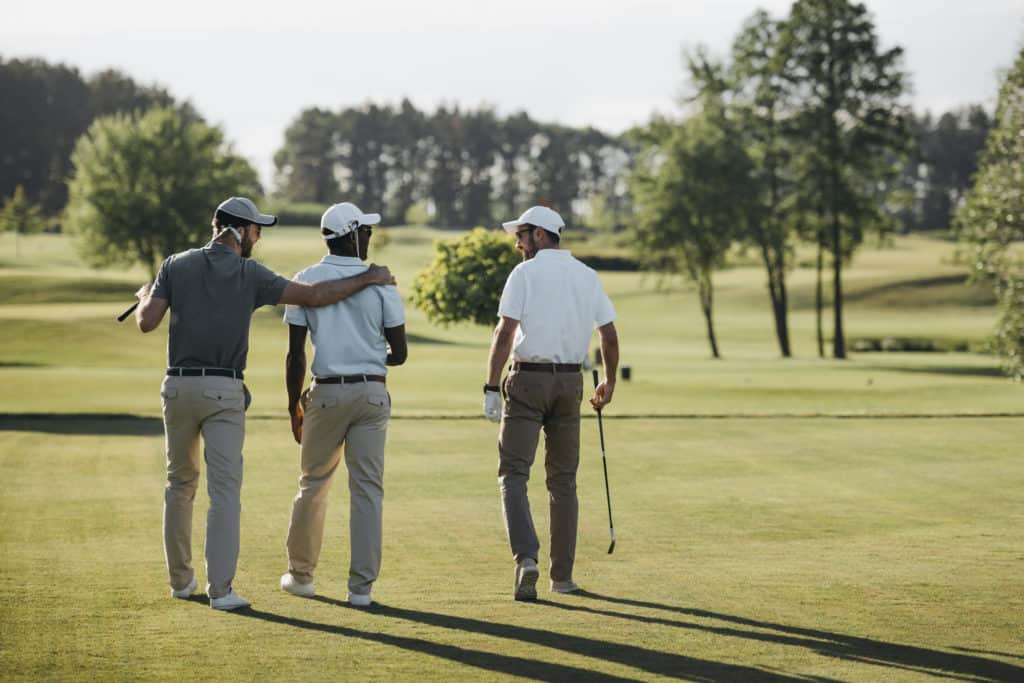 How To Get Ready for Golf Season
Tip #1: Get in Shape
Maybe you are already in shape.  Make sure you stay that way.  For the various people that play golf this could mean different things.  We aren't expecting you to go Bryson DeChambeau and try to add 30-40 pounds of mass, but a daily walk, utilizing a spin bike or finding an elliptical can get you moving and build up the endurance in your legs and the strength in your legs.
You also want to find some core strengthening routines that you can use to get ready for the season.  The are two great reasons to make sure you are in shape.  It helps prevent injury and helps you perform at a better level.  If you don't do anything all winter, that first round could be difficult from several different angles.
Make sure you are ready for when the weather breaks and at a minimum find a place where you can walk for 30 minutes at least 3-4 days per week.  Walking is a wonderful exercise that keeps those legs strong, the heart beating and you moving.  Whether you walk your rounds of golf or not, you need a solid base in your legs!
Tip #2: Daily Stretching
Daily stretching can help you prevent injury and increase performance as well.  The goal is to make sure those muscles are ready to go on day one.  The last thing you want is a sore body after the round or an injured body that keeps you from fulling enjoying the season.
We have seen many golfers turn to yoga as a way to stay young, flexible and ready for the upcoming season.  Make sure you stick with these routines throughout the seasons to maximize your season!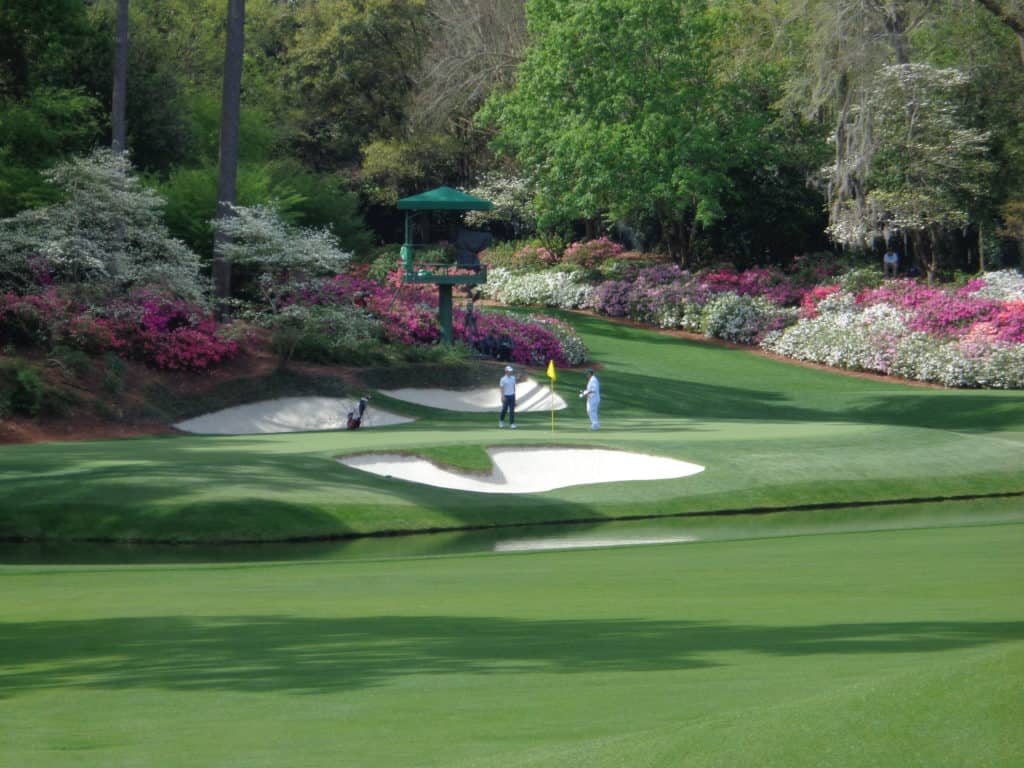 Tip #3: Take Some Full Swings
Maybe you have to utilize your garage to get some full swings, but simply taking 50-75 full swings every other day can help you build up your swing, your speed and your overall quality of your swing.
Taking these full swings with something like the Orange Whip might be a great option as well.  Being able to work on your rhythm and timing will help you perform better during those first several rounds of the year!
If you have limited space, you could get some wiffle balls with a simple hitting mat and take some full swings in your garage.  The key is to work on striking the ball solid and keeping your swing fluid!
Tip #4: Practice The Short Game
One of the best things about the short game is that there are many ways to practice.  Putting can happen on just about any smooth surface within your house.  You can also chip whiffle balls or ping pong balls around your house.  I utilize my basement as my short game area where I can practice certain chip shots and working on controlling my start line with the putter.
When you get out for that first round, you wil have the touch and feel necessary to perform well.  The visuals associated with the short game are essential and will be in place as early as that first round!
What better way to start the year then rolling the ball smoothly on the green and saving some parts by hitting chip shots inside of 5 feet!  Get to work today.  Practicing the short game is the fastest way to lower your scores and if you are only going to do one thing on this list this off season, other than staying in shape, practice that short game!
Tip #5: Train For Speed
Whether you are the longest hitting in your group or the shortest hitter, most of us want more distance.  Did you know that with the SuperSpeed Training System you can gain a 5-8% increase in swing speed as early as your first session.
Did overspeed science based approach utilizes you swinging lighter swing sticks at speeds that exceed your typical driver speed.  Overall, your training your mind and body to be able to move at a speed faster than it is used to!
The SuperSpeed Golf System helped me gain 7-10 miles per hour on my driver as I know swing above 105 miles per hour and have recently hit some of my longest drivers of my life!  This every other day activity and training session only takes 15 minutes per session and is well worth the effort!
Check current pricing on SuperSpeed Golf, here!
The formula is simple!  Hit the ball further off the tee, leave yourself shorter approach shots. This allows you to hit the ball closer on approach shots, which leads to more made putts as your have shorter shots.  The analytics are clear and speed is important in golf because the formula above is difficult to dispute!  Are you ready to take action today.  Check out SuperSpeed Golf!
The Potential of SuperSpeed Golf
| | | | |
| --- | --- | --- | --- |
| Original Swing Speed | After 4-6 Weeks | New Carry Distance | Total Distance |
| 95 | 102 | 245 | 265 |
| 100 | 108 | 259 | 279 |
| 105 | 113 | 271 | 291 |
| 110 | 118 | 283 | 303 |
Checkout: Full Review on SuperSpeed Golf!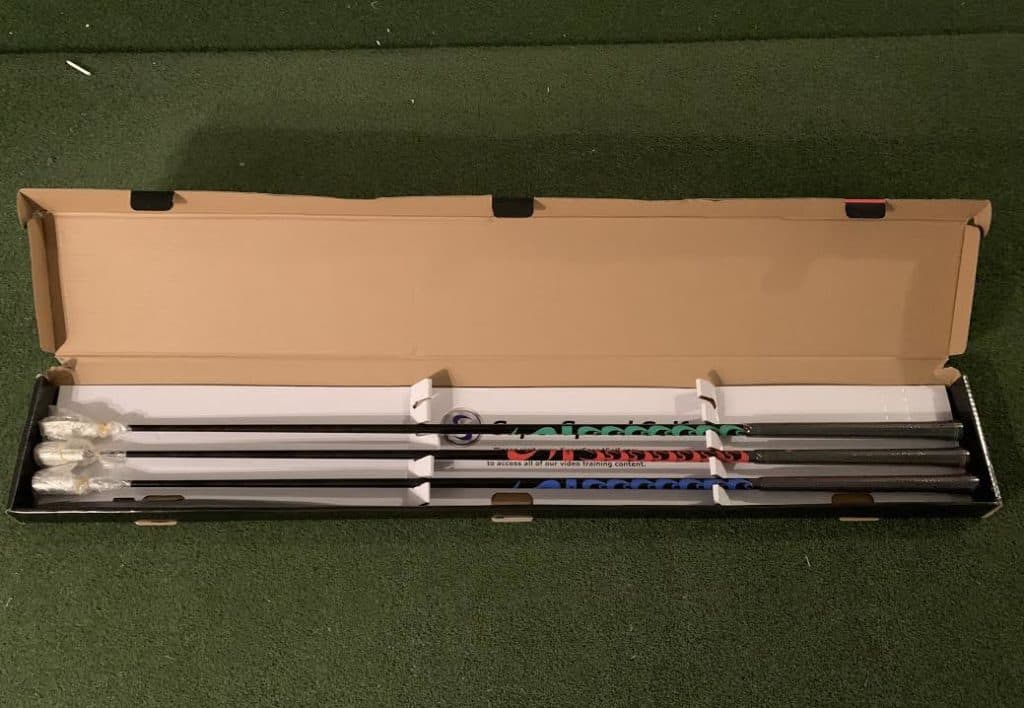 Tip #6: Take A Lesson
Places like GolfTec allow you to take a lesson indoors and utilize all of the technology associated with their lessons.  You can sign up for a series of lessons and have your game ready to go at the beginning of the season!  What better way to start the year then with clarity on what you are going to do with your swing this year!
Do you go from method to method on the course and from round to round?  Searching for the best feel that day or approach to the game that can help you?  Maybe making the offseason your time to build a swing you can trust and rely on for consistency might help make this your best season ever!
Checkout: Taking a golf lesson remotely (3 Options)
Tip #7: Play Simulator Golf
YOu can find a commercial based place that has different golf simulator bays and pay for an hour to get your game in shape.  Or you can build your own golf simulator space, probably for less money than you would think!  This is what I did several years ago and I have loved every minute of being able to play golf year round in the comfort of my own home.  
Checkout: SkyTrak Launch Monitor: The Ultimate Game Improvement Tool!
The ability to strike a golf ball daily, hit the golf shot the course demands and compete with others helps, especially early on in a golf season, when the rest of your golfing buddies are still rusty!   Stop giving up 3-5 months out of every year where you can't play golf. 

Can you imagine playing Pebble, Augusta, St. Andrews or Whistling Straits on a snowy January day?  I can because this is my reality and it can be yours too.  Check out our many links below on building a golf simulator at your house!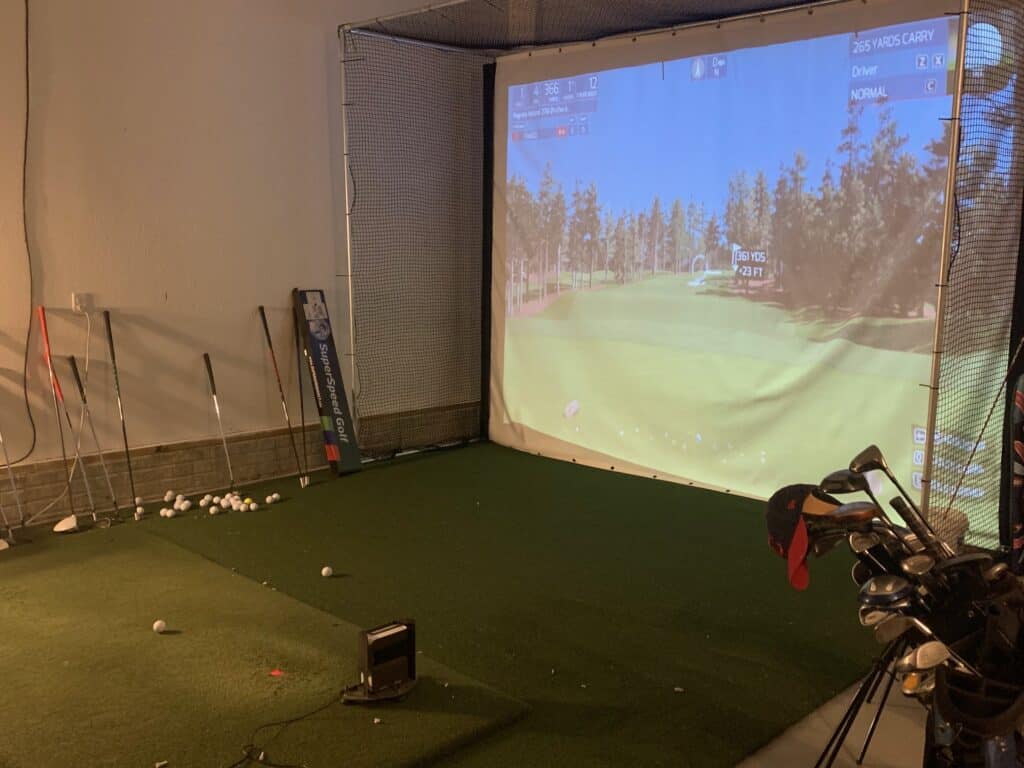 #8: Grow Your Knowledge
There are some amazing online golf instructors with plenty of membership options and free videos on youtube.   Spend time each day learning more and more about the golf swing.  Start by video taping your own swing and identify what issues you may have. 
Do you have a poor setup?  Do you slide your hips in the swing too much?  Do you cast the club from the top?  All of these issues have had plenty of quality resources put out there to help you grow your understanding and improve your game.  Having a go to online golf instructor can help you improve your game!
Checkout: How to get better without golf lessons (11 Tips!)
Here is a list of golf instructors that we have reviewed:
#9: Improve Your Mental Game
I am sure we have all wasted plenty of shots in the past season and during our golfing journeys!  To think of the times we played poorly under pressure or choked on that 3 foot putt to win some money.  We have all been there and have struggled at times. 
Even the best lose more often than they lose!  The key is to put yourself in the right frame of mind and have a system to handle the different feelings that we all encounter.  Here are two great books you can read to get ready for the upcoming season!
Final Thoughts: How To Get Ready for Golf Season
Do something! Be active! Get up and move and stretch at a minimum. If you want to build your swing, consider a golf simulator or something as simple as a mat and a net. Find a way to get better. Make it easy and chip or putt some balls somewhere around your house! Whatever you are going to do, stay active and help the winter months pass quickly and be ready for that first beautiful day in the spring!