We all want to get better at golf and we all want it to happen fast.  Maybe you are tired of playing the same old golf.  Whether you are frustrated with scoring in the 100s, 90s, or 80s – I believe the recipe we have below can help you shoot better scores starting as early as next week.  
Of course, it is going to take some work on your part, but if you are looking to get better fast, it is safe to assume you will want to put some work in and see the quick results.  By getting better, we are assuming shooting better scores.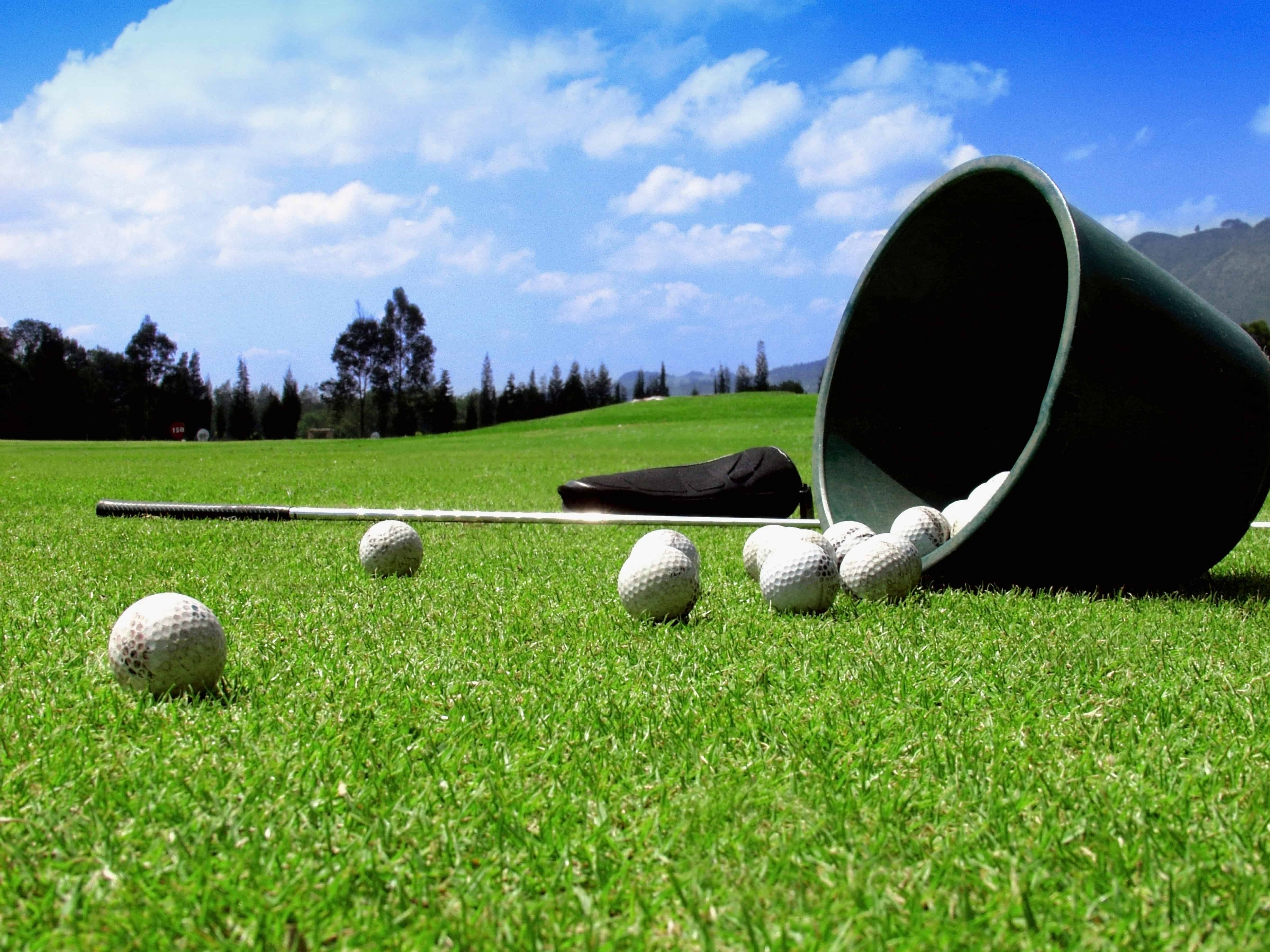 How To Get Better At Golf Fast
Here is the recipe we are going to lay out for you.
For quickest results, spend 80% of practice time on short game
Train for speed to hit the ball further
Have a course strategy
Control your response
Tip #1: Spend 80% of your practice time on short game
Ok, are you ready?  I know it probably doesn't sound very appealing, but you need to find a chipping motion that is repeatable and dependable.  We need to eliminate the big numbers and save pars by chipping every short game shot within 10 feet.  
So how do you do this?  We would recommend spending just 30 minutes a day practicing chipping (using the technique found in the video below). 
Whether this is at the practicing putting green at your local course, chipping balls towards a bucket in your backyard or chipping ping pong balls around your house – we need to find a way to help you get comfortable with the wedge in your hand.
Our recommendation is to find a 60 degree wedge and have that be your go to club.  As you practice you will get better at changing the loft on it and you will build a comfort and confidence level with the 60 degree lob wedge in your hand.
We recommend keeping the chipping motion simple.  Check out this video from some quick tips on your chipping motion.
New Chipping Method Vs Old Chipping Method
Now that we have the proper technique and an idea of how simple it can be, we must move on to some practice games we can play:
Standard chipping practice of hitting 5-8 balls towards the same flag.  Vary your target distance up with every change of location.  Spend about 10-15 minutes doing this.
Next, we need to put ourselves under some pressure.  We are going to take only one golf ball and see if we can chip it on and make the putt.  Of course, we need a practice green for this, but this is a great game.  Keep track of how many times out of 10 you can get up and down during practice.  Make sure to write this number down and chart over the course of time.  I would recommend going through this routine at least for 20 shots and maybe up to 30.  Do not forget to track.
After your first several sessions of this practice routine, I would be willing to bet that if you went golfing the next day, you would shoot a better score than your average.  If you can find 30-60 minutes a day to practice this routine of hitting some standard chip shots and then making the putt, you will see a reduction in your score.
Here are our top 22 practice games you can utilize
Let's not forget about putting.  The great thing is you can practice on many different surfaces and at many different locations.  To be honest, the most important putts are those 10 feet and in.  Did you know that the pros only make 50% of 8 footers?  It is time to improve our numbers and sink more putts.  
Practice Game: 
See how many 5 footers you can make in a row.  Go ahead and work on grooving that stroke from 5 feet and watch your confidence increase the next time you are on the course and have that slippery 5 footer to save par.
Tip #2: Train for Speed to hit the ball further
The reality is that the closer your approach shot, the closer you will hit it to the pin.  The analytics do not lie, the shorter the approach close, the closer you will be to the pin on average.  What if you could gain 20-30 yards of distance from training 10 minutes every other day.  Wit the SuperSpeed Golf SYstem you can see a 5-8% increase in swing speed which for many golfers is 20-30 yards.
Let's do some simple math.  Let's assume your current swing speed is around 100 miles per hour.  If you now increase that by 6% and are swinging a driver at 106 miles per hour.  You will about a 15 yard increase in driver distance. 
What we also must take into consideration, instead of having 165 left on a par 4 you now have 150 yards left.  Maybe you would have hit a 6 iron in the past from 165, but know with your increase in swing speed you might be hitting a 9 iron or a soft 8 iron.  I think we can all agree that we would be much more confident from 150 with a 9 iron as compared to a 6 iron from 165. 
Those 15 yards made a major difference.  Now add this up over the round and you are hitting the greens more often and having shorter putts for birdie.  It is truly a game changer.  Make sure you use discount code Golfjourney365 at SuperSpeed Golf
Looking to gain more Speed and Distance in your swing. Two Options:
Your confidence will continue to grow.  So the 30-60 minutes on short games and 10 minutes every other on speed training and I believe you will start to see some impressive results.  Can you remain committed to this routine?  The recipe is easy to see how it can help, the true battle is sticking with it.
Here is Protocol 1 from SuperSpeed Golf
There are 5 total different protocols that you will follow over the coming months to make that 5-8% swing speed increase permanent.  Many will see that 5-8% increase in the first session, but then need to stick with the training to make it permanent.
Tip #3 – Have a Course Strategy
As you arrive at each hole, have a game plan to keep the ball in play and to be around the green in regulation.  Depending on your current ability level you strategy will vary.
If you are a 90s golfer, the goal should be just to be around the green in regulation.  Keep the ball in play off the tee, get the ball around the green and try to save par 40% of the time.  We know you are going to hit at least 4 greens in regulation and this leaves about 14 greens where you have a chance to get up and down for par. 
If you can do this 6 out of 14 times, and you two putt when you hit the green in regulation, you should found a way to make 10 pars.  Let's assume two double bogeys somewhere in there and we have you at around 82 for your score.  If you played with that formula, do you think you might be able to make this happen?  Sounds pretty reasonable to me.
For those single digit handicap players or those right on the brink.  Here are some interesting stats about scratch golfers:
| | | | | |
| --- | --- | --- | --- | --- |
| CATEGORY | FAIRWAYS | GIR | PUTTS/HOLE | SCRAMBLING |
| SCRATCH GOLFER | 53% | 67% | 1.67 | 54% |
As we can see, the average scratch golfer is able to save par 54% of the time they miss a green regulation.  With tip #1, I believe most golfers can get to 45-50% scrambling rate with the right amount of practice and using the new method of chipping vs. the old method of chipping.
We have provided guides on how to break 100, 90, 80 and 70. Check out more below, if interested.
Tip #4 – Control Your Response
The only thing we can control on the golf course is our response to each situation that arises.  We know we might get a bad break or a great break, the key is handling your mindset.  All we can do is stay in our routine, have some positive self talk and get up there and hit the shot. 
Commit to the shot and live with the results.  Golf does not define you as a person.  Have fund with the game and embrace the challenge.  Keep telling yourself these things during your round and do not forget to have fun.
If you are following tips 1 and 2, you should have confidence in your short game and know that you have swing speed that is going to grow over the coming months.  Staying with your pre shot routine and be consistent with your mindset.
One thing I love to tell myself is to play golf with a grateful heart and have great satisfaction that you have the opportunity to play golf at that moment and embrace the challenge.  Most of us aren't playing to pay off our mortgage or even to be able to make a mortgage payment, so make sure you are having fun.  Enjoy the journey to get better and play at your highest level.
One of the best things I ever learned actually in training at my day job is E+R=O.  This was created by Tim Kight, who is a brilliant man and has helped many professional and college athletes control their mindset during competition and in the time of practicing.  
Event + Response = Outcome (E+R+O)
The only thing we can control in that formula is our response.  The events are going to happen and we can only influence the outcome by how we respond.  Try this formula on the golf course and see if it works.
All four of these tips can help you play better golf startying next week.  Are you ready to dive in and get to work on that short game while training your swing for additional speed.  Make sure you have a strategy and that you control your mindset.  Sounds simple doesn't it? 
With practice and disincline it can become simple and you will see your score decrease quickly.  Keep working and most importantly enjoy the journey of golf.  We are all fortunate to play golf and to be on a our personal golf journey.  Find the joy int he game again and approach it from the right mindset.
BONUS TIP: For Long Term Improvement
As we look to the short term to get better, we want to also get better over the next 2-3 years.  While there is no short cut, the tips above can help us score better and be better and maximizing our scoring chances. 
In the long term, we want to continue to own our swing, understand our ball flight and seek help from the motion in the swing. 
Here are some awesome online golf instructors that you can follow to improve your full swing and continue your long term plan for improvement
Here is a list of golf instructors that we have reviewed:
Take Action
Don't forget to order your golf SuperSpeed swing sticks and start to train just every other day.  You won't regret the purchase.  Did you know these swing sticks can help improve your biomechanics of your swing?  Who wouldn't want more speed and power in their game? 
Let's go – start to enjoy the game more by playing better and working hard in your golf journey!