If you watch any of the great golfers of all time, you might see different variations of golf stances.
Some might be open, while others are slightly closed.
Some might be narrow, while others are wide.
And then you can get into combinations such as narrow and open or wide and closed.  Golfers really have many different options when it comes to setting up to the shot.
So what is the right way to line up and create a golf stance for your game?  Do you get with the Lee Trevino open stance or do you close it off a bit?
For years, golfers were taught to line up as if they were standing on a railroad track with everything perfectly square.  Some might even consider this a fundamental in the game of golf.
Golf Stance Tips
Create a stance that allows you to control the low point of the golf swing.
Create a stance that allows you to control the swing path.
Create a stance that allows you to create enough speed in your swing.
Before we dive into the actual tips, let me explain what the golfer is ultimately trying to accomplish wherever they determine what stance, grip, alignment, golf club, tempo, etc. might be best for their game.
I find the philosophy of the Stack and Tilt Instructors very accurate and helpful. They identified the following as 3 fundamentals in the game of golf:
The golfer must be able to control the low point of the golf swing (impacts quality of contact with ball).
The golfer must be able to control the start line and the curve of the ball (helps with consistent ball flight and predictable shot patterns).
The golfer must have enough speed int heir swing to play the course.
As a result, whether you are selecting the best stance, grip, golf club, tempo, etc. you should focus on what option helps you with the 3 keys to all golf swings.  That is why some of the best golfers use an open stance, while others use a closed stance.  Or some use a narrow stance and some use a wide stance.
Golf is ultimately about getting the golf ball in the hole in the fewest amount of shots.  And there are different ways to accomplish this with the full swing and the stance.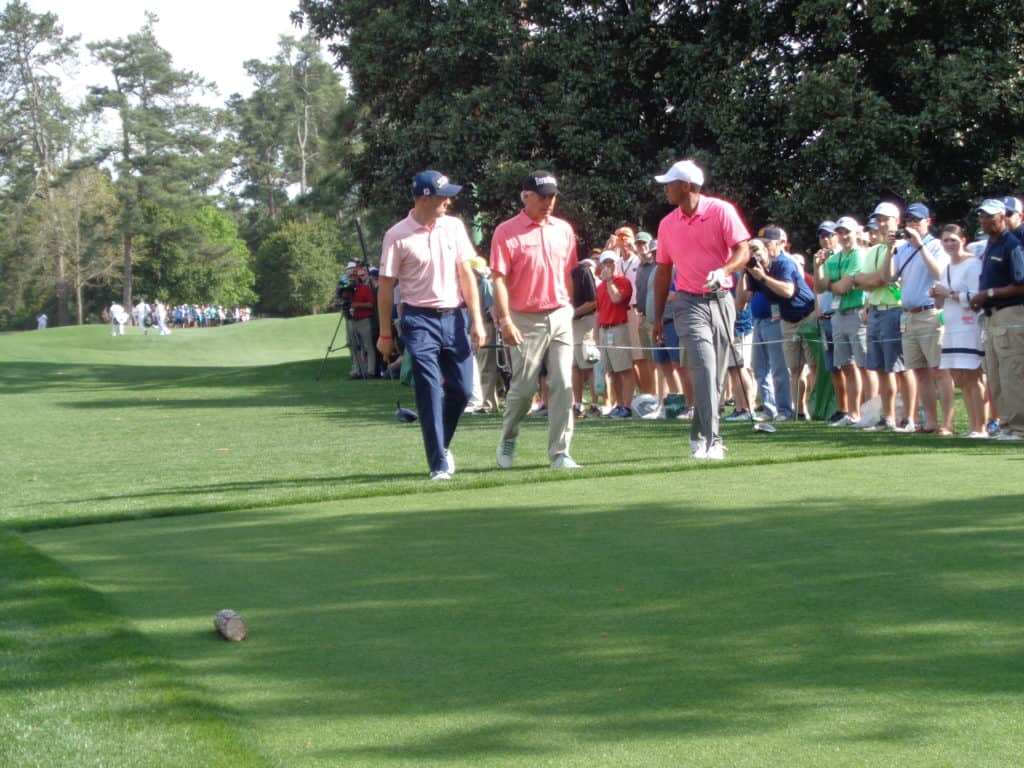 Golf Stance Tip #1: Create a stance that allows you to control the low point of the golf swing
The best way to figure this out is to test it out.  Go ahead and get some yard paint and find some grass you can paint a line on. 
Complete the following drill:
See how many times out of 10 you can hit at the line or just on the target side of the line.
Repeat this process with an open and closed stance and then open and wide, open and narrow, closed and wide, closed and narrow.
Determine what combination gives you the best control over the low point of your golf swing.
Next, take this stance to the driving range and test out to see if you can carry it over to the range and then to the golf course.
Being able to control the low point of the swing is the first key to building a great swing because it ensures the golfer is making quality contact a high percentage of the time.  There is a direct correlation between low point control and handicap.
Golf Stance Tip #2: Create a stance that allows you to control the swing path
The next key to any golf swing is being able to start the golf ball on your target line with a predictable curve.  The best golfers can start the ball on their intended line at least 7 out of 10 times and have a predictable curve close to 10 times out of 10.  Working on developing this through the stock shot drill is the best way to develop this skill.
Use the follow stock shot drill:
At the driving range, set up an alignment stick about 6-8 yards in front of you, straight down your target line.
If you have a second alignment stick, set the stick 3-4 feet right of the first stick (for a draw) or left of the first stick (for a fade).
Complete your initial assessment see how many times out of 10 you can start the ball to the right or left of your target.  Pick one side and measure your game at this point.
The goal is to eventually get 7 out of 10 shots to start to the correct side and draw back towards the target.
Test this drill out with the following golf stance combinations:
Open
Opep and narrow
Open and wide
Closed
Closed and narrow
Closed and wide
Which combination allows you to best start the ball down your target line and control the swing path.  When you consider your low point control andy our ability to start the ball on your intended line, which gives you the best chance for consistency
Golf Stance Tip #3: Create a stance that allows you to create enough speed in your swing.
It is great to control your low point and your start line/curve of the ball, but you also need enough speed.  If we didn't need speed, the swing would look much shorter and more in a straight line, but we do need speed to play courses 6,000 yards plus.  
Speed is the name of the game in many competitions.  So what combination of stance gives you the maximum speed without losing your low point control and ability to control start line and shot patterns?
Once again, we need to test it out. 
I would recommend hitting 10 shots with the following clubs: driver, 7 iron, sand wedge.
Using a Skytrak or other similar launch monitor, measure your overall carry distance with each club using the combination of stances bulleted below:
Open
Opep and narrow
Open and wide
Closed
Closed and narrow
Closed and wide
The golfer is going to take into consideration the total package.  Between the three sets of drills (low point, stock shot, speed) which stance gives you the best combination of all three?  Are you going to vary it up with your driver vs maybe a wedge?  Might a golfer use a closed stance with the driver and an open stance with the wedges?
The bottom line is to find the right combination of golf stances to help you maximize your ability and skill with each club in the bag.
Price out a Skytrak here at Rain or Shine Golf!
There are many uses for the Skytrak and can help you take your game to the next level.  Testing out different swing setups such as stance, grip, or alignment can be done with ease when you have instant feedback.  The Skytrak provides the following data on every swing:
Ball Speed
Carry and Total Distance
Launch Angle
Spin Axis
Spin Rate
This data is very helpful when testing out swings, setups or golf clubs.
I have gone more in depth about the open stance, closed stance, wide stance and narrow stance at the links below. Check them out to dive further into the pros and cons of each stance option.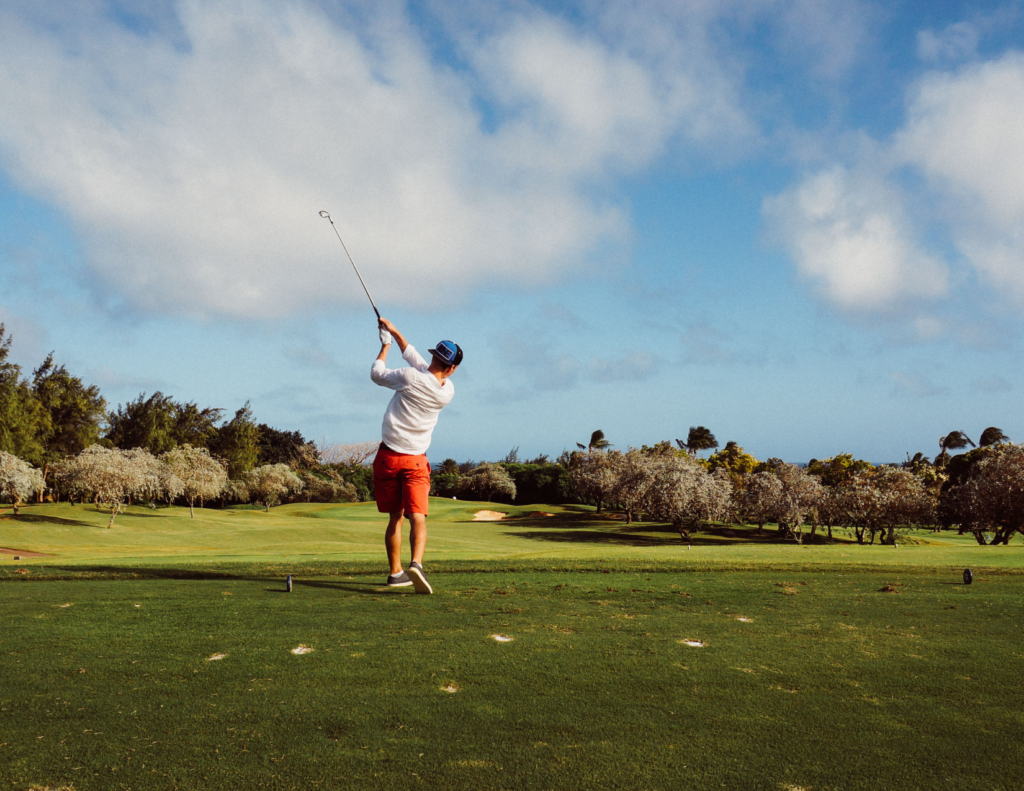 My Secret To Golf Improvement
Let's face it, in order to get really good at golf, we must practice frequently.  About four years ago, I made the leap and invested in a golf simulator build for my garage.  I went with a SkyTrak Launch Monitor and the TGC software and can now play over 100,000 courses including Augusta, Pebble Beach, Bethpage Black, Whistling Straits. St. Andrews and many other of the top 100 courses in the world.
This golf simulator setup, which is more affordable that you might imagine, has been a game changer.  I can now play golf everyday of the year regardless of rain, snow, cold weather or time of day.  I can practice or play rounds of golf.  I can stand in the 11th fairway at Augusta and with the auto-rewind feature I am able to practice my approach shots from various differences.
It is worth checking out through Rain or Shine Golf as they offer some incredible packages along with financing offers that are difficult to beat.
Some direct links to Rain or Shine Golf for pricing and financing:
Take Action – What You Can Do Today to Get Better
What does this mean for you?  I believe in the following recipe to get better:
1 – Improve your motion in the golf swing by identifying a golf instructor.  Here are some options:
Here is a list of golf instructors that we have reviewed:
2 – Train to swing faster and improve your swing speed.  Here are some options:
Looking to gain more Speed and Distance in your swing. Two Options:
3 – Understand course strategy and work to break through your next barrier.  Here is a series on breaking through:
We have provided guides on how to break 100, 90, 80 and 70. Check out more below, if interested.
4 – Practice Frequently
Did you know that I build a golf simulator in my garage and have played over 500 rounds of golf on my SkyTrak system?  It has been a game changer and one worth checking out. Here are some of my other posts on golf simulators frequently asked questions: