If you have fallen in love with the game of golf, you know that you can't stop thinking about it.  You probably have created a bucket list of your top golf experiences that you must have. Below I provide my list of my top 13 golf experiences that I have already experienced and the next 12 that I would like to make a reality.

The great thing about golf is that it brings together family and friends, potential travel opportunities, watching the pros play, the outdoors or what we all enjoy the most – playing golf. When you can combine all of the above; playing golf with family and friends at a beautiful location in the great outdoors some place in the world and possibly watching the best golfers in the world, you have the ultimate golf experience.

Golf is a generational game that can be enjoyed by people of all ages, both male and female for a long portion of life. It truly trumps many other sports in how long you can play the game and how enjoyable it is.  It brings together the social and competitive experiences that many of us desire. Thinking back to the 2019 Masters victory by Tiger Woods, there was nothing better than when CBS showed the picture of Tiger hugging his Dad in 1997 and then the 2019 picture of Tiger hugging his son Charlie.  Golf truly is special in this way.

I started playing golf at age 10 with my father who was starting to get into the game at the time with his current business adventures.  I remember at age 10 and 11 playing with people 5 times my age! What a great experience and life lesson to interact with business people in their 50's.  It brought about great enjoyment and many experiences that prepared me to interact with people of all ages in my current career.

Top 13 Experiences To Date

1) Top 13 Experiences to Date – Trip to the Masters
I was fortunate enough to take two different trips to the Masters to watch practice rounds.  Augusta National just may be the most beautiful place on earth. It is difficult to put into words just how perfect the place is and how everything is done so meticulously with every detail truly covered.  In the spring of every year, the course is in peak shape and it truly is a museum that any golf should take in first hand. One of my favorite questions I was asked this year by a friend was if the color on the tv was enhanced.  I responded that it is actually more beautiful in person.

Getting tickets is the most difficult part, but can be done through the lottery system that they have every year.  Or if you are willing to pay some big dollars, you can buy the tickets as well. In my journey to Augusta, I often saw people selling tickets on the side of the road.  Watching Tiger Woods, Fred Couples and Justin Thomas hitting tee shots on number 9 from 10 feet away was an added bonus to walking the course and enjoying the food and views.  It is a trip you will never forget.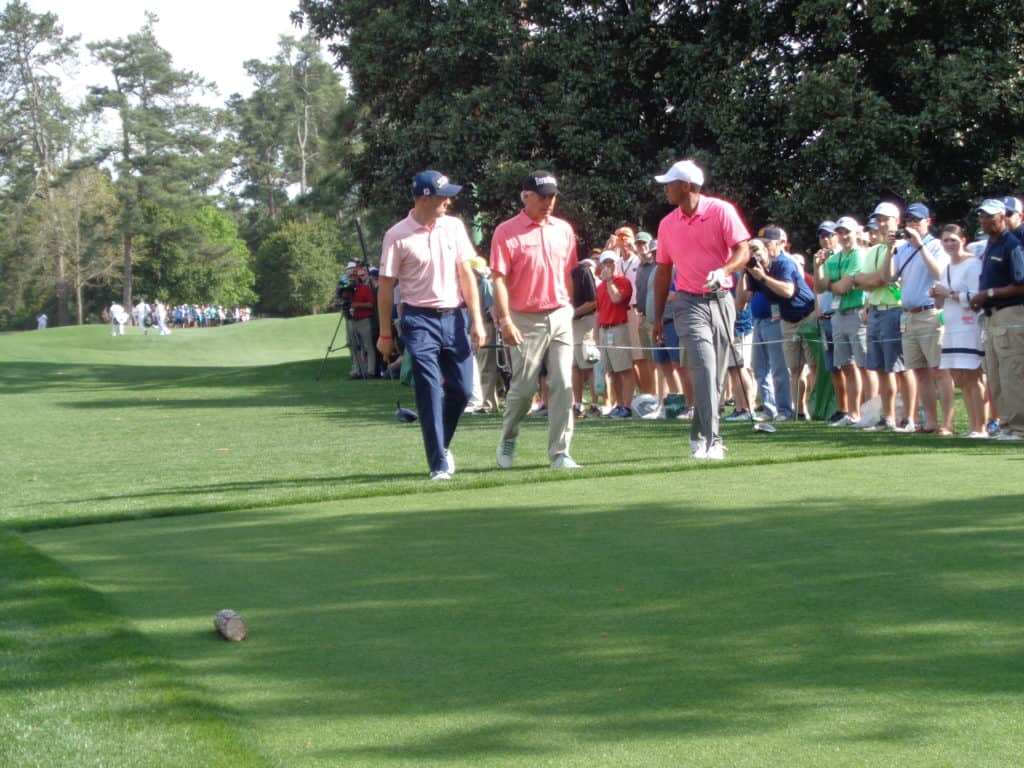 2) Top 13 Experiences to Date – Trip to the US Open
In 2007, my father and I took a drive to take in the US open at Oakmont.  I have been to other PGA tour event at both Firestone Country Club and Muirfield Village Country Club, but there was something special about the history at Oakmont and the history of the US Open.  We were able to walk the course and see Phil Mickelson and Tiger Woods hit tee shots standing right behind the tee box. While neither of these two won, the crowds around them at a place like the US Open is a sight to see and one to take in for sure!

3) Top 13 Experiences to Date – Golf Trip Out West

When one lives in the midwestern portion of the United States, the long, cold, miserable winters can be depressing and difficult on the golf game.  Twice, we have travelled to Arizona to play some of the best golf courses Arizona has to offer. We typically would play 36 holes a day and then take in a Spring Training baseball game nearby.  The combination of the mountains, desert and the perfectly manicured golf courses are a sight to see and one worth experiencing. There are some quality golf packages available to travel out west.  It is a different style of golf then we are used to the midwesterns part of the US or even in the southern part of the US. The desert and the mountains add a whole new element and it is truly special.

4) Top 13 Experiences to Date – Breaking 80 and then 70

Considering that only 2% of golfers have broken 80 before in a round of golf, I would want every golfer to have the opportunity to break 80 and experience the round and how many quality shots are hit when breaking 80.  The true ultimate though is breaking 70. Talk about a memorable round, regardless of the course, it is something special. It takes some consistent ball striking, great short game and some breaks. The most enjoyable part is to watch the progress and enjoy the journey to get better and break 80 or 70.

5) Top 13 Experiences to Date – Playing A Pro Venue

Challenging yourself to a difficult round of golf and experiencing what the Pros battle on a week in and week out battle provides a great appreciate for the level of golf that they play at on a consistent basis.  I have been fortunate enough to play Firestone Country Club South, 2 weeks after the tournament that was hosted there. I played only from 6600 yards, but it was truly a beast of a course and quite the challenge. Something that we probably can't appreciate on tv is the rolling nature of many of these courses and how you very rarely get a flat lie even in the fairway.  The rough was also at a different level and made hitting the fairway a premium. It is fun to then watch the tournament the next year and compare the putts and the drives that you hit with what the pros do.

6) Top 13 Golf Experiences to Date – Playing in a Tournament

Playing casual golf with your friends or family can be a thrill, but there is something special about playing in a stroke play tournament, where every shot matters and you must post a score.  The challenge and exhilaration of posting a good score is right up there for me. Having played competitive golf as a youth and through my early 20s, it is something I would like to get back into.  THe mental challenge of playing competitive golf is at a new level. Once again, golf is a journey and one that we get to be for many years, embrace and enjoy!

7) Top 13 Golf Experiences to Date – Hitting a 300 yard plus drive

Hitting a driver over 300 yards can make you feel like a pro.  While I normally carry my driver 250-270, every now and then when the conditions are just right and I am feeling good, I can push that 300 yard level.  To think that this is how the pros play and hit their drivers consistently brings about great appreciation for their skill level. I am currently purchasing the SuperSpeed Golf System to try to gain swing speed and get closer to 300 yards consistently.

8) Top 13 Golf Experiences to Date – Watching My Dad Make Two Hole in Ones

I have played over a thousand rounds of golf with my Dad.  There are two shots that I will never forget that he has hit.  The first being his first hole in one 20 years ago on a 135 yard par 3.  The joy and excitement was pretty neat. He then followed that up several years later on our trip to Arizona with a hole in one on a par 3 155 yard hole.  I am still searching for my first hole in one, but to watch a family member make a hole it was it on my top 12 list. It would be pretty cool to witness one of my kids make a hole in one!

9) Top 13 Golf Experiences to Date – Playing Golf with Three Generations

My kids have recently started to play the game of golf and the rounds we can play with my father and their grandfather are memories that we will always cherish.  This goes back to what makes golf a special game – it can be enjoyed across generations and memories are created that will last forever. There is special bond that can be created on a golf course with the beautiful weather, course conditions, and quality time.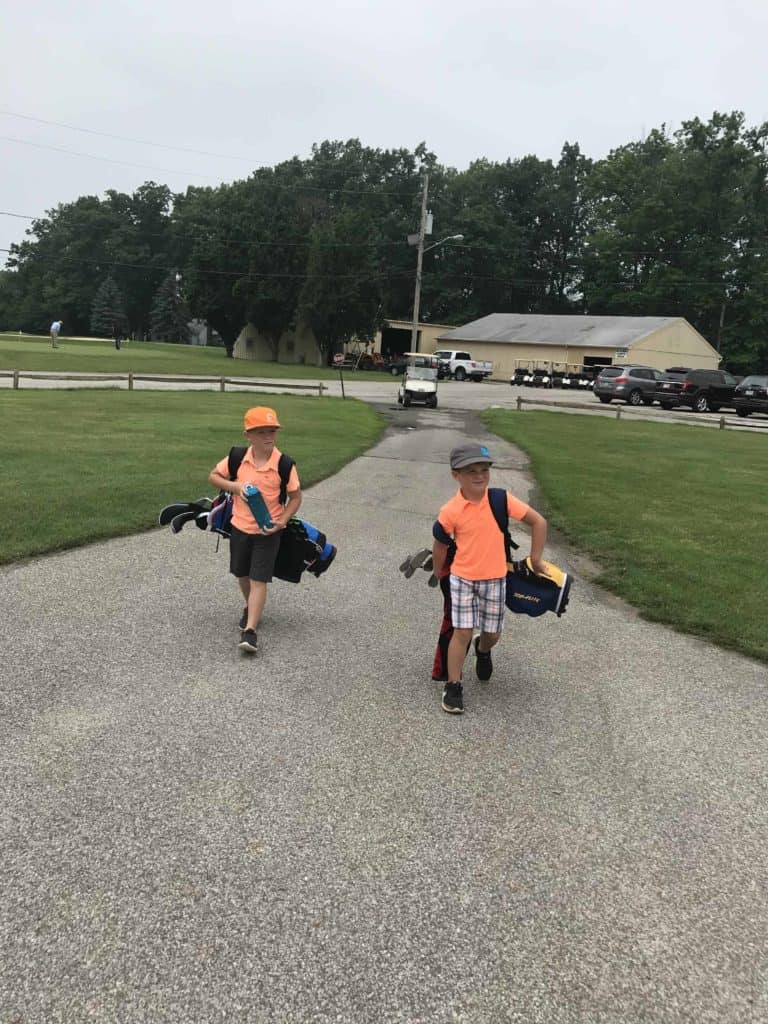 10) Top 13 Golf Experiences to Date – Making an Eagle on a Par 4

While it may not be as special as a hole in one on a par 3, making an eagle on a par 4 is right up there.  Last season I was able to hole out from 178 yards on the most difficult hole on the course that I most frequently play.  It was an early morning round and we couldn't see the ball gol in the hole, but it felt great from the moment it left the club.  A shot that I will never forget!

11) Top 13 Golf Experiences to Date – Meeting Hundreds of New People

Having played golf for close to 30 year now, it is cool to sit back and reflect on the number of different people that I have had the opportunity to experience a round of golf with.  Friends from the past and current friends, doctors and lawyers, military personnel, white collar and blue collar workers, great golfers and beginner golfers – the range is incredible and provided an opportunity to get to know that person better and to have a level of respect for that persons journey in life.  Also, to think of the different people that helped me through my journey as a golfer and the different tips I have been able to take way is truly remarkable.

12) Top 13 Golf Experiences to Date – Coaching A High School Golf Team

The journey of the season and helping to guide youth golfers to reach their full potential is always something special.  Golfers at that age have youth and speed on their side. They are always able to adjust quickly and make adjustments. To see someone fall in love with the game of golf and to take on the challenge of playing better golf makes it all worth it.  When they reach their goals and you have helped – there is nothing like it!

13) Top 13 Golf Experiences to Date – Playing Golf Year Round

Several years ago, I built a golf simulator in my garage.  This experience and process has changed my life for the better.  I am now able to practice and play the game when I want on some of the best courses in the world.  While it may not be as special as outdoor golf, the 24 hour, 365 day access to playing simulator golf is incredible.  While these units used to cost over $30,000, the market has produced some quality opportunities at an affordable price.  If you are interested, here are some links that will answer many of your questions.

One of the greatest things about simulator golf is playing the wide range of courses abilale through many of the softwares.  I use a software called The Golf Club (TGC) and it has many of the top 100 courses in the world available. I have played Augusta. St. Andrews, Whistling Straits, and Pebble Beach just to name a few.  It is a lot of fun to play the course the pros are playing that week and see what specific holes they are battling down the back nine that week.

HOW TO BUILD A GOLF SIMULATOR (COMPLETE OVERVIEW)
Future Golf Experiences

Here is a list of items that remain on my list for the future:

1) Future Golf Experiences – Make a Hole in One
I still have this goal and I hope that it happens on a special hole with my father or one of my kids.  Not that I will be picky, but at this point, I can at least dream – right? I have come close many times, which will make that first time that must more special.  I also recently hit one on my golf simulator at Augusta National on hole #4, but that doesn't count. Another special moment and maybe even more so than making one myself would be if one of my kids made a hole in one that I was able to witness.
2) Future Golf Experiences – Pebble Beach
Pebble Beach might be the most beautiful course in the United States.  It also has great tradition and history with hosting an annual tour event in addition to the US Open a handful of times.  The scenes and views from the 7th hole par 3 is truly amazing and one that I hope to take in at some point in my life. From the people I have talked to that have played it, the cost of the 18 holes is worth it!
3) Future Golf Experiences – St. Andrews

A golf trip to Europe is definitely on the list.  Speaking of history, St. Andrews is the birthplace of golf and the dream of playing St. Andrews is definitely up there on the list.  I love the view and layout of the 1st and 18th holes at St. Andrews. Overall, I would enjoy playing that style of golf and taking in the history of the game of golf and everything that Europe has to offer.
4) Future Golf Experiences – Play in a Pro Am

How cool would it be to play along a PGA Tour play while playing a world class golf course?  To me this would be an ultimate experience and one worth shooting for. To see first hand the solid ball striking and the distance that these players have to offer while being inside the ropes for 18 holes would be inspiring.

5) Future Golf Experiences – Win A Club Championship

Now that I have passed my time as a youth golfer and playing competitively in my 20s, someday finding the time to compete in A Club Championship and winning it all is on the list.  The satisfaction of being able to compete at a high level would be pretty sweet. Putting your game out there and having it hold up in the toughest of situations provides a boost of confidence and is a ton of fun.

6) Future Golf Experiences – Play Golf 365 Consecutive Days

Here is one for retirement.  I average around 55 rounds of golf a year and another 150+ on the golf simulator over the course of the year.  The ultimate would be to play golf 365 days a year or at least play 365 rounds of golf in a year. Keeping a journal and the experiencing the highs and lows would be great.  Living someplace warm would be a requirement.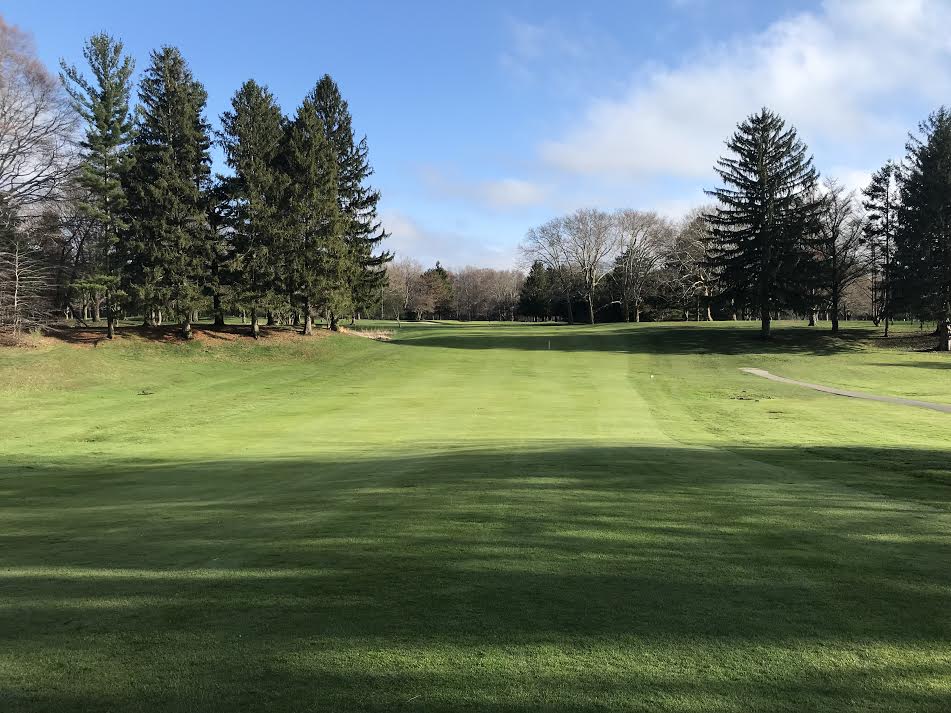 7) Future Golf Experiences – Go to A Ryder Cup

The atmosphere at recent Ryder Cups has been noteworthy and something I would want to take in personally.  The energy flowing through the last two Ryder Cups and the back and forth between players would be extra special in person.  It is great to see the excitement out of players like Sergio Garcia, Patrick Reed and Rory McIlroy. This event brings an extra layer of energy from your typical tour event of even a major.  There is something special about playing or your country or your continent!

8) Future Golf Experiences – Play Sun up to Sun down

How cool would that be to get a foursome and tee off at 6am in the morning and play golf all day long? This one is pretty attainable and might be easy to accomplish. This would total about 15 hours of golf in the midwestern portion of the United States around the month of July.  I think we might be able to get in 72 holes in one day! Something to start planning right now!

9) Future Golf Experiences – Break 70 – 4 Consecutive Rounds

I have never broken 70 even two consecutive rounds, but I am going to strive to do it 4 times in a row.  This would mean ultimately consistency and getting my game to a certain level. The short game would have to be phenomenal because hitting the ball solid and how you want 4 straight rounds is something even the pros struggle with.

10) Future Golf Experiences – Augusta on a Sunday
The 1986 Masters and the 2019 Masters stick out in my mind as something truly amazing.  The comeback from Jack Nicklaus at age 46 and Tiger making his life comeback at age 43 and the special connection back to family for both men make these two my top 2 Masters Tournaments.  Having been there for a practice round, being able to take in a Sunday and hear the roars as someone makes a charge on the second nine on Sunday would be simply amazing. They say the Masters doesn't start until the second nine on Sunday.  Being there for all four competitive rounds and taking in the whole experience would be up there on the list as well.
11) Future Golf Experiences – Shoot My Age

This one is tricky but to be able to play good enough golf in the 70's to shoot your age would mean number one you are still healthy and number two you are playing some impressive golf at this age.  Now of course, the set of tees would be comparable to the distance one would hit their driver in theirs 70s and I think one would have to rely on the short game quite often, but how fun would that be!
12) Future Golf Experiences – Attend A British Open

I might be able to combine this with the trip to play St. Andrews, but to head out and take in a British Open would be worth the flight of the plane ticket.  The amount of history around the British Open and taking in the courses and the conditions would be a lot of fun in person.

Summary

Golf is truly a lifelong game that brings about some amazing opportunities.  Everyone is going to have their own personal bucket list of golf experiences.  I have been fortunate to experience a lot so far, and look forward to hopefully expericinging some of the remaining 12 golf experiences that I have set.  The two most special things to me are playing with family and being able to play competitive golf and be on a journey to get better while enjoying it with family.  The special trips and being in the outdoors is truly fantastic as well and makes golf such a special sport to play or to watch.

Golf is a game where the majority of people are respectful and classy.  The courses can be perfect and everything is just right! Enjoy your golf journey and get started on your bucket list!