In the game of golf there are plenty of rules.  If you are new to the game, you might struggle to ensure you follow all of the rules.
Our recommendation is to make sure you have fun and enjoy the game and don't be afraid to ask your playing partners, especially those that have played the game for many years and are serious about the game.
From the time you tee the ball up on the first tee, until you hole out the final putt on the 18th hole, you are bound to come across some unique situations on just about every round of golf.
When playing golf, it is important to have the right equipment and know the rules. So you never end up with a penalty for something that wasn't your fault! One rule that many people might not be aware of is what type of ball marker they are permitted to use.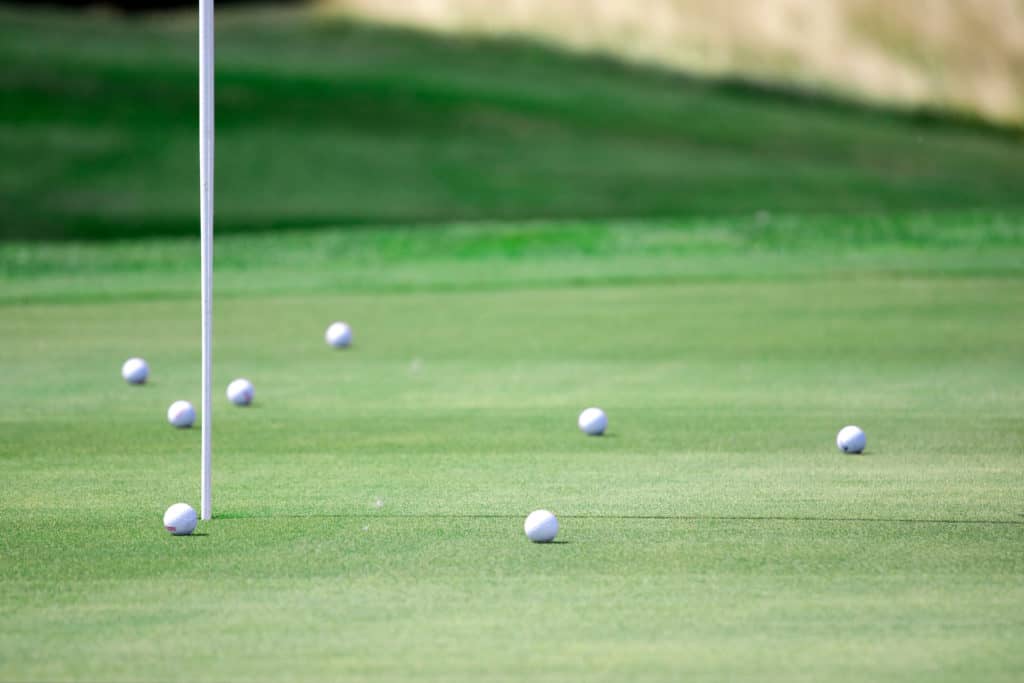 Does A Golf Ball Marker Have To Be Round?
No, the golfer is free to use any object to mark their golf ball.  However, the recommendation and proper etiquette is to mark the ball with something smaller and least obstructive both physically and mentally.  The playing partner of a golfer can ask a golfer to mark their ball if they feel that it provides an obstruction.
Golf Ball Marker and the Rules
Rule 20-1 of the USGA Rule book guides the player to mark their ball with a small object anytime it might cause a physical or mental distraction to an opponent or playing partner. 
The language of the rule and note does not require a certain type of ball marker. You could mark your ball with pretty much anything.  A player may ask a playing partner to mark their ball if the ball causes a physical or mental distraction.
Resource: Everything you need to start playing golf!
Golf Ball Marker and Proper Etiquette
Golf is a sport known as a classy sport.  It is a sport free of referees calling certain penalties and players are expected to conduct themselves in a professional and classy manner during the round.  Utilizing a larger than normal ball marker would go against the intent of how golf is supposed to be played.
For many years, golfers used something no bigger than a quarter.  Oftentimes you would find golfers marking their golf ball with a penny or dime.  Recently, there has been a bigger market for speciality ball markers.

If you visit many courses, you will often find the poker chip with the golf course logo on it.  The traditionalist might believe even a poker chip is too large and might cause a mental districation to the golfer.  Others collect the poker chips with the golf course logos or other logos and use them in many of their rounds.
The main goal is to ensure you conduct yourself in a manner that does not disrespect the game or your opponent or playing partner.  Something the size of a poker chip or smaller will be accepted by most!
Resource: Golf Etiquette (Beginner's Guide)
How To Mark Your Golf Ball
Using a smaller object, similar to the size of a quarter, place your ball maker directly behind the golf ball.  After clearing your ball, if necessary, replace your golf ball on the original location.
You have an obligation to then set the ball down as close to the original spot as possible.  Moving the ball left or right to avoid certain marks in the greens, is not the intent of marking your golf ball.
Keep your ball marker in one of your pockets, so that it is always close by.  It is annoying if a golfer has to run back to their golf bag to pull a marker out.  As you get ready for your round of golf prior to the first tee, ensure you have enough tees and a ball marker in your pockets to help make the round successful and enjoyable for all involved.
Creating a routine of where you keep your ball marker will help set your mind at ease on the golf course and possible improve your overall performance!
Resource: How to break 90 in golf (practical guide)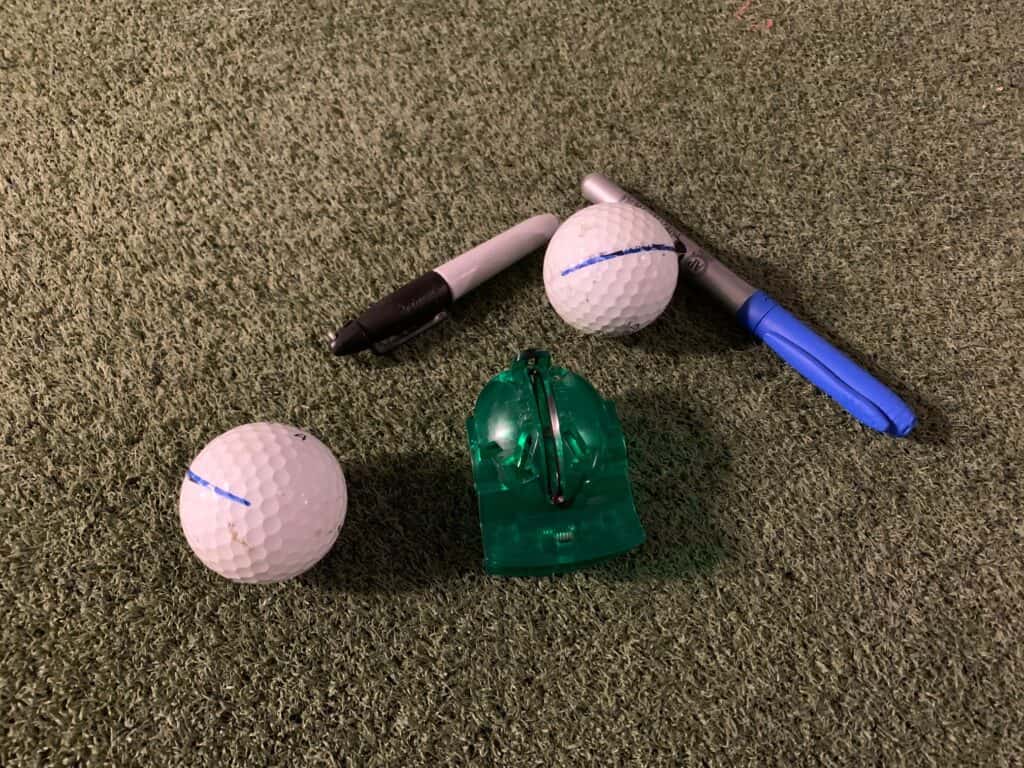 Can A Marker Be Moved Right or Left
If the marker is in the line of another golfer in the group, the golfer may move their marker several club head lengths one way or another.  This is typically enough distance to move the marker out of the way to allow the other golf to make a stroke free of worrying about whether or not their ball will hit the marker.
There are some steps you should follow in this situation:
Mark your ball in a timely manner.
If you see that it is potentially in your playing partners line, ask if they would like you to move it.
If they would, use your putter head and move it either left or right.
Utilizing a tree or other object in the distance, visually try to have a line on which you are moving the marker.
This helps ensure you are able to return the maker as close as possible to its original location.
Don't forget to move the marker back after your playing partner putts.
If you fail to do so it is a loss of a hole in match play and a penalty stroke in stroke play.
If you are the golfer, who the playing partner moved the marker for.  Help your playing partner out by reminding him or her to move the marker back.
Advantages of Marking Your Ball
The rules call for you to mark your ball if it provides a mental or physical distraction to your playing partners or opponents.  However, there are some major advantages to marking your ball every time you reach the green.
After marking your ball, you will want to do the following:
Clean your golf ball with a wet towel.
After reading the break of the putt, use a line on your ball to line it up with your intended start line.
If you miss the putt, mark again and set up your line, even on putts from 2 feet.
While this may slow the game down a bit, you should go through a routine of marking your ball, cleaning and lining it up to give yourself the best chance for success!
Resource: Is a new putter worth it?
Can I Draw A Line on My Golf Ball?
Yes, the rules permit you to personalize your golf ball for identification purposes.  We highly recommend drawing a line on your ball to help you aim your putts and even potentially your tee shot at the beginning of every hole.
Resource: Why do golfers draw a line on a golf ball?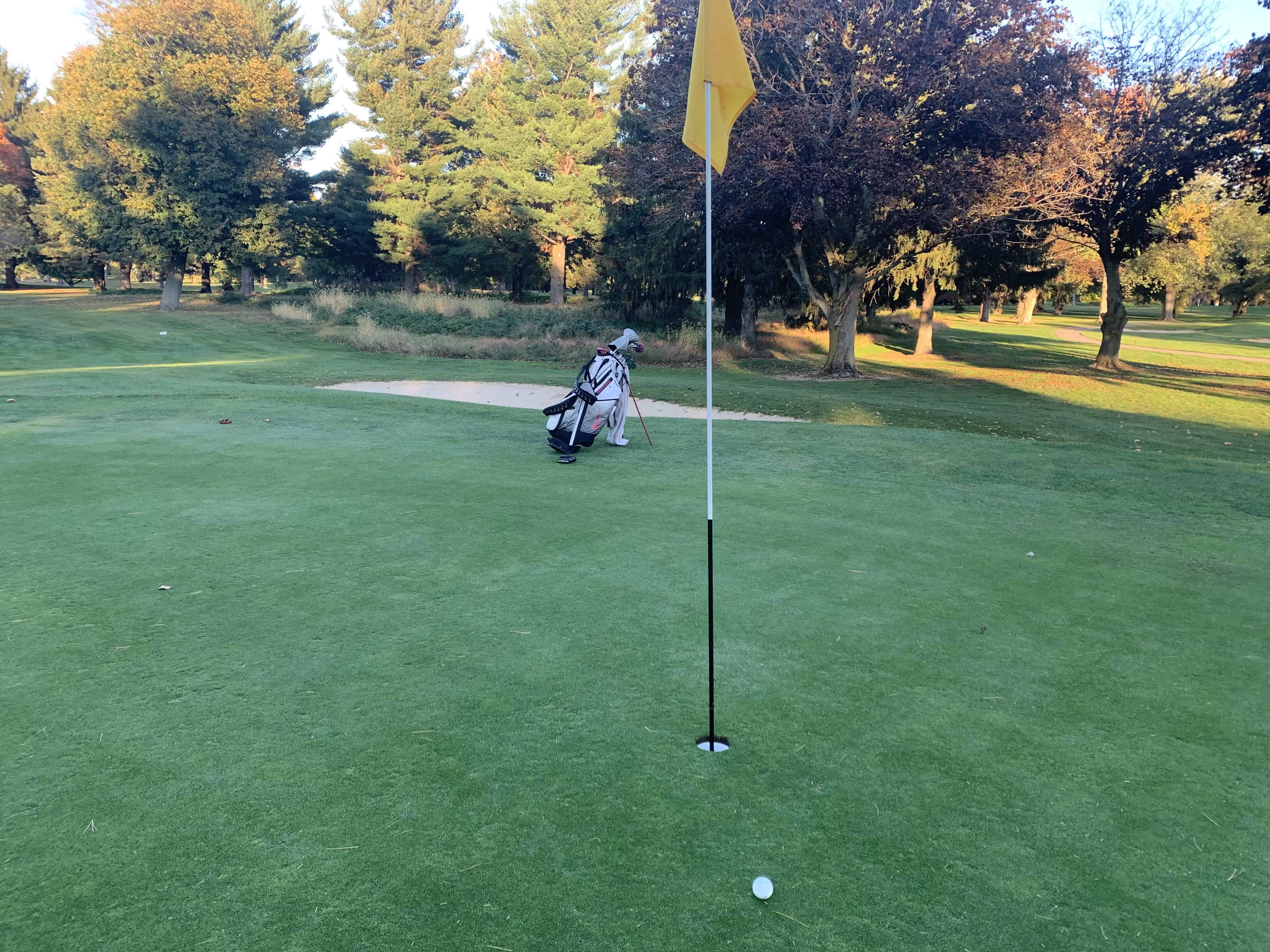 Final Thoughts: Golf Ball Markers
Find the best golf ball marker for your game.  Some will simply use a penny, dime or quarter, whiles others will want a personalized ball marker that represents their favorite course, golf brand or even their name.  Many will consider a "lucky" ball marker that has been given to the them by someone special or represents something important in their life.
Next, make sure you have your routine of where you store your ball maker during your round.  I personally use my right pocket and have my routine every time I reach the green for all 18 holes.  Mark the ball, clean the ball, line up the ball and hit your putt.
Keep in mind that pace of play of every golfers responsibility so having a routine and following the etiquette helps maintain a quality pace of play for everyone on the course!
Looking to take your game to the next level? Check out formula below to get you going in the right direction!
Take Action – What You Can Do Today to Get Better
What does this mean for you?  I believe in the following recipe to get better:
1 – Improve your motion in the golf swing by identifying a golf instructor.  Here are some options:
Here is a list of golf instructors that we have reviewed:
2 – Train to swing faster and improve your swing speed.  Here are some options:
Looking to gain more Speed and Distance in your swing. Two Options:
3 – Understand course strategy and work to break through your next barrier.  Here is a series on breaking through:
We have provided guides on how to break 100, 90, 80 and 70. Check out more below, if interested.
4 – Practice Frequently
Did you know that I build a golf simulator in my garage and have played over 500 rounds of golf on my SkyTrak system?  It has been a game changer and one worth checking out. Here are some of my other posts on golf simulators frequently asked questions: