It depends.  If it is a light rain without thunder or lightning, courses can remain open and golfers can continue to golf.  Once there is a heavy rain that causes a water build up on the course or if there is thunder or lightning, courses will have golfers evacuate and sometimes close the course.
Golf is a sport that can be played in 40 degree weather up to 110 degrees.  
There are golfers that will play any chance they can get and that includes even when it is raining.
Do Golf Courses Close When It Rains?
Below is breakdown depending on the type of rain that occurs!
Related Post: Can you play golf in the rain (5 Tips)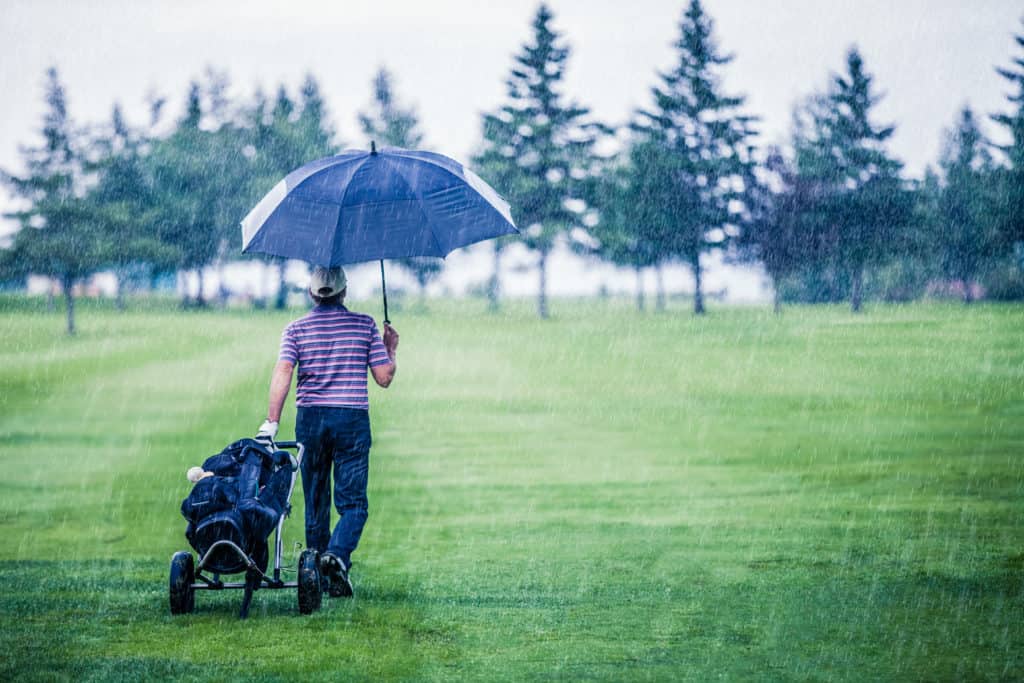 Condition: Light Rain
Many golfers will continue to golf in a light rain.  Golfers will often carry and use an umbrella, wear some rain gear and rain gloves and utilize multiple towels.  When a golfer has these three key elements they can stand an all day rain as long as the rain isn't too heave to cause water to puddle.
Golfing in light rain can be difficult and some golfers will choose not to play in the rain.  However, if you are playing in a tournament, it is likely that the tournament will carry on and you will have to play in the rain.
Condition: Heavy Rain
Golf courses will often close at least temporarily when there is heavy rain.  The harder the downpour, the higher chances of rain water puddling and causing conditions that might be unplayable on the greens.  The greens are often the key.  When there are puddles on the green, most superintendents aren't going to allow people to be walking on the green surfaces.  Ultimately, the golf course must think long term and consider providing rain checks to anyone on the course.
If a course has excellent drainage and golfers are able to continue to play without damaging the course, oftentimes, golfers can continue to play.
Condition: Lightning
One of the most dangerous conditions that often comes along with heavy rain is lightning.  Golfers and golf course managers should not ever take lightning lightly.  It is a dangerous weather condition and golfers should seek shelter or exit the course.  Oftentime, golf courses have rain shelter that will be built for golfers to take cover during severe thunderstorm conditions.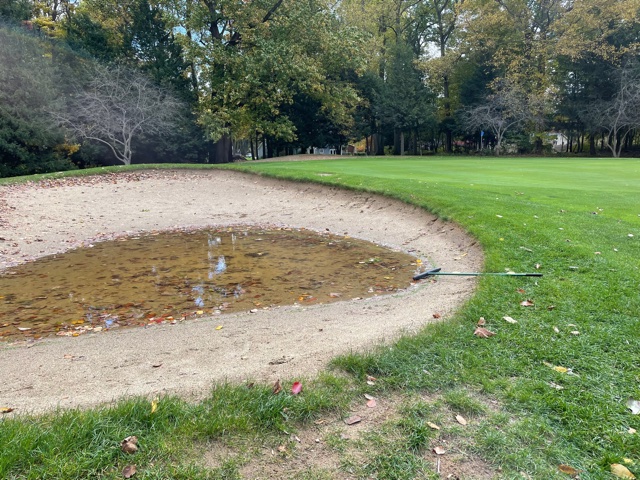 Options Other Than Closing
Cart Path Only
When there has been a heavy rain that has brought substantial rain, courses will often work hard to ensure the greens are in a quality playing conditions and the bunkers are drained and rake out, but you will often find yourself in a cart path only situation.  This often causes the golfer to walk much more than when carts are allowed in the general areas in the fairway and rough.
One quick tip if you are faced with a cart path only is to always take 3 clubs to your shots in the fairway, as well as a rangefinder.  Take the club you think will be the right club, plus one bigger club and one smaller club.
Be prepared, save yourself some energy and keep the pace of play up by being prepared with at least 3 golf clubs for every shot that is a quality distance from the golf cart path.
Golf courses will often squeegee the greens.  This is a tool that courses will push water off the green with a tool that is safe for greens, but pushes the water towards drains or other low areas to help make the greens playable.
Delay Situations
Oftentimes, golf courses will have the start of a round delayed several rounds to give the time to dry out from an overnight storm that might have rolled through.  Fortunately, golfers still have to get a round in and enjoy the day.
Most golf courses have to do everything possible to keep golfers playing, as each cancelled round means lost revenue.  A golf course needs a certain amount of rounds per year to at least break even and then to make profit even more rounds are needed.
Spectators and Rain
If you have ever been to a professional event and a storm rolls through, the tournament directors will often sound a horn and announce that the course is to be evacuated.  Thunderstorms that involve lightning are taken very seriously and the golfers are protected and spectators are asked to leave.  While this can be a frustrating situation for spectators in attendance, this is often done in the name of safety.
Final Thoughts: Enjoy the Outdoors
Make sure when you playing golf that you are enjoying the outdoors, but are also aware of the potential changing weather conditions.  Make sure you are prepared with the right equipment to help make your round enjoyable in the event of a light or steady rain that allows you to continue to play, but is enough to get everything wet.
I have found rain gloves to be an essential and rather impressive option for golfers to wear during conditions. These rain gloves are designed to give you a good grip the wetter they get.  It seems strange, but it works!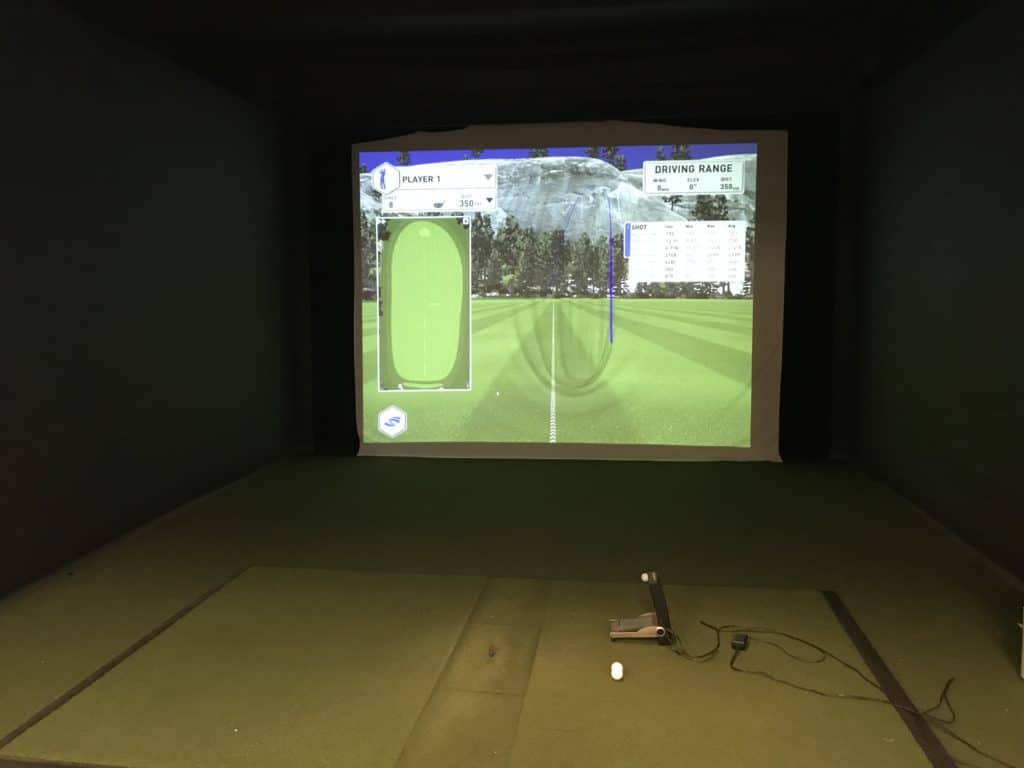 My Secret To Golf Improvement
Let's face it, in order to get really good at golf, we must practice frequently.  About three years ago, I made the leap and invested in a golf simulator build for my garage.  I went with a SkyTrak Launch Monitor and the TGC software and can now play over 100,000 courses including Augusta, Pebble Beach, Bethpage Black, Whistling Straits. St. Andrews and many other of the top 100 courses in the world.
This golf simulator setup, which is more affordable that you might imagine, has been a game changer.  I can now play golf everyday of the year regardless of rain, snow, cold weather or time of day.  I can practice or play rounds of golf.  I can stand in the 11th fairway at Augusta and with the auto-rewind feature I am able to practice my approach shots from various differences.
It is worth checking out through Rain or Shine Golf as they offer some incredible packages along with financing offers that are difficult to beat.
Some direct links to Rain or Shine Golf for pricing and financing:
Take Action – What You Can Do Today to Get Better
What does this mean for you?  I believe in the following recipe to get better:
1 – Improve your motion in the golf swing by identifying a golf instructor.  Here are some options:
Here is a list of golf instructors that we have reviewed:
2 – Train to swing faster and improve your swing speed.  Here are some options:
Looking to gain more Speed and Distance in your swing. Two Options:
3 – Understand course strategy and work to break through your next barrier.  Here is a series on breaking through:
We have provided guides on how to break 100, 90, 80 and 70. Check out more below, if interested.
4 – Practice Frequently
Did you know that I build a golf simulator in my garage and have played over 500 rounds of golf on my SkyTrak system?  It has been a game changer and one worth checking out. Here are some of my other posts on golf simulators frequently asked questions: