Golf can be a complicated game.
One of the first shots that many golfers can learn is the basic chip shot with a pitching wedge.
As golfers advance in the game of golf, they can start to add shots with the sand wedge or the lob wedge to add additional height and increase their ability to make the more difficult pitch or lob shots.
The pitching wedge is typically around 48 degrees in loft, while the sand wedge is 54-56 degrees and a lob wedge between 58-62 degrees.
Naturally, the pitching wedge will have a slightly lower ball flight on the chip shot compared to a sand wedge or lob wedge.
Below, I have my top 5 tips to help you be successful with the pitching wedge when it comes to the short game.
Chipping With A Pitching Wedge: 5 Tips
Keep it simple
Use a putting like motion
Vary your swing length and swing speed to control distance
Create competitive situations during practice
Chip with confidence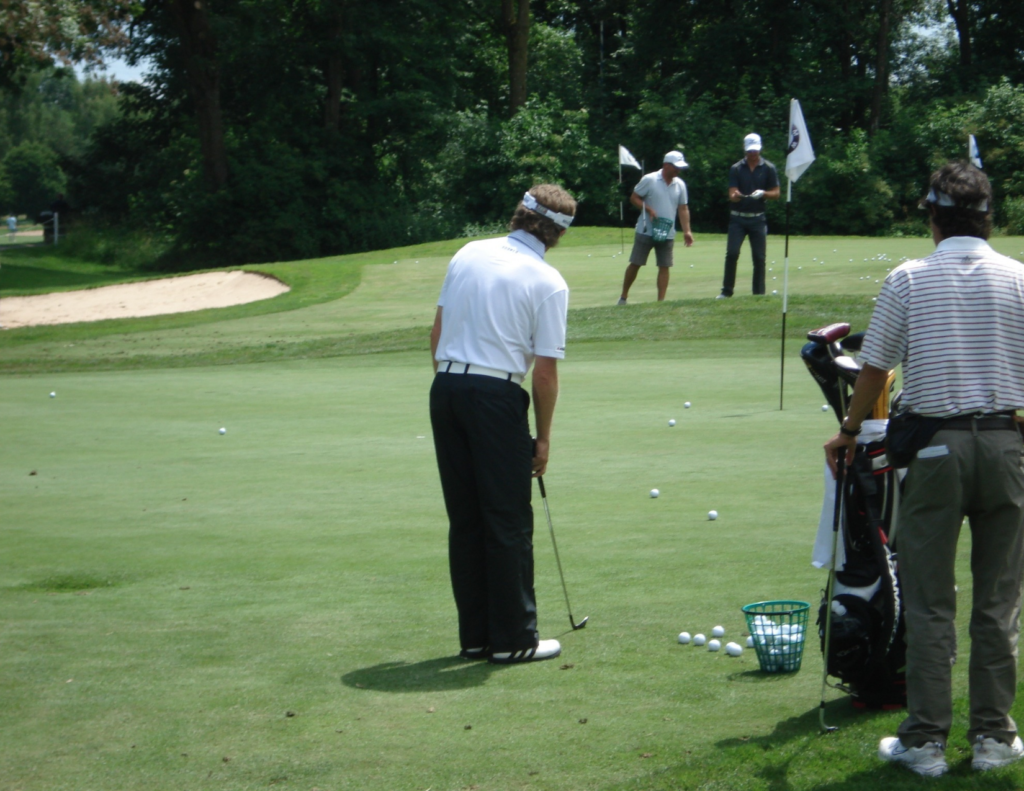 Tip #1: Keep it simple
We want your setup and your motion to be really simple.  
Your feet should be slightly separated to provide a comfortable stance with your arms hanging in front of you.  You can experiment with the distance from the ball, but many golfers will start closer to the top to help increase the quality contact made when hitting the chip shot with a pitching wedge.  
Keep in mind that with the 48 degree pitching wedge, the ball may not fly more than 50% of the distance to hole and will more than likely have a decent roll out after landing.
Make sure you are comfortable and locked in with your stance and setup.  Find your comfort zone.  The great thing about chipping is that there is no perfect stance or technique for everyone.  A golfer can find what is comfortable for them as long as it can be repeated from shot to shot.
Tip #2: Use a putting like motion
The most simple chip shot with the pitching wedge is a putting-like motion that many times will be slightly longer than a putting motion.  You want to take the club back and through in a similar motion to your putting stroke.  This means eliminating wrist hinge and using more arms and allows the arms to swing back and through.
Most golfers have a comfortable putting motion, simply transfer this movement to the chip shot with the pitching wedge.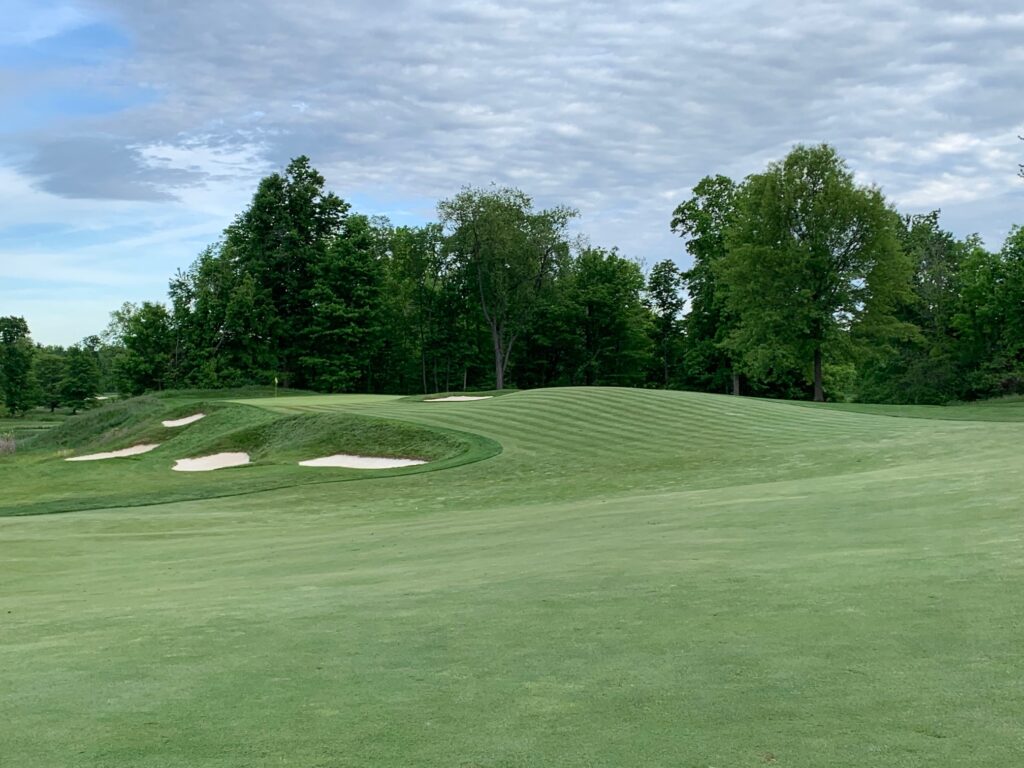 Tip #3: Vary your swing length and swing speed to control distance
A golfer needs to develop their feel for the length and total distance they want a chip shot to travel.  The length of the shot is controlled by the length of the swing and speed of the swing.
There are some variables you can change to impact your distance: length of swing and speed of swing.  Here are the different combinations:
Slow speed and short motion
Medium speed and short motion
Fast speed and short motion
Slow speed and medium motion
Medium speed and medium motion
Fast speed and medium motion
Slow speed and long motion
Medium speed and long motion
Fast speed and long motion
Tip #4: Create competitive situations during practice
After some block practice where you hit 30-40 chip shots with the pitching wedge, it is time to test your ability to get up and down to save shots on the golf course.
One of the secrets to breaking your next barrier in golf is to be able to get up and down from around the green in 2 shots or less 50% of the time.  This is assuming you are in the 10-20 yard range from the role.  The current leader on tour does this at an 80% success rate.  
Recommend Game:
The game here is to take one ball and pick a spot from off the green.  
Go ahead and hit the chip shot and then see if you can make the putt.  
Pick 10 different spots around the green and track how many times out of 10 you were able to get up and down in 2 shots or less.  
You can also play a competition against another person at the green and see who can get up and down the most times out of 10 or play some match play.  
Once again the little competition will help prepare you for the actual course and the pressure that you may face.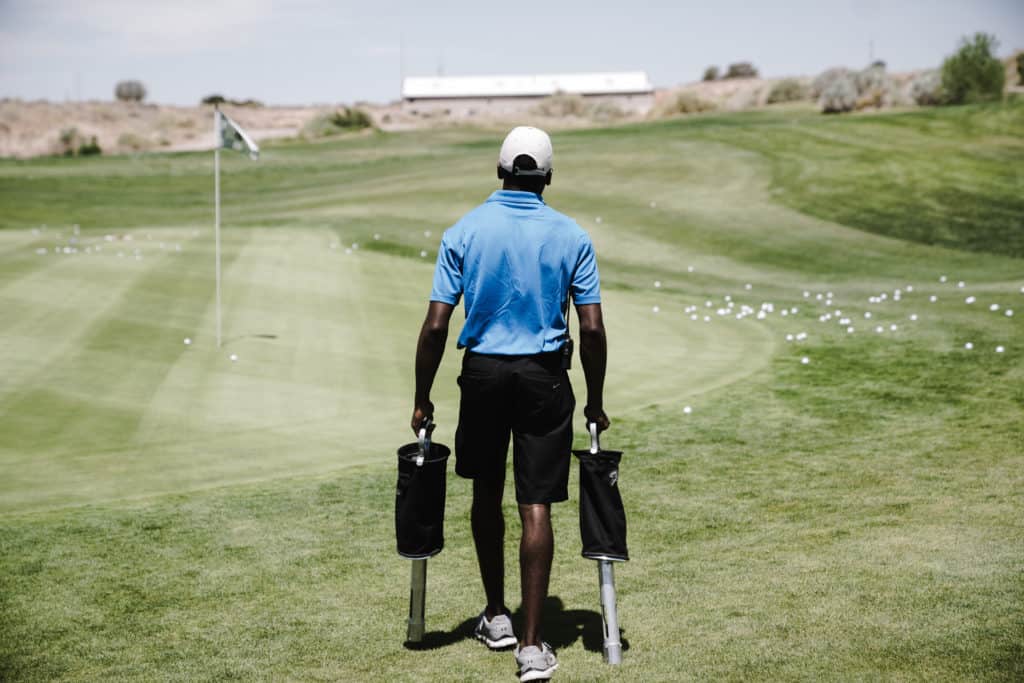 Tip #5: Chip with confidence
The more you can practice the block practice and then the game above, the more confidence you will have when on the course.  Confidence is key in chipping and will help take your game to the next level. The fastest way to lower your score in golf is to improve your short game or add distance to your driver through overspeed training (see SuperSpeed Golf Review here).
Get out and practice that short game.
If you feel you are ready for other clubs to add to your chipping options.  Check out the resources below:
My Secret To Golf Improvement
Let's face it, in order to get really good at golf, we must practice frequently.  About four years ago, I made the leap and invested in a golf simulator build for my garage.  I went with a SkyTrak Launch Monitor and the TGC software and can now play over 100,000 courses including Augusta, Pebble Beach, Bethpage Black, Whistling Straits. St. Andrews and many other of the top 100 courses in the world.
This golf simulator setup, which is more affordable that you might imagine, has been a game changer.  I can now play golf everyday of the year regardless of rain, snow, cold weather or time of day.  I can practice or play rounds of golf.  I can stand in the 11th fairway at Augusta and with the auto-rewind feature I am able to practice my approach shots from various differences.
It is worth checking out through Rain or Shine Golf as they offer some incredible packages along with financing offers that are difficult to beat.
Some direct links to Rain or Shine Golf for pricing and financing:
Take Action – What You Can Do Today to Get Better
What does this mean for you?  I believe in the following recipe to get better:
1 – Improve your motion in the golf swing by identifying a golf instructor.  Here are some options:
Here is a list of golf instructors that we have reviewed:
2 – Train to swing faster and improve your swing speed.  Here are some options:
Looking to gain more Speed and Distance in your swing. Two Options:
3 – Understand course strategy and work to break through your next barrier.  Here is a series on breaking through:
We have provided guides on how to break 100, 90, 80 and 70. Check out more below, if interested.
4 – Practice Frequently
Did you know that I build a golf simulator in my garage and have played over 500 rounds of golf on my SkyTrak system?  It has been a game changer and one worth checking out. Here are some of my other posts on golf simulators frequently asked questions: